Global Urea Market Size, Share, and COVID-19 Impact Analysis, By Type (Granular Urea, Prilled Urea), By Grade (Fertilizer Grade, Feed Grade, Technical Grade), By Application (Agriculture, Animal Feed, Chemical Synthesis, Others), and By Region (North America, Europe, Asia-Pacific, Latin America, Middle East, and Africa), Analysis and Forecast 2022 – 2032
Industry: Agriculture
---
REPORT FORMAT

---
Global Urea Market Insights Forecasts to 2032
The Global Urea Market Size was valued at USD 131.5 Billion in 2022.
The Market is Growing at a CAGR of 2.3% from 2022 to 2032
The Worldwide Urea Market is expected to reach USD 165.7 Billion by 2032
Europe is expected to Grow the fastest during the forecast period
Get more details on this report -
Request Free Sample PDF
The Global Urea Market Size is expected to reach USD 165.7 Billion by 2032, at a CAGR of 2.3% during the Forecast period 2022 to 2032.
Urea (CH4N2O) is a colorless, odorless, crystalline substance that is soluble in water and ethanol. It is a rigid carbon, nitrogen, oxygen, and hydrogen compound. It is usually produced by combining ammonia with carbon dioxide (CO2) under high pressure to produce solid, odorless white pellets or crystals. It is a dry granular material that is simple to handle and transport. It can be applied to the soil with a variety of tools, including spreaders and sprayers. It does not degrade easily and can be stored for an extended period without losing its effectiveness as a fertilizer. Furthermore, ammonium carbamate degrades to form solid urea (carbamide). Because it is enhanced with nitrogen, the product has become a popular choice as a nitrogen source in the fertilizer industry. The protein requirements of ruminant animals can be met adequately by feed quality. Because of its superior chemical properties, it is widely used in a variety of industrial applications.
Global Urea Market Report Coverage
| Report Coverage | Details |
| --- | --- |
| Base Year: | 2022 |
| Market Size in 2022: | USD 131.5 Billion |
| Forecast Period: | 2022-2032 |
| Forecast Period 2022-2032 CAGR: | 2.3% |
| 2032 Value Projection: | USD 165.7 Billion |
| Historical Data for: | 2019-2021 |
| No. of Pages: | 200 |
| Tables, Charts & Figures: | 110 |
| Segments covered: | By Type, By Grade, By Application, By Region |
| Companies Covered: | SABIC, Qatar Fertilizer Company, EuroChem, Yara International ASA, Nutrien AG, OCI N.V., Acron Grou, CF Industries Holdings, HUBEI YIHUA CHEMICAL INDUSTRY CO., LTD, China National Petroleum Corporation (CNPC), Koch Fertilizer, LLC, Coromandel International Limited and Other Key Vendors. |
| Pitfalls & Challenges: | COVID-19 Empact,Challenges, Future, Growth, & Analysis |
Get more details on this report -
Request Free Sample PDF
Driving Factors
Industrial applications demand huge amounts of carbamide which will drive the global urea market growth during the forecast period. Because of its ability to form interpenetrating helix structures by forming hydrogen bonds, it can trap various organic compounds. This property makes it a suitable product for mixture separation and the production of aviation fuels and lubricating oils. It is also used to separate paraffin. The product is used in the automotive industry to reduce nitrogen oxide pollutants produced by fuel combustion. BlueTec solutions, for example, inject the aqueous solution into the exhaust system. In a catalytic converter, ammonia decomposes nitrogen oxide emissions into water and nitrogen. It has a wide range of applications in the pharmaceutical and cosmetics industries. It is used as a source of hydrogen in rehydration products and as a power source in fuel cells. It is an important raw material in the production of various drugs and chemical intermediates, such as hair removers, conditioners, bath oils, skin softeners, lotions, disinfectants, and others.
Restraining Factors
Rising awareness about organic farming restraining global urea market growth during the forecast period. The price of urea is increasing day by day with increasing prices of oil and gas. Carbamide is the most used fertilizer in agriculture, separately as well as by combining with other fertilizers. It has increased the cost of input for agriculture and increased emissions of ammonia and carbon dioxide. Ammonia is harmful to human health as well as the ecosystem, and carbon dioxide is a potent greenhouse gas.
Market Segmentation
By Type Insights
The granular urea segment dominates the market with the largest revenue share over the forecast period.
Based on type, the global urea market is segmented into granular urea and prilled urea. Among these, the granular urea segment is dominating the market with the largest revenue share over the forecast period. It is in solid granule form, which is used as fertilizer because of its slow-release properties and ease of use. Consumers give priority to agriculture use because it provides a controlled release of nitrogen, gives significant optimal plant growth, and also minimizes nutrient loss.
By Grade Insights
The fertilizer grade segment is expected to hold the significant CAGR growth of the global urea market during the forecast period.
Based on grade, the global urea market is classified into fertilizer grade, feed grade, and technical grade. Among these, the fertilizer grade segment is expected to hold significant CAGR growth during the forecast period. Fertilizers are commonly for enhance the growth of crops. Nowadays, we seen a huge rise in population in developing countries in Asia and Africa. This resulted in rising food demand. Therefore, increase in the burden on limited agricultural land by increasing the use of fertilizers. Rising industrialization resulted in decreasing feed sources for animals. This is leading to an increase in feed-grade product demand for food supplements for cattle and other ruminants. They convert urea into protein by digestion through bacterial action. It helps in maximizing feed benefits.
By Application Insights
The agriculture segment is projected to grow at the highest CAGR in the market during the forecast period.
Based on application, the global urea market is segmented into agriculture, animal feed, chemical synthesis, and others. Among these, the agriculture segment grows at the highest CAGR growth over the forecast period owing to higher demand. This be attributed to the huge amount of use of carbamide as fertilizers to enhance crop growth. It's easy to use and handle as granular and prilled form. It is applied to soil or mixed up with soil manually or mechanically. It can be used before plantation and after plantation as per requirements of soil and crop. By shortage of protein feeds and the high cost of supplementing proteins are making carbamide an alternative supplement for animal feed.
Regional Insights
Asia Pacific dominates the market with the largest market share over the forecast period.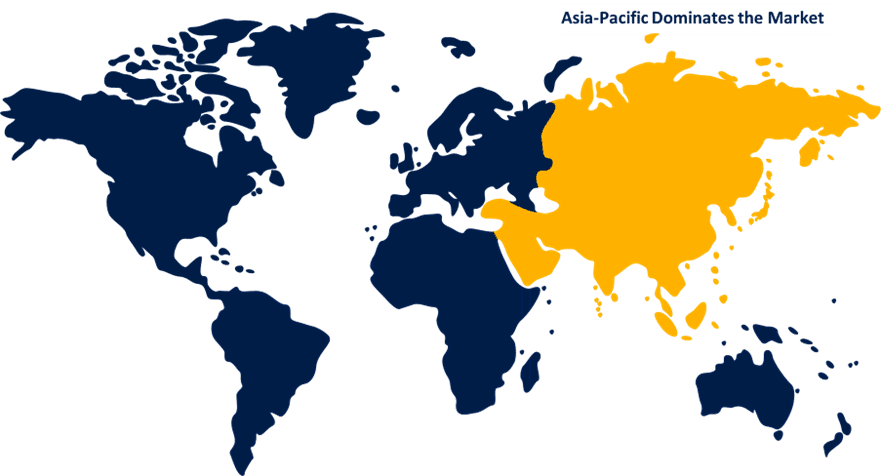 Get more details on this report -
Request Free Sample PDF
Asia Pacific is dominating the largest market share over the forecast period. The Asia-Pacific region's population is rapidly increasing, resulting in increased food demand. This has increased the demand for fertilizers to increase crop yield per hectare of agricultural land. Additionally, the rising demand for feed-grade products in the region is being driven by increased use in the animal feed industry. All of these factors have increased carbamide production to meet rising demand. The region's large share of the global market is due to China having the highest production and consumption, followed by India, ASEAN, Japan, and South Korea. In addition, local governments in the Asia-Pacific region are helping farmers by providing subsidies to purchase fertilizers to increase food grain production
The Europe market is expected to grow the fastest during the forecast period. Europe generally imports the carbamide from Asia and the Middle East. Backed by strict regulations and technological improvements in the product are expected to reduce carbon emissions as well as decrease input cost. The region's developed automotive sector is propelling the market in the region. This is due to the increased use of nitrogen oxide pollutants from fuel combustion. Increasing regulations aimed at reducing greenhouse gas emissions are expected to boost demand from the region's automotive sector.
List of Key Market Players
SABIC
Qatar Fertilizer Company
EuroChem
Yara International ASA
Nutrien AG
OCI N.V.
Acron Grou
CF Industries Holdings
HUBEI YIHUA CHEMICAL INDUSTRY CO., LTD
China National Petroleum Corporation (CNPC)
Koch Fertilizer, LLC
Coromandel International Limited
Others
Key Market Developments
In March 2022, Misr Fertilizers Production Company (MOPCO) of Egypt announced plans to increase its annual carbamide production capacity to 70 kilotons. The company also announced plans to invest in the construction of a new melamine plant. MOPCO hoped to strengthen its position in Egypt and other international markets with this investment.
In March 2022, After the presentation of a binding offer, EuroChem announced that it had entered into exclusive negotiations to acquire the nitrogen business of the Borealis group.
In November 2021, SABIC developed a full-fledged company with agility and flexibility to address the agri-nutrient industry's challenges and the needs of all stakeholders. To ensure sustainable growth and to provide more differentiated agri-nutrient solutions, the new company employs a distinct operating model that focuses on several pillars.
Market Segment
This study forecasts revenue at global, regional, and country levels from 2022 to 2032. Spherical Insights has segmented the global urea market based on the below-mentioned segments:
Urea Market, Type Analysis
Granular Urea
Prilled Urea
Urea Market, Grade Analysis
Fertilizer Grade
Feed Grade
Technical Grade
Urea Market, Application Analysis
Agriculture
Animal Feed
Chemical Synthesis
Others
Urea Market, Regional Analysis
North America
Europe

Germany
Uk
France
Italy
Spain
Russia
Rest of Europe

Asia Pacific

China
Japan
India
South Korea
Australia
Rest of Asia Pacific

South America

Brazil
Argentina
Rest of South America

Middle East & Africa

UAE
Saudi Arabia
Qatar
South Africa
Rest of the Middle East & Africa
Need help to buy this report?