Global Printing Packaging Market Size By Product (Rotogravure Printing, Flexography Printing, and Digital Printing), By Application (Business, Advertising), By Region, And Segment Forecasts, By Geographic Scope And Forecast 2022-2032.
Industry: Advanced Materials
---
REPORT FORMAT

---
Global Printing Packaging Market Size Insights Forecasts to 2032
The Printing Packaging Market Size was valued at USD 391.2 Billion in 2022.
The Market Size is Growing at a CAGR of 4.6% from 2022 to 2032
The Worldwide Printing Packaging Market is expected to reach USD 542.8 Billion by 2032
North America is expected to Grow the fastest during the forecast period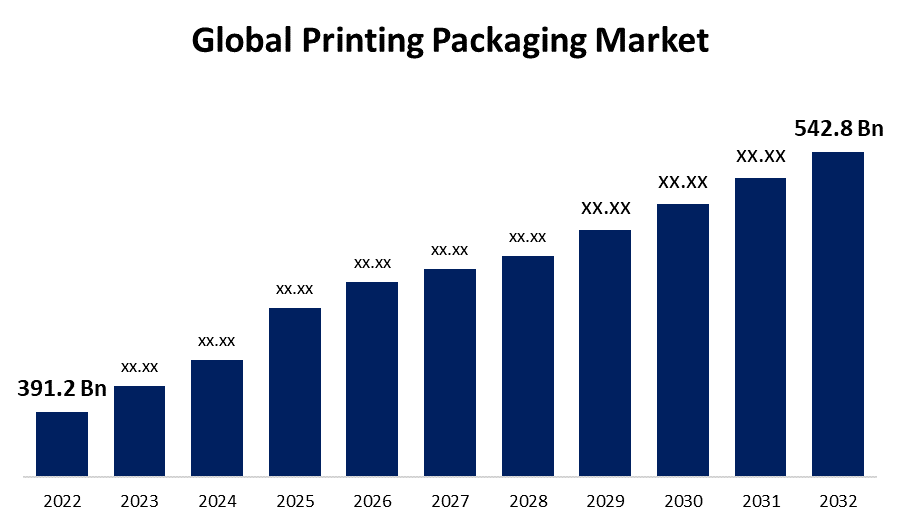 Get more details on this report -
Request Free Sample PDF
The global Printing Packaging Market Size is expected to reach USD 542.8 Billion by 2032, at a CAGR of 4.6% during the forecast period 2022 to 2032.
Printing packaging entails modifying packaging materials visually by adding text, graphics, and other components. This is done for marketing, branding, product information, and aesthetic reasons. The packaging sector was embracing digital printing technologies more and more. Shorter print runs, customisation, and quicker setup times were some of its benefits. Digital printing facilitated the distinctive and personalised packaging that brands were seeking to make for their goods. To improve the customer experience and offer more product information, some firms have started implementing smart packaging techniques like QR codes and NFC technologies. Specialised printing methods were required for these technology. Demand for specialised packaging solutions that are optimised for shipping and online retail increased as e-commerce grew. It became crucial to print on corrugated cardboard boxes and other e-commerce packaging materials.
Printing Packaging Market Price Analysis
Various printing techniques have various cost structures. While offset printing may be more affordable for greater quantities, digital printing is often more cost-effective for short runs and personalization. For particular applications, flexographic and gravure printing may also be competitive. Costs are substantially impacted by the choice of packing materials, such as paperboard, corrugated cardboard, plastic, or metal. Pricing can also vary depending on these materials' quality and origin. Scale economies have a big impact on pricing. Comparing smaller to larger print runs, the cost per unit is often lower for larger batches. However, even for tiny volumes, digital printing can be economical. Some printing businesses also include distribution, packaging prototyping, and graphic design. These services can have an additional fee.
Printing Packaging Market Distribution Analysis
In order to analyse the printing packaging market's distribution channels, its is important to look at the flow of printed packaging products and services from producers to customers or end-users. Understanding the many parties and procedures involved in getting printed packaging items to their intended customers is made easier by the distribution analysis. Some printing businesses sell their goods straight to consumers or companies. Purchasing in bulk and reselling to retailers or end users, wholesalers and distributors handle the distribution of many printing packaging materials. Online marketplaces and e-commerce platforms are being used to buy printed packaging products and services. Some printed packaging products might be sold in retail establishments that serve customers or businesses.
Global Printing Packaging Market Report Coverage
| Report Coverage | Details |
| --- | --- |
| Base Year: | 2022 |
| Market Size in 2022: | USD 391.2 Billion |
| Forecast Period: | 2022-2032 |
| Forecast Period 2022-2032 CAGR: | 4.6% |
| 2032 Value Projection: | USD 542.8 Billion |
| Historical Data for: | 2020-2021 |
| No. of Pages: | 200 |
| Tables, Charts & Figures: | 110 |
| Segments covered: | By Product, By Application, By Region and Covid 19 Impact. |
| Companies Covered: | HP, Landa, Xeikon, Abbott-Action, Blue Label Digital Printing, Cenveo, Edwards Label, ePac, FRONTIER LABEL, Lofton Label, Traco Manufacturing, Xerox, Yerecic Label, and other key vendors. |
| Pitfalls & Challenges: | COVID-19 Empact, Challenge, Future, Growth & Analysis. |
Get more details on this report -
Request Free Sample PDF
Market Dynamics
Printing Packaging Market Dynamics
Increasing trend of new packaging material development
The rising demand for environmentally friendly packaging options is one of the main forces behind this trend. Alternatives to conventional packaging materials like plastic, which are bad for the environment, are being sought after by both consumers and businesses. The development of packaging materials that are recyclable, biodegradable, compostable, or manufactured from renewable resources is becoming increasingly important as a result. Sustainable packaging materials are just one aspect of innovation. Engineers are developing new materials with more usefulness. Research and development of substitute materials for diverse packaging uses have been stimulated by the global push to minimise single-use plastics. With these initiatives, the usage of conventional plastic packaging is intended to be replaced or decreased. New materials can now be produced because to advancements in manufacturing technologies like 3D printing and nanotechnology.
Restraints & Challenges
High initial capital investment to hamper the market
Printing packaging requires specialised printing presses and tools tailored for the particular requirements of packaging production. The price of these machines might vary based on the type of printing technique and the volume of production. Dedicated facilities with the proper environmental controls and safety precautions are frequently required when setting up a printed packaging operation. Building or leasing these facilities might be expensive. To operate the specialised machinery and guarantee product quality, skilled labour is required. The initial capital expenditure may increase as a result of hiring and training more employees. In a competitive market like printed packaging, bigger, more established firms might have more money to spend in cutting-edge equipment and facilities. This can make it difficult for newcomers to compete successfully.
Regional Forecasts
Asia Pacific Market Statistics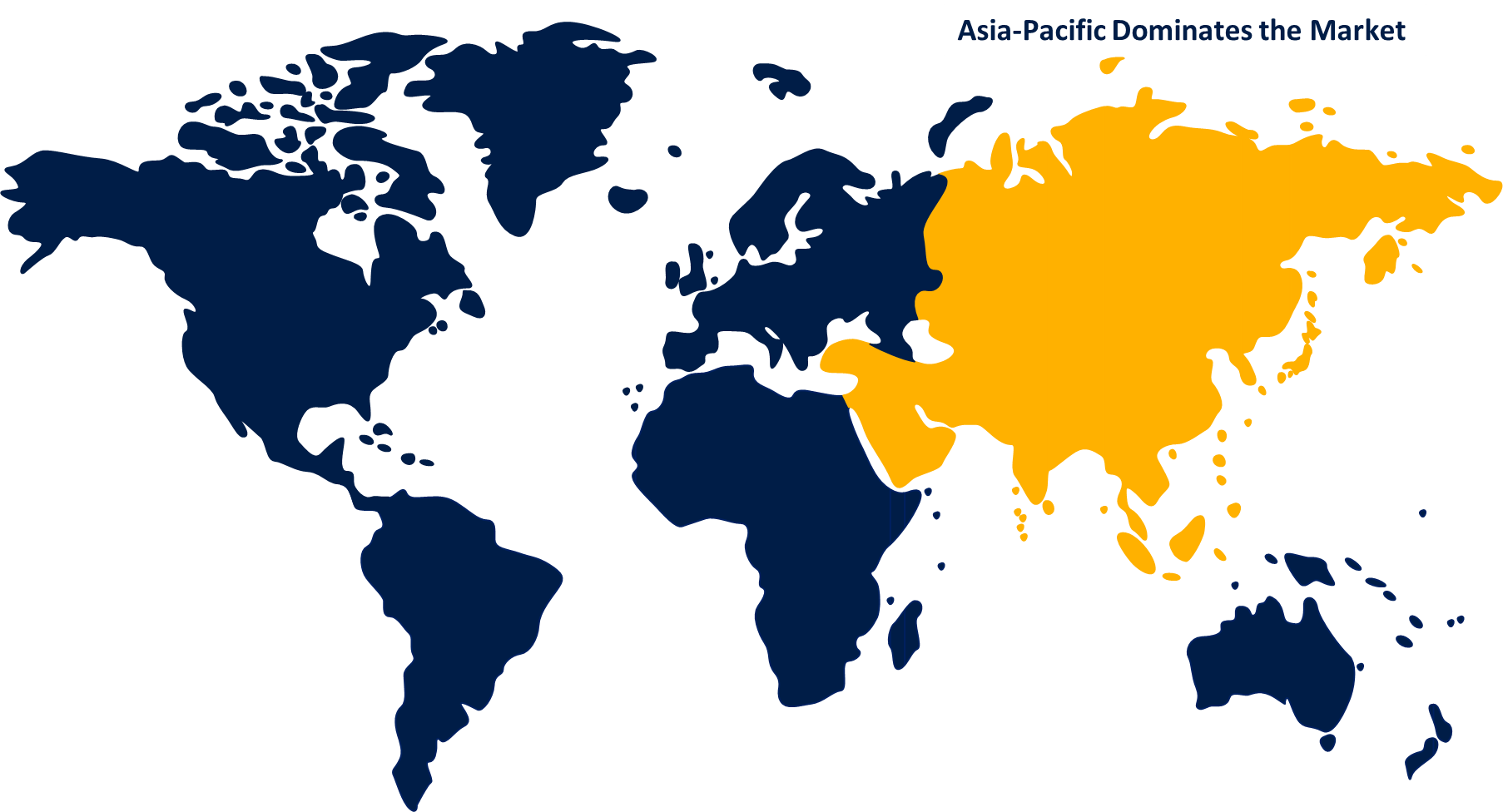 Get more details on this report -
Request Free Sample PDF
Asia Pacific is anticipated to dominate the Printing Packaging market from 2023 to 2032. The demand for printed packaging materials has been fueled by elements like population expansion, urbanisation, rising consumer expenditure, and Growing industries. Corrugated boxes, flexible packaging, and labels are among the more popular types of packaging now that e-commerce in APAC nations is expanding so quickly. In the e-commerce industry, printing packaging is essential for product branding and distinction. In APAC, the food and beverage sector is a significant user of printing packaging. Innovative packaging solutions, including those with sustainable characteristics, are becoming more and more popular as customers become more health-conscious and want convenience. Many APAC nations, especially China and India, have become industrial powerhouses for a variety of sectors, including packaging. As a result, there is now more demand for printing services and packaging supplies.
North America Market Statistics
North America is witnessing the fastest market Growth between 2023 to 2032. In North America, the use of digital printing has Grown, especially for specialised and quick-turn packaging. These technologies provide firms wishing to customise their packaging with affordable options. Due to regulatory restrictions, serialisation, and the necessity for tamper-evident packaging, the pharmaceutical and healthcare sectors in North America are key consumers of printed packaging. The demand for high-end and luxury packaging solutions, which frequently incorporate specialised printing methods, embossing, foil stamping, and distinctive materials, is driven by the luxury products market in North America.
Segmentation Analysis
Insights by Product
The flexography printing segment accounted for the largest market share over the forecast period 2023 to 2032. Flexo printing is known for being economical, particularly for lengthy print runs. Businesses looking for cost-effective solutions find it appealing because of the capacity to print vast numbers of packaging materials at a relatively low cost per unit. Flexo presses are made for high-speed production, which enables quick turnaround times and satisfies the needs of enterprises that produce consumer items at a rapid clip. For producers and suppliers of packaging, this speed is essential. Flexo printing has gained popularity with the rise of flexible packaging for goods like snacks, pet food, and personal care products since it works well with these materials. Flexo printing is widely used in both established and developing markets, making it available to businesses with needs for global production and distribution.
Insights by Application
The advertising segment accounted for the largest market share over the forecast period 2023 to 2032. Brands are continuously looking for methods to stand out in the highly competitive marketplace of today. Effective advertising features combined with appealing packaging designs can distinguish products and draw customers in. Variable data printing has made it possible to customise packaging, which has increased the potential for targeted advertising. Brands might alter their packaging to cater to specific consumer groups or individuals. Packaging can be a useful platform for organising promotional initiatives, such as one-time deals, competitions, and giveaways, which can significantly increase sales and brand recognition. Advertising on food and beverage packaging frequently makes health and wellness promises, such as dietary certifications, nutrient data, and ingredient transparency.
Recent Market Developments
In 2022, the DIY/crafter sector will now be served through Avery Dennison Graphics Solutions' cooperation with Siser North America.
Competitive Landscape
Major players in the market
HP
Landa
Xeikon
Abbott-Action
Blue Label Digital Printing
Cenveo
Edwards Label
ePac
FRONTIER LABEL
Lofton Label
Traco Manufacturing
Xerox
Yerecic Label
Market Segmentation
This study forecasts revenue at global, regional, and country levels from 2023 to 2032.
Printing Packaging Market, Product Analysis
Rotogravure Printing
Flexography Printing
Digital Printing
Printing Packaging Market, Application Analysis
Printing Packaging Market, Regional Analysis
Frequently Asked Questions (FAQ)
What is the market size of the Printing Packaging Market?

The global Printing Packaging Market is expected to Grow from USD 391.2 Billion in 2023 to USD 542.8 Billion by 2032, at a CAGR of 4.6% during the forecast period 2023-2032.

Who are the key market players of the Printing Packaging Market?

Some of the key market players of market are HP, Landa, Xeikon, Abbott-Action, Blue Label Digital Printing, Cenveo, Edwards Label, ePac, FRONTIER LABEL, Lofton Label, Traco Manufacturing, Xerox, Yerecic Label.

Which segment holds the largest market share?

Advertising segment hold the largest market share and is going to continue its dominance.

Which region is dominating the Printing Packaging Market?

Asia Pacific is dominating the Printing Packaging Market with the highest market share.
Need help to buy this report?