Global Pouches Market Size By Type (Stand-Up Pouches, Flat Pouches), By Material (Plastic, Metal, Paper), By Application (Food And Beverage, Medical And Pharmaceuticals), By Region, And Segment Forecasts, By Geographic Scope And Forecast 2022 - 2032
Industry: Advanced Materials
---
REPORT FORMAT

---
Global Pouches Market Size Insights Forecasts to 2032
The Global Pouches Market Size was valued at USD 36.3 Billion in 2022.
The market is growing at a CAGR of 5.7% from 2022 to 2032
The Worldwide Pouches Market Size is expected to reach USD 51.8 Billion by 2032
Asia Pacific is expected to grow the fastest during the forecast period
Get more details on this report -
Request Free Sample PDF
The Global Pouches Market Size is expected to reach USD 51.8 Billion by 2032, at a CAGR of 5.7% during the forecast period 2022 to 2032.
Pouches are a subset of the larger category of flexible packaging, which has grown in popularity because it is more portable, uses less material, and extends the shelf life of a variety of goods. Pouches are used in a variety of sectors, including the food and beverage, pharmaceutical, cosmetic, and other industries. The popularity of pouches in various industries has been fueled by the need for portable, easy packaging. There is a constant push for innovation in terms of form and usefulness when it comes to pouches; they are not simply about simple packing. Spouts, easy-open seals, and resealable closures are becoming commonplace in many bag designs. Global economic trends, customer tastes, and legislative changes all have an impact on the pouch market. The increase is being fueled in part by emerging markets as consumer lives and preferences change.
Pouches Market Value Chain Analysis
Suppliers of raw materials such various kinds of films, laminates, and closures are where the supply chain starts. These components are necessary for the creation of pouches. The basic components are transformed into finished pouches by pouch makers. Printing, laminating, and shaping the pouches into their final forms are some of the procedures involved in this. Some producers are experts at transforming the standard pouch into niche shapes. This can entail incorporating elements like spouts, zippers, or unusual forms. These are the businesses that pack the pouches with the actual goods, whether they be food, drinks, toiletries, or medicines. The packagers could also be brand owners or represent brands in their work. Pouches finally arrive in shops, be they pharmacies, grocery stores, or other retail establishments.
Pouches Market Price Analysis
The cost of creating pouches is directly impacted by the prices of raw materials such films, laminates, and closures. The cost of the finished product may change depending on changes in these materials' costs. Production costs may be impacted by the intricacy of manufacturing procedures including printing, laminating, and shaping. Costs may change as a result of manufacturing technology developments or efficiency gains. Pouches with extra features, including spouts, resealable closures, or unusual shapes, may cost more to produce. Pricing may be impacted by the degree of innovation and customization. Pricing may be impacted by the degree of competition in the pouch market. Price wars may result from fierce rivalry, although more specialised or niche markets may be able to support higher pricing. The cost of distribution and transportation affects the final cost.
Global Pouches Market Report Coverage
| Report Coverage | Details |
| --- | --- |
| Base Year: | 2022 |
| Market Size in 2022: | USD 36.3 Billion |
| Forecast Period: | 2022-2032 |
| Forecast Period 2022-2032 CAGR: | 5.7% |
| 2032 Value Projection: | USD 51.8 Billion |
| Historical Data for: | 2019-2021 |
| No. of Pages: | 200 |
| Tables, Charts & Figures: | 120 |
| Segments covered: | By Type, By Material, By Application, By Region |
| Companies Covered: | Berry Global Inc., ProAmpac, Coveris, Smurfit Kappa, Huhtamaki, Constantia Flexibles, Amcor, Clondalkin Group, Mondi, Sonoco, and other key vendors |
| Growth Drivers: | Industrialization in developed and developing countries |
| Pitfalls & Challenges: | COVID-19 Empact,Challenges, Future, Growth, & Analysis |
Get more details on this report -
Request Free Sample PDF
Market Dynamics
Pouches Market Dynamics
Industrialization in developed and developing countries
Developed nations frequently take the lead in technical innovation. High-quality and creative pouches are made possible by cutting-edge manufacturing technology, effective production methods, and the ability to make research and development investments. Rapid industrialisation may occur in developing nations, increasing their capacity for production. The demand for efficient and affordable packaging options, including pouches, grows as manufacturing companies expand. Developing nations are examples of emerging markets where pouches may have unrealized potential. The demand for packaged goods using contemporary packaging solutions grows as consumer awareness and disposable incomes both rise.
Restraints & Challenges
There may be a strong tradition or perceived favouring conventional packing techniques in some sectors or geographical areas. The adoption of pouches can be hampered by resistance to change and a preference for well-known package formats. Although pouches may eventually prove to be cost-effective, setting up the necessary production processes and equipment can be expensive. It could be difficult for some businesses, especially smaller ones, to make the initial expenditure. While many products can be packaged in pouches, some perishables may have specific shelf life requirements. In certain situations, it may be difficult to take further protective measures due to the permeability of the bag materials. Businesses and consumers may give cost-cutting initiatives priority during economic downturns. This may affect people's willingness to spend money on or pay more for cutting-edge packaging options like pouches.
Regional Forecasts
North America Market Statistics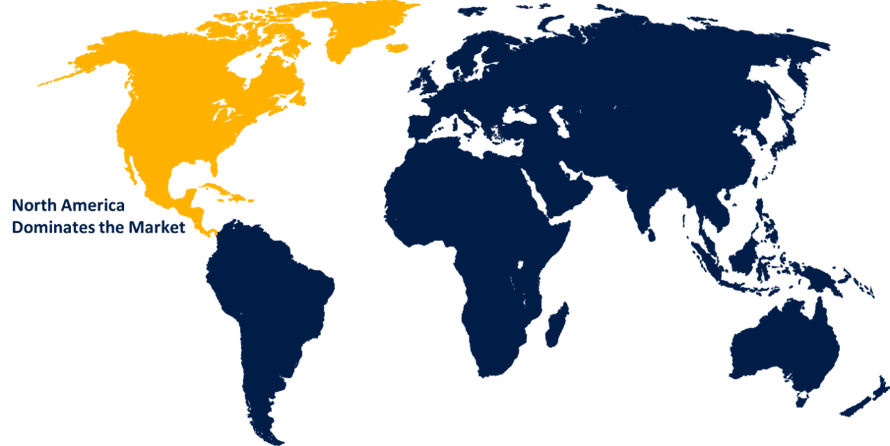 Get more details on this report -
Request Free Sample PDF
North America is anticipated to dominate the Pouches market from 2023 to 2032. In North America, the market for pouches has been expanding steadily due to factors such shifting consumer lifestyles, the desire for convenience, and environmental concerns. Pouches are widely utilised in a variety of businesses, including those that produce food and beverages, medicines, pet food, and personal care products. They are appropriate for a variety of items due to their adaptability. Pouches fit very nicely with the mobile lifestyle that is so common in North America. Customers like the convenience that pouches provide, especially when it comes to portable food items, drinks, and snacks. There is competition for market share among different enterprises in the North American region. The visual appeal of pouch packing and branding both have a big impact on how consumers choose products.
Asia Pacific Market Statistics
Asia Pacific is witnessing the fastest market growth between 2023 to 2032. The Asia-Pacific area, which includes nations like China and India, has seen swift economic expansion. Consumer lifestyles have changed as a result of this growth, which has also raised demand for packaged and convenient goods. In the Asia-Pacific area, pouches are used in a wide range of industries, including food and beverage, medicines, personal care, and pet food. Pouch packaging can be adapted to a variety of product categories due to its adaptability. In many Asia-Pacific nations, the number of middle-class people is growing, increasing their spending power. This group of consumers frequently looks for easy and high-end packaging options, which helps the pouches industry expand.
Segmentation Analysis
Insights by Type
The Stand Up Pouches segment accounted for the largest market share over the forecast period 2023 to 2032. Customers benefit from the ease of stand-up pouches because of its upright and solid construction. They are highly visible since they can stand on store shelves, and their small weight makes them more portable. Design and feature innovation have been ongoing in the stand-up pouch market. Manufacturers include elements that improve both functionality and aesthetics, such as resealable zippers, spouts, and glass windows for enhanced vision. The popularity of stand-up pouches has increased with the growth of e-commerce. They offer a useful packaging solution for a variety of products offered through e-commerce platforms thanks to their flexibility and light weight.
Insights by Material
Plastic segment is witnessing the fastest market growth over the forecast period 2023 to 2032. Polyethylene, polypropylene, PET, and other materials can be used to make plastic pouches. These materials' adaptability enables the packaging of a diverse range of goods, from food and beverages to personal care products. Because plastic pouches are lightweight, they are useful for storage and transit. This quality is crucial when trying to minimise the impact on the environment and transportation expenses. Plastic pouches are ideal for the e-commerce industry because of their adaptability, toughness, and capacity to safeguard goods while in transit. The surge in demand for plastic pouches is partly attributed to the growth of internet shopping. The demand for affordable and adaptable packaging solutions is particularly strong in developing nations, where the plastic pouch market has experienced tremendous expansion.
Insights by Application
The Food and Beverage segment accounted for the largest market share over the forecast period 2023 to 2032. The popularity of pouch packaging in this industry has been influenced by the shift towards quick and on-the-go consumption as well as growing sustainability awareness. Pouches have a number of benefits for food and drink goods. They have a smaller environmental impact than conventional packaging since they are lightweight, transportable, and frequently use less material. Concerns about freshness and quality have also been addressed by advancements in bag design and construction, which have increased product protection and shelf life. The food and beverage sector of the pouches market is projected to continue expanding as customer preferences change and the desire for simple, eco-friendly packaging solutions grows.
Recent Market Developments
In June 2019, Smurfit Kappa launched a new stand-up bag for olive oil that is available in 1.5 L pouches and weights 17 times less than glass packaging items.
Competitive Landscape
Major players in the market
Berry Global Inc.
ProAmpac
Coveris
Smurfit Kappa
Huhtamaki
Constantia Flexibles
Amcor
Clondalkin Group
Mondi
Sonoco
Market Segmentation
This study forecasts revenue at global, regional, and country levels from 2023 to 2032.
Pouches Market, Type Analysis
Stand-Up Pouches
Flat Pouches
Pouches Market, Material Analysis
Pouches Market, Application Analysis
Food And Beverage
Medical And Pharmaceuticals
Pouches Market, Regional Analysis
Frequently Asked Questions (FAQ)
1. What is the market size of the Pouches Market?

The global Pouches Market is expected to grow from USD 36.3 Billion in 2023 to USD 51.8 Billion by 2032, at a CAGR of 5.7% during the forecast period 2023-2032.

2. Who are the key market players of the Pouches Market?

Some of the key market players of market are Berry Global Inc., ProAmpac, Coveris, Smurfit Kappa, Huhtamaki, Constantia Flexibles, Amcor, Clondalkin Group, Mondi, and Sonoco.

3. Which segment holds the largest market share?

Food and beverage segment holds the largest market share and is going to continue its dominance.

4. Which region is dominating the Pouches Market?

North America is dominating the Pouches Market with the highest market share.
Need help to buy this report?