Global Luxury Travel Market Size, By Traveler (Absolute luxury, Aspiring Luxury, Accessible Luxury), By Tour (Customized & Private Vacations, Safari & Adventure, Cruises, Yachting & Small Ship Expeditions, Celebration Journeys, Culinary Travel & Shopping, Others), By Age Group (Millennials [21 – 30], Generation X [31 – 40], Baby Boomers [41 – 60], Silver Hair [60 +]), By Geographic Scope and Forecast 2022 – 2032
Industry: Consumer Goods
---
REPORT FORMAT

---
Global Luxury Travel Market Insights Forecasts to 2032
The Global Luxury Travel Market Size was valued at USD 1.67 Trillion in 2022.
The Market Size is Growing at a CAGR of 8.2% from 2022 to 2032
The Global Luxury Travel Market is expected to reach USD 3.7 Trillion by 2032
Asia Pacific is expected to grow the fastest during the forecast period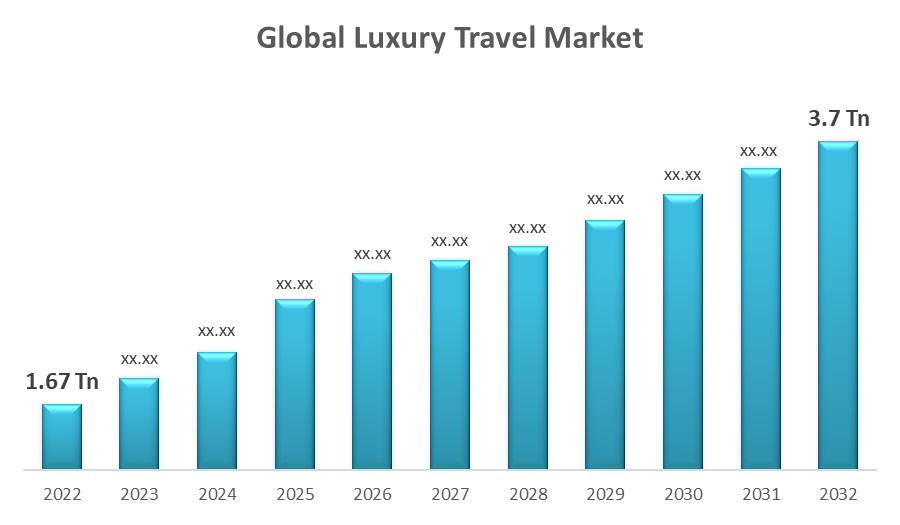 Get more details on this report -
Request Free Sample PDF
The Global Luxury Travel Market is expected to reach USD 3.7 Trillion by 2032, at a CAGR of 8.2% during the forecast period 2022 to 2032.
Luxury travel is a luxurious and exclusive niche of the tourist business that offers to discerning travelers who demand extraordinary and extravagant interactions. Private aircraft, luxury hotel stays, and exclusive excursions are all examples of luxury travel, as are private yacht charters, bespoke itineraries, and VIP access to cultural events. The vendors of services strive to give exceptional services to their customers. Nowadays, travelers focus on exploring destinations in order to get cultural, culinary, and other experiences. Numerous individuals are becoming more inclined for one-of-a-kind excursions that involve cultural visits, sailing, and thrilling adventures to acquire a valuable and lasting experience. The luxury travel business has emerged as one of the fastest-expanding sectors, greatly contributing to global financial expansion and development. Increased disposable income and upper-middle-class spending have increased demand for improved service standards. Furthermore, the increasing popularity of remote employment and freelance work allows tourists to explore luxury destinations without disrupting their day-to-day jobs, which contributes to the expansion of extended-stay luxury experiences.
Market Outlook
Luxury Travel Market Price Analysis
The luxury travel market's price analysis revolves around the distinctive pricing dynamics of high-end travel experiences. Luxury travelers demand exceptional quality, personalized services, and exclusive access. Pricing factors in this segment encompass luxury accommodations, private transportation, gourmet dining, and tailored experiences. Seasonality, destination, and demand fluctuations play a crucial role in determining prices. Luxury travel providers must balance opulence with value to cater to discerning clientele while ensuring profitability. Ensuring transparent pricing and delivering an unparalleled experience is key to success in the luxury travel market, where clients expect nothing short of the extraordinary.
Luxury Travel Market Distribution Analysis
The worldwide luxury travel industry distribution analysis indicates a complex network that caters to discerning tourists seeking exclusive and high-end experiences. Typically, luxury travel is distributed through specialized channels such as luxury travel agencies, tour operators, and high-end concierge services. These middlemen create customized itineraries and offer tailored services to fulfill the specific needs of affluent guests. Luxury travel offerings are also distributed through online platforms, particularly upmarket travel websites and apps. Hotels, airlines, and cruise companies frequently work with travel agencies to ensure that their premium services are distributed seamlessly. Overall, luxury travel distribution focuses on producing unique, bespoke vacations for the world's elite passengers.
Global Luxury Travel Market Report Coverage
| Report Coverage | Details |
| --- | --- |
| Base Year: | 2022 |
| Market Size in 2022: | USD 1.67 Trillion |
| Forecast Period: | 2022-2032 |
| Forecast Period 2022-2032 CAGR: | 8.2% |
| 2032 Value Projection: | USD 3.7 Trillion |
| Historical Data for: | 2019-2021 |
| No. of Pages: | 200 |
| Tables, Charts & Figures: | 110 |
| Segments covered: | By Traveler, By Tour, By Age Group, By Geographic Scope |
| Companies Covered: | TUI Group, TCS World Travel, Butterfield & Robinson Inc., Cox & Kings Ltd., Scott Dunn Ltd., Kensington Tours, Zicasso, Inc., Abercrombie & Kent USA, LLC, Lindblad Expeditions, Geographic Expeditions, Inc., Micato Safaris, Exodus Travels Limited, Travelopia Holdings Limited, Travel Edge (Canada) Inc. and Other Key Vendors. |
| Growth Drivers: | Growing affluence and aspirational travel |
| Pitfalls & Challenges: | COVID-19 Empact,Challenges, Future, Growth, & Analysis |
Get more details on this report -
Request Free Sample PDF
Market Dynamics
Luxury Travel Market Dynamics
Growing affluence and aspirational travel
The increasing global affluence, especially in emerging economies, has given rise to a burgeoning segment of travelers seeking luxury experiences. As disposable incomes rise, so does the aspiration for exclusive and high-end travel. This driver propels the luxury travel market as more travelers have the means and desire to indulge in premium experiences. It creates a larger customer base, leading to the development of new luxury destinations, accommodations, and services to cater to this demand.
Customization and experiential travel
Modern luxury travelers are increasingly seeking unique and personalized experiences. They prioritize authenticity, cultural immersion, and tailor-made itineraries over standardized packages. This shift drives the industry towards offering highly customized and experiential travel. Luxury providers must adapt by curating authentic and exclusive experiences, from boutique hotels to cultural tours, to meet the demands of this discerning clientele. This trend not only attracts more customers but also fosters brand loyalty and positive word-of-mouth recommendations, further stimulating market growth.
Restraints & Challenges
Economic and geopolitical uncertainties
The luxury travel market is sensitive to economic fluctuations and geopolitical uncertainties. Economic downturns or political instability in key source markets can affect travelers' disposable income and willingness to spend on luxury experiences. During such periods, luxury travel may witness reduced demand as consumers prioritize essentials over indulgent travel. Luxury providers need to adapt by offering value-added services or diversifying their target markets to mitigate the impact of economic and geopolitical uncertainties.
Regional Forecasts
Europe Market Statistics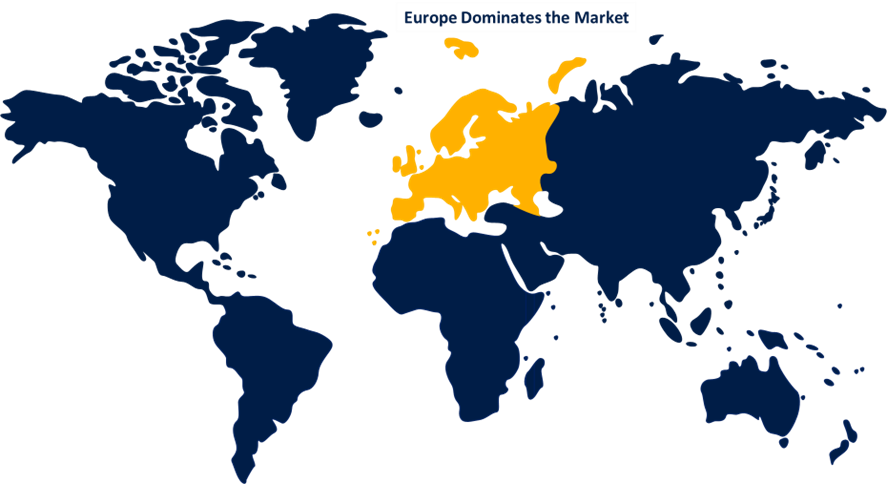 Get more details on this report -
Request Free Sample PDF
Europe is anticipated to dominate the luxury travel market from 2023 to 2032. Europe is a prominent destination for luxury travel, renowned for its rich history, diverse cultures, and opulent experiences. Major European cities like Paris, Rome, London, and Barcelona offer luxury travelers a wealth of historical sites, fine dining, and high-end shopping. Luxury resorts in the Mediterranean, alpine ski destinations, and exclusive spas are also popular choices for affluent travelers. The region's well-preserved heritage, world-class services, and accessibility make it a top choice for luxury tourism.
Asia Pacific Market Statistics
Asia Pacific is witnessing the fastest market growth between 2023 to 2032. Asia Pacific is increasingly becoming a sought-after region for luxury travel. Countries like Japan offer a blend of ancient traditions and modern luxury, while destinations in Southeast Asia, such as Bali, Thailand, and the Maldives, provide tropical paradises with upscale resorts. The rising affluence in countries like China and India has led to a growing demand for premium travel experiences. Additionally, Asian destinations are known for their unique cultural experiences and exquisite cuisine, making the region appealing to luxury travelers.
Segmentation Analysis
Insights by Travel
The safari and adventure segment accounted for the largest market share over the forecast period 2023 to 2032. The aspiring luxury class primarily consists of the millennial age, who opt for short, luxury travel due to their moderate money. This sector also includes the 'newly rich,' who are eager to invest in the luxury travel business and are the market leaders in this segment. While they have a lot of money to spend, they don't go all out for luxury services. Aspiring luxury prefers rare and distinctive shopping destinations, especially those in foreign countries. This group consists of young, aspiring people who make a lot of money and have little obligations to their families. Increasing numbers of aspiring luxury travelers are expected to augment the expansion of the luxury travel industry throughout the predicted time frame.
Insights by Tour
The aspiring luxury segment accounted for the largest market share over the forecast period 2023 to 2032. This is because luxury travelers aspire to acquire more about the local culture and experience a sense of adventure, the environment, historical infrastructure, and a less congested atmosphere. Luxury tents, sometimes known as "Glamping" accommodations, are typically utilized for excursion groups such as safaris or outdoor-focused excursions. These tents are often outfitted with modern conveniences such as private toilets and showers, as well as gorgeous teak floors. Luxury safari tours typically include an on-site personal guide for the duration of the journey.
Insights by Age Group
The baby boomers (41 – 60) segment accounted for the largest market share over the forecast period 2023 to 2032, driven by growing preference of baby boomers to travel with family and friends. This demographic tends to spend more on luxury vacations in order to stay healthy, relax, and socialize. This generation is wealthier, has greater freedom than previous generations, and is more likely to spend money on leisure. They travel four to five times per year on average, which is an important factor for the luxury travel market growth.
Competitive Landscape
Major players in the market
TUI Group
TCS World Travel
Butterfield & Robinson Inc.
Cox & Kings Ltd.
Scott Dunn Ltd.
Kensington Tours
Zicasso, Inc.
Abercrombie & Kent USA, LLC
Lindblad Expeditions
Geographic Expeditions, Inc.
Micato Safaris
Exodus Travels Limited
Travelopia Holdings Limited
Travel Edge (Canada) Inc.
Recent Market Developments
On October 2023, TJH announced a strategic alliance with Inspirato Incorporated, the unique luxury travel subscription company. As part of the agreement, Inspirato will provide TJH clients with a complimentary 12-month Inspirato Travel Membership. This membership permits clients to book travel within Inspirato's handpicked collection of 750+ luxury vacation options in 100+ locations worldwide at members-only rates.
On August 2023, VOMOS, a forerunner in the luxury travel industry, has announced its latest collaboration with Summit Black Car, a leading provider of elite transportation services. This collaboration intends to reimagine premium travel experiences for Colorado residents and visitors. This strategic placement assures that passengers, no matter where they are, may enjoy the unrivaled ease of quick and elegant transportation, even for last-minute reservations.
On December 2022, Marriott International, Inc. has announced plans to open more than 35 luxury hotels by 2023, providing the unique and profound experiences that today's premium traveler seeks. Marriott International continues to push the boundaries, reimagining travel with a globally inspired perspective that defines the future of luxury, with a portfolio of luxury brands that includes The Ritz-Carlton, Ritz-Carlton Reserve, St. Regis, W Hotels, The Luxury Collection, EDITION, JW Marriott, and Bulgari Hotels & Resorts.
Market Segmentation
This study forecasts revenue at global, regional, and country levels from 2023 to 2032.
Luxury Travel Market, Traveler Analysis
Absolute luxury
Aspiring Luxury
Accessible Luxury
Luxury Travel Market, Tour Analysis
Customized & Private Vacations
Safari & Adventure
Cruises
Yachting & Small Ship Expeditions
Celebration Journeys
Culinary Travel & Shopping
Others
Luxury Travel Market, Age Group Analysis
Millennials [21 – 30]
Generation X [31 – 40]
Baby Boomers [41 – 60]
Silver Hair [60 +]
Luxury Travel Market, Regional Analysis
Germany
Uk
France
Italy
Spain
Russia
Rest of Europe
China
Japan
India
South Korea
Australia
Rest of Asia Pacific
Brazil
Argentina
Colombia
UAE
Saudi Arabia
South Africa
Frequently Asked Questions (FAQ)
1. What is the market size of the luxury travel market?

The global luxury travel market is expected to grow from USD 1.67 Trillion in 2023 to USD 3.7 Trillion by 2032, at a CAGR of 32.5% during the forecast period 2023-2032.

2. Who are the key market players of the luxury travel market?

TUI Group, TCS World Travel, Butterfield & Robinson Inc., Cox & Kings Ltd., Scott Dunn Ltd., Kensington Tours, Zicasso, Inc., Abercrombie & Kent USA, LLC, Lindblad Expeditions, Geographic Expeditions, Inc., Micato Safaris, Exodus Travels Limited, Travelopia Holdings Limited, Travel Edge (Canada) Inc.

3. Which segment holds the largest market share?

Aspiring Luxury segment holds the largest market share and is going to continue its dominance.

4. Which region is dominating the luxury travel market?

Europe is dominating the luxury travel market with the highest market share.
Need help to buy this report?