Japan Factory Automation Market Size, Share, and COVID-19 Impact Analysis, By Solution (SCADA, PLC, DCS, MES, Industrial Safety, PAM, Others), By Component (Industrial Robots, Machine Vision, Process Analyzer, Industrial PC, Industrial Sensors, Industrial 3D Printing, Others), By End Users (Manufacturing, Automotive, Chemical, Aerospace & Defense, Oil & Gas, Energy & Utilities, Food & Beverage, Healthcare, Mining & Metal, Transportation, Others) and Japan Factory Automation Market Insights Forecasts to 2032
Industry: Semiconductors & Electronics
---
REPORT FORMAT

---
The Japan Factory Automation Market Size is expected to grow at a CAGR of 14.78% during the forecast period 2022 to 2032. Japan's Factory Automation Market Size is expected to rapidly increase by 2032 due to several factors such as a rise in the number of government programs to promote automation in industry, growing utilization of IoT and AI in industrial environments, and rising demand for higher productivity and efficiency.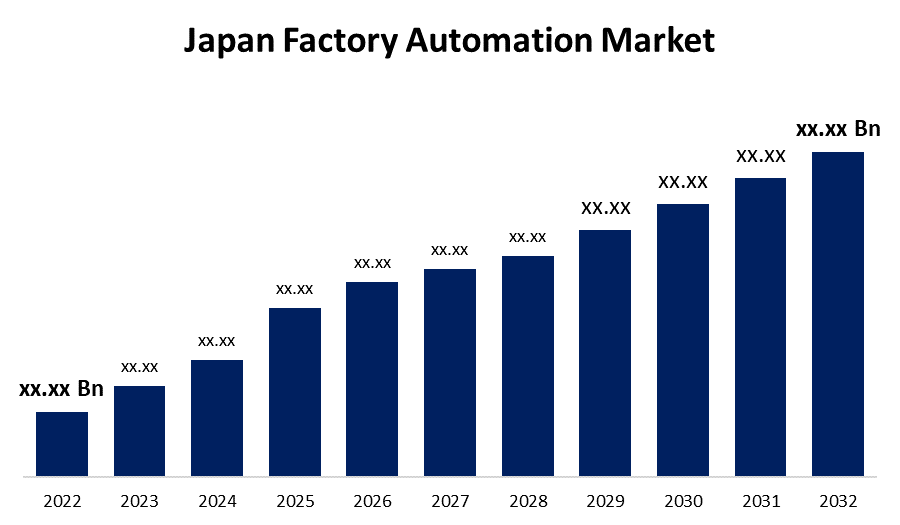 Get more details on this report -
Request Free Sample PDF
Market Overview
The implementation of automated technology for overall industrial processes is known as factory automation. Automation in manufacturing industries frequently uses technologies like pneumatic systems, hydraulic systems, and robotic arms for building a more complicated system. In a modern factory context that is evolving promptly, factory automation offers a compelling method to increase efficiency, productivity, tranquility, long-term sustainability, and safety.
Global demand for factory automation is rising, and Japan is at the leading edge of manufacturing robots and factory automation solutions. As a result, five of the top ten global producers are Japanese, and they account for approximately 35% of the overall market. Japan's contemporary robotics dominance is based on an extended tradition of technological superiority in manufacturing sectors, and Japanese automation enterprises are currently profiting from the substantial increase in consumer demand for their offerings. Yaskawa Electric, Mitsubishi Electric, Omron Corp., Yokogawa Electric, and Nidec Corp. are among the leading Japanese manufacturers of factory automation and robotics. These companies generate 65% of their sales overseas instead of the Japanese market on average, indicating both the outstanding quality of their products along with their objective to be internationally driven businesses.
Report Coverage
This research report categorizes the market for Japan Factory Automation Market based on various segments and regions and forecasts revenue growth and analyzes trends in each submarket. The report analyses the key growth drivers, opportunities, and challenges influencing the Japan Factory Automation Market. Recent market developments and competitive strategies such as expansion, product launch, and development, partnership, merger, and acquisition have been included to draw the competitive landscape in the market. The report strategically identifies and profiles the key market players and analyses their core competencies in each sub-segments of the Japan Factory Automation Market.
Japan Factory Automation Market Report Coverage
| Report Coverage | Details |
| --- | --- |
| Base Year: | 2022 |
| Forecast Period: | 2022-2032 |
| Forecast Period 2022-2032 CAGR: | 14.78% |
| Historical Data for: | 2020-2021 |
| No. of Pages: | 120 |
| Tables, Charts & Figures: | 94 |
| Segments covered: | By Solution, By Component, By End Users, and COVID-19 Impact Analysis |
| Pitfalls & Challenges: | COVID-19 has the potential to impact the global market |
Get more details on this report -
Request Free Sample PDF
Driving Factors
Japanese enterprises specializing in the e-commerce sector and warehouse storage have seen significant demand as customers migrate to online shopping; however, there are also drawbacks, such as an increasing labor shortage resulting from Japan's aging and declining workforce. Companies such as ASKUL, a well-known e-commerce platform, have made significant investments in logistical robots such as automated pallet movement and trackless conveying systems to counter this issue. As a result, the need for factory automation in the country has increased significantly.
Furthermore, the factory automation market is steadily increasing as advanced solutions which include cloud-based technologies, machine learning (ML), artificial intelligence (AI), industrial internet of things (IIoT), quantum computing, and others have been introduced. Also, with the introduction of Industry 4.0, the manufacturing industry has experienced rapid acceptance of innovative technologies and improved connectivity architectures, which is expected to generate tremendous demand for Japan's factory automation market growth.
A major improvement in investment by leading companies in next-generation automation solutions such as industrial robots, SCADA, human machine interface, and others are also predicted to make Japan a prominent market for factory automation. This will help to expand the country's factory automation industry. Along with enhancing worker efficiency, robots are rapidly replacing employees who handle riskier professions or operate in hazardous settings, resulting in a more secure working environment and lower workers' compensation operating expenses. In other circumstances, investment in factory automation is even assisting in the preservation of employment from outsourcing. Furthermore, the increase in investment and continued expansion in the manufacturing sector is expected to boost the Japanese market's growth over the forecast period.
Market Segment
In 2022, the SCADA segment is witnessing a higher growth rate over the forecast period.
Based on the solution, the Japan Factory Automation Market is segmented into SCADA, PLC, DCS, MES, Industrial Safety, PAM, and Others. Among these, the SCADA segment is witnessing a higher growth rate over the forecast period. The electronics industry, which specializes in the production of semiconductor devices and other consumer electronics, is one of the key customers for SCADA systems in Japan's factory automation market. Increasing investment in SCADA distributed sensor networks, coupled with tremendous expansion in big data and analytics, have increased the effectiveness of factory automation systems, generating significant prospects for the Japan factory automation market growth.
In 2022, the industrial robots segment is witnessing significant CAGR growth over the forecast period.
On the basis of technology, Japan Factory Automation is segmented into industrial robots, machine vision, process analyzer, industrial PC, industrial Sensors, industrial 3D printing, and others. Among these, the industrial robots segment is witnessing significant CAGR growth over the forecasted period. Manufacturing companies in Japan are using robots for automating some of the repetitive procedures due to rising demand from various industries. Because of the increasing deployment of smart manufacturing systems, the industrial robot segment has seen tremendous growth over the last decade. Additionally, the recent increase in the popularity of industrial robots in Japan was fueled by a labor scarcity caused by COVID-19-related lockdowns and the modernization of well-established sectors. Furthermore, factory automation using robots minimizes raw material waste products, labor requirements, and energy consumption while also ensuring a seamless and uninterrupted circulation in the production process, all of which are likely to fuel segment growth.
In 2022, the manufacturing segment is witnessing significant CAGR growth over the forecast period.
On the basis of end users, the Japan Factory Automation Market is segmented into manufacturing, automotive, chemical, aerospace & defense, oil & gas, energy & utilities, food & beverage, healthcare, mining & metal, transportation, and others. Among these, the manufacturing segment is witnessing significant CAGR growth over the forecasted period. This growth can be attributed to the rising trend of autonomous processes in factories and manufacturing industries utilizing automated approaches and solutions. With automated systems, manufacturers can minimize operational delays and instances of error in production processes. These are software or technology-based systems that require minimal or no human involvement. This is expected to drive segment growth during the predicted period.
Competitive Analysis:
The report offers the appropriate analysis of the key organizations/companies involved within the Japan Factory Automation Market along with a comparative evaluation primarily based on their product offering, business overviews, geographic presence, enterprise strategies, segment market share, and SWOT analysis. The report also provides an elaborative analysis focusing on the current news and developments of the companies, which includes product development, innovations, joint ventures, partnerships, mergers & acquisitions, strategic alliances, and others. This allows for the evaluation of the overall competition within the market.
List of Key Companies
Nidec Corp.
IDEC Corporation
KOIKE SANSO KOGYO CO., LTD.
Tsubakimoto Chain Co.
Sanyo Machine Works Co. Ltd.
Omron Corp.
Nihon Koso Co., Ltd.
KEYENCE CORPORATION
Denso Wave Incorporated
Spiral Inc.
YSystems Kokusai Co., Ltd.
Kawasaki Heavy Industries
Yaskawa Electric
OPTEX FA
Mujin, Inc.
Yokogawa Electric
MRT Corporation
Telexistence Inc.
Mitsubishi Electric Corporation
Key Target Audience
Market Players
Investors
End-users
Government Authorities
Consulting and Research Firm
Venture capitalists
Value-Added Resellers (VARs)
Recent Developments
On March 2023, Mitsubishi Electric has released a mobile app called "Factory Automation SPEC Search" to help with the selection and comparison of factory automation products used to develop digital manufacturing systems. Computerized numerical controls (CNCs), industrial and collaborative robotics, electrical discharge machines (EDMs), energy-saving devices, and selected human-machine interfaces (HMIs) are among the goods supported.
On March 2023, Yokogawa Electric Corporation has released OpreXTM Asset Health Insights (2.0), an improved version of the company's cloud-based plant asset monitoring service, OpreX Asset Management and Integrity. This solution provides enterprises with a 360-degree picture of operational assets, making asset management easier and improving operational efficiency, performance, and decision-making.
In March 2022, Mitsubishi announced the purchase of 42,000 square meters of land in Aichi Prefecture, Japan. The site will be used to build a factory automation component manufacturing plant that will be completed by 2025. The new factory will be located in Nagoya, which is home to Mitsubishi Electric's primary factory automation operation. The factory will be a three-story, 33,600-square-meter structure with seismic resilience built in.
In May 2022, Mitsubishi Electric, the EEC, and the Thai-Japan Ecosystem Alliance have announced the success of their collaboration with over 60 Thai firms and 1,000 companies worldwide to transfer sophisticated knowledge and technology to the Thai manufacturing sector. With an extra investment of no less than THB 50 billion over three years, the goal is to convert more than 10,000 factories to the e-F@ctory (Industry 4.0 + 5G Utilization) level and train over 50,000 workers.
Market Segment
This study forecasts revenue at global, regional, and country levels from 2021 to 2032. Spherical Insights has segmented the Japan Factory Automation Market based on the below-mentioned segments:
Japan Factory Automation Market, By Solution
SCADA
PLC
DCS
MES
Industrial Safety
PAM
Others
Japan Factory Automation Market, By Components
Industrial Robots
Machine Vision
Process Analyzer
Industrial PC
Industrial Sensors
Industrial 3D Printing
Others
Japan Factory Automation Market, By End Users
Manufacturing
Automotive
Chemical
Aerospace & Defense
Oil & Gas
Energy & Utilities
Food & Beverage
Healthcare
Mining & Metal
Transportation
Others
Need help to buy this report?