Global Industrial PC Market Size, Share, and COVID-19 Impact Analysis, By Type (Box, Panel, Rack Mount, Embedded, DIN Rail, Others), By Technology (Resistive, Capacitive), By End-Use (Discrete Industries, Process Industries), and By Region (North America, Europe, Asia-Pacific, Latin America, Middle East, and Africa), Analysis and Forecast 2022 – 2032
Industry: Semiconductors & Electronics
---
REPORT FORMAT

---
Global Industrial PC Market Insights Forecasts to 2032
The Industrial PC Market Size was valued at USD 5.17 Billion in 2022.
The Market is Growing at a CAGR of 9.63% from 2022 to 2032
The Worldwide Industrial PC Market Size is expected to reach USD 11.83 Billion by 2032
North America is expected to Grow the fastest during the forecast period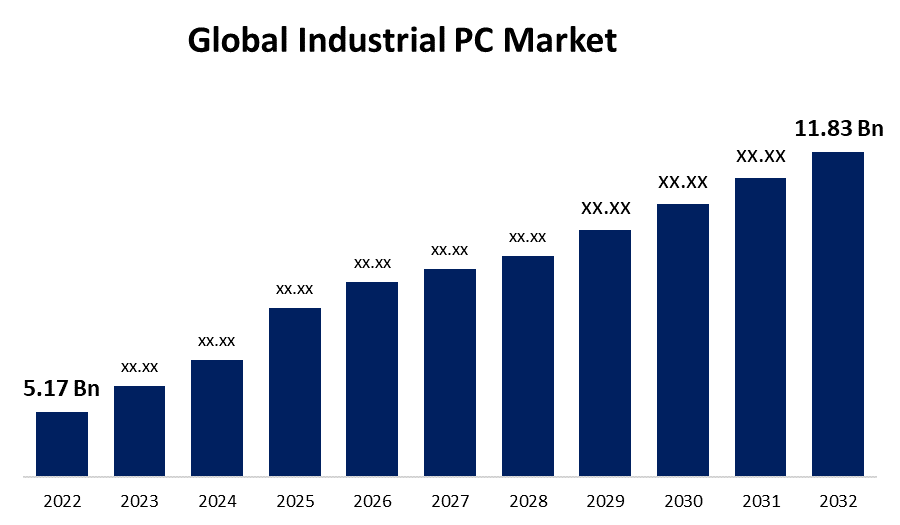 Get more details on this report -
Request Free Sample PDF
The Global Industrial PC Market Size is expected to reach USD 11.83 Billion by 2032, at a CAGR of 9.63% during the forecast period 2022 to 2032.
The industrial PC computing system is built to function in challenging circumstances like high-temperature swings, high humidity, moisture, and abrasive particles. In comparison to desktop PCs, industrial PCs present an interactive user experience and are used for both personal and professional purposes regarding computing, storage, and connectivity. In terms of dependability, compatibility, diversification possibilities, and future supply, industrial PCs provide distinct advantages over consumer PCs. Process control and/or data collection are the primary applications for industrial PCs. In a few instances, a distributed processing environment will use an industrial PC merely as a front end to another control computer.
In general, industrial PCs are much more expensive than office-style computers of comparable price and performance. The majority of industrial PC systems use single-board computers and backplanes. Industrial PCs are usually more expensive than consumer electronics while maintaining higher standards for reliability and precision. When compared to reduced instruction sets like ARM, they frequently use more complex instruction sets like x86. Industrial PCs have low power requirements because they are operated on nickel-cadmium or nickel metal hydride batteries or alternative forms of energy such as wind or solar energy. Industrial PCs have a wide range of applications, including automated manufacturing, aviation, aerospace, transportation management, solar power, and wind turbines.
Global Industrial PC Market Report Coverage
| Report Coverage | Details |
| --- | --- |
| Base Year: | 2022 |
| Market Size in 2022: | USD 5.17 Billion |
| Forecast Period: | 2022-2032 |
| Forecast Period 2022-2032 CAGR: | 9.63% |
| 2032 Value Projection: | USD 11.83 Billion |
| Historical Data for: | 2020-2021 |
| No. of Pages: | 200 |
| Tables, Charts & Figures: | 130 |
| Segments covered: | By Type, By Technology, By End-Use, By Region, and COVID-19 Impact Analysis |
| Companies Covered: | DFI, Kontron, Siemens, OMRON Corporation, American Portwell Technology Inc., VarTech Systems, Schneider Electric, NEXCOM International Co., Ltd., Panasonic Corporation, ADLINK Technology Inc., Crystal Group Inc., Cervoz Technology Co., Ltd., Diamond Flower Inc., OnLogic Inc., Advantech Co., Ltd., Emerson Electric Co., B&R Automation, Beckhoff Automation, IEI Integration Corporation, Mitsubishi Electric Corporation, Rockwell automation, AAEON Technology Inc., Protech Systems Co., Ltd., Avalue Technology Incorporation |
| Pitfalls & Challenges: | COVID-19 has the potential to impact the global market |
Get more details on this report -
Request Free Sample PDF
Driving Factors
The growing popularity of IoT, big data, and machine learning (ML) in several industries, including manufacturing, oil & gas, automotive, and the food and beverage industry, are expected to be key drivers of the development of the global industrial PC market. There is a major shift in data as well as its value across IT operational effectiveness. Industry 4.0, which is an era of change and development, is creating enormous demand for computing systems that are flexible in their specific functions and workload capabilities. A prime illustration of such demands is the integration of IoT, which is connected to machines. As a result, growing demand from different verticals for energy-efficient manufacturing techniques drives the expansion of the industrial PC market.
Industrial PCs are also used present-day as frameworks for local or edge-level workload convergence as well as individualized workload encapsulation. As a result, due to their high efficiency and low power requirements, industrial PCs have become increasingly popular recently in applications such as solar power and wind turbines, aerospace, transportation management, and industrial automation. In addition, rising demand for industrial PCs from various end-use industries prompts manufacturers to develop and introduce advanced PCs in the market.
Industrial PC sales are anticipated to witness significant growth as a result of manufacturing companies investing continually in their IT infrastructures to improve their productivity. Manufacturers can utilize industrial PCs to track and analyze their operations in real-time, tackle problems rapidly, and evaluate profitability. Governments from throughout the globe have initiated measures that foster the utilization of cutting-edge technologies for production. This is fueling the growth of the industrial PC market.
Restraining Factors
However, Industrial PC setup costs are especially high, as are the costs of upkeep and setup. The high costs associated with setting up industrial PCs are extremely high for most organizations, especially Small and Medium-Sized (SME) businesses. Furthermore, these PCs have the potential for security breaches and hacking opportunities, so hackers are encouraged to investigate vulnerabilities in a variety of industrial software and systems as a result of the increasing virtualization of manufacturing companies. As a result of these factors, the industrial PC market is expected to be restrained.
Market Segmentation
By Type Insights
The DIN rail segment is dominating the market with the largest revenue share over the forecast period.
On the basis of type, the global industrial PC market is segmented into the box, panel, rack mount, embedded, DIN rail, and others. Among these, the DIN rail segment is dominating the market with the largest revenue share of 38.6% over the forecast period. DIN Rail industrial PCs are small, high-capacity computing machines used largely in the defense, traffic statistics, transit, manufacturing, and healthcare industries. The demand for DIN Rail industrial PCs in discrete and manufacturing industries is being driven by the increasing need for computerization and operational intelligence for improving output as well as the increased emphasis on enhancing asset and manpower management. Furthermore, these industrialized PCs are high-performance computer devices that are specifically designed for the intricacies of production control processes.
By Technology Insights
The capacitive segment is witnessing significant CAGR growth over the forecast period.
On the basis of technology, the global industrial PC Market is segmented into resistive and capacitive. Among these, capacitive is witnessing significant CAGR growth over the forecast period. This expansion can be ascribed mostly to the growing market for capacitive touchscreen technologically driven industrial PCs in the industrial sector, owing to their faster response time, better precision, and lack of requirement for frequent changes. The built-in version of capacitive touchscreen computers is made for industrial applications. Furthermore, capacitive touchscreen projection display PCs render it easy for users to switch between programs. Because this type of screen responds rapidly and sensitively when touched, users are able to access and monitor automated activities while wearing gloves.
By End-Use Insights
The discrete industries segment accounted the largest revenue share of more than 57.2% over the forecast period.
On the basis of end-use, the global industrial PC market is segmented into discrete industries and process industries. Among these, discrete industries are dominating the market with the largest revenue share of 57.2% over the forecast period. The discrete Industries section is further subdivided into automotive, aerospace and military, semiconductors and electronics, medical devices, and others. The growing demands for efficiency and more process adaptability in this market are accountable for the ascendancy of discrete industries. Furthermore, the complete incorporation of quality and regulatory requirements, incorporated production processes for efficient management of the supply chain, and constant push to minimize operating and maintenance expenditures all contribute to the rising demand for industrial PC in discrete industries segments. This segment's revenue growth is also being aided by the increasing deployment of automation and integration of IoT technology.
Regional Insights
Asia Pacific dominates the market with the largest market share over the forecast period.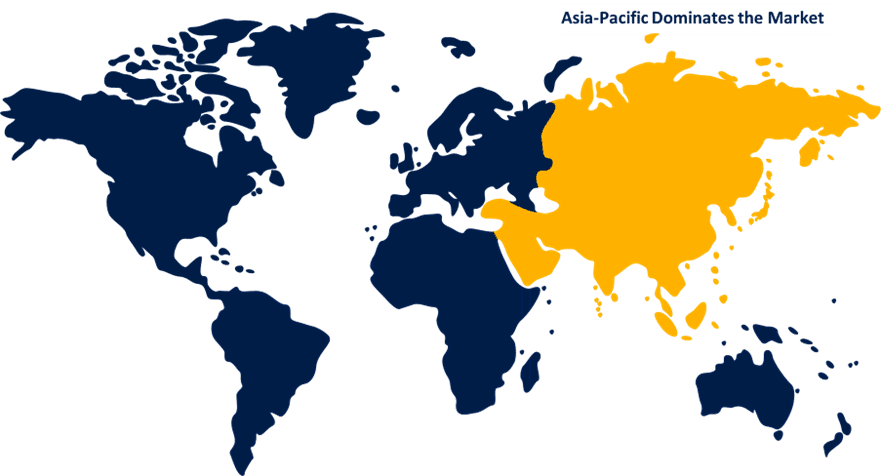 Get more details on this report -
Request Free Sample PDF
Asia Pacific is dominating the market with more than 38.7% market share over the forecast period. Rising demand from growing economies such as China, Japan, India, and South Korea is further boosting the region's industrial PC industry. The burgeoning popularity of developing regions industrialization, greater spending power, quick investments in the manufacturing and energy sectors, and increasing populations are contributing to the growth of this region's industrial PC market. Furthermore, the incorporation of sophisticated technologies such as AI, IoT, and ML into manufacturing operations offers potentially numerous prospects for the industry in this region. Industrial PC manufacturers are aggressively leveraging the Industrial Internet of Things (IIoT) across various sectors to optimize their assets and prices, resulting in a wide range of industrial PC market potential in this region. Due to increased demand for healthcare facilities, rising health concerns, and rising investments in industrial R&D, high-tech medical device manufacturing businesses are aggressively focusing on regional expansions in Asia Pacific. This is expected to drive the growth of the Asia Pacific industrial PC market over the projected time frame.
North America, on the contrary, is expected to grow the fastest during the forecast period. This is owing to the increasing adoption of modern technology in industrial sectors across the area, particularly in the United States. The region's industrial enterprises are focusing on adopting advanced technologies in order to improve their manufacturing processes and boost productivity. Furthermore, the most rapidly increasing application markets for industrial PCs encompass automotive and other discrete industries such as aviation and military, healthcare equipment, and electronic devices, which is driving the industrial PC market growth in the region. Furthermore, rising expenditures in artificial intelligence technology in industrial automation are driving up demand for industrial PCs in this region.
The Europe market is expected to register a substantial CAGR growth rate during the forecast period because of the rising adoption of automated processes in industrial activities in countries across the area, notably the UK, Germany, and France. Furthermore, the region's expanding trend of digital transformation in the manufacturing industry is likely to promote the market's development. By several synchronizing operations, directing investments, and maximizing capacities, the European Commission has been supporting businesses across Europe in transitioning to the digital environment.
List of Key Market Players
DFI
Kontron
Siemens
OMRON Corporation
American Portwell Technology Inc.
VarTech Systems
Schneider Electric
NEXCOM International Co., Ltd.
Panasonic Corporation
ADLINK Technology Inc.
Crystal Group Inc.
Cervoz Technology Co., Ltd.
Diamond Flower Inc.
OnLogic Inc.
Advantech Co., Ltd.
Emerson Electric Co.
B&R Automation
Beckhoff Automation
IEI Integration Corporation
Mitsubishi Electric Corporation
Rockwell automation
AAEON Technology Inc.
Protech Systems Co., Ltd.
Avalue Technology Incorporation
Key Market Developments
On April 2023, NEXCOM introduced the NDiS B338 fanless visual edge computer, which is intended for use in indoor and outdoor signage or self-service kiosk applications. This tiny and lightweight gadget, powered by an Intel® Celeron® CPU, can handle a variety of functions, including data gathering at the edge, brand messaging, customer engagement, and information sharing to increase in-store traffic, convenience, and sales. The NDiS B338's compatibility with 5G and Wi-Fi 6 is one of its most notable characteristics, enabling quick data processing and transmission via cloud and server for real-time message display.
On March 2023, Avalue Technology Inc., a global developer of industrial PC solutions, announced the debut of two new products intended exclusively for the medical and healthcare industries: the HID-2100, a 21.5-inch touch monitor, and the HID-2138, a 21.5-inch panel PC. The HID-2138 has a number of significant characteristics that make it an outstanding choice for healthcare establishments. The device's simple data entry mechanism enables straightforward and accurate patient data input. The HID-2138 also has a P-Cap multi-touch screen, which allows hospital employees to use the device while wearing medical gloves, ensuring convenience and hygiene in clinical situations.
On March 2023, Advantech, a global pioneer in Industrial IoT, announced the debut of the IPC-320, a small tower IPC powered by Intel® CoreTM i processors from the 12th/13th generation. The IPC-320 is a brand-new edge computer design that reshapes the image of industrial PCs, with its industrial-grade design, modern appearance, and low acoustics, making it a high-performance control console for factory automation and industrial manufacturing, but also a reliable terminal for laboratories and healthcare industries.
Market Segment
This study forecasts revenue at global, regional, and country levels from 2020 to 2032. Spherical Insights has segmented the Global Industrial PC Market based on the below-mentioned segments:
Industrial PC Market, Type Analysis
Box
Panel
Rack Mount
Embedded
DIN Rail
Others
Industrial PC Market, Technology Analysis
Industrial PC Market, End-Use Analysis
Automotive
Aerospace & Defense
Semiconductor & Electronics
Medical Device
Others
Chemical Energy & Power
Oil & Gas
Food & Beverage
Pharmaceutical
Others
Industrial PC Market, Regional Analysis
North America
Europe

Germany
Uk
France
Italy
Spain
Russia
Rest of Europe

Asia Pacific

China
Japan
India
South Korea
Australia
Rest of Asia Pacific

South America

Brazil
Argentina
Rest of South America

Middle East & Africa

UAE
Saudi Arabia
Qatar
South Africa
Rest of Middle East & Africa
Need help to buy this report?