Global Industrial Safety Market Size, By Type (Machine Safety, Worker Safety), By Component (Presence Sensing Safety Sensors, Safety Controllers/ Modules/ Relays, Programmable Safety Systems, Safety Interlock Switches, Emergency Stop Controls, Two-Hand Safety Controls, Others), By Industry (Oil & Gas, Energy & Power, Chemicals, Food & Beverages, Aerospace & Defense, Automotive, Semiconductor, Healthcare & Pharmaceuticals, Metals & Mining, Others), By Geographic Scope and Forecast, 2023 – 2032
Industry: Semiconductors & Electronics
---
REPORT FORMAT

---
Global Industrial Safety Market Insights Forecasts to 2032
The Industrial Safety Market Size was valued at USD 5.93 Billion in 2022.
The Market Size is Growing at a CAGR of 7.6% from 2022 to 2032
The Worldwide Industrial Safety Market Size is expected to reach USD 12.31 Billion by 2032
Asia Pacific is expected to Grow the fastest during the forecast period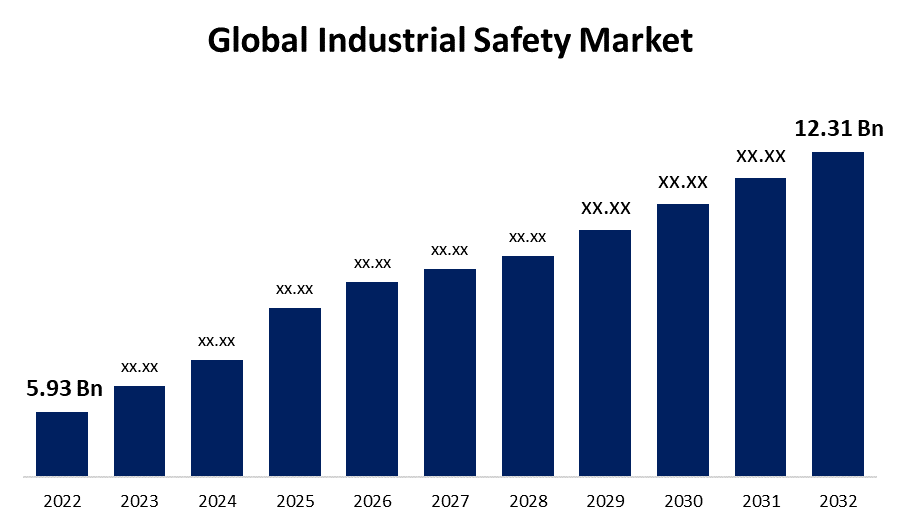 Get more details on this report -
Request Free Sample PDF
The Global Industrial Safety Market is expected to reach USD 12.31 Billion by 2032, at a CAGR of 7.6% during the forecast period 2022 to 2032.
Industrial safety guarantees the safety and security of personnel, as well as machinery and equipment that can cause damage if not properly handled. To phrase it briefly, prophylactic procedures that can be developed to cope with potentially hazardous circumstances are required to avoid any human incident or machinery failure. A number of systems, such as emergency shutdown systems, fire and gas monitoring, and pressure protection, are utilized in a variety of industrial sectors, including oil and gas, food and beverage, pharmaceutical, chemicals, and metals and mining. Governmental organizations monitor it by means of multiple laws and rules. In fact, millions of occupational or industrial accidents occur each year, resulting in significant loss of production time, making it critical to invest in industrial safety. In addition, most of the production time is wasted by people who are seriously injured owing to temporary and permanent disablement, as well as by those who assist those who are injured. As a result, to achieve production efficiency, it is vital to comply with industrial safety laws. The growing number of industries in various nations, a rising need for improved production rates, and government regulations and guidelines are fueling the global industrial safety market expansion. Furthermore, the growing use of the Industrial Internet of Things is likely to provide new growth prospects. However, the large investment needed to fund equipment implementation and the expensive nature of maintenance are the two key challenges impeding the industrial safety market growth.
Market Outlook
Industrial Safety Market Growth Analysis
The importance of technological advances in the growth of industrial safety cannot be underestimated. The introduction of Industry 4.0, as well as the increasing integration of the Internet of Things (IoT) into the manufacturing instance, have opened the demand for new safety solutions. Furthermore, predictive maintenance powered by AI and machine learning is critical in recognizing potential machinery failures well before they pose a safety risk. Governments and regulatory agencies all around the world have played an important role in establishing the safety landscape. The implementation of severe laws, frequently prompted by previous tragedies or new research, has forced industries to enhance their safety practices and equipment.
Industrial Safety Market Distribution Analysis
The industrial safety market distribution conveys context for the protective measures and systems used by companies around the world to protect human resources, equipment, and infrastructure. Geographically, Europe and North America have been at the forefront of the sector because of stringent regulatory standards, technical breakthroughs, and a strong industrial foundation. However, the Asia Pacific region, particularly India and China, is witnessing tremendous growth as a result of industrial expansion and growing awareness of safety requirements. Energy, manufacturing, and chemical industries are the most active users of industrial safety solutions, with an emphasis on accident prevention, machinery safety, and hazardous material management. The adoption of new technologies such as IoT and AI has bolstered the industry even further, enabling real-time monitoring and predictive maintenance.
Global Industrial Safety Market Report Coverage
| Report Coverage | Details |
| --- | --- |
| Base Year: | 2022 |
| Market Size in 2022: | USD 5.93 Billion |
| Forecast Period: | 2022-2032 |
| Forecast Period 2022-2032 CAGR: | 7.6% |
| 2032 Value Projection: | USD 12.31 Billion |
| Historical Data for: | 2018-2021 |
| No. of Pages: | 210 |
| Tables, Charts & Figures: | 100 |
| Segments covered: | By Type, By Component, By Industry, By Geographic and Covid-19 Impact Analysis |
| Companies Covered: | Siemens AG, Emerson Electric Co., HIMA, Yokogawa Electric Corp., Omron Corporation, Schneider Electric SE, Honeywell International Inc., ABB Ltd., Rockwell Automation, Inc., Baker Hughes, Johnson Controls, Proserv Ingenious Simplicity, and Others. |
| Growth Drivers: | Stringent regulatory and compliance standards |
| Pitfalls & Challenges: | COVID-19 Empact, Challenges, Future, Growth, & Analysis |
Get more details on this report -
Request Free Sample PDF
Market Dynamics
Industrial Safety Market Dynamics
Stringent regulatory and compliance standards
Regulatory organizations around the world have strengthened safety requirements to ensure worker safety and environmental preservation. These standards compel industries to follow stringent safety protocols, increasing demand for industrial safety solutions. These restrictions ensure that industries put safety first. Industries that fail to comply frequently risk harsh penalties, legal action, or operational shutdowns. This driving force has resulted in the industry investing proactively in safety equipment, tools, and training programs in order to maintain compliance and avoid repercussions. Minimum requirements are created and enforced by organizations such as the Occupational Safety and Health Administration (OSHA) in the United States and the European Agency for Safety and Health at Work in the European Union.
Rapid technological advancements
The incorporation of technologies such as Artificial Intelligence (AI), the Internet of Things (IoT), and machine learning into safety systems has changed the way businesses monitor and predict possible threats. Accidents and mechanical breakdowns are reduced via real-time monitoring, predictive maintenance, and early hazard detection. They also increase efficiency by reducing unnecessary downtime. IoT sensors can continuously monitor equipment conditions, and AI algorithms may forecast when maintenance is necessary, preventing any failures.
Restraints & Challenges
Integration challenges with legacy systems are restraining the market growth.
The majority of industrial settings, particularly those that have been in operation for decades, rely on legacy technologies to function. These older technologies may be incompatible with contemporary safety measures, posing integration difficulties. The difficulties of integrating modern safety technologies with legacy systems can lead to operational snags, significant system outages, or even an outbreak of new vulnerabilities. Integrating new safety measures without a thorough revamp of the old system may be impossible in some circumstances. This dynamic frequently causes industries to postpone or avoid updating their safety protocols, particularly if outdated technologies are strongly established in their operations.
Regional Forecasts
North America Market Statistics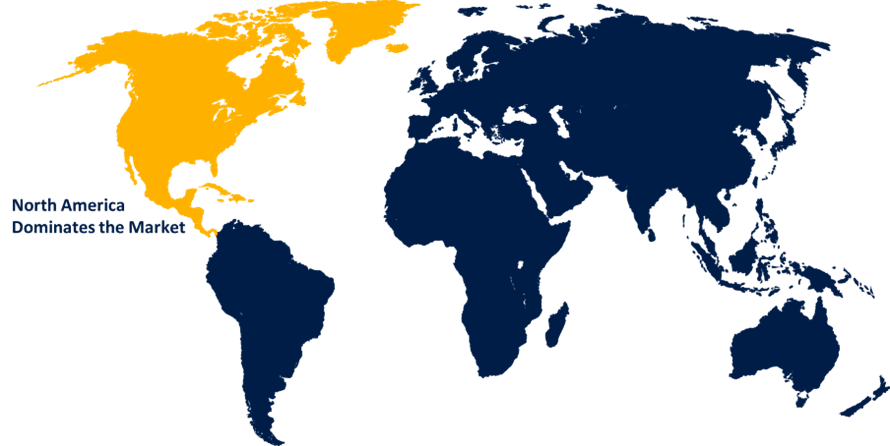 Get more details on this report -
Request Free Sample PDF
North America is anticipated to dominate the Industrial Safety market from 2023 to 2032. This is owing to its innovative manufacturing sector, rigid legislative environment, and early adoption of cutting-edge safety solutions. The presence of significant industrial players, as well as constant R&D investments, strengthen the region's dominating position. Furthermore, regulatory authorities such as the Occupational Safety and Health Administration (OSHA) in the United States establish stringent safety standards, forcing firms to implement advanced safety measures. The region is home to a diverse range of businesses, from energy and manufacturing to chemicals and pharmaceuticals, each with its own set of safety standards.
Asia Pacific Market Statistics
Asia Pacific is witnessing the fastest market growth between 2023 to 2032. The enormous amount of industrial activity, along with growing awareness and regulatory emphasis on safety, emphasizes Asia Pacific as a vital market with tremendous growth potential throughout the forecast period. As industries in Asia Pacific countries modernize and embrace advanced safety regulations and technology, the region's industrial safety market is predicted to increase significantly. With major investments in infrastructure projects across the region, there is a strong emphasis on safety in industries such as construction, transportation, and energy. Furthermore, the Asia Pacific area is rapidly adopting sophisticated technologies such as AI, IoT, and big data analytics to improve industrial safety.
Segmentation Analysis
Insights by Type
The worker safety segment accounted for the largest market share over the forecast period 2023 to 2032. The major reason is that PPE is required in all industries, regardless of size or domain. Worker safety is concerned with protecting employees and other participants in an industrial setting against accidents, exposures, or other potentially harmful events. Whether at a large industrial facility, a construction site, or a small workshop, worker safety is vital, resulting in the widespread use of PPE and other worker safety precautions. However, as automation and machinery use become more common and sophisticated, the need for machine safety grows. As modern enterprises incorporate more complicated gear into their processes, the demand for innovative machine safety solutions grows.
Insights by Component
The presence sensing safety sensors segment accounted for the largest market share over the forecast period 2023 to 2032. Because of their adaptability, application across multiple industries, and critical function in detecting unwanted or unexpected intrusions, they are an essential component of many industrial safety systems. These sensors are employed not only in high-end automation but also in basic industrial installations, resulting in widespread adoption. Furthermore, factors such as the advent of Industry 4.0, the increasing requirement for safety light curtains in the packing industry powered by robotics, and the increasing number of accidents in industries are boosting the demand for presence-sensing safety sensors in the industrial safety market.
Insights by Industry
The oil & gas segment accounted for the largest market share over the forecast period 2023 to 2032. The inherent risks associated with oil exploration, drilling, refinement, and transportation mean that there's a significant emphasis on safety. Accidents in this sector can result in significant environmental and human harm, leading to immense financial and reputational costs. As a result, the oil & gas industry invests heavily in the best safety systems available.
Competitive Landscape
Major players in the market
Siemens AG
Emerson Electric Co.
HIMA
Yokogawa Electric Corp.
Omron Corporation
Schneider Electric SE
Honeywell International Inc.
ABB Ltd.
Rockwell Automation, Inc.
Baker Hughes
Johnson Controls
Proserv Ingenious Simplicity
Recent Market Developments
On January 2023, SureWerx, a prominent North American supplier of personal protection equipment, safety gear, and tool solutions, announced the sale of the company to Partners Group, a renowned global private markets organization, from The Riverside Company. This strategic investment will allow Partners Group to accelerate SureWerx's growth by introducing complementary new goods and brands and providing best-in-class service to its existing network of committed distributors and end-users.
Market Segmentation
This study forecasts revenue at global, regional, and country levels from 2023 to 2032.
Industrial Safety Market, Type Analysis
Machine Safety
Worker Safety
Industrial Safety Market, Component Analysis
Presence Sensing Safety Sensors
Safety Controllers/ Modules/ Relays
Programmable Safety Systems
Safety Interlock Switches
Emergency Stop Controls
Two-Hand Safety Controls
Others
Industrial Safety Market, Industry Analysis
Oil & Gas
Energy & Power
Chemicals
Food & Beverages
Aerospace & Defense
Automotive
Semiconductor
Healthcare & Pharmaceuticals
Metals & Mining
Others
Industrial Safety Market, Regional Analysis
Germany
Uk
France
Italy
Spain
Russia
Rest of Europe
China
Japan
India
South Korea
Australia
Rest of Asia Pacific
Brazil
Argentina
Colombia
UAE
Saudi Arabia
South Africa
Frequently Asked Questions (FAQ)
1.What is the market size of the Industrial Safety Market?

The global Industrial Safety Market is expected to grow from USD 5.93 Billion in 2023 to USD 12.31 Billion by 2032, at a CAGR of 7.6% during the forecast period 2023-2032.

2.Who are the key market players of the Industrial Safety Market?

Siemens AG, Emerson Electric Co., HIMA, Yokogawa Electric Corp., Omron Corporation, Schneider Electric SE, Honeywell International Inc., ABB Ltd., Rockwell Automation, Inc., Baker Hughes, Johnson Controls, Proserv Ingenious Simplicity

3.Which segment holds the largest market share?

Oil & gas segment holds the largest market share and is going to continue its dominance.

4.Which region is dominating the Industrial Safety Market?

North America is dominating the Industrial Safety Market with the highest market share.
Need help to buy this report?