Global Geomembrane Market Size By Raw Material (High-Density Polyethylene (HDPE), Polyvinyl Chloride (PVC)), By Application (Aquaculture and Fish Farming, Water Management, Mining), By Region, And Segment Forecasts, By Geographic Scope And Forecast 2022 to 2032
Industry: Chemicals & Materials
---
REPORT FORMAT

---
Global Geomembrane Market Size Insights Forecasts to 2032
The Geomembrane Market Size was valued at USD 4.6 Billion in 2022.
The Market is growing at a CAGR of 8.7% from 2022 to 2032
The worldwide Geomembrane Market Size is expected to reach USD 5.9 Billion by 2032
Asia Pacific is expected to grow the fastest during the forecast period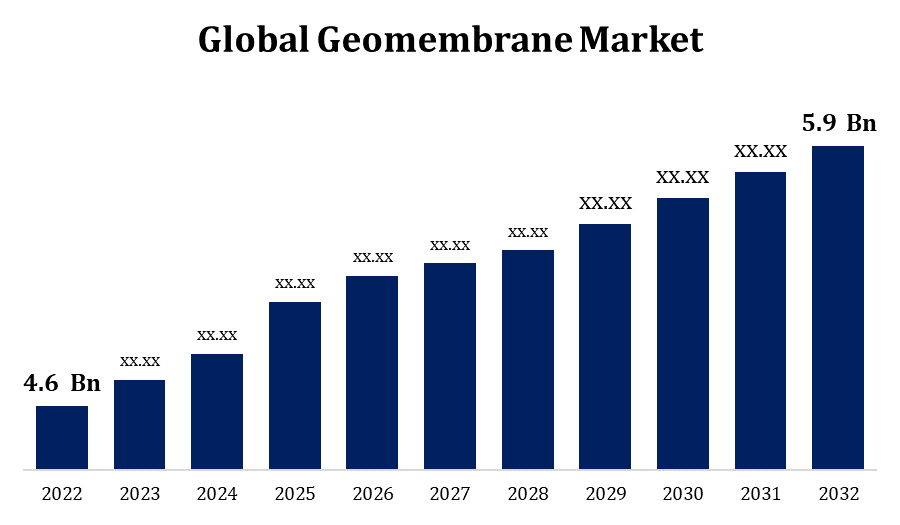 Get more details on this report -
Request Free Sample PDF
The Global Geomembrane Market Size is expected to reach USD 5.9 Billion by 2032, at a CAGR of 8.7% during the forecast period 2022 to 2032.
Growing environmental consciousness and the demand for effective waste management solutions have propelled the geomembranes market upwards. As more environmentally friendly practises are adopted by enterprises, geomembranes are essential for preventing contamination of soil and water. Geomembranes are especially needed for waste containment, mining, and water management applications. The geomembranes market is anticipated to continue expanding as environmental protection rules get stronger. Additionally, producers are looking at novel materials and technological advancements to improve the longevity and functionality of geomembranes. Furthermore, the market is growing as a result of continuous developments in geomembrane technologies, such as the creation of high-performance materials and enhanced installation methods. The market for geomembranes is anticipated to grow in the future to meet the issues of waste management, water conservation, and environmental sustainability as urbanisation and industrialization persist.
Geomembrane Market Value Chain Analysis
The process starts with the manufacturing of raw materials, which might be synthetic polymers, polyvinyl chloride (PVC), high-density polyethylene (HDPE), low-density polyethylene (LDPE), or ethylene propylene diene monomer (EPDM). The selection of these materials is based on their resistance to environmental variables, flexibility, and durability. After that, the raw materials are processed to create geomembranes. This can entail calendering, extrusion, or other fabrication techniques, depending on the kind of geomembrane being made. During this phase, quality monitoring is essential to guarantee that the geomembranes fulfil the necessary requirements. Geomembranes are supplied to different suppliers, distributors, and construction firms after they are manufactured. In order to guarantee that geomembranes are delivered to end customers effectively and on schedule, the distribution network is essential. Geomembranes are used in many different applications, including agricultural water storage, mining ponds, and landfill liners. The utilisation of geomembranes in particular applications is the last phase. This can involve preventing soil erosion, conserving water in reservoirs, controlling waste in landfills, and taking other steps to protect the environment. Geomembranes may need to be periodically maintained and monitored after installation in order to guarantee their continuous efficacy.
Geomembrane Market Opportunity Analysis
In applications like road and tunnel building, geomembranes are becoming more and more in demand as nations engage in infrastructure development. By reducing soil erosion and water intrusion, these membranes prolong the life of infrastructure projects. Water conservation is greatly aided by geomembranes, as worries about water scarcity grow. Applications such as wastewater treatment facilities, reservoir lining, and canal lining present opportunities. Geomembrane technology has a great deal of potential in the mining industry. They effectively hold and manage mining by-products in tailings dams and heap leach pads, preventing environmental damage. Applications for geomembranes can be found in the energy sector, specifically in the discovery of oil and gas. They are employed in tanks and containment ponds for wastewater produced during extraction procedures.
Market Dynamics
Global Geomembrane Market Report Coverage
| Report Coverage | Details |
| --- | --- |
| Base Year: | 2022 |
| Market Size in 2022: | USD 4.6 Billion |
| Forecast Period: | 2022-2032 |
| Forecast Period 2022-2032 CAGR: | 8.7% |
| 2032 Value Projection: | USD 5.9 Billion |
| Historical Data for: | 2019-2021 |
| No. of Pages: | 200 |
| Tables, Charts & Figures: | 120 |
| Segments covered: | By Raw Material, By Application, By Region, And Segment Forecasts, By Geographic Scope |
| Companies Covered: | Rowad, Agru America Inc., Colorado Lining International Inc., Atarfil SL, GSE Environmental LLC, Solmax International Inc., Officine Maccaferri Spa, Plastika Kritis S.A., Firestone Building Products Company, LLC, Environmental Protection Inc., and Other key vendors |
| Growth Drivers: | Awareness about water conservation in the manufacturing sector |
| Pitfalls & Challenges: | COVID-19 Empact,Challenges, Future, Growth, & Analysis |
Get more details on this report -
Request Free Sample PDF
Geomembrane Market Dynamics
Awareness about water conservation in the manufacturing sector
Water conservation is a crucial component of the manufacturing sector's commitment to sustainable practises, which are becoming more and more prevalent. In reservoirs and storage ponds, geomembranes are used to build impermeable barriers that stop water seepage and guarantee effective water utilisation. Manufacturers must reduce their environmental impact under examination. By keeping pollutants out of natural water sources, geomembranes help contain and treat industrial effluent. This is in line with both corporate responsibility objectives and legal regulations. Through their assistance in the efficient management of water resources, geomembranes promote resource efficiency. Using geomembranes guarantees that water is utilised sparingly and does not contribute to contamination in manufacturing processes, where water is frequently an essential component.
Restraints & Challenges
Installing geomembranes might come with a hefty upfront expense. Certain firms could be reluctant to spend money on these solutions, particularly if they don't think the long-term advantages and cost savings will outweigh the costs. Technical know-how is needed for geomembrane installation and maintenance to be done correctly. The efficacy of geomembrane barriers may be compromised by incorrect installations caused by a shortage of qualified experts in this field. Even though geomembranes help to safeguard the environment, it's important to think about how these materials are made and disposed of. Research is still needed to create more environmentally friendly geomembrane materials and recycling techniques. Alternative methods or materials that assert to give comparable advantages compete with geomembranes. The geomembrane sector must constantly develop to maintain its advantages over rival products.
Regional Forecasts
North America Market Statistics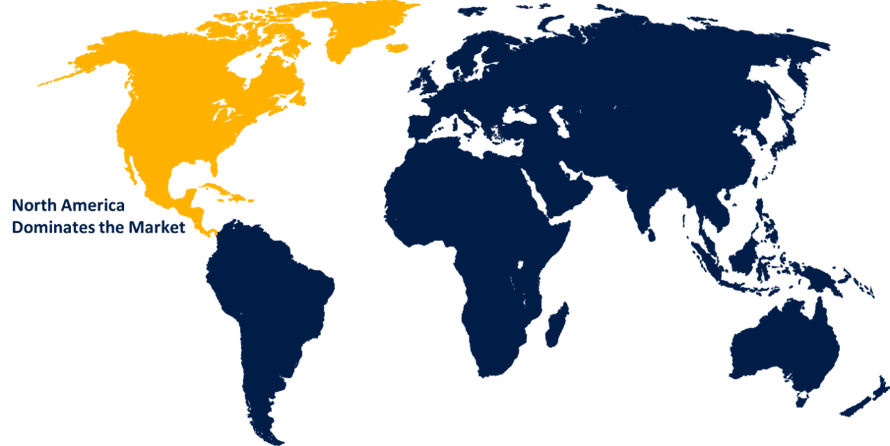 Get more details on this report -
Request Free Sample PDF
North America is anticipated to dominate the Geomembrane market from 2022 to 2032. The demand for geomembranes is influenced by the region's ongoing infrastructure projects, which include those in the mining, energy, and construction industries. These uses include everything from filling reservoirs with liners to keeping dangerous materials out of landfills. Geomembranes are essential for managing and storing water given the significance of water conservation in North America. To maximise water consumption, they are employed in applications such as agricultural water storage, canal lining, and reservoir lining. Geomembranes are widely used in North America's mining industry as containment solutions, such as tailings pond liners. The necessity to stop mining-related environmental contamination is what motivates this. Growing public knowledge of environmental problems and the advantages of geomembranes has resulted in a greater adoption of these remedies.
Asia Pacific Market Statistics
Asia Pacific is witnessing the fastest market growth between 2023 to 2032. The Asia-Pacific area is rapidly becoming more industrialised and urbanised. As a result, geomembranes are now more in demand for industrial, waste management, and building projects. The Asia-Pacific region has issues with water scarcity in some areas. To solve these problems and maximise water utilisation, geomembranes are utilised in water conservation projects, such as lining reservoirs and water storage facilities. Geomembranes are widely used in the mining and energy sectors in the Asia-Pacific area for containment and tailings pond liners. The increased mining activities brought about by the region's economic prosperity have raised demand for geomembranes even more. Applications for geomembranes in agriculture include water storage and pond lining.
Segmentation Analysis
Insights by Raw Material
The Polystyrene segment accounted for the largest market share over the forecast period 2023 to 2032. HDPE geomembranes have a stellar reputation for lifespan and durability. Because of their strong resistance to chemicals and environmental conditions, they are perfect for long-term applications including containment systems and landfill liners. Due to its versatility, HDPE geomembranes can be applied in many different fields, such as waste containment, water management, mining, agriculture, and tunnel building. Their expanding market share is a result of their environmental adaptability. HDPE geomembranes are a good choice for situations where exposure to different contaminants is a concern because of their exceptional chemical resistance. This chemical resistance is very useful in mining and industrial environments. HDPE geomembranes may initially cost more to install than some other options, but over the course of the project, their long-term performance and minimal maintenance needs make them cost-effective.
Insights by Application
Mining segment is witnessing the fastest market growth over the forecast period 2023 to 2032. The mining industry uses geomembranes extensively for tailings management. They act as tailings pond liners, keeping mining byproducts contained and isolated and avoiding environmental contamination. Geomembranes are essential for reducing the dangers connected to mining operations. They offer a dependable barrier to stop dangerous materials from leaking into the environment, protecting local populations and ecosystems. Mining activities can produce effluent and frequently require large amounts of water. The lining of water storage ponds and the containment of process water to stop its discharge into the environment are two applications of geomembranes in water management. In mining sites, geomembranes are used as erosion control techniques.
Recent Market Developments
In April 2021, the acquisition of TenCate Geosynthetics by Koninklijke Ten Cate has been agreed to by SOLMAX, a producer of polyethylene geomembranes.
Competitive Landscape
Major players in the market
Rowad, Agru America Inc.
Colorado Lining International Inc.
Atarfil SL
GSE Environmental LLC
Solmax International Inc.
Officine Maccaferri Spa
Plastika Kritis S.A.
Firestone Building Products Company, LLC
Environmental Protection Inc.
Market Segmentation
This study forecasts revenue at global, regional, and country levels from 2023 to 2032.
Geomembrane Market, Raw Material Analysis
High-Density Polyethylene (HDPE)
Polyvinyl Chloride (PVC)
Geomembrane Market, Application Analysis
Aquaculture and Fish Farming
Water Management
Mining
Geomembrane Market, Regional Analysis
Frequently Asked Questions (FAQ)
1. What is the market size of the Geomembrane Market?

The global Geomembrane Market is expected to grow from USD 4.6 Billion in 2023 to USD 5.9 Billion by 2032, at a CAGR of 8.7% during the forecast period 2023-2032.

2. Who are the key market players of the Geomembrane Market?

Some of the key market players of market are Rowad, Agru America Inc., Colorado Lining International Inc., Atarfil SL, GSE Environmental LLC, Solmax International Inc., Officine Maccaferri Spa, Plastika Kritis S.A., Firestone Building Products Company, LLC, Environmental Protection Inc.

3. Which segment holds the largest market share?

Mining segment holds the largest market share and is going to continue its dominance.

4. Which region is dominating the Geomembrane Market?

North America is dominating the Geomembrane Market with the highest market share.
Need help to buy this report?