Global Food Diagnostics Market Size By Type (Systems, Test Kits, and Consumables), By Testing Type (Safety and Quality), By Food Tested (Meat, Poultry & Seafood, Dairy Products, Fruits & vegetables, Processed Food, and Others), By Geographic Scope And Forecast, 2022- 2032
Industry: Food & Beverages
---
REPORT FORMAT

---
Global Food Diagnostics Market Size Insights Forecasts to 2032
The Food Diagnostics Market Size was valued at USD 15.1 Billion in 2022.
The market is growing at a CAGR of 7.03% from 2022 to 2032
The Global Food Diagnostics Market Size is expected to reach USD 29.8 Billion by 2032
Asia Pacific is expected to grow the fastest during the forecast period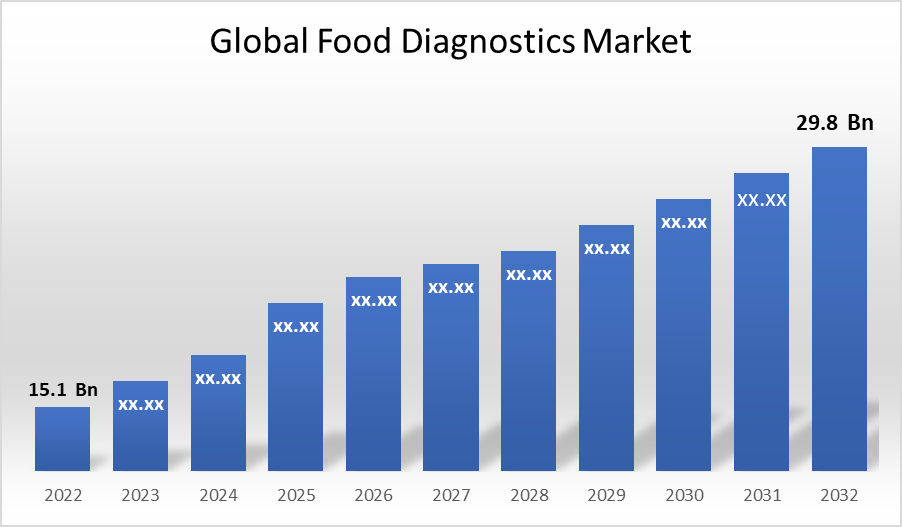 Get more details on this report -
Request Free Sample PDF
The Global Food Diagnostics Market Size is expected to reach USD 29.8 Billion by 2032, at a CAGR of 7.03% during the forecast period 2022 to 2032.
At the intersection of food safety and technology, the Global Food Diagnostics Market is a growing and rapidly evolving sector. This market includes a wide range of diagnostic techniques, tools, and systems that are designed to ensure the safety, quality, and authenticity of the food that people consume. As public concern about foodborne illnesses, contamination, and fraud grows, so does the demand for reliable food diagnostic solutions. Stricter food safety regulations, increased consumer awareness, and advancements in diagnostic technologies are key factors driving the growth of the Global Food Diagnostics Market. These technologies include molecular diagnostics, immunoassays, and a variety of other techniques for detecting contaminants, pathogens, allergens, and adulterants in food. Furthermore, the market is influenced by factors like globalization of the food supply chain, leading to a greater need for rapid and efficient testing methods. With the rise of global trade, food manufacturers, distributors, and regulators are under greater pressure to ensure the integrity of their products. This has given rise to the adoption of innovative diagnostic tools, such as DNA-based testing and spectroscopy, to provide more accurate and faster results.
Market Outlook
Food Diagnostics Market Price Analysis
Prices in this market fluctuate due to technological advancements, competitive forces, and regulatory changes. Technological advancements frequently result in the development of more efficient and cost-effective diagnostic solutions, potentially driving down diagnostic prices. Stringent regulatory requirements, on the other hand, can raise compliance costs, which may be reflected in higher diagnostic prices. Market competition is also important, with established and emerging players competing for market share, which often results in price competitiveness.
Food Diagnostics Market Distribution Analysis
The distribution analysis of the Global Food Diagnostics Market highlights the complex network through which diagnostic products and solutions reach end-users. It encompasses multiple channels, including direct sales, distributors, online platforms, and partnerships with food industry stakeholders. Large diagnostic companies often utilize a combination of these channels to ensure their products are widely accessible. Distributors and wholesalers play a crucial role in expanding the market's reach, especially in regions with diverse and expansive food supply chains. Furthermore, online platforms have gained prominence, offering convenience and accessibility. Effective distribution strategies are key to ensuring that food diagnostics reach the hands of those responsible for maintaining food safety and quality.
Global Food Diagnostics Market Report Coverage
| Report Coverage | Details |
| --- | --- |
| Base Year: | 2022 |
| Market Size in 2022: | USD 15.1 Billion |
| Forecast Period: | 2022-2032 |
| Forecast Period 2022-2032 CAGR: | 7.03% |
| 2032 Value Projection: | USD 29.8 Billion |
| Historical Data for: | 2019-2021 |
| No. of Pages: | 200 |
| Tables, Charts & Figures: | 120 |
| Segments covered: | By Type, By Testing Type, By Food Tested, By Geographic Scope |
| Companies Covered: | Thermo Fisher Scientific Inc., Danaher, Merck KGaA, Neogen Corporation, Agilent Technologies, Inc., Bio-Rad Laboratories, Inc., Shimadzu Corporation, BioMerieux, Bruker, QIAGEN, PerkinElmer Inc., FOSS, Hygiena LLC, R-Biopharm AG, Romer Labs Division Holding, Others, and key vendors |
| Growth Drivers: | Food recalls are becoming more prevalent |
| Pitfalls & Challenges: | COVID-19 Empact,Challenges, Future, Growth, & Analysis |
Get more details on this report -
Request Free Sample PDF
Market Dynamics
Food Diagnostics Market Dynamics
Food recalls are becoming more prevalent
Concerns about food safety and consumer health have fueled an increase in food recalls, which has been a major driver for the food diagnostics industry. When tainted or unsafe food products reach the market, the consequences can be severe, resulting in illnesses, hospitalizations, and even deaths. Because of the increased awareness of food safety issues, both regulatory bodies and food manufacturers have invested in advanced diagnostic technologies. These technologies allow for the rapid and accurate detection of contaminants, pathogens, allergens, and adulterants, lowering the possibility of tainted food reaching consumers. Furthermore, the financial and reputational costs associated with food recalls have incentivized companies to adopt cutting-edge diagnostic solutions to reduce the likelihood of such incidents, thereby propelling the food diagnostics market forward.
Restraints & Challenges
In developing countries, there is a lack of basic supporting infrastructure
The lack of adequate facilities, such as well-equipped laboratories and skilled personnel, is a significant barrier to effective food diagnostics in many developing countries around the world. The lack of access to cutting-edge testing equipment, diagnostic kits, and a dependable cold chain for sample transportation can impede accurate and timely food safety assessments, increasing the risk of foodborne illnesses and outbreaks. Furthermore, inadequate data collection and management systems impede foodborne pathogen surveillance and monitoring. To address these issues, investments in infrastructure, capacity building, and technology transfer are required to ensure that the benefits of advanced food diagnostics reach even the most resource-constrained regions, ultimately protecting public health and global food supply chains.
Regional Forecasts
Europe Market Statistics
Get more details on this report -
Request Free Sample PDF
Europe is anticipated to dominate the Food Diagnostics Market from 2023 to 2032. This region is dominated by the United Kingdom, Germany, Spain, and others. The strict food safety rules that are required for the regulator to verify that the food products on the market are safe to eat are expected to drive growth in the European food diagnostics market. Food-related diseases are becoming more common as a result of environmental changes, and as a result, the government and various agencies are becoming more concerned about food diagnostics in this region.
Asia Pacific Market Statistics
Asia Pacific is witnessing the fastest market growth between 2023 to 2032. The Asia Pacific region is experiencing rapid population growth, urbanization, and an increase in disposable income. Food consumption has increased due to the region's rapidly growing population, particularly in countries such as China and India. With the increase in demand, the importance of effective food safety and quality testing has grown. As more people move to cities, the demand for processed and packaged foods rises. This rising demand for food necessitates stringent quality control and safety measures, which are propelling the food diagnostics market forward.
Segmentation Analysis
Insights by Type
The test kits segment accounted for the largest market share over the forecast period 2023 to 2032. Due to the high demand for accurate, user-friendly, and on-site test results by various key end-users, the test kits market will propel or grow at a faster rate than consumables during the forecast period. In the coming years, the growing awareness of testing tools and cost-effective with rapid results technology is expected to add value to the test kits segment.
Insights by Testing Type
The safety segment accounted for the largest market share over the forecast period 2023 to 2032. Food safety testing is an important part of the global food industry because it ensures that the products consume are safe for human consumption. Given the growing concern about foodborne illnesses and outbreaks, it has recently become even more prioritized than food quality testing. Food safety testing employs a variety of techniques to detect contaminants, pathogens, and chemical residues in food products, thereby protecting consumers from potential health risks.
Recent Market Developments
In June 2023, Agilent Technologies, Inc. (US) established the 6495 triple quadrupole LC/MS system, which is designed specifically for research and testing laboratories dealing with high-volume sample processing. This system achieves exceptional sensitivity with remarkably low detection limits, even when dealing with challenging analytes in complex sample matrices such as omics, food, and environmental samples, by utilizing cutting-edge iFunnel technology. It also maintains precision by using sub-millisecond dwell times. This system effectively addresses the growing demand for precise food safety and quality control measures, establishing Agilent as a market leader and reinforcing its reputation as a trustworthy provider of cutting-edge analytical instruments for food analysis and diagnostics.
Competitive Landscape
Major players in the market
Thermo Fisher Scientific Inc.
Danaher
Merck KGaA
Neogen Corporation
Agilent Technologies, Inc.
Bio-Rad Laboratories, Inc.
Shimadzu Corporation
BioMerieux
Bruker
QIAGEN
PerkinElmer Inc.
FOSS
Hygiena LLC
R-Biopharm AG
Romer Labs Division Holding
Others
Market Segmentation
This study forecasts revenue at global, regional, and country levels from 2023 to 2032.
Food Diagnostics Market, Type Analysis
Systems
Test Kits
Consumables
Food Diagnostics Market, Testing Type Analysis
Food Diagnostics Market, Food Tested Analysis
Meat, Poultry & Seafood
Dairy Products
Processed Food
Fruits & vegetables
Others
Food Diagnostics Market, Regional Analysis
Frequently Asked Questions (FAQ)
1. What is the market size of the Food Diagnostics Market?

The Global Food Diagnostics Market is expected to grow from USD 15.1 Billion in 2022 to USD 29.8 Billion by 2032, at a CAGR of 7.03% during the forecast period 2023-2032.

2. Which region is dominating the Food Diagnostics Market?

Europe is dominating the Food Diagnostics Market with the highest market share.
Need help to buy this report?