Global Copper Tubes Market Size By Finish Type (LWC Plain, LWC Grooved), By Application (HVAC & Refrigeration, Plumbing), By Region, And Segment Forecasts, By Geographic Scope And Forecast 2032
Industry: Chemicals & Materials
---
REPORT FORMAT

---
Global Copper Tubes Market Insights Forecasts to 2032
The Copper Tubes Market was valued at USD 31.7 Billion in 2022.
The Market is Growing at a CAGR of 3.9% from 2022 to 2032
The Global Copper Tubes Market Size is expected to reach USD 40.2 Billion by 2032
Asia Pacific is expected to Grow the fastest during the Forecast period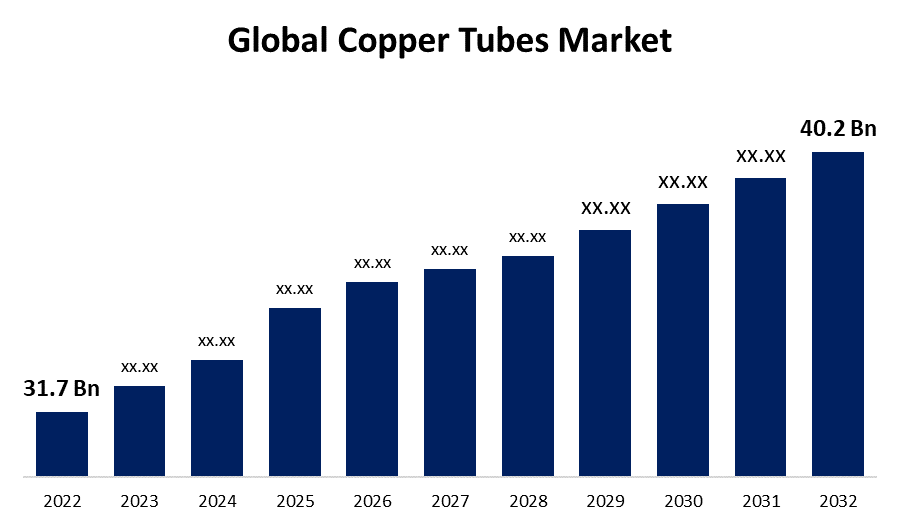 Get more details on this report -
Request Free Sample PDF
The global Copper Tubes Market is expected to reach USD 40.2 Billion by 2032, at a CAGR of 3.9% during the forecast period 2022 to 2032.
Plumbing, refrigeration, HVAC (heating, ventilation, and air conditioning), and other sectors depend heavily on the copper tubes market. Copper tubes are prized for their superior corrosion resistance, thermal conductivity, and durability. Copper tubes are used extensively for plumbing systems in the construction sector, which is one prominent application. Copper tubes are frequently used in heat exchangers and refrigerant lines in the HVAC sector. Because of copper's exceptional conductivity, the electrical industry uses copper tubes in electrical wiring and grounding applications. Manufacturing process improvements, such as the creation of more effective and environmentally friendly production techniques, may be included in market trends. The copper tubes market may also be affected by adjustments in emerging market demand or modifications in construction and infrastructure projects.
Copper Tubes Market Value Chain Analysis
Copper ore extraction is the first step in the procedure. The final product is impacted by the quality of the raw ingredients. To produce high-purity copper, which is necessary for high-quality tubes, copper ore is subjected to smelting and refining operations. After being processed, copper is formed into tubes using a variety of techniques, such as extrusion or drawing. The copper must be heated, shaped, then cooled in order to do this. Copper tubes are delivered to suppliers, wholesalers, and retailers after they are produced. Logistics and transportation are involved at this link in the chain. The copper tubes are subsequently sent to the final customers, which may be building firms, HVAC producers, or other businesses that employ copper tubes for a variety of purposes. Copper tubes are incorporated by the final users into their creations. Plumbing systems might be installed or integrated into HVAC systems.
Copper Tubes Market Price Analysis
The cost of raw materials, especially copper, directly affects the price of copper tubes. Global supply and demand, economic conditions, and geopolitical variables all have an impact on copper prices. The expense of converting copper into tubes, which includes the expenditures of labour, energy, and equipment, has a big impact on the ultimate cost. Prices may change as a result of changes in supply and demand. Prices can rise due to increased demand or restricted supply, while they can fall due to an abundance of supply. Costs and prices may be impacted by changes to manufacturing procedures or the introduction of new technology. Pricing may also be influenced by the level of competition in the copper tubes market. Price wars could result from fierce competition, although price stability could be possible in a market with more consolidation. Depending on their particular needs and market circumstances, the specialised businesses that use copper tubes, such as construction, HVAC, or electrical, may have varied pricing structures.
Market Dynamics
Copper Tubes Market Dynamics
Rise in advanced and innovative technologies
The production of copper tubes may become more economical and efficient as a result of technological developments in manufacturing processes. The quality and consistency of the tubes can be improved via automation, fine engineering, and cutting-edge materials. Production procedures can be improved by integrating smart manufacturing technology like sensors and the Internet of Things (IoT). Data analytics and real-time monitoring can increase productivity by reducing downtime, increasing efficiency, and reducing errors. Energy-efficient production techniques can help makers of copper tubes save operating costs while also promoting sustainable business practises. The supply chain may be optimised using tools like blockchain and advanced analytics, assuring the timely and cost-effective acquisition of raw materials and the effective distribution of finished copper tubes.
Restraints & Challenges
The market is very responsive to copper prices, and shifts in the price of raw materials can have an effect on how profitable manufacturers are overall and possibly cause price volatility. The copper tubes market may be challenged by the availability and widespread use of alternative materials, including plastic or composite pipes, in a variety of applications. Reduced demand for copper tubes might result from economic downturns or uncertainty that affect infrastructure and construction projects. The market is susceptible to changes in the economy because it depends on industrial and building activities. Rapid disruptions or changes in technology may present issues for established manufacturers that may need to make investments in new technologies to remain competitive, even though technical developments might be an advantage. Trade disputes and taxes on metal goods may have an effect on the global trade in copper tubes, changing the competitive environment and pricing.
Regional Forecasts
North America Market Statistics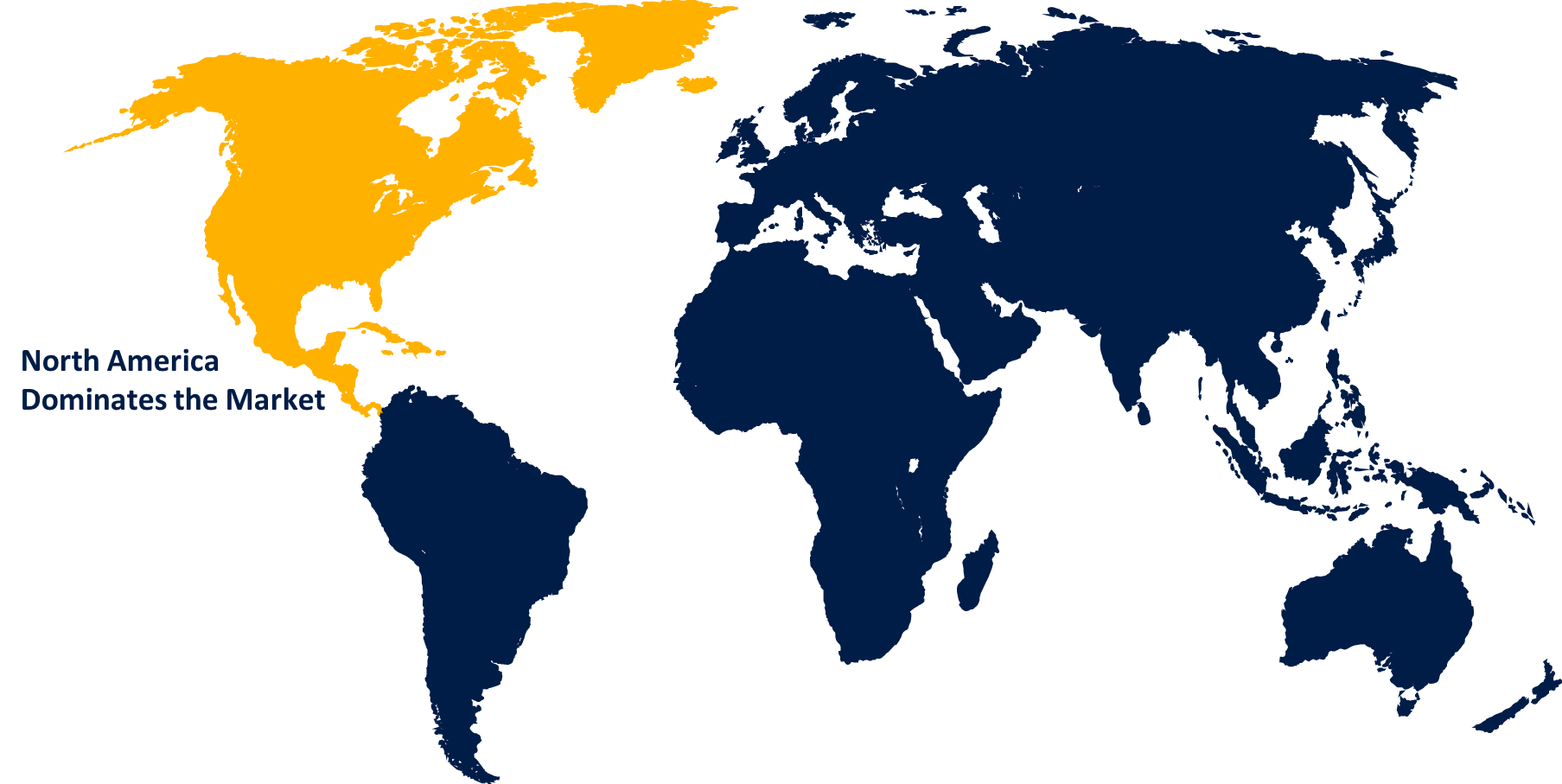 Get more details on this report -
Request Free Sample PDF
North America is anticipated to dominate the Copper Tubes market from 2023 to 2032. Water supply systems and transport projects are just two infrastructure projects that use copper tubes. The need for copper tubes may increase as North America makes investments in the construction of its infrastructure. The technological advancements made in North America are renowned. The production and use of copper tubes may be impacted by the incorporation of cutting-edge technology such as smart manufacturing, digitization, and energy-efficient procedures. Key companies in the copper tubes market are present in North America, which defines the market. Pricing and innovation may be influenced by the competition among these players. The availability and cost of copper tubes may be impacted by North America's trading links with other regions, particularly in terms of metal commodities.
Asia Pacific Market Statistics
Asia Pacific is witnessing the fastest market growth between 2023 to 2032. The Asia Pacific region is seeing major building and increasing urbanisation. Plumbing, HVAC systems, and other uses in both residential and commercial building frequently use copper tubes. The Asia Pacific region's expanding economies are making significant investments in the construction of infrastructure, such as water supply systems, transportation, and energy projects. The demand for copper tubes in various applications is influenced by this. Copper tubes are used in applications like heat exchangers and tubing throughout the industrial sector in the Asia Pacific area, including the manufacturing and automotive industries. In the electrical and electronic sector, copper tubes are used for connectors and wiring. The demand for copper tubes is influenced by the fact that the Asia Pacific region is a centre for the production of electronics.
Segmentation Analysis
Insights by Finish Type
The LWC Plain segment accounted for the largest market share over the forecast period 2023 to 2032. Compared to coated or treated tubes, LWC plain tubes are frequently seen as more affordable. The demand for plain LWC tubes may be driven by sectors of the economy or by applications where price is a major consideration. Plumbing, HVAC systems, and general industrial use are just a few of the applications for plain copper tubes' versatility. LWC plain tubes are suited for a variety of uses due to their adaptability. There may be a desire for inexpensive and simple solutions in areas with developing economies and expanding building and infrastructure activity, which would fuel the growth of the LWC plain segment.
Insights by Application
HVAC segment is witnessing the fastest market growth over the forecast period 2023 to 2032. Due to its superior thermal conductivity, copper is the perfect material for HVAC systems' heat exchangers. For HVAC systems to operate effectively, heat transfer efficiency is vital. Because HVAC systems are long-term investments, component durability and dependability are essential. Copper tubes can endure the harsh circumstances of HVAC applications and have a history of longevity. A crucial factor is the HVAC systems' energy efficiency. Because they enable efficient heat exchange and use less energy, copper tubes improve the system's overall efficiency. Copper tubes are consistently needed as old HVAC systems are modernised or replaced. The HVAC section of the copper tubes market continues to experience expansion from the replacement market.
Recent Market Developments
In July 2018, Mueller Industries, a provider of copper and copper alloys with headquarters in Memphis, Tennessee, has acquired ATCO Rubber Products, a provider and distributor of insulated HVAC flexible duct systems with headquarters in Fort Worth, Texas.
Competitive Landscape
Major players in the market
Fabrika bakarnih cevi Majdanpek
Global Brass and Copper Holdings, Inc.
EvalHalcor
Mueller Industries, Inc.
Cambridge-Lee Industries LLC.
Market Segmentation
This study forecasts revenue at global, regional, and country levels from 2023 to 2032.
Copper Tubes Market, Finish Type Analysis
Copper Tubes Market, Application Analysis
HVAC & Refrigeration
Plumbing
Copper Tubes Market, Regional Analysis
Frequently Asked Questions (FAQ)
1. What is the market size of the Copper Tubes Market?

The Global Copper Tubes Market Size is expected to grow from USD 31.7 Billion in 2023 to USD 40.2 Billion by 2032, at a CAGR of 3.9% during the forecast period 2023-2032.

2. Who are the key market players of the Copper Tubes Market?

Some of the key market players of market are Fabrika bakarnih cevi Majdanpek, Global Brass and Copper Holdings, Inc., EvalHalcor, Mueller Industries, Inc., Cambridge-Lee Industries LLC.

3. Which segment holds the largest market share?

HVAC segment holds the largest market share and is going to continue its dominance.

4. Which region is dominating the Copper Tubes Market?

North America is dominating the Copper Tubes Market with the highest market share.
Need help to buy this report?