Global Artificial Turf Market Size By Material (Polyethylene, Polypropylene, Nylon), By Application (Residential, Commercial, Sports), By Region, And Segment Forecasts, By Geographic Scope And Forecast 2022 - 2032
Industry: Chemicals & Materials
---
REPORT FORMAT

---
Global Artificial Turf Market Insights Forecasts to 2032
The Global Artificial Turf Market Size was valued at USD 77.5 Billion in 2022.
The Market Size is Growing at a CAGR of 7.9% from 2022 to 2032
The Global Artificial Turf Market Size is expected to reach USD 121.3 Billion by 2032
Asia Pacific is expected to grow the fastest during the forecast period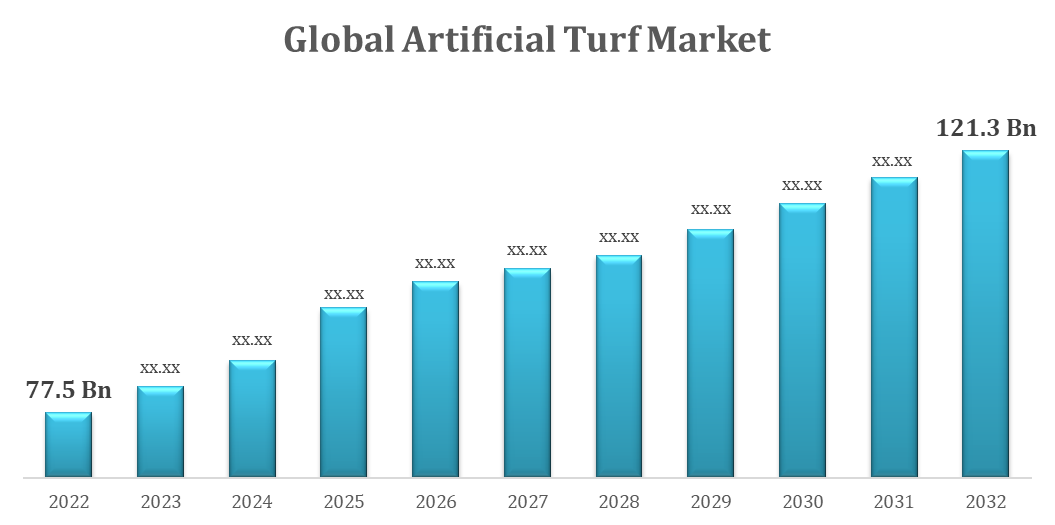 Get more details on this report -
Request Free Sample PDF
The Global Artificial Turf Market is expected to reach USD 121.3 Billion by 2032, at a CAGR of 7.9% during the forecast period 2022 to 2032.
Concerns over water scarcity are growing, particularly in arid areas, which makes artificial turf a desirable alternative. It is environmentally friendly because it doesn't require any watering. When it comes to upkeep, artificial turf needs less care than natural grass. Nothing to mow or weed out just a constant green carpet. It's not limited to grass in homes. Playgrounds, commercial areas, and sports arenas are experiencing a surge in demand. It's comparable to the preferred option for resilient, green surfaces. Modern technology has produced artificial turf that is more resilient and lifelike. It's not only about appearances; it's also about sensation. Under the sun, artificial turf can get a little warm. This can make activities less comfortable in hotter regions and may call for the use of additional cooling techniques.
Artificial Turf Market Value Chain Analysis
For the turf fibres, the basic materials are usually polyethylene, polypropylene, or nylon. The polymer or petrochemical industries provide these materials. The manufacturing method is applied to the basic ingredients to produce the artificial turf. To do this, the fibres are tufted into a backing material, frequently combined with a secondary backing for increased stability. To improve robustness, resilience, and UV protection, the turf is covered with a variety of compounds. Stability depends on the backing, which is often composed of coatings and layers of fabric. To give the turf fibres structure, cushioning, and support, certain artificial turfs employ infill materials such as sand or rubber. These materials frequently form a link in the value chain. Retailers, contractors, and other end users receive artificial turf once it has been made. A network of distributors and wholesalers may be involved in this. Contractors and specialists in the installation of artificial turf are involved in the process. To guarantee that the turf is put correctly for optimum performance, this is an essential step.
Artificial Turf Market Opportunity Analysis
Low-maintenance landscaping options are becoming more and more in demand as urbanisation progresses. The ideal solution is artificial turf, which offers both residential and commercial landscaping a huge potential. The sports sector is quite profitable. Artificial turf becomes the preferred alternative as more sports facilities search for choices that are weather-resistant and durable. Imagine all the football stadiums, golf courses, and soccer fields that are just waiting for a green makeover. There's constantly space for development. It could revolutionise the game to develop sustainable and environmentally friendly materials for artificial turf. You could be onto something really good if you can figure out the recipe for a greener green. Businesses are increasingly looking for methods to improve their outside environments, from office courtyards to rooftop gardens. An aesthetically beautiful and consistent answer is offered by artificial turf.
Global Artificial Turf Market Report Coverage
| Report Coverage | Details |
| --- | --- |
| Base Year: | 2022 |
| Market Size in 2022: | USD 77.5 Billion |
| Forecast Period: | 2022-2032 |
| Forecast Period 2022-2032 CAGR: | 7.9% |
| 2032 Value Projection: | USD 121.3 Billion |
| Historical Data for: | 2019-2021 |
| No. of Pages: | 200 |
| Tables, Charts & Figures: | 110 |
| Segments covered: | By Material, By Application, By Region, By Geographic Scope |
| Companies Covered: | The DOW Chemical Company, FieldTurf, Synlawn Artificial Grass, CoCreation Grass Corporation, Global Syn-Turf, Inc., TigerTurf, ForestGrass, Controlled Products, LLC (GrassTex), Sportfield Deutschland Holding GmbH (AstroTurf), Victoria PLC (Avalon Grass) and Other Key Vendors. |
| Pitfalls & Challenges: | COVID-19 Empact,Challenges, Future, Growth, & Analysis |
Get more details on this report -
Request Free Sample PDF
Market Dynamics
Artificial Turf Market Dynamics
Growth of construction sector will drive the market
Landscape designs have a potential to include artificial turf as more residential and commercial complexes are built. To increase the overall appeal of their buildings, builders and developers may choose low-maintenance, environmentally friendly options. A careful selection of playing surfaces is frequently required during the building of new stadiums, recreational spaces and sports facilities. When building sports facilities, artificial turf is becoming a more popular choice due to its resilience to weather and longevity. Due to its low care requirements and attractive appearance, artificial turf is a popular choice for parks, public gardens, and other communal areas produced during construction projects. In the residential sector, landscaping is frequently taken into account while building new residences. Included in the package may be artificial turf, particularly in areas where water conservation is practised.
Restraints & Challenges
Installing artificial turf may have higher up-front costs than using real grass. This can discourage consumers on a tight budget even though there will be long-term maintenance savings. Compared to real grass, artificial turf tends to absorb and hold heat better. This might make the turf uncomfortable in warm climates and restrict its use at specific times. Some folks are still picturing the earlier, less lifelike artificial turf. Overcoming the belief that artificial turf lacks the natural grass's appearance and feel can be difficult. Health and environmental concerns have been brought up by the usage of some filler materials, such as rubber. It is a constant challenge to find safe, alternative infill choices. Regulations pertaining to the materials used in artificial turf are inconsistent, particularly with relation to the infill. Confusion may result, which would impede the expansion of the sector.
Regional Forecasts
North America Market Statistics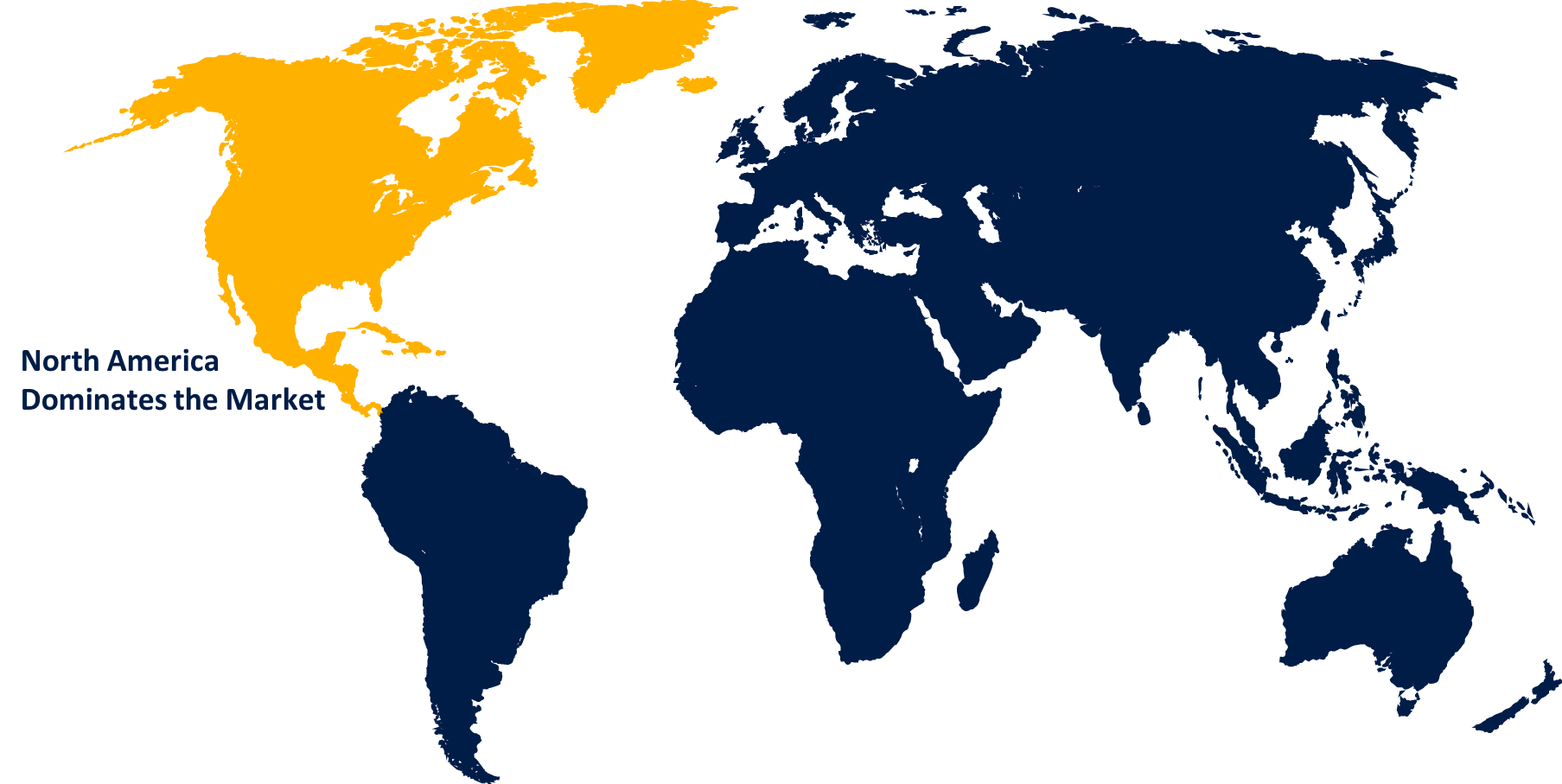 Get more details on this report -
Request Free Sample PDF
North America is anticipated to dominate the Artificial Turf market from 2023 to 2032. Due of its affinity for sports, artificial turf has become increasingly popular in sports venues across North America. Baseball, football, soccer you name it. The sports industry's need is driving things up. North American homeowners are warming to the concept of having a lush, green lawn without all the work. Artificial turf is quickly gaining popularity as a landscape material for homes, particularly in regions with limited water supplies or harsh weather. Artificial turf is finding a home in commercial settings, from rooftop gardens to corporate courtyards. Companies are beginning to recognise the low-maintenance and aesthetic advantages. The technological innovation center is located in North America. The market for artificial turf benefits from continuous developments in materials and technology, which increase the realism and sustainability of the turf.
Asia Pacific Market Statistics
Asia Pacific is witnessing the fastest market growth between 2023 to 2032. There is a boom in the building of sports infrastructure in Asia-Pacific. As nations invest in sporting facilities, artificial turf is quickly taking the lead because of its all-weather performance and durability. Extreme weather conditions in certain regions of the Asia-Pacific area might provide a barrier to natural grass growth. Artificial turf is a desirable alternative since it offers a reliable green surface that is resistant to various weather conditions. An innovative centre for manufacturing is found in the Asia-Pacific area. Technological developments in the manufacture of artificial turf materials support the market's expansion and improvement.
Segmentation Analysis
Insights by Material
The polyethylene segment accounted for the largest market share over the forecast period 2023 to 2032. Turf made of polyethylene fibres is resilient and can tolerate a range of weather conditions and heavy foot activity. The lengthy lifespan of artificial turf is a result of its durability. Excellent resilience allows polyethylene fibres to revert to their original shape even after being crushed. This characteristic improves the turf's capacity to bounce back from the effects of play or sports. Polyethylene-based artificial turf requires little upkeep. For those looking for a hassle-free, green lawn, it's an appealing alternative because it doesn't require fertilisation, mowing, or watering. Due to its versatility, polyethylene may be used to create a variety of artificial turf products, such as sports turf for athletic fields and landscaping grass for residential lawns. This adaptability serves a variety of purposes.
Insights by Application
Sports segment is witnessing the fastest market growth over the forecast period 2023 to 2032. Playability is consistent with artificial turf, irrespective of the weather. Because it is more resilient than natural grass, sports can continue unhindered even in the event of severe weather or snowfall. Sports fields are subjected to extreme wear and tear. Artificial turf is built to last and can withstand the heavy traffic involved in sporting events and practises, especially when it is made specifically for sports uses. Artificial turf lowers the possibility of uneven patches or divots by providing a consistent playing surface. This is especially important for sports like football and football, where the playing surface's quality can have a big effect on the outcome of the match. Artificial turf has gained popularity among professional sports teams and leagues, which has increased its legitimacy and acceptance within the industry.
Recent Market Developments
In June 2023, A hockey team located close to Amsterdam, MHC Weesp, created a special artificial turf field that was dry. With its full-size hockey pitch built using TenCate's zero-water artificial turf technology, this club is the first in the world.
Competitive Landscape
Major players in the market
The DOW Chemical Company
FieldTurf
Synlawn Artificial Grass
CoCreation Grass Corporation
Global Syn-Turf, Inc.
TigerTurf
ForestGrass
Controlled Products, LLC (GrassTex)
Sportfield Deutschland Holding GmbH (AstroTurf)
Victoria PLC (Avalon Grass)
Market Segmentation
This study forecasts revenue at global, regional, and country levels from 2023 to 2032.
Artificial Turf Market, Material Analysis
Polyethylene
Polypropylene, Nylon
Artificial Turf Market, Application Analysis
Residential
Commercial
Sports
Artificial Turf Market, Regional Analysis
Frequently Asked Questions (FAQ)
1. What is the market size of the Artificial Turf Market?

The Global Artificial Turf Market Size is expected to grow from USD 77.5 Billion in 2023 to USD 121.3 Billion by 2032, at a CAGR of 7.9% during the forecast period 2023-2032.

2. Who are the key market players of the Artificial Turf Market?

Some of the key market players of market are The DOW Chemical Company, FieldTurf, Synlawn Artificial Grass, CoCreation Grass Corporation, Global Syn-Turf, Inc., TigerTurf, ForestGrass, Controlled Products, LLC (GrassTex), Sportfield Deutschland Holding GmbH (AstroTurf), Victoria PLC (Avalon Grass).

3. Which segment holds the largest market share?

Sports segment holds the largest market share and is going to continue its dominance.

4. Which region is dominating the Artificial Turf Market?

North America is dominating the Artificial Turf Market with the highest market share.
Need help to buy this report?