Global Vutrisiran Market Size To Grow USD 1998.7 Million by 2030 | CAGR of 12.8%
Category: Healthcare
---
---
Global Vutrisiran Market To Grow 1,998.7 Million by 2032
According to a research report published by Spherical Insights & Consulting Global Vutrisiran Market Size is to grow from USD 595.8 Million in 2022 to USD 1,998.7 Million by 2032, at a Compound Annual Growth Rate (CAGR) of 12.8% during the forecast period.
Get more details on this report -
Request Free Sample PDF
Browse key industry insights spread across 200 pages with 100 market data tables and figures & charts from the report on "Global Vutrisiran Market Size, Share, and COVID-19 Impact Analysis, By Drug Class (Antisense Oligonucleotide, Nucleic Acids, Nucleotide, Nucleosides, & Others), By Route of Administration (Injectable, Parenteral, Subcutaneous), By Distribution Channel (Hospital Pharmacies, Retail Pharmacies, Online Pharmacies, & Others), By Region (North America, Europe, Asia-Pacific, Latin America, Middle East, and Africa), Analysis and Forecast 2022– 2032". Get Detailed Report Description Here: https://www.sphericalinsights.com/reports/vutrisiran-market
Vutrisiran is a medicine used to treat hereditary transthyretin-mediated amyloidosis (hATTR), a rare and progressive genetic disease impacting several organs and tissues such as the nerves, heart, and kidneys. RNA interference (RNAi) technology is used to silence the production of the protein responsible for the abnormal accumulation of amyloid fibrils in the body. The US Food and Drug Administration (FDA) approved vutrisiran in September 2021, and the European Medicines Agency (EMA) approved it in November 2021. It is currently available in the United States, Europe, and other regions across the world. vutrisiran, a chemically modified double-stranded siRNA produced by AMVUTTRA, depends on RNA interference to target mutant and wild-type TTR messenger RNA (mRNA), resulting in its degradation and a reduction of serum TTR protein levels.
The recent FDA and EMA regulatory approvals for vutrisiran have increased medication accessibility across greater regions, which could boost demand for the treatment. Moreover, the increasing frequency of chronic diseases is the primary driving force behind this therapeutic industry. Furthermore, one of the major factors driving revenue growth in the vutrisiran market is an increase in the number of patients suffering from transthyretin amyloidosis around the world. The prevalence of hATTR is increasing as a result of better diagnosis and increased disease awareness. Moreover, the increased number of clinical trials for better medications and therapies, as well as the increased emphasis on transthyretin amyloidosis research and development, are driving market revenue growth. Furthermore, the revenue growth of the vutrisiran market is going to be restricted more in the coming years due to a lack of qualified employees. However, it is expected that a lack of diagnosis and the high cost of therapy will limit market growth revenue. vutrisiran is a costly treatment that requires continuous monitoring of patients to ensure its safety and effectiveness, which may limit vutrisiran's market expansion.
COVID 19 Impact
The COVID-19 pandemic has had some impact on the global Vutrisiran market. One potential impact of the pandemic on the vutrisiran market is that it may have caused delays in clinical trials and regulatory approvals. Many clinical trials have been delayed or disrupted due to COVID-19, which could potentially delay the approval and launch of new medications like vutrisiran. Also, the pandemic has caused significant economic disruption around the world, which could impact the availability of funding for healthcare research and development, as well as the ability of patients to afford medications like Vutrisiran.
The antisense oligonucleotide segment is dominating the market with the largest market share during the forecast period.
The global vutrisiran market is classified into antisense oligonucleotide, nucleic acids, nucleotide, nucleosides, & others, based on the type. Among these, the antisense oligonucleotide segment is projecting significant growth because antisense oligonucleotides (ASOs) have emerged as a promising class of drugs for treating a wide range of hereditary and rare illnesses, including hATTR. Antisense oligonucleotides are synthetic chemicals that bind to certain messenger RNAs (mRNAs) and modify their expression or function, decreasing protein synthesis.
The subcutaneous segment is influencing the largest market share over the forecast period.
Based on the route of administration, the global vutrisiran market is segmented into oral and injectable, and subcutaneous. During the projected period, the subcutaneous segment will hold the greatest market share owing to the mode of action and formulation of the medicine, vutrisiran will most likely be delivered via subcutaneous injection. This is because vutrisiran is an RNA-based therapy, specifically an RNA interference (RNAi) molecule designed to reduce the synthesis of abnormal transthyretin (TTR) protein in people with hATTR. Furthermore, subcutaneous injection is a simple and practical technique of drug delivery, and many patients can be taught to self-administer subcutaneous injections at home.
The hospital pharmacies segment is influencing market share growth during the forecast period.
On the basis of distribution channels, the global vutrisiran market is bifurcated into hospital pharmacies, retail pharmacies, online pharmacies, & others. Throughout these segments, hospital pharmacies are influencing the market during the forecast period, as hospital pharmacies specialize in managing and delivering prescriptions used in the hospital context, particularly expensive treatments like Vutrisiran. Several antisense oligonucleotides have already been licensed by the US Food and Drug Administration for the treatment of illnesses such as spinal muscular atrophy and Duchenne muscular dystrophy. These materials are provided to hospital pharmacies, which can assist to ensure that Vutrisiran is administered appropriately to patients.
North America is leading the market with the largest market share over the forecast period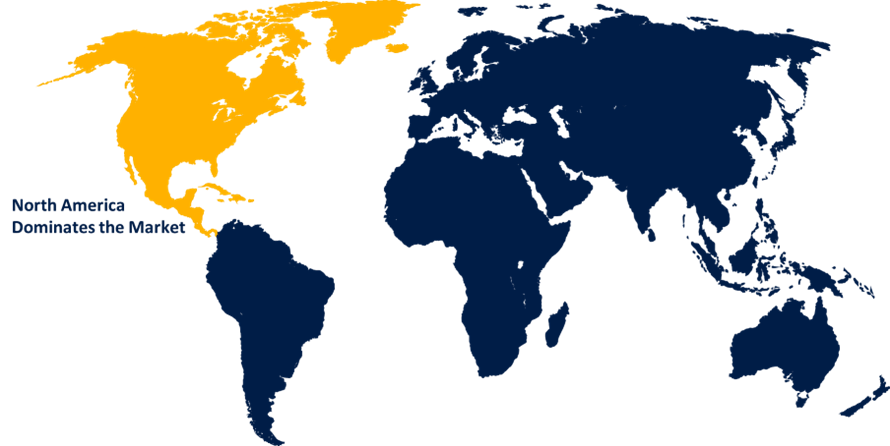 Get more details on this report -
Request Free Sample PDF
North America is expected to have the highest revenue growth during the projected period due to the presence of significant manufacturers and the rising number of diagnostic procedures performed in the area. Furthermore, factors such as the high frequency of hATTR, the availability of favorable reimbursement policies, and Alnylam Pharmaceuticals, the company that developed Vutrisiran, A solid pipeline of RNAi-based therapies may help the Vutrisiran market in North America grow.
Europe is expected to witness significant revenue growth throughout the projection period, owing to the company that developed Vutrisiran, Alnylam Pharmaceuticals, which has a robust pipeline of other RNAi-based medications in development for a variety of illnesses.
Major vendors in the Global Vutrisiran Market include Alnylam Pharmaceuticals, Inc., Orphalan, AstraZeneca, Vivet Therapeutics, Pfizer Inc., Ultragenyx Pharmaceutical, Valeant Pharmaceuticals International, Inc., Noble Pharma Co., Ltd., Merck & Co., Inc., Teva Pharmaceuticals, and other market players.
key Target Audience
Market Players
Investors
End-users
Government Authorities
Consulting and Research Firm
Venture capitalists
Value-Added Resellers (VARs)
Recent Development
In June 2022, Alnylam Pharmaceuticals is developing a robust pipeline of alternative RNAi-based treatments for a variety of disorders. The success of vutrisiran has boosted investor trust in the company and increased funding for its other pipeline medications, potentially resulting in additional therapy options for patients.
Market Segment
This study forecasts revenue at global, regional, and country levels from 2022 to 2032. Spherical Insights has segmented the Global Vutrisiran Market based on the below mentioned segments:
Global Vutrisiran Market, By Drug Class
Antisense Oligonucleotide
Nucleic Acids
Nucleotide
Nucleoside
Others
Global Vutrisiran Market, By Route of Administration
Oral
Injectable
Subcutaneous
Global Vutrisiran Market, By Distribution Channel
Hospital Pharmacies
Retail Pharmacies
Online Pharmacies
Others
Vutrisiran Market, By Regional Analysis
Europe

Germany
Uk
France
Italy
Spain
Russia
Rest of Europe

Asia Pacific

China
Japan
India
South Korea
Australia
Rest of Asia Pacific

South America

Brazil
Argentina
Rest of South America

Middle East & Africa

UAE
Saudi Arabia
Qatar
South Africa
Rest of Middle East & Africa
About the Spherical Insights & Consulting
Spherical Insights & Consulting is a market research and consulting firm which provides actionable market research study, quantitative forecasting and trends analysis provides forward-looking insight especially designed for decision makers and aids ROI.
Which is catering to different industry such as financial sectors, industrial sectors, government organizations, universities, non-profits and corporations. The company's mission is to work with businesses to achieve business objectives and maintain strategic improvements.
CONTACT US:
For More Information on Your Target Market, Please Contact Us Below:
Phone: +1 303 800 4326 (the U.S.)
Phone: +91 90289 24100 (APAC)
Email: inquiry@sphericalinsights.com, sales@sphericalinsights.com
Contact Us: https://www.sphericalinsights.com/contact-us
Need help to buy this report?