Global Traditional Advertising Agency Service Market Size To Worth USD 380.45 Billion by 2030 | CAGR of 5.52%
Category: Information & Technology
---
---
Global Traditional Advertising Agency Service Market to worth $ 380.45 billion by 2030
According to a research report published by Spherical Insights & Consulting, The Global Traditional Advertising Agency Service Market Size is to grow USD 234.58 Bn in 2022 to USD 380.45 Bn by 2030 at a Compound Annual Growth Rate (CAGR) of 5.52% during the projected period.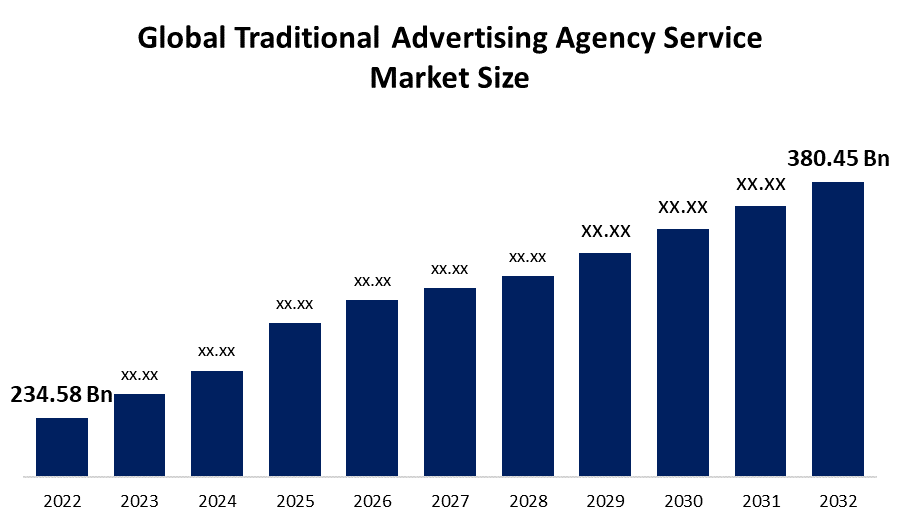 Get more details on this report -
Request Free Sample PDF
Browse key industry insights spread across 200 pages with 122 market data tables and figures & charts from the report on '' Global Traditional Advertising Agency Service Market Size, Share, and COVID-19 Impact Analysis By Type (Online Services, Offline Services) By End Users (Government, Enterprise) By Regions (North-America, Europe, Asia-Pacific, Middle-East, Africa) Analysis and Forecast till 2022-2030 '' Get Detailed Report Description Here: https://www.sphericalinsights.com/reports/traditional-advertising-agency-service-market
Global Traditional Advertising Agency Service Market to grow at a CAGR of 5.2% in 2030 with increase in demand for interruptive advertising approach.
With sales of USD 234.58 billion in 2021, the global traditional advertising agency services market is blooming the marketing industry. By 2030, it is anticipated that the market will be worth USD 380.45 billion, growing at a CAGR of 5.52%. Traditional marketing is an interruptive kind of advertising where the placement of the adverts makes it impossible for potential customers to ignore the advertisement. Companies may reach their audience anytime, anyplace, and without even requiring the customer to look at the company's offerings, thanks to these intrusive advertisements. These intrusive advertisements can be found in newspapers, on TV, on billboards, on the radio, in emails, etc.
The global market for traditional advertising agency services is driven by intense competition, the outsourcing model, and cost effectiveness.
The global advertising market is a multi-regional industry with a billion dollars in annual sales. The number of marketing start-ups offering marketing and advertising services to the industry's major players has grown significantly in several sectors of the global advertising business, which has led to the development of a competitive ecosystem in the market for traditional advertising agency services globally. With the use of intrusive commercials that have a chance of raising brand awareness in customers' minds, the traditional advertising agency services market assists firms in reaching the greatest number of consumers. The highest standards for brand marketing and product advertising have been established as a consequence of the businesses' unwavering commitment to their marketing outcomes. To entice potential clients, businesses want their marketing to be the finest.
Companies are more inclined to choose cost-effective advertising efforts than to invest much in internal marketing campaigns. Most businesses only have a little budget for marketing and advertising campaigns, which makes it difficult for them to experiment with new methods of branding and marketing. And for this reason, businesses are looking for traditional advertising agency services that will help them reach the most number of consumers at the most affordable cost using an interruptive advertising strategy.
This was accompanied by a plethora of chances for traditional advertising agency services brought about by the outsourcing of marketing and advertising. The services offered by these businesses using the interruptive marketing strategy are in high demand with outstanding outcomes on building brand awareness and customer base.
Opportunities exist in the global market for advertising agency services due to customer success stories and the expansion of television as a form of advertising.
Traditional advertising firms worldwide now have a variety of opportunities because to the growth of television as an advertising medium. The classic advertising agency services fall under the category of interrupted advertising, where the ads are strategically placed such that viewers cannot ignore them or pass them by. For instance, if a person is watching a cricket match on TV and an advertisement appears during the innings break, he or she is required to view the advertisement whether they want to or not. As long as advertisements are interrupting their streaming services, users will begin to recognise the brand. It is important to keep in mind that when an advertisement is projected on TV, there is no control over the target audience.
Along with this, customer reviews were extremely important in the development of traditional advertising agency services. Any business grows in popularity thanks to its loyal customer base and glowing customer reviews. Because a business will only trust an advertising agency if it can back it up with favourable feedback from previous clients who have achieved success. According to a recent study, the majority of advertising agencies are chosen by businesses to work for them after carefully considering and reviewing their client testimonials and customer success stories.
Regional Analysis of Global Traditional Advertising Agency Service Market –
The five regions that make up the global traditional advertising agency services are North America, Asia-Pacific, Europe, the Middle East, and Africa. With sales of USD 66.05 billion and an anticipated CAGR of 5.82%, the North American market is forecast to grow the fastest, reaching USD 109.89 billion in 2030. About 97% of the businesses in the European region rely on traditional advertising agencies to help them market their brands and raise consumer awareness, making Europe one of the most fragmented markets for these businesses. With the development of new industries, the Asia-Pacific (APAC) industry is also reaching new heights in the traditional advertising agency services market.
Key Highlights
The facts stated above makes it very evident that businesses are looking for interruptive advertising services from the many established advertising companies in the marketplace. By 2030, it is anticipated that the aforementioned market will contribute USD 380.45 billion at a CAGR of 5.2%.
With the high-performing interruptive advertisements in the form of newspaper ads, TV commercials, billboards, etc. that force the customer to have a forced overlook on the advertisement, which builds brand awareness of the company, traditional advertising agency services are in high demand today.
Competitive Players in the Global Traditional Advertising Agency Service Market –
Numerous start-ups have entered the market as a result of the predicted sales figures and the expected revenue generation, but there are a few major players who are dominating the global market for traditional advertising agency services.
Here is a list of such key players of the industry –
Epilson
Televerde
360I, Cox Media LLC
MDC Partners
Fred & Farid Groups
451 Agency
Fuse LLC
Market News –
Epilson expanded its industry-leading capabilities in September 2020 by launching new products for loyalty solutions for mid-size brands.
As its first integrated media agency, 360I signed a contract with Dentsu Aegis Network in July 2020 to handle advertising and brand marketing.
A contract between Cox Media and AT&T was signed in February 2021 to offer local broadcast stations owned by CMG to clients all throughout the US.
With the addition of an affiliated programme in February of this year, MDC Partners increased the scope of its offerings while avoiding any immediate risks.
Market Segmentation
By Type –
Online Services
Offline Services
By End Use –
By Regions-
North- America
Asia-Pacific
Europe
Middle-East
Africa
About the Spherical Insights & Consulting
Spherical Insights & Consulting is a market research and consulting firm which provides actionable market research study, quantitative forecasting and trends analysis provides forward-looking insight especially designed for decision makers and aids ROI.
Which is catering to different industry such as financial sectors, industrial sectors, government organizations, universities, non-profits and corporations. The company's mission is to work with businesses to achieve business objectives and maintain strategic improvements.
CONTACT US:
For More Information on Your Target Market, Please Contact Us Below:
Phone: +1 303 800 4326 (the U.S.)
Phone: +91 90289 24100 (APAC)
Email: inquiry@sphericalinsights.com, sales@sphericalinsights.com
Contact Us: https://www.sphericalinsights.com/contact-us
Follow Us: LinkedIn | Facebook | Twitter
Need help to buy this report?