Global Traditional Advertising Agency Service Market Size, Share, and COVID-19 Impact Analysis By Type (Online Services, Offline Services) By End Users (Government, Enterprise) By Regions (North-America, Europe, Asia-Pacific, Middle-East, Africa) Analysis and Forecast till 2022-2030
Industry: Information & Technology
---
REPORT FORMAT

---
The global market for Traditional Advertising Agency Services generated a revenue of USD 234.58 billion in 2022 and is expected to reach USD 380.45 billion accounting for a CAGR of 5.52% by 2030.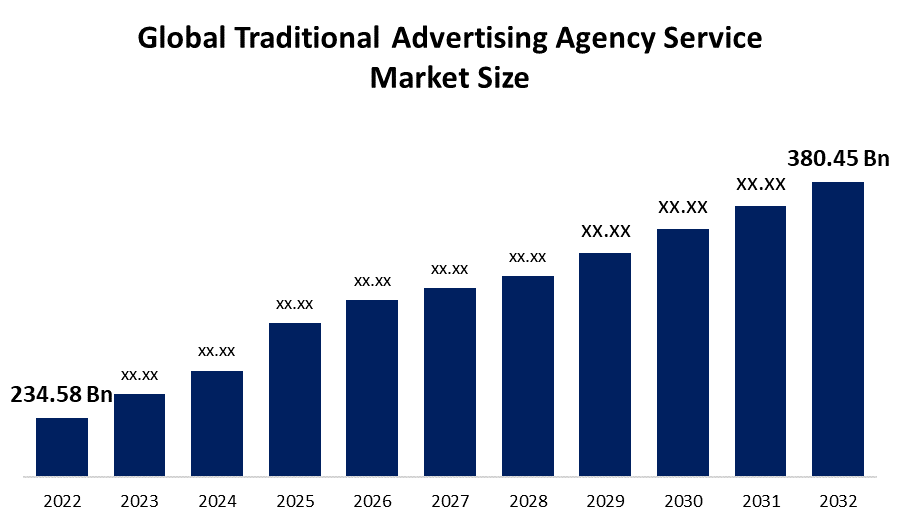 Get more details on this report -
Request Free Sample PDF
Market Overview
Since ancient times, businesses have used advertising to promote their goods and services in an effort to draw in customers. In the past, it was also a component of brand recognition. When we examine the current advertising industry, we can clearly see the massive changeover in the advertising industry that began with newspaper advertising back in the 19th century.
Traditional marketing is nothing more than an intrusive type of advertising that allows marketers to contact potential clients whenever and wherever they choose. These intrusive advertisements can be found in newspapers, on TV, on billboards, on the radio, in emails, etc. The traditional marketing strategy enables marketers to directly present their services to clients, regardless of whether they want to view or read the advertisement.
People are unable to ignore a forced advertisement in a newspaper or on television, therefore it does have an impact on a company's entire marketing activities. It is a tried-and-true strategy since consumers must see the advertisement every time they watch TV or read the newspaper; even if they ignore the advertisement, they will at least remember the name of the company or the item that caught their attention.
Global Traditional Advertising Agency Service Market Drivers:
Intense marketing competition leading to new appointments of Advertising agencies is driving the market forward.
The global advertising market is a multi-regional industry that brings in $1 billion annually. A tough and competitive ecosystem is being created in the market for traditional advertising agency services globally as a result of the start-up growth that has been observed recently in several segments of the global advertising business. Such advertising agencies assist businesses in finding eligible clients by assisting them in reaching their target audience through multi-channel marketing campaigns with effective advertising tactics and ad placements.
The advertising business is extremely unstable as a result of how quickly industries are moving. Due to the companies' strict standards for branding and advertising, the standards for brand marketing and product promotion are at the highest level. To draw in more people and boost sales, businesses must have the greatest marketing possible. As a result, there is more competition among traditional international advertising companies, as global advertising standards have advanced to the next marketing level.
Cost-Effective Advertising campaigns compared to in-house marketing is one of the major driving element
The traditional advertising agency services have a compelling argument for why their business practises are less expensive than any marketing initiatives. The majority of businesses use their internal marketing staff and a little marketing budget to function. Due to this, the majority of businesses are focusing on traditional advertising agency services to enable their marketing efforts to engage the most number of consumers at the most affordable cost.
Outsourcing model for advertising & marketing brings forth new opportunities for traditional advertising agencies.
Companies are now recruiting professionals from the advertising sector to advise their internal team on how to advance and draw in new clients for their company. For this reason, organisations wishing to outsource their advertising and branding with these interruptive ads that will help to increase their brand awareness are prioritising the services of worldwide traditional advertising agencies.
Global Traditional Advertising Agency Service Market Report Coverage
| Report Coverage | Details |
| --- | --- |
| Base Year: | 2021 |
| Market Size in 2021: | USD 234.58 billion |
| Forecast Period: | 2022 - 2030 |
| Forecast Period 2022 - 2030 CAGR: | 5.52% |
| 2030 Value Projection: | USD 380.45 billion |
| Historical Data for: | 2018 - 2021 |
| No. of Pages: | 200 |
| Tables, Charts & Figures: | 122 |
| Segments covered: | By Type, By End Users, By Regions |
| Companies Covered: | Epilson, Televerde, 360I, Cox Media LLC, MDC Partners, Fred & Farid Groups, 451 Agency, Fuse LLC, etc. |
Get more details on this report -
Request Free Sample PDF
Global Traditional Advertising Agency Service Market Restraints:
Prioritization of Clients by advertising agencies
These conventional advertising agencies frequently handle several clients at once. Such advertising businesses reportedly serve 17 clients at once, which increases the likelihood of modest human errors. But the truth is that conventional advertising agencies work with their clients based on the associated revenue. Simply said, clients are prioritized according to the revenue they generate for the agency's operations, and the more lucrative clients receive better treatment than those who generate less money. The client connection may suffer as a result of the advertising firms' prioritization method. It may lead to a delay in deadlines and a drop in the caliber of content provided for marketing materials.
Constrained Experience in Serving Niche Clients
Every company needs to use advertising if they want to succeed in this extremely unstable global economy. Many advertising agencies serve a particular industry and brand them on particular advertising channels or sources in a niche market. This provides noteworthy experience in managing effective marketing efforts in the aforementioned niche industry but poses a challenge when trying to expand their offerings to other industrial sectors. Since the Covid epidemic, there has been a marked increase in television viewing hours, which has helped businesses draw in new clients and necessitated the use of conventional advertising agency services. So, in order to serve clients in various industrial segments, the agencies must have a variety of experience.
Opportunities in the Global Advertising Agency Services Market
Television escalation as an advertising medium creates huge opportunities
Traditional advertising falls under the category of disrupting ads since it is shown in a way that prevents readers from ignoring it. For instance, if your target audience is watching a cricket match and an advertisement appears during the innings break, they must see it since they are unable to ignore it. As a result, customers can recognise the brand even when advertisements occasionally pause their streaming services. When a television advertisement is being broadcast, the target audience cannot be controlled. Regardless of the target audience, these advertisements can nevertheless broaden their reach to the entire region and have the ability to draw in new clients thanks to the numerous sales channels they create.
Customer success stories boosting the traditional advertising services
Every company needs a solid customer base to function, and in order to have one, a company must gain the patrons' trust. The customer success stories are really important in this situation. This can draw in a lot of potential clients who are able to transact business via such conventional advertising agency services. Many traditional advertising agencies frequently make their client endorsements available to the public via websites, advertisements in newspapers or magazines, hoardings, etc.
The majority of advertising companies are chosen based on their client testimonials and customer success stories, according to polls that have been done.
Segmental Analysis
The Global Traditional Advertising Agency Services Market is classified into type and end-use.
The aforementioned market is split into online and offline services when categorised by kind. The type of online service is the most popular among them, with sales expected to reach USD 56.01 billion in 2021 and USD 97.47 billion in 2030 at a CAGR of 6.35%.
Online services, which may be thought of as a tactical progression of tried-and-true strategies of the traditional marketing strategy, are a combination of classic and current advertising methods. The current crop of online marketing services adhere to the same best practises as traditional marketing, such as product, promotion, price, and venue. For branding and market positioning, traditional marketing can be seamlessly incorporated into online marketing. Data analytics and surveys are examples of traditional internet services, and e-magazines and e-newspapers have become increasingly popular in recent years. Advertisers today have developed innovative ways to profit from both traditional advertising methods and web offerings. Modern advertising organizations use sophisticated web tools like analytics, email marketing, data collection, etc.
In terms of offline services, newspapers, periodicals, TV, radio, and outdoor advertising are the main categories. Additionally, the categories for these offline services include print, broadcast, and telephone marketing. Considering all offline services together, print marketing is the oldest type of traditional advertising and has been in use since the beginning of time. Print marketing today typically refers to the placement of advertisements in publications including newspapers, magazines, flyers, and pamphlets. Despite the rise of digital marketing techniques, physical advertising services like newspaper and banner ads still generate close to 80% of sales. Additionally, one of the tested marketing techniques for offline services is telemarketing, in which sales representatives cold call potential customers to persuade them to purchase the company's goods or services.
End-Use Type -
It is further divided into government and business use when categorised according to the end-use. With sales of USD 138.94 billion and an expected CAGR of 5.91% to reach USD 232.94 billion in 2030, which is 2% greater than the government use category, the enterprise module has a larger market share than the latter. Governments use traditional advertising services for national information, job announcements, public welfare initiatives, and awareness campaigns.
The majority of the time, the government uses these conventional advertising firms to promote its leadership and the goals of the country. Using Indian Railways as an example, the national government's stated department recently built over 1000 digital screens throughout the nation's 2175 railway stations to advertise rail services, which is anticipated to bring in USD 1.76 billion in income.
In order to build brand awareness and draw potential customers into its sales funnel, the business model also employs the conventional advertising strategy. Interruptive advertising is the most effective and cost-effective approach for businesses to reach their target audience and get them into their sales channel.
Regional Analysis –
North America, Asia-Pacific, Europe, the Middle East, and Africa make up the majority of the five regions that make up the global traditional advertising agency services. With sales of USD 66.05 billion and an anticipated CAGR of 5.82%, the North American market is forecast to grow the fastest, reaching USD 109.89 billion in 2030.
About 97% of the businesses in the European region rely on traditional advertising agencies to help them market their brands and raise consumer awareness, making Europe one of the most fragmented markets for these businesses. With the emergence of new sectors in two of the most rapidly developing nations, India and China, the Asia-Pacific (APAC) market is reaching new heights in the traditional advertising agency services market. This is because the region now needs a distinctive and result-oriented marketing approach. India is the largest of these, with a share of USD 19.22 billion in 2021 and a CAGR of 6.25% to reach USD 33.16 billion.
Competitors Analysis
With the Forecasted growth in the interruptive advertising industry, major key players are competing on a high note, which is – Epilson, Televerde, 360I, Cox Media LLC, MDC Partners, Fred & Farid Groups, 451 Agency, Fuse LLC, etc.
Recent Developments by the Key Players:
Epilson expanded its industry-leading capabilities in September 2020 by launching new products for loyalty solutions for mid-size brands.
As its first integrated media agency, 360I signed a contract with Dentsu Aegis Network in July 2020 to handle advertising and brand marketing.
A contract between Cox Media and AT&T was signed in February 2021 to offer local broadcast stations owned by CMG to clients all throughout the US.
With the addition of an affiliated programme in February of this year, MDC Partners increased the scope of its offerings while avoiding any immediate risks.
Global Traditional Advertising Agency Services Market Segmentation
By Type –
Online Services
Offline Services
By End Use –
By Regions-
North- America
Asia-Pacific
Europe
Middle-East
Africa
Need help to buy this report?