Global Tissue Paper Market Size To Exceed USD 33.55 Billion by 2030 | CAGR of 5.45%.
Category: Consumer Goods
---
---
Global Tissue Paper Market Size To Exceed USD 33.55 Billion by 2030
According to a research report published by Spherical Insights & Consulting, the Global Tissue Paper Market Size is to Grow from USD 19.73 Billion in 2023 to USD 33.55 Billion by 2030, at a Compound Annual Growth Rate (CAGR) of 5.45% during the projected period. Growing residential and hospitality infrastructure will boost demand for toilet and bathroom supplies, propelling market expansion. Additionally, specialized wipes are frequently used in hotels and restaurants to maintain a tidy and clean environment. Therefore, the increase in hotels and restaurants will hasten the demand for products.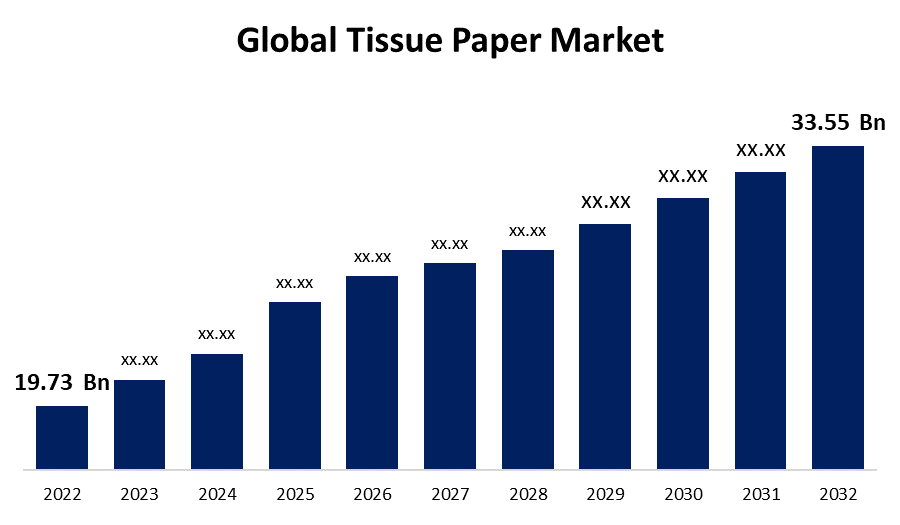 Get more details on this report -
Request Free Sample PDF
Browse key industry insights spread across 200 pages with 110 market data tables and figures & charts from the report on the : "Global Tissue Paper Market Size, Share, and COVID-19 Impact Analysis, By Product Type (Facial Tissue, Paper Towel, Wipes, Bath & Toilet Tissue, Others), By Application (Household, Commercial), and By Region (North America, Europe, Asia-Pacific, Latin America, Middle East, Africa), Analysis and Forecast 2023 – 2030." Get Detailed Report Description Here: https://www.sphericalinsights.com/reports/tissue-paper-market
Tissue paper are frequently used for hygienic and sanitation purposes. As consumers become more aware of health and hygiene concerns, tissue paper goods are in more demand in business locations and elaborate constructions. Tissue paper market expansion is anticipated to be fueled by the development of specialized tissues including glazed, premium ornamental, printed varieties, and others throughout the forecast period. The market is also anticipated to rise as a result of the increasing use of natural components like almond oil, aloe vera, and others in tissue paper creation that aid in slowing the spread of bacterial infections. Because of the importance of maintaining appropriate health and cleanliness, tissue paper is now utilized everywhere. These practical wiping products are frequently used to clean hands, faces, kitchen surfaces, and tools in diagnostic and research laboratories. Because of this, a crucial factor in rising product demand is the globalization of hygiene awareness. Urbanization and pollution brought on by tree-cutting hinder the expansion of pulp-based products and restrain consumer demand. As paper use rises, so does the amount of wood needed to make it, eventually resulting in urbanization. Urbanization has emerged as a global problem that is hindering market expansion.
COVID-19 Impact
Customers typically use this kind of paper to keep their surroundings hygienic and clean and to avoid coronavirus infection. They choose to stock up on toilet paper, wipes, and other supplies to avoid a shortage of daily needs under COVID-19 lockout restrictions. This element of the pandemic has significantly increased demand for facial wraps and wipes globally.
The Paper Towel segment dominates the market with the largest revenue share over the forecast period.
Facial tissue, paper towels, wipes, bath and toilet tissue, and other segments make up the worldwide tissue paper market. Due to the widespread use of cotton towels and napkins for bathroom sanitation, the Paper Towel category is leading the market with the highest revenue share of 23.66% over the projection period. There is a big need for high-quality tissue products in the expanding tourist and efficient hospitality industries. The crucial elements in tissue innovation and development that will fuel the category's growth are the value-added advantages and the rising premiumization.
The Commercial segment is witnessing significant CAGR growth over the forecast period.
The worldwide tissue paper market is divided into two categories based on application: commercial and home. Among them, the commercial segment is expected to experience a significant CAGR increase. Due to the large usage of tissues in hotels and restaurants during food service and table cleaning, commercial applications include offices, restaurants, and hotels. Additionally, the demand for facial tissues and napkins, which are used at workplace canteens by cooks and customers to dry their hands, is driven by the expansion of corporate housing facilities. Customers are looking for eco-friendly tissue goods to help create a sustainable environment, and customer demand and preferences are constantly changing in the market.
North America dominates the market with the largest market share over the forecast period.
Every year, North America accounts for more than 50% of the market for throwaway paper goods. The key element influencing the market in North America is the high toilet paper use in countries like the United States and Canada. The market for hotels and tourist rooms is also heavily populated by wood and pulp-based industries like Cascades Inc., Resolute Forest Products, and Domtar Inc. Tissue paper is still in high demand in the area, and new product partnerships with businesses, organizations, homes, and other groups have been made possible by advances. However, during the predicted period, Europe is anticipated to grow the fastest. The European region's hospitality and hotel business will enjoy a strong growth rate as a result of the region's developing infrastructure facilities. Modernization and increased visitor awareness of cleanliness and safety have boosted the market for tissue paper products. The Asia-Pacific market is anticipated to rise at a significant CAGR throughout the projected period.
Major vendors in the Global Tissue Paper Market include Svenska Cellulosa AB, AbitibiBowater Inc., Orchid Paper Products Company, Sofidel Group, Von Drehle Corporation, First Quality Tissue LLC, Kruger Inc., Asian Pulp & Paper, Hengan, St. Croix Tissue, CMPC Tissue SA, and among others.
Key Target Audience
Market Players
Investors
End-users
Government Authorities
Consulting And Research Firm
Venture capitalists
Value-Added Resellers (VARs)
Recent Developments
On January 2023: Toilet paper free of Bisphenol-A (BPA) was introduced in the US, according to Bampooh LLC. These papers are produced from renewable bamboo.
In October 2022: The Brazilian tissue paper business of Kimberly-Clark will be purchased by Suzano. Suzano will likely have a 22% market share after this acquisition and increase its market share significantly in Southeast Brazil, where toilet paper consumption is highest.
In January 2022: In Saudi Arabia, Crown Paper Mill (CPM) intended to build a tissue mill with a 60,000 MT annual output capacity. The firm and Valmet entered into a Memorandum of Association (MoA) for the engineering, production, and delivery of the tissue machine. The first quarter of 2024 is anticipated to see the start of production at Crown Paper Mill.
Market Segment
This study forecasts revenue at global, regional, and country levels from 2023 to 2030. Spherical Insights has segmented the Global Tissue Paper Market based on the below-mentioned segments:
Tissue Paper Market, Product Analysis
Facial Tissue
Paper Towel
Wipes
Bath & Toilet Tissue
Others
Tissue Paper Market, Application Analysis
Tissue Paper Market, Regional Analysis
North America
Europe

Germany
Uk
France
Italy
Spain
Russia
Rest of Europe

Asia Pacific

China
Japan
India
South Korea
Australia
Rest of Asia Pacific

South America

Brazil
Argentina
Rest of South America

Middle East & Africa

UAE
Saudi Arabia
Qatar
South Africa
Rest of the Middle East & Africa
About the Spherical Insights & Consulting
Spherical Insights & Consulting is a market research and consulting firm which provides actionable market research study, quantitative forecasting and trends analysis provides forward-looking insight especially designed for decision makers and aids ROI.
Which is catering to different industry such as financial sectors, industrial sectors, government organizations, universities, non-profits and corporations. The company's mission is to work with businesses to achieve business objectives and maintain strategic improvements.
CONTACT US:
For More Information on Your Target Market, Please Contact Us Below:
Phone: +1 303 800 4326 (the U.S.)
Phone: +91 90289 24100 (APAC)
Email: inquiry@sphericalinsights.com, sales@sphericalinsights.com
Contact Us: https://www.sphericalinsights.com/contact-us
Need help to buy this report?