Global Tissue Paper Market Size, Share, and COVID-19 Impact Analysis, By Product Type (Facial Tissue, Paper Towel, Wipes, Bath and Toilet Tissue, Others), By Application (Household, Commercial), and By Region (North America, Europe, Asia-Pacific, Latin America, Middle East, Africa), Analysis and Forecast 2022 – 2032
Industry: Consumer Goods
---
REPORT FORMAT

---
Global Tissue Paper Market Insights Forecasts to 2032
The Global Tissue Paper Market Size was valued at USD 19.73 Billion in 2022.
The Market Size is Growing at a CAGR of 5.45%from 2022 to 2032
The Worldwide Tissue Paper Market Size is expected to reach USD 33.55 Billion by 2032
Europe is expected to grow the fastest during the forecast period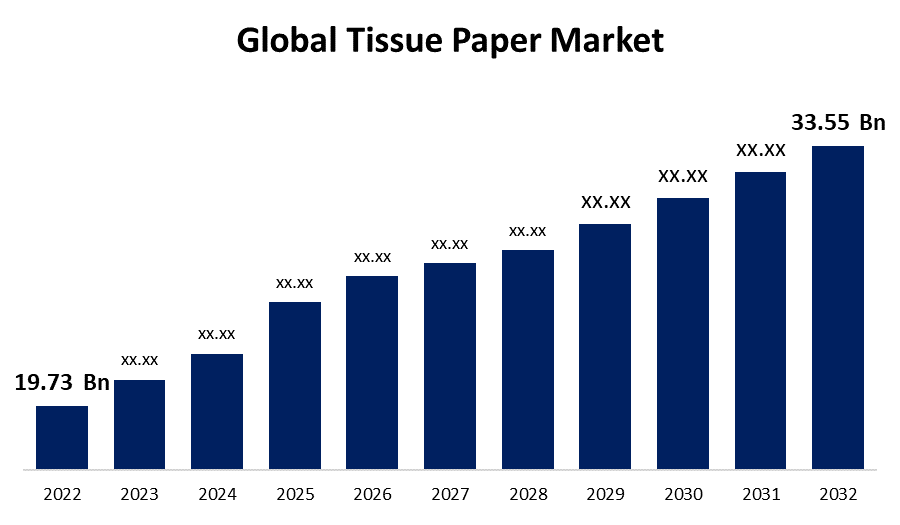 Get more details on this report -
Request Free Sample PDF
The Global Tissue Paper Market Size is expected to reach USD 33.55 Billion by 2032, at a CAGR of 5.45% during the forecast period 2022 to 2032.
Tissue Papers are commonly used for sanitation and hygiene purposes. Tissue paper products are in more demand in commercial areas and complex structures while people become more conscious of health and hygiene issues. The development of specialized tissues like glazed, premium decorative, printed variants, and others are some of the reasons that are expected to drive tissue paper market growth throughout the forecast period. The use of printed tissue paper has risen in recent years while consumers in emerging nations such as India and China have become more accustomed to Western norms. Furthermore, people are drawn to print tissue papers to express their social position and make a fashion statement in society. With the outbreak of the COVID-19 pandemic, the demand for tissue papers has increased; consumers are using tissue papers to maintain a hygienic standard and avoid getting infected by viruses. The rising introduction of a variety of natural ingredients in the development of tissue paper like almond oil, aloe vera, etc., which help to lower the bacterial infection spread, is further expected to fuel the growth of this market over the forecast period
Global Tissue Paper Market Report Coverage
| Report Coverage | Details |
| --- | --- |
| Base Year: | 2022 |
| Market Size in 2022: | USD 19.73 Billion |
| Forecast Period: | 2022-2032 |
| Forecast Period 2022-2032 CAGR: | 5.45% |
| 2032 Value Projection: | USD 33.55 Billion |
| Historical Data for: | 2019-2021 |
| No. of Pages: | 200 |
| Tables, Charts & Figures: | 120 |
| Segments covered: |  COVID-19 Impact Analysis, By Product Type, By Application, and By Region  |
| Companies Covered: | Svenska Cellulosa AB, AbitibiBowater Inc., Orchid Paper Products Company, Sofidel Group, Von Drehle Corporation, First Quality Tissue LLC, Kruger Inc., Asian Pulp & Paper, Hengan, St. Croix Tissue, CMPC Tissue SA, and Other key venders |
| Pitfalls & Challenges: | COVID-19 Empact,Challenges, Future, Growth, & Analysis |
Get more details on this report -
Request Free Sample PDF
Driving Factors
Tissue paper is being universally used as the growing awareness of the significance of maintaining proper health and hygiene. These convenient wiping products are widely used to clean the face, hands, and kitchen surfaces, and in diagnostic and research laboratories to clean instruments and equipment. For that reason, increasing hygiene awareness around the globe is the key driver of heightened product demand. According to the data presented by the Food and Agricultural Organization of the United Nations (FAO), production of household papers & sanitary papers in China increased for local and international utilization from 10.99 million tons in 2020 to 11.25 million tons in 2021.
In Addition, rising residential and hospitality infrastructural facilities will further increase the demand for toilet and bathroom materials, thus driving market growth. Also, special wipes are widely used in hotels and restaurants to keep the atmosphere neat and clean. Therefore, the growing number of hotels & restaurants will accelerate product demand. For instance, Marriot International, a global hospitality firm, added more than 65,000 hotel rooms under its global expansion projects in 2022. To give users softer, more absorbent hygiene products, companies are introducing new technologies into the design of napkins and sanitary products. To provide customers high-quality, hygienic products, Bunzl R3 introduced a novel, extensive array of multi-foldable and distinctively shaped towels, napkins, and other delicacies. Governments are putting in place cleanliness and hygiene-related awareness efforts to encourage personal hygiene, expanding accessibility to sanitary tissues globally.
Restraining Factors
Rising environmental concerns like urbanization and pollution due to cutting trees limit the growth of pulp-based items and restrain product demand. The increasing need for paper increases the amount of wood required for paper manufacturing, eventually leading to urbanization. Urbanization has become a global issue that is negatively impacting market growth. Also, the fluctuation in the cost of raw materials affects the product's production, limiting product revenues globally. Moreover, the significant presence of locally organized and unorganized manufacturers of tissue products affects the businesses of the prominent associated companies. The higher cost of technology and production processes also restricts product demand universally. Higher raw material costs increase production costs. This elevates the final product's price and in consequence, hinders market growth.
Market Segmentation
By Product Type Insights
The Paper Towel segment dominates the market with the largest revenue share over the forecast period.
Based on the product type, the global tissue paper market is segmented into facial tissue, paper towels, wipes, bath and toilet tissue, and others. Among these, the Paper Towel segment is dominating the market with the largest revenue share of 23.66% over the forecast period, owing to the large consumption of cotton towels and napkins for bathroom sanitation. The growing tourism and streamlined hospitality sectors have a high demand for quality tissue products. Hotels, restaurants, spa centers, and other sectors are intensively working to provide safety to their customers through innovative offerings of appropriate sanitation, cleaning, and snowy conditions. The value-added benefits and the increased premiumization are the essential factors in tissue innovation and development to drive the category's growth.
By Application type Insights
The Commercial segment is witnessing significant CAGR growth over the forecast period.
Based on application, the global tissue paper market is segmented into household and commercial. Among these, the commercial segment is witnessing significant CAGR growth over the forecast period. Commercial applications like offices, restaurants, and hotels, due to the extensive use of tissues during food servicing and table cleaning in hotels and restaurants. Also, growing corporate housing facilities propel the demand for facial wrappers and napkins used in office canteens by cooks and customers to dry their hands. The domestic segment is expected to grow faster because of the rising awareness of hygiene and cleanliness. The demand and preferences of the public are continuously evolving in the market, and consumers are looking for eco-friendly tissue products to contribute to a sustainable environment. According to survey data published by the Ministry of Agriculture and Forestry, Government of Finland, nearly 50% of European paper products are sourced from recycled paper.
Regional Insights
North America dominates the market with the largest market share over the forecast period.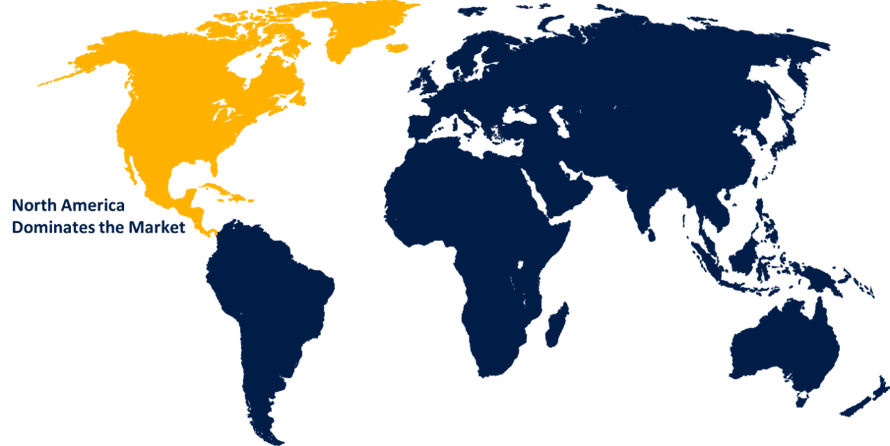 Get more details on this report -
Request Free Sample PDF
North America holds more than 50% of the disposable paper products market every year. The high toilet paper use in nations like the U.S. and Canada is the main factor driving the market in North America. Additionally, wood and pulp-based mills like Domtar Inc., Resolute Forest Products, and Cascades Inc. have a significant presence in the sector of hotels & rooms for tourists. The demand for tissue paper continues to grow in the region, and innovations have led to new product associations with corporations, institutions, households, and others.
Europe, on the contrary, is expected to grow the fastest during the forecast period. Due to the region's expanding hospitality and hotel industry's infrastructural facilities, the European region will experience a rapid growth rate for the market. The two most important markets in Europe are France and Germany. The region's growing tourism industry and the growth of opulent hotels and tourist accommodations are driving higher product demand.
The market for tissue paper goods has benefited from modernization and greater visitor awareness of hygiene and safety. The Asia-Pacific market is expected to register a substantial CAGR growth rate during the forecast period. During the projected period, a sizable market share is anticipated for the Asia Pacific region. This can be attributed to elements like the expanding capacity of East Asian nations like China, Japan, and the region to produce goods made of wood. In 2019, there were roughly 2700 paper and board firms in mainland China, according to a China Paper Association (CPA) survey.
List of Key Market Players
Svenska Cellulosa AB
AbitibiBowater Inc.
Orchid Paper Products Company
Sofidel Group
Von Drehle Corporation
First Quality Tissue LLC
Kruger Inc.
Asian Pulp & Paper
Hengan
St. Croix Tissue
CMPC Tissue SA
Key Market Developments
On January 2023 - Bampooh LLC, launched a BPA-free, sustainable bamboo toilet paper product in the U.S. market.
On October 2022 – Suzano SA, a Brazilian pulp maker, signed a deal to acquire Kimberly Clark's tissue paper operations in the country. According to the assertion, the acquisition will boost tissue production to a capacity of over 280,000 TPA.
On February 2022 – Kruger Products launched its Bonterra household paper products line in Canada. Products like bath tissue, paper towels, face tissues, and others are available in plastic-free packaging and are created from responsibly sourced materials.
On July 2021, Sofidel Group, a global provider of household paper solutions, launched 'Nicky Paper Pack,' an eco-friendly, biodegradable material-based paper packaging to replace its traditional plastic packaging of paper products.
On December 2021, The Middle East Paper Co. ('MEPCO'), Saudi Arabia's vertically integrated paper manufacturer, inaugurated its 60,000 tons per annum jumbo tissue roll manufacturing facility in King Abdullah Economic City (KAEC).
Market Segment
This study forecasts revenue at global, regional, and country levels from 2023 to 2030. Spherical Insights has segmented the Global Tissue Paper Market based on the below-mentioned segments:
Tissue Paper Market, Product Analysis
Facial Tissue
Paper Towel
Wipes
Bath & Toilet Tissue
Others
Tissue Paper Market, Application Analysis
Tissue Paper Market, Regional Analysis
North America
Europe

Germany
Uk
France
Italy
Spain
Russia
Rest of Europe

Asia Pacific

China
Japan
India
South Korea
Australia
Rest of Asia Pacific

South America

Brazil
Argentina
Rest of South America

Middle East & Africa

UAE
Saudi Arabia
Qatar
South Africa
Rest of the Middle East & Africa
Need help to buy this report?