Global Thin Wall Packaging Market Size Worth USD 79.4 Billion by 2032 | CAGR of 6.2%
Category: Chemicals & Materials
---
---
Global Thin Wall Packaging Market Size Worth USD 79.4 Billion by 2032
According to a research report published by Spherical Insights & Consulting, the Global Thin Wall Packaging Market Size to grow from USD 52.6 billion in 2022 to USD 79.4 billion by 2032, at a Compound Annual Growth Rate (CAGR) of 6.2% during the forecast period.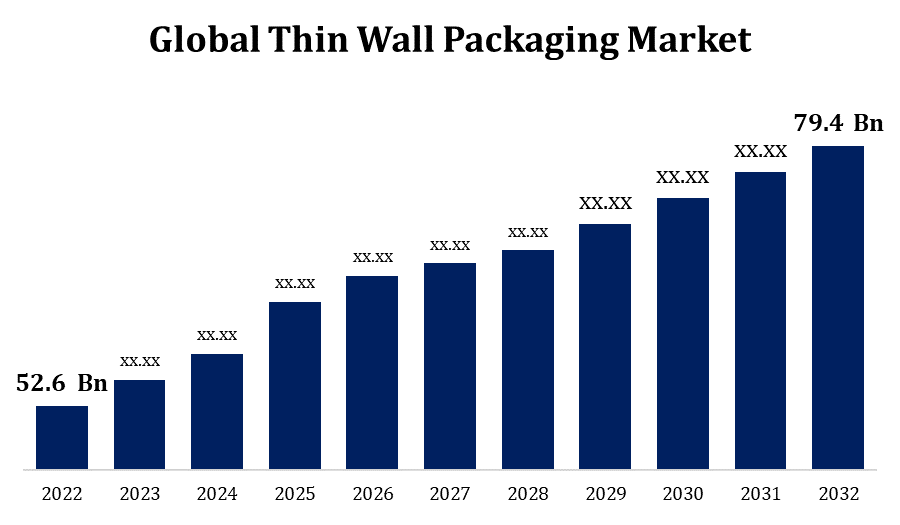 Get more details on this report -
Request Free Sample PDF
Browse key industry insights spread across 200 pages with 120 market data tables and figures & charts from the report on the "Global Thin Wall Packaging Market Size By Production Process (Thermoforming, Injection Molding), By Material (Polypropylene (PP), Polyethylene (PE), Polyethylene Terephthalate (PET)), By Region, And Segment Forecasts, By Geographic Scope And Forecast 2032." Get Detailed Report Description Here: https://www.sphericalinsights.com/reports/thin-wall-packaging-market
The thin wall packaging market is the name given to the sector that creates and sells thin wall packaging solutions. The consumer goods, healthcare, and food and beverage industries all make extensive use of these robust, lightweight packaging materials for a wide range of products. Thin wall packing is commonly made from materials such as polymers, particularly polypropylene (PP) and high-density polyethylene (HDPE). These materials give the product the necessary strength while allowing it to remain lightweight. Thin wall packaging is widely used to package a wide variety of commodities, such as dairy products, prepared meals, baked goods, fruits, and vegetables. It is also utilised in the medical field for packing pharmaceuticals and medical devices. Rising demand for convenience foods, changing customer preferences, and urbanisation have all contributed to the thin wall packaging industry's continuous growth worldwide. The growth of this market can be mostly ascribed to emerging economies.
Thin Wall Packaging Market Value Chain Analysis
The primary building blocks of thin wall packaging are polymer resins like polypropylene (PP) and high-density polyethylene (HDPE). These resins are bought from companies that make petrochemicals or polymers. Polymer resins are treated using injection moulding and extrusion technology to create thin wall packaging containers. During this process, the materials are moulded and fashioned into the proper packing structures. Providing thin wall packaging solutions that are both aesthetically pleasing and functional is the aim of packaging design companies. This means considering product protection, consumer convenience, and branding. Printing companies can add labels, logos, and information to the thin wall packaging. This step is crucial for product identification, branding, and regulatory compliance. In the distribution process, order fulfilment, warehousing, and transportation must all be coordinated. Products are supplied to convenience stores, supermarkets, and other kinds of retail establishments in thin wall packaging. After that, these retail channels are how end customers view the package. End users purchase and utilise products with thin wall packaging, such as food, beverages, and personal hygiene items.
Thin Wall Packaging Market Opportunity Analysis
The increasing focus on sustainability on a worldwide level presents an opportunity for thin wall packaging manufacturers to develop and promote eco-friendly packaging solutions. Using recycled materials, promoting a circular economy, and improving container designs for recyclability can all increase market competitiveness. The advent of e-commerce presents a significant opportunity for thin wall packaging. Developing packaging solutions that are suitable for online retail, ensuring product security throughout delivery, and adhering to the specific needs of e-commerce logistics can all lead to the creation of new business prospects. Customised and branded packaging solutions are growing in popularity. Thin wall packaging manufacturers can capitalise on this by offering customization choices to increase product visibility and appeal to consumers.
Packaging can weigh less by using lightweight materials like thin-gauge plastics. This translates into cheaper manufacturing, shipping, and material costs for producers. Sustainability measures are supported by lighter packing materials since they reduce the environmental effect of package manufacturing, shipping, and disposal. decreased material utilisation leads to decreased resource use and carbon footprint. Lighter packaging allows manufacturers and retailers to economise in the realm of e-commerce, where transportation costs play a significant role. It also contributes to more efficient logistics and transportation. Lightweight packaging is usually easier for customers to handle. Additionally, it might simplify the recycling or disposal process, satisfying consumer demands for packaging that is both environmentally friendly and manageable.
Creating novel, cost-effective materials for thin wall packaging can be challenging. To reconcile the need for durable, cost-effective materials with the need for lightweight materials, research and development must continue. Despite the growing need for lightweight, eco-friendly packaging, consumers may still have doubts about the perceived robustness and safety of thin wall packaging. It is crucial to earn and maintain the trust of your customers. Natural disasters, geopolitical unrest, or other unforeseen events can throw off the global supply chain, making it difficult to get raw materials and disrupt production and distribution processes. The advent of e-commerce poses unique challenges, including the need for packaging solutions that can withstand handling and shipping abuses.
Insights by Material
The Polystyrene segment accounted for the largest market share over the forecast period 2023 to 2032. For thin wall packaging, polystyrene is a lightweight material that works well. In industries like the production of food and beverages, where lightweight packing can lower transportation costs, this feature is very important. Packaging design is made flexible by the large range of shapes and sizes that polystyrene may be moulded into. Due to its versatility, distinctive and imaginative thin wall packaging solutions can be created to meet specific product and market needs. Polystyrene's robust impact resistance contributes to the safety of packaged items during handling and transit. This special feature allows for the integrity of the contents within the thin wall packaging to be guaranteed. The robustness of polystyrene packaging ensures that products are protected during transit by preventing breakage or damage.
Insights by Production Process
Injection molding technique segment is witnessing the fastest market growth over the forecast period 2023 to 2032. The injection moulding technique offers significant design flexibility, enabling the creation of intricate and elaborate designs in thin wall packaging. This versatility is helpful for manufacturers searching for unique and imaginative packaging ideas. Injection moulding provides outstanding levels of precision and consistency for the production of thin wall packaging. It is imperative to comply with strict quality standards and ensure uniformity in the dimensions and characteristics of the packaging. The rise in online shopping has increased demand for packaging solutions that withstand transportation difficulties. Thanks to injection moulding, robust and protective thin wall packaging is possible for online shopping.
Major players in the market
Amcor plc
Berry Global Inc.
SILGAN HOLDINGS INC.
PACCOR GROUP
Mold-Tek Packaging Ltd.
Greiner Packaging
DOUBLE H PLASTICS, INC.
Novio Packaging B.V.
GUILLIN Group
Omniform
Takween Advanced Industries
Sanpac
Uniplast Knauer GmbH & Co. KG
Sunrise Plastics
Insta Polypack
PLASTIPAK INDUSTRIES INC.
Jrd International
Shree Rama Multi-Tech Ltd.
ACMEPAK PLASTIC PACKAGING, LTD.
Faerch A/S
Market Segmentation
This study forecasts revenue at global, regional, and country levels from 2023 to 2032.
Thin Wall Packaging Market, Production Process Analysis
Thermoforming
Injection Molding
Thin Wall Packaging Market, Material Analysis
Polypropylene (PP)
Polyethylene (PE)
Polyethylene Terephthalate (PET)
Thin Wall Packaging Market, Regional Analysis
About the Spherical Insights & Consulting
Spherical Insights & Consulting is a market research and consulting firm which provides actionable market research study, quantitative forecasting and trends analysis provides forward-looking insight especially designed for decision makers and aids ROI.
Which is catering to different industry such as financial sectors, industrial sectors, government organizations, universities, non-profits and corporations. The company's mission is to work with businesses to achieve business objectives and maintain strategic improvements.
CONTACT US:
For More Information on Your Target Market, Please Contact Us Below:
Phone: +1 303 800 4326 (the U.S.)
Phone: +91 90289 24100 (APAC)
Email: inquiry@sphericalinsights.com, sales@sphericalinsights.com
Contact Us: https://www.sphericalinsights.com/contact-us
Need help to buy this report?