Global Pharmaceutical Packaging Market Size to Worth USD 267.1 Billion by 2032 | CAGR of 10.4%
Category: Advanced Materials
---
---
Global Pharmaceutical Packaging Market Size to Worth USD 267.1 Billion by 2032
According to a research report published by Spherical Insights & Consulting, the Global Pharmaceutical Packaging Market Size to grow from USD 140.8 Billion in 2022 to USD 267.1 Billion by 2032, at a Compound Annual Growth Rate (CAGR) of 10.4% during the forecast period.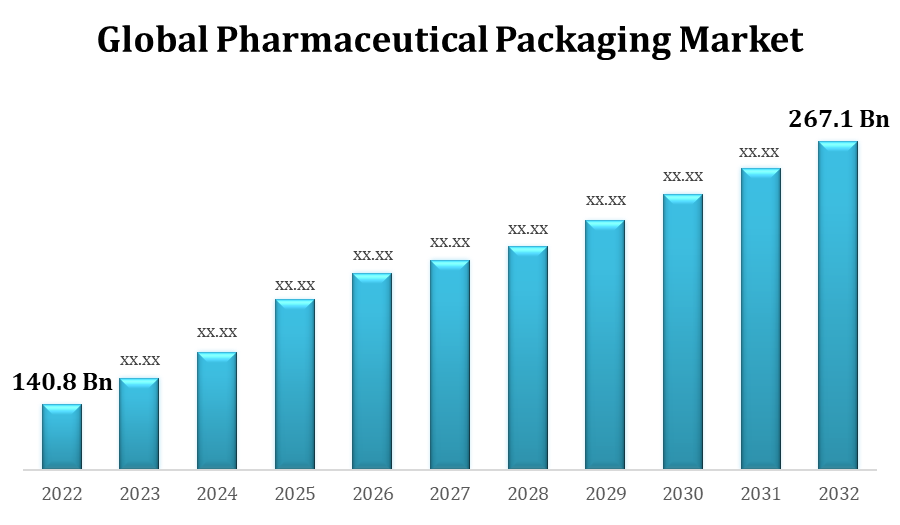 Get more details on this report -
Request Free Sample PDF
Browse key industry insights spread across 200 pages with 110 market data tables and figures & charts from the report on the "Global Pharmaceutical Packaging Market Size By Material (Plastics & Polymers, Paper & Paperboard, Glass, Aluminum Foil), By Product (Primary, Secondary, Tertiary), By End-use (Pharma Manufacturing, Contract Packaging, Retail Pharmacy, Institutional Pharmacy), By Region, And Segment Forecasts, By Geographic Scope And Forecast to 2032". Get Detailed Report Description Here : https://www.sphericalinsights.com/reports/pharmaceutical-packaging-market
Temperature, moisture, and light frequently have a harmful effect on medicinal items. Packaging materials, such as molded pulp trays and containers, create a protective barrier that maintains the stability and effectiveness of the drugs. Ensuring the safety of pharmaceutical products is crucial. Blister packs and molded pulp trays with tamper evident are two examples of packaging techniques that help stop contamination and unauthorized access. The pharmaceutical packaging market frequently requires customized solutions to satisfy the demands of specific drug formulations and dosage sizes. Molded pulp is versatile and can be utilized to make unique packaging that meets the specific requirements of medical products.
Pharmaceutical Packaging Market Value Chain Analysis
The raw materials for the process are molded pulp packaging materials, plastic, glass, and metal. These ingredients need to adhere to regulatory standards in order for pharmaceutical products to be pure and safe. The raw materials are used in the manufacturing process to make a range of packaging, such as blister packs, vials, bottles, and in this case, molded pulp trays. At this point, fulfilling the strict requirements of the pharmaceutical industry requires accuracy and consistency. When it comes to giving consumers and medical professionals vital information, packaging design is essential. Printing and labeling ensure that each item has a unique identification and is equipped with all necessary information, such as barcodes, expiration dates, and dosage instructions.
Pharmaceutical Packaging Market Opportunity Analysis
Modern materials and technology, like as smart packaging and RFID (Radio-Frequency Identification), can be used to enhance patient adherence, security, and traceability. As specialty drugs and tailored medicine gain popularity, customized packaging alternatives are becoming more and more common. Packaging made especially for specialist drugs ensures their safe administration and transportation. Environmentally friendly packaging choices are made possible by the pharmaceutical industry's rising emphasis on sustainability. Molded pulp is biodegradable and renewable, so it could be crucial to accomplish environmental goals.Packaging innovations with anti-counterfeiting features have an opportunity to address the persistent issue of counterfeit drugs. These could incorporate features like holographic labeling that identify tampering. Globally, the pharmaceutical industry is expanding.
There is an increasing need for pharmaceuticals to fulfill a variety of healthcare needs due to the aging and expanding worldwide population. This surge in demand directly leads to an increase in production and packaging requirements. Among the biopharmaceuticals that the pharmaceutical industry is moving toward are biologics and biosimilars. Pharmaceuticals are intricate and sensitive products that frequently need special packaging to maintain their effectiveness. This is where packaging innovations can be drawn from. Due to the globalization of the pharmaceutical sector, products have to comply with several legal and cultural criteria. The intricacy of distribution and compliance requirements is driving the need for creative and flexible packaging solutions. The shift to direct-to-consumer business models and the growing percentage of online sales of pharmaceuticals create opportunities for packaging solutions that are optimized for online distribution, including designs that are safe and user-friendly.
Packing presents challenges for serialization deployment, especially as track-and-trace rules proliferate. Detailed planning and advanced technology are required to ensure that each unit is uniquely identified. The persistent issue of fake pharmaceuticals necessitates packaging solutions with cutting-edge anti-counterfeiting features. Creating packaging that is both easily verified and secure is a never-ending challenge. The need for cost-effective solutions usually clashes with the requirement for complex and safe packaging. Finding the right balance between cost and legal compliance is never simple. The growth in biopharmaceuticals presents additional challenges for the packaging of complex and fragile drugs. Ensuring the integrity and stability of biologics during their storage and transportation is imperative.
Insights by Material
The Plastic and Polymers segment accounted for the largest market share over the forecast period 2023 to 2032. Plastic and polymers offer a multitude of options for adaptation. Their moldability gives designers greater possibilities when constructing packaging for different types of prescription pharmaceuticals because it enables the creation of a wide range of sizes and forms. Plastic and polymer packaging is an excellent choice for distribution and transit because of its lightweight nature. This can reduce the overall environmental impact and contribute to cost savings in logistics. Polymers and plastic provide good protection for pharmaceutical goods. They can preserve the stability and integrity of medications by shielding them from light, moisture, and other environmental factors. Packaging composed of polymers and plastic is often less expensive than packaging made of other materials. This is a critical factor to take into account for pharmaceutical companies looking to reduce expenses without compromising quality standards.
Insights by Product
Primary segment is witnessing the fastest market growth over the forecast period 2023 to 2032. When innovative and creative medications are produced, specialized primary packaging is often required to ensure the stability and efficacy of the drug. With increased innovation in the pharmaceutical business, there is a growing need for specialized primary packaging solutions. The growing popularity of specialty drugs and biopharmaceuticals is driving up the need for specialized primary packaging. These medications usually require special handling and storage procedures. This includes vials, syringes, ampoules, and other containers designed especially to protect these sensitive mixes. Primary packaging plays an increasingly important role in patient-centered healthcare. Packaging advancements that increase patient adherence, like as blister packs with prominently displayed dose instructions, are contributing factors to this trend.
Insights by End Use
The Pharma manufacturing segment accounted for the largest market share over the forecast period 2023 to 2032. The need for packaging materials increases as the pharmaceutical manufacturing sector expands because it produces more drugs. Packaging companies need to grow in order to meet the demands of the growing pharmaceutical output. To facilitate the creation of complex medicine formulations and the expansion of biopharmaceuticals, specialized packaging solutions are required. This category includes primary and secondary packaging designed to maintain the stability and integrity of these fragile commodities. The expansion of pharmaceutical manufacturing into developing nations is driving up demand for packaging. Packaging manufacturers may need to adapt to changing consumer tastes and legal requirements in these expanding markets. The pharmaceutical manufacturing industry's use of track-and-trace and serialization technologies to comply with regulations is driving innovation in packaging.
Insights by Region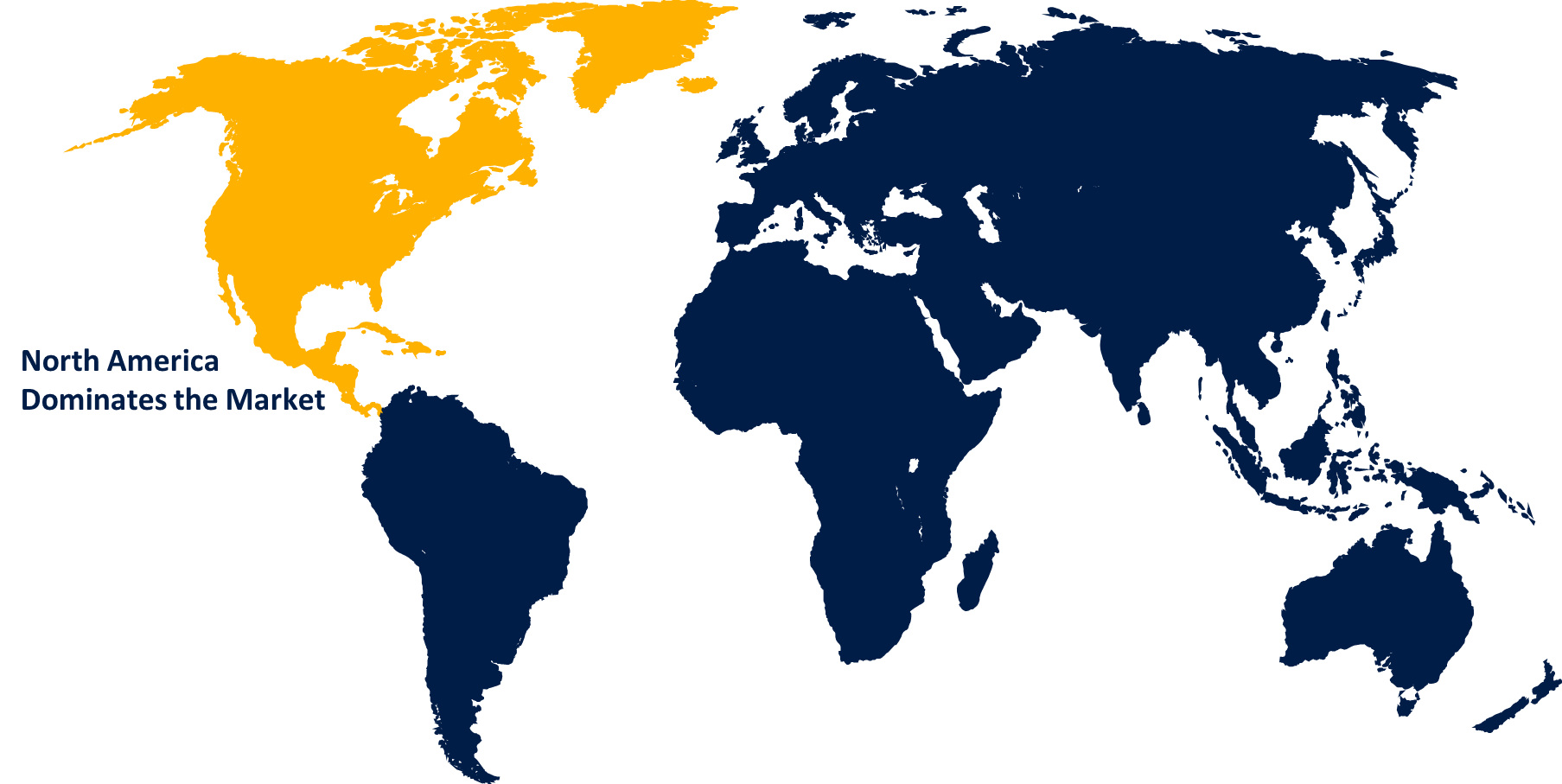 Get more details on this report -
Request Free Sample PDF
North America is anticipated to dominate the Pharmaceutical Packaging Market from 2023 to 2032. The need for specialized packaging solutions is fueled by the rising use of biopharmaceuticals, such as biologics and biosimilars, in North America. To preserve their stability and effectiveness, many medications frequently need special primary packaging. North American packaging design is influenced by the focus on patient safety and adherence to prescription schedules. Important factors to take into account are child-resistant packaging, tamper-evident features, and user-friendly designs. Clinical trial activity is concentrated in North America, which fuels the need for unique packaging options for experimental medications. This includes experimental medicine packaging that guarantees the traceability and integrity of the product.
Asia Pacific is witnessing the fastest market growth between 2023 to 2032. Pharmaceutical production and consumption are concentrated in the Asia Pacific area. Demand for packaging solutions is driven by the pharmaceutical sector's expansion, which is fueled by the growing middle class income, expanding healthcare needs, and growing population. Pharmaceuticals are seen to be emerging in a number of Asia Pacific nations, including China and India. Packaging businesses have the chance to meet the growing demand for pharmaceutical items as a result of these markets' explosive growth. The pharmaceutical industry has witnessed a rise in online sales and e-commerce in the Asia Pacific area. The demand for packaging that is appropriate for online distribution is a result of the transition towards digital platforms.
Major players in the market
Becton
Dickinson and Company
Amcor Plc
AptarGroup, Inc.
Gerresheimer AG
Drug Plastics Group
Schott AG
West Pharmaceutical Services Inc.
Owens Illinois Inc.
Berry Global, Inc
SGD S.A.
WestRock Company
Market Segmentation
This study forecasts revenue at global, regional, and country levels from 2023 to 2032.
Pharmaceutical Packaging Market, Material Analysis
Plastics & Polymers
Paper & Paperboard
Glass
Aluminum Foil
Pharmaceutical Packaging Market, Product Analysis
Primary
Secondary
Tertiary
Pharmaceutical Packaging Market, End Use Analysis
Pharma Manufacturing
Contract Packaging
Retail Pharmacy
Institutional Pharmacy
Pharmaceutical Packaging Market, Regional Analysis
About the Spherical Insights & Consulting
Spherical Insights & Consulting is a market research and consulting firm which provides actionable market research study, quantitative forecasting and trends analysis provides forward-looking insight especially designed for decision makers and aids ROI.
Which is catering to different industry such as financial sectors, industrial sectors, government organizations, universities, non-profits and corporations. The company's mission is to work with businesses to achieve business objectives and maintain strategic improvements.
CONTACT US:
For More Information on Your Target Market, Please Contact Us Below:
Phone: +1 303 800 4326 (the U.S.)
Phone: +91 90289 24100 (APAC)
Email: inquiry@sphericalinsights.com, sales@sphericalinsights.com
Contact Us: https://www.sphericalinsights.com/contact-us
Need help to buy this report?