Global Acetonitrile Market Size to Worth USD 4.3 Billion by 2032 | CAGR of 6.2%
Category: Chemicals & Materials
---
---
Global Acetonitrile Market Size to Worth USD 4.3 Billion by 2032
According to a research report published by Spherical Insights & Consulting, the Global Acetonitrile Market Size to Grow from USD 2.6 Billion in 2022 to USD 4.3 Billion by 2032, at a Compound Annual Growth Rate (CAGR) of 6.2% during the forecast period.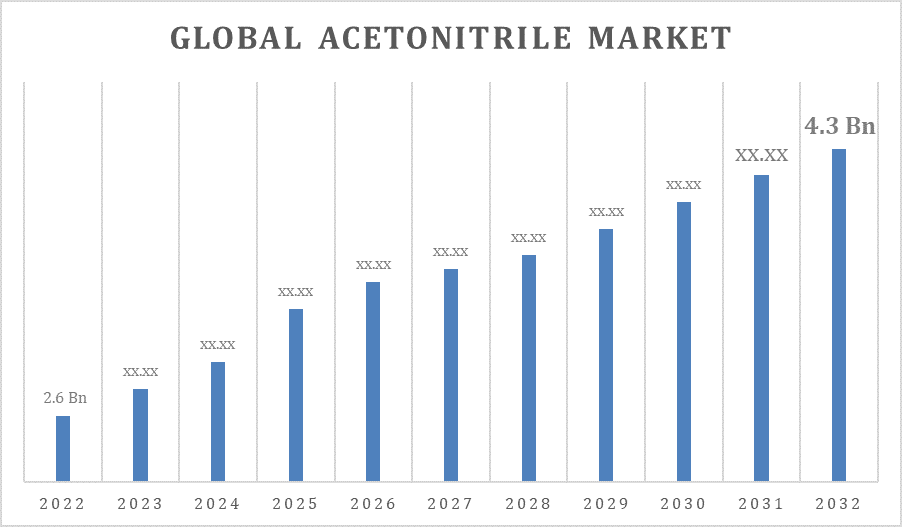 Get more details on this report -
Request Free Sample PDF
Browse key industry insights spread across 200 pages with 110 market data tables and figures & charts from the report on "Global Acetonitrile Market Size By Type (Derivative, Solvent), By Application (Agrochemical, Analytical Industry), By Region, And Segment Forecasts, By Geographic Scope And Forecast 2022 - 2032." Get Detailed Report Description Here: https://www.sphericalinsights.com/reports/acetonitrile-market
Acetonitrile is a necessary solvent in the pharmaceutical business, particularly when synthesising active pharmaceutical ingredients (APIs). The demand for acetonitrile is primarily driven by the pharmaceutical industry's continuous growth, which is supported by variables including global population growth, rising healthcare costs, and R&D expenditures. The agricultural industry, which manufactures herbicides and insecticides, also requires acetonitrile. The demand for agrochemicals, such as acetonitrile, has increased due to the need for high-yield crops and the development of agricultural technologies. Acetonitrile is used in many different chemical processes, such as the synthesis of specialty chemicals and intermediates. The growth of the chemical manufacturing industry, which is driven by innovation and industrial development, raises the need for acetonitrile.
Acetonitrile Market Value Chain Analysis
The initial link in the value chain is the supply of raw materials required to make acetonitrile. Acetonitrile is typically formed through the reaction of acrylonitrile and hydrogen in the presence of a catalyst. The next phase is the real acetonitrile production process. This includes the chemical processes that transform raw materials into final products. The production units and infrastructure are crucial at this time. Acetonitrile needs to be given to a range of end users after manufacture. This involves transportation, storage, and logistics. The efficiency with which this stage proceeds could have an impact on the price and accessibility of acetonitrile in the market. The final link in the value chain is the end-user industries' use of acetonitrile.
Acetonitrile Market Opportunity Analysis
The international pharmaceutical industry's continuous growth offers a potential avenue for acetonitrile demand to increase. Pharmaceutical businesses looking to boost productivity or develop new drugs may be driving the market. The agriculture industry is evolving due to the development of innovative and cutting-edge agrochemicals. Acetonitrile producers can collaborate with agrochemical companies to develop innovative and effective crop protection products. Educating consumers about the unique properties and benefits of acetonitrile in a range of applications can spur demand and boost awareness.
The pharmaceutical sector is growing rapidly on a global scale as a result of advances in medical research, ageing populations, and increased healthcare demands. Acetonitrile is a crucial component of pharmaceutical production processes that is needed more and more often as new drugs are developed and released onto the market. The tendency of contract development and manufacturing organisations (CDMOs) managing pharmaceutical manufacturing outsourcing has resulted in a rise in the demand for acetonitrile. Acetonitrile is necessary for the specific synthesis projects that these businesses regularly work on. Acetonitrile and other specialised solvents are frequently needed due to the increase in the manufacturing of complicated compounds and biopharmaceuticals, among other specialty medications. The drive towards personalised therapy and the variety of pharmaceutical products both support the rising demand.
One of the basic materials needed to make acetonitrile is acrylonitrile, the price of which can change. Variations in raw material prices might impact manufacturing costs overall and, consequently, market dynamics. The market is closely associated with the demand for acetonitrile from end-user industries such as pharmaceuticals and agrochemicals. Economic downturns or changes in certain industries may affect the demand for acetonitrile overall. Alternative solvents are a competition for acetonitrile in the market. Competing solvents that have similar features or are more reasonably priced may sway the choices made by manufacturers and final consumers. The acetonitrile market is susceptible to supply chain disruptions just like any other market.
Insights by Type
The solvent segment accounted for the largest market share over the forecast period 2023 to 2032. Acetonitrile is widely used as a solvent in the pharmaceutical industry to produce drugs and pharmaceutical intermediates. Rising healthcare expenses and drug discovery activities are driving the pharmaceutical industry's continuous expansion, which in turn is driving a growing need for acetonitrile as a solvent. Acetonitrile is a versatile solvent that finds application in a wide range of chemical processes, including those leading to the production of specialty chemicals and intermediates. The necessity for solvents with specific properties and the rise of the chemical industry are the main drivers of acetonitrile's popularity as a solvent. In extraction processes, acetonitrile is utilised, particularly when various compounds need to be separated and purified. The petrochemical and natural product extraction industries both employ acetonitrile as a solvent.
Insights by Application
Pharmaceutical segment is witnessing the fastest market growth over the forecast period 2023 to 2032. In the manufacturing of pharmaceuticals, acetonitrile is a necessary solvent, particularly in the formulation of pharmacological products and the synthesis of active pharmaceutical ingredients (APIs). The pharmaceutical sector depends on acetonitrile to manufacture a wide range of drugs in an effective and efficient manner. The increasing prevalence of chronic ailments, advances in medical research, and an ageing population have all aided in the pharmaceutical industry's steady global growth. The expansion of the pharmaceutical sector is closely linked to the rising need for acetonitrile. Contract development and manufacturing organisations (CDMOs) and custom synthesis vendors are increasingly being used for pharmaceutical manufacturing outsourcing. Acetonitrile is used by many of these groups, which expands the market for medications.
Insights by Region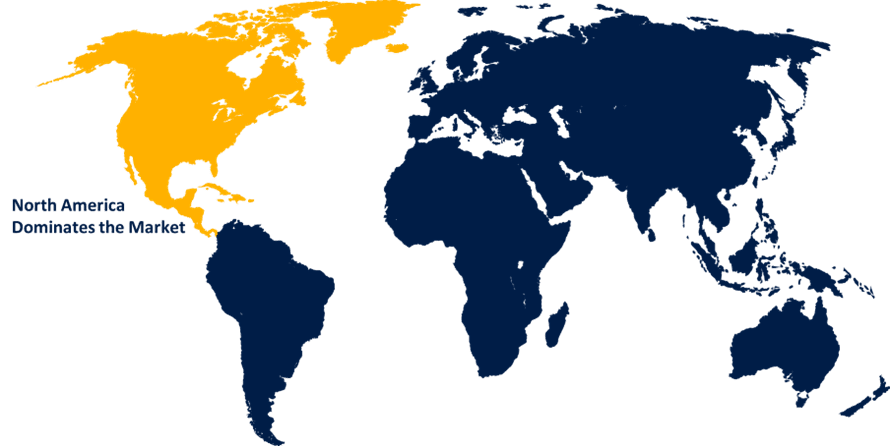 Get more details on this report -
Request Free Sample PDF
North America is anticipated to dominate the Acetonitrile market from 2023 to 2032. The pharmaceutical industry in North America is robust, particularly in the US. The need for acetonitrile in the area is fueled by its use in pharmaceutical production processes, such as those that create medicines and pharmaceutical intermediates. Acetonitrile has the ability to create a wide range of chemicals. The dynamics and overall growth of the chemical industry in North America impact the demand for acetonitrile. Acetonitrile imports and exports are influenced by trade interactions between North America and other regions. The price and accessibility of acetonitrile may be impacted by trade agreements and policies.
Asia Pacific is witnessing the fastest market growth between 2023 to 2032. One of the things that makes the Asia Pacific region unique is its rapid industrialization, especially in countries like China and India. Acetonitrile's demand is impacted by this expansion in the industrial sector since it is used in numerous production processes. Acetonitrile is primarily used by the chemical and pharmaceutical sectors in Asia Pacific. As a hub for the manufacturing of chemicals and medicines, the area has a strong need for acetonitrile and other solvents. The production of agrochemicals requires acetonitrile, which finds a significant demand in the agriculture sector in Asia Pacific. The demand for acetonitrile as a whole is increased by the requirement for fertilisers and chemicals for crop protection.
Major players in the market
GREENFIELD GLOBAL INC.
INEOS
Connect Chemicals
Secco.com.cn
Honeywell International Inc.
Robinson Brothers
Hunan Chem. Europe B.V.
Mitsubishi Chemical Corporation
Zibo Luzhong Chemical Light Industry Co., Ltd.
Formosa Plastics Corp
Nova Molecular Technologies
Biosolve Chimie
Avantor, Inc.
Asahi Kasei Corporation
Imperial Chemical Corporation
Alfa Aesar
Thermo Fisher Scientific Inc.
GFS Chemicals, Inc.
Jilin Provincial Chemicals Import & Export Co.,Ltd.
Standard Reagents Pvt.Ltd
Tedia Company
TAEKWANG INDUSTRIAL CO.,LTD.
Nantong Acetic Acid Chemical Co., Ltd.
PetroChina Company Limited
Market Segmentation
This study forecasts revenue at global, regional, and country levels from 2023 to 2032.
Acetonitrile Market, Type Analysis
Acetonitrile Market, Application Analysis
Agrochemical
Analytical Industry
Acetonitrile Market, Regional Analysis
About the Spherical Insights & Consulting
Spherical Insights & Consulting is a market research and consulting firm which provides actionable market research study, quantitative forecasting and trends analysis provides forward-looking insight especially designed for decision makers and aids ROI.
Which is catering to different industry such as financial sectors, industrial sectors, government organizations, universities, non-profits and corporations. The company's mission is to work with businesses to achieve business objectives and maintain strategic improvements.
CONTACT US:
For More Information on Your Target Market, Please Contact Us Below:
Phone: +1 303 800 4326 (the U.S.)
Phone: +91 90289 24100 (APAC)
Email: inquiry@sphericalinsights.com, sales@sphericalinsights.com
Contact Us: https://www.sphericalinsights.com/contact-us
Need help to buy this report?