Global Food Diagnostics Market Size worth USD 29.8 Billion by 2032 | CAGR of 7.03%
Category: Food & Beverages
---
---
Global Food Diagnostics Market Size worth USD 29.8 Billion by 2032
According to a research report published by Spherical Insights & Consulting, the Global Food Diagnostics Market Size to grow from USD 15.1 billion in 2022 to USD 29.8 billion by 2032, at a Compound Annual Growth Rate (CAGR) of 7.03% during the forecast period.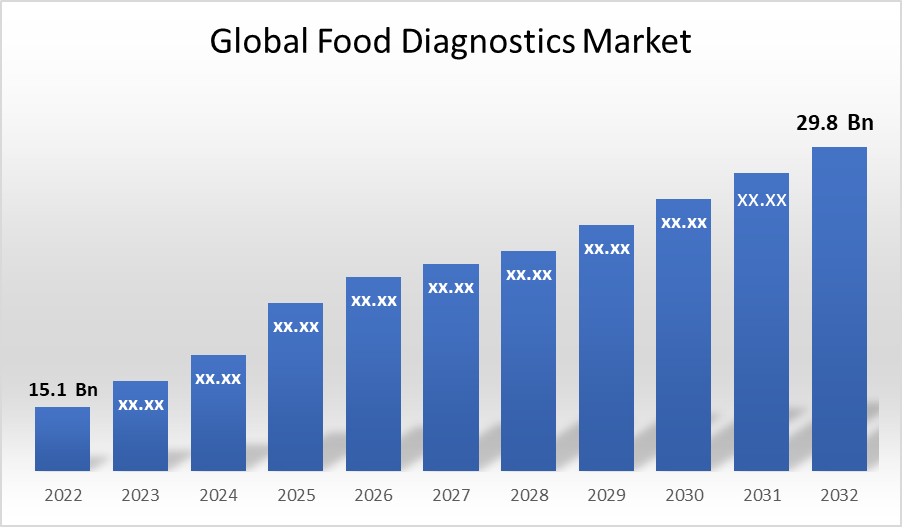 Get more details on this report -
Request Free Sample PDF
Browse 200 market data Tables and 45 Figures spread through 120 Pages and in-depth TOC on the "Global Food Diagnostics Market Size By Type (Systems, Test Kits, and Consumables), By Testing Type (Safety and Quality), By Food Tested (Meat, Poultry & Seafood, Dairy Products, Fruits & vegetables, Processed Food, and Others), By Geographic Scope And Forecast, 2023 - 2032." Get Detailed Report Description Here: https://www.sphericalinsights.com/reports/food-diagnostics-market
The Global Food Diagnostics Market is a growing and rapidly evolving sector at the intersection of food safety and technology. This market includes a wide range of diagnostic techniques, tools, and systems designed to ensure the safety, quality, and authenticity of food consumed by people. As public concern grows about foodborne illnesses, contamination, and fraud, so does the demand for dependable food diagnostic solutions. Stricter food safety regulations, increased consumer awareness, and advancements in diagnostic technologies are driving the Global Food Diagnostics Market. Molecular diagnostics, immunoassays, and other techniques for detecting contaminants, pathogens, allergens, and adulterants in food are among these technologies. Furthermore, factors such as globalization of the food supply chain influence the market, creating a greater need for rapid and efficient testing methods. Food manufacturers, distributors, and regulators are under increased pressure to ensure the integrity of their products as global trade expands. This has resulted in the use of novel diagnostic tools, such as DNA-based testing and spectroscopy, to provide more accurate and timely results. However, in many developing countries around the world, a lack of adequate facilities, such as well-equipped laboratories and skilled personnel, is a significant barrier to effective food diagnostics market.
Food Diagnostics Market Price Analysis
Price changes in this market are caused by technological advances, competitive forces, and regulatory changes. Technological progress frequently leads to the development of more efficient and cost-effective diagnostic solutions, potentially driving diagnostic prices down. Stringent regulatory requirements, may increase compliance costs, which may result in higher diagnostic prices.
Food Diagnostics Market Distribution Analysis
The Global Food Diagnostics Market distribution analysis reveals the intricate network by which diagnostic products and solutions reach end users. It includes a variety of channels, such as direct sales, distributors, online platforms, and collaborations with food industry stakeholders. To ensure that their products are widely available, large diagnostic companies frequently use a combination of these channels. Distributors and wholesalers play an important role in broadening market reach, particularly in regions with diverse and extensive food supply chains. Furthermore, online platforms have grown in popularity, providing convenience and accessibility.
Insights by Type
The test kits segment accounted for the highest market share from 2023 to 2032. The test kits market will propel or grow at a faster rate than consumables during the forecast period due to the high demand for accurate, user-friendly, and on-site test results by various key end-users. The growing awareness of testing tools and cost-effective with rapid results technology is expected to add value to the test kits segment in the coming years.
Insights by Testing Type
The safety segment accounted a major market share from 2023 to 2032. Food safety testing is a critical component of the global food industry because it ensures that the products consumed are safe for human consumption. Given the growing concern about foodborne illnesses and outbreaks, it has recently surpassed food quality testing in importance. Food safety testing uses a variety of techniques to detect contaminants, pathogens, and chemical residues in food, protecting consumers from potential health risks.
Insights by Region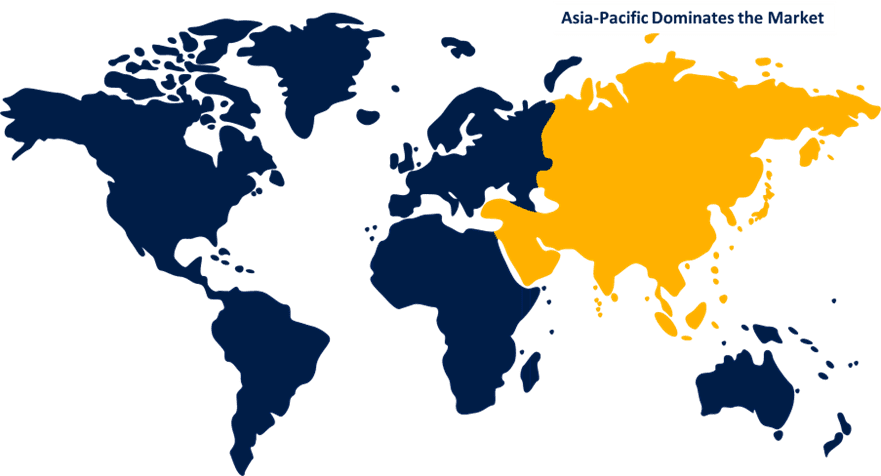 Get more details on this report -
Request Free Sample PDF
Asia Pacific will have the fastest market growth between 2023 and 2032. Rapid population growth, urbanization, and an increase in disposable income characterize the Asia Pacific region. Food consumption has increased as the region's population has grown rapidly, particularly in China and India. The demand for processed and packaged foods grows as more people move to cities. Food demand is increasing, which necessitates stringent quality control and safety measures, propelling the food diagnostics market forward.
Europe is expected to lead the Food Diagnostics Market from 2023 to 2032. The United Kingdom, Germany, Spain, and other countries dominate this region. The strict food safety rules required by the regulator to ensure that food products on the market are safe to eat are expected to drive growth in the European food diagnostics market. As a result of environmental changes, food-related diseases are becoming more common, and the government and various agencies are becoming more concerned about food diagnostics in this region.
Market Segmentation
This study forecasts revenue at global, regional, and country levels from 2023 to 2032.
Food Diagnostics Market, Type Analysis
Systems
Test Kits
Consumables
Food Diagnostics Market, Testing Type Analysis
Food Diagnostics Market, Food Tested Analysis
Meat, Poultry & Seafood
Dairy Products
Processed Food
Fruits & vegetables
Others
Food Diagnostics Market, Regional Analysis
About the Spherical Insights & Consulting
Spherical Insights & Consulting is a market research and consulting firm which provides actionable market research study, quantitative forecasting and trends analysis provides forward-looking insight especially designed for decision makers and aids ROI.
Which is catering to different industry such as financial sectors, industrial sectors, government organizations, universities, non-profits and corporations. The company's mission is to work with businesses to achieve business objectives and maintain strategic improvements.
CONTACT US:
For More Information on Your Target Market, Please Contact Us Below:
Phone: +1 303 800 4326 (the U.S.)
Phone: +91 90289 24100 (APAC)
Email: inquiry@sphericalinsights.com, sales@sphericalinsights.com
Contact Us: https://www.sphericalinsights.com/contact-us
Need help to buy this report?