---
---
Global Facade Market worth $472.11 billion by 2032
According to a research report published by Spherical Insights & Consulting, The Global Facade Market size is to grow from USD 256.28 billion in 2022 to USD 472.11 billion by 2032, at a Compound Annual Growth Rate (CAGR) of 6.3% during the forecast period.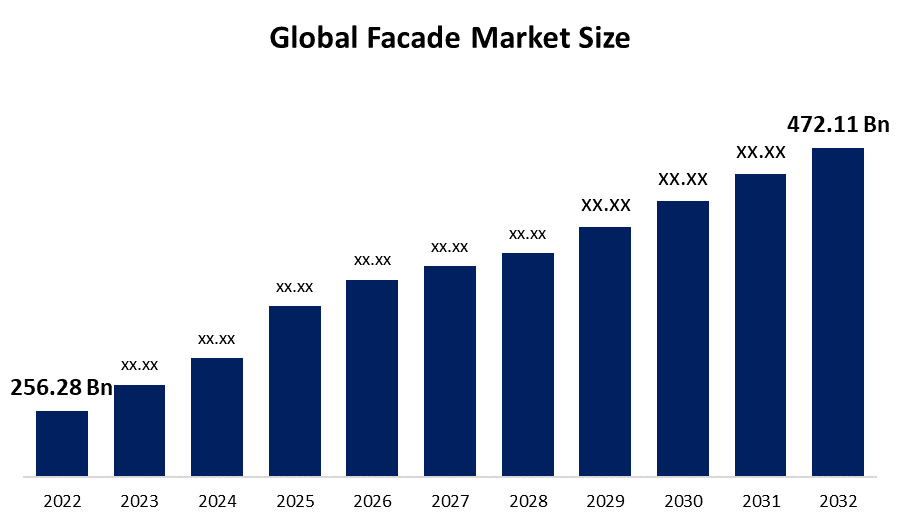 Get more details on this report -
Request Free Sample PDF
Browse key industry insights spread across 210 pages with 122 market data tables and figures & charts from the report on " Global Facade Market Size, Share, and COVID-19 Impact Analysis, By Product (Ventilated Facades, Non-Ventilated Facades, and Others), By End-Use (Commercial, Residential, and Industrial), By Region (North America, Europe, Asia-Pacific, Latin America, Middle East, and Africa), Analysis and Forecast 2022 – 2032 Get Detailed Report Description Here: https://www.sphericalinsights.com/reports/facade-market
A facade is the outward-facing exterior of a building, serving as its "face" and providing the first impression to viewers. It encompasses the front elevation, including walls, windows, doors, and other architectural elements. Facades play a significant role in defining a building's aesthetic appeal, reflecting its architectural style, and enhancing its overall appearance. They can be constructed with a wide range of materials, textures, and colors, and may incorporate functional features such as insulation, ventilation, and weather protection. Facades are crucial in balancing aesthetics and functionality, meeting energy efficiency requirements, and providing durability and sustainability. They are a vital element in modern construction, adding value to buildings and contributing to the overall character and identity of a structure.
The ventilated facade segment is expected to grow at a CAGR of 7.4% over the forecast period
Based on the product, the global façade market is dived into ventilated facades, non-ventilated facades, and others. The ventilated facades are designed with an air cavity between the outer cladding and the building envelope, allowing for air circulation and ventilation. This design helps to regulate temperature and moisture, providing energy efficiency benefits and minimizing the risk of condensation and mold growth. The increasing focus on sustainability, energy efficiency, and green building practices is driving the demand for ventilated facades. They offer improved thermal performance, reduced energy consumption, and better indoor air quality, making them a popular choice in modern construction projects.
Commercial segment is predicted to grow at a CAGR of around 7.6% during the forecast period
Based on the end-use, the global facade market is segmented into commercial, residential, and industrial. The commercial segment of the construction industry is anticipated to experience growth in the coming years. This is due to various factors such as urbanization, economic development, and increasing demand for commercial spaces for businesses, offices, retail, and hospitality purposes. Commercial buildings, including offices, shopping centers, hotels, and restaurants, require aesthetically appealing and functional facades that can enhance the building's appearance, and provide durability, energy efficiency, and sustainability features. As a result, there is a growing demand for innovative facade solutions in the commercial sector, driving the expected growth in this segment of the construction market.
The Asia-Pacific is projected to grow at a CAGR of 8.1% over the forecast period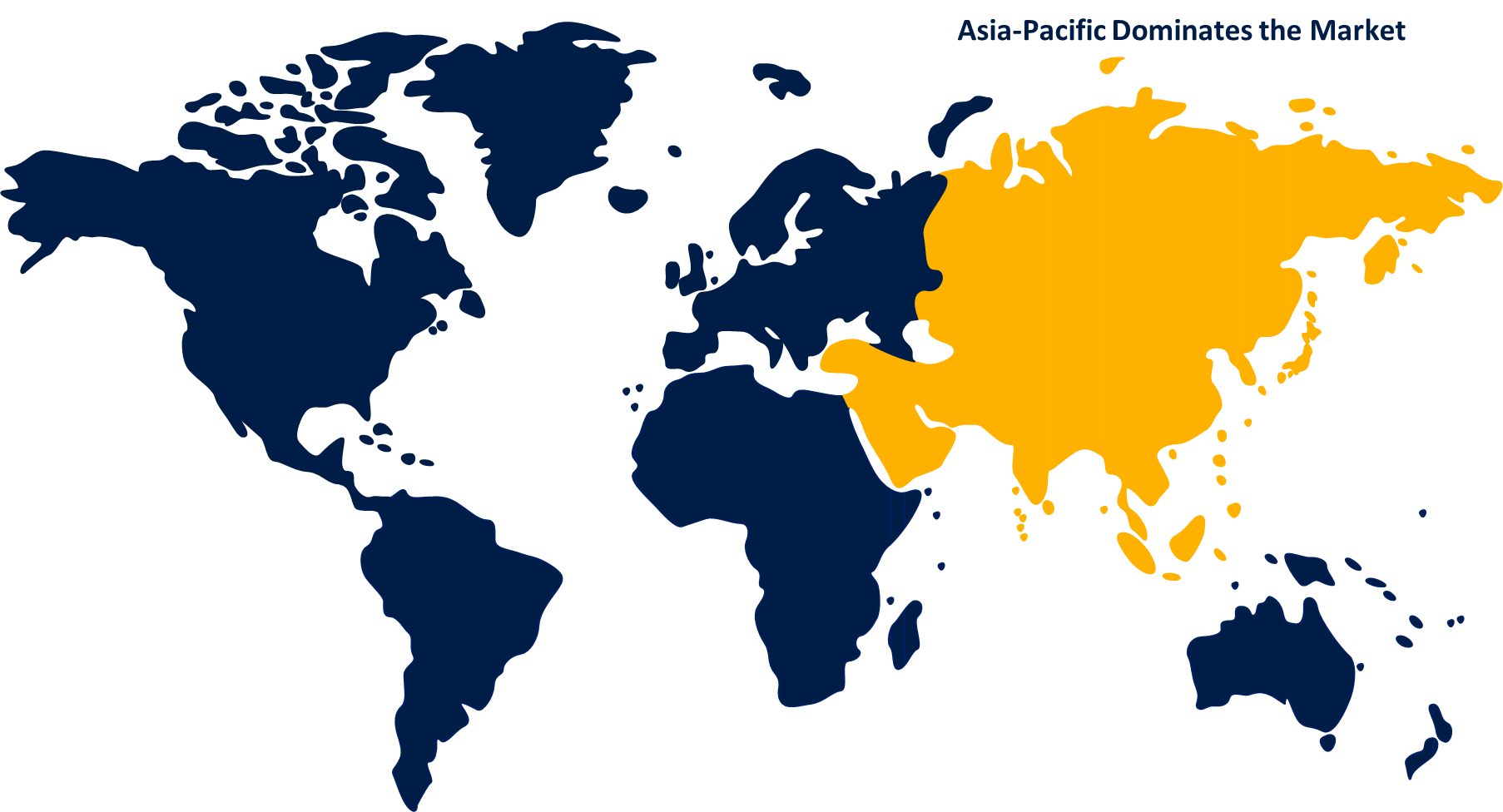 Get more details on this report -
Request Free Sample PDF
The Asia-Pacific segment is projected to be the fastest-growing region in the global facade market. The rapid pace of urbanization, robust economic growth, and increasing construction activities in countries like China, India, and Japan are driving the demand for facades in the region. The growing need for modern, innovative, and energy-efficient building solutions, along with the rising awareness of sustainability, is propelling the demand for facades in Asia-Pacific. Additionally, the booming commercial real estate sector, infrastructure projects, and the construction of iconic landmarks are further fueling the growth of the facade market in the region. With these factors combined, the Asia-Pacific segment is expected to exhibit significant growth potential in the coming years.
Some of the major players in the global facade market include Saint-Gobain, Permasteelisa Group, Schüco International, Kawneer Company, HansenGroup, Reynaers Aluminium, YKK AP Inc., Aluprof S.A., Sapa Building System, Enclos Corp., Gartner GmbH, Josef Gartner GmbH, Walters & Wolf, Josef Rädlinger Fassaden GmbH, and Glasscon GmbH.
Market Segment
This study forecasts revenue at global, regional, and country levels from 2019 to 2032. Spherical Insights has segmented the global facade market based on the below-mentioned segments:
Facade Market, By Product
Ventilated Facades
Non-Ventilated Facades
Others
Facade Market, By End-Use
Commercial
Residential
Industrial
Facade Market, Regional Analysis
North America
Europe

Germany
Uk
France
Italy
Spain
Russia
Rest of Europe

Asia Pacific

China
Japan
India
South Korea
Australia
Rest of Asia Pacific

South America

Brazil
Argentina
Rest of South America

Middle East & Africa

UAE
Saudi Arabia
Qatar
South Africa
Rest of Middle East & Africa
About the Spherical Insights & Consulting
Spherical Insights & Consulting is a market research and consulting firm which provides actionable market research study, quantitative forecasting and trends analysis provides forward-looking insight especially designed for decision makers and aids ROI.
Which is catering to different industry such as financial sectors, industrial sectors, government organizations, universities, non-profits and corporations. The company's mission is to work with businesses to achieve business objectives and maintain strategic improvements.
CONTACT US:
For More Information on Your Target Market, Please Contact Us Below:
Phone: +1 303 800 4326 (the U.S.)
Phone: +91 90289 24100 (APAC)
Email: inquiry@sphericalinsights.com, sales@sphericalinsights.com
Contact Us: https://www.sphericalinsights.com/contact-us
Follow Us: LinkedIn | Facebook | Twitter
Need help to buy this report?