Global Facade Market Size, Share, and COVID-19 Impact Analysis, By Product (Ventilated Facades, Non-Ventilated Facades, and Others), By End-Use (Commercial, Residential, and Industrial), By Region (North America, Europe, Asia-Pacific, Latin America, Middle East, and Africa), Analysis and Forecast 2022 – 2032
Industry: Construction & Manufacturing
---
REPORT FORMAT

---
Global Facade Market Insights Forecasts to 2032
The facade market was valued at USD 256.28 billion in 2022.
The market is growing at a CAGR of 6.3% from 2023 to 2032
The global facade market is expected to reach USD 472.11 billion by 2032
Asia-Pacific is expected to grow the fastest during the forecast period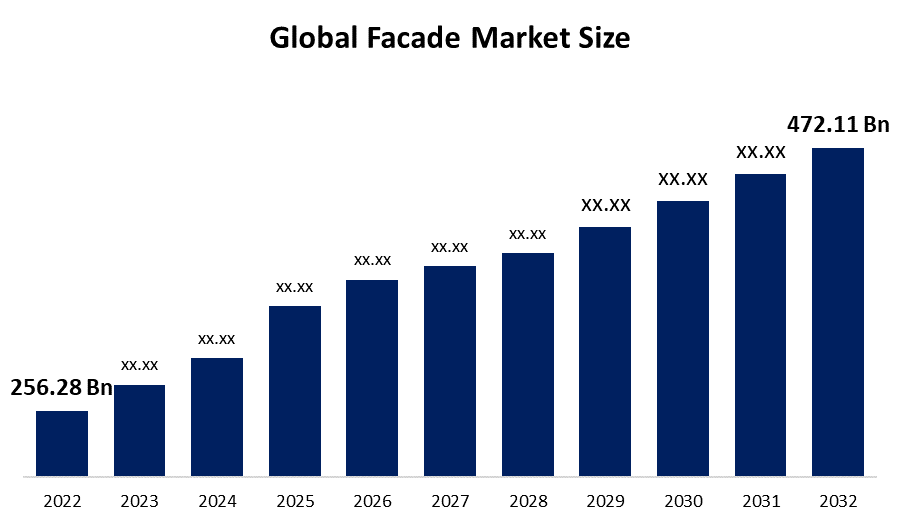 Get more details on this report -
Request Free Sample PDF
The global facade market is expected to reach USD 472.11 billion by 2032, at a CAGR of 6.3% during the forecast period 2023 to 2032.
Market Overview
A facade refers to the outward-facing appearance of a building or structure, typically the front elevation that is visible from the street or public area. It serves as the "face" of the building, providing an aesthetic impression and often reflecting the architectural style or design of the structure. Facades can vary greatly in their materials, colors, textures, and decorative elements, and may include features such as windows, doors, balconies, and ornamental details. The facade plays a crucial role in creating the first impression of a building and can convey the character, style, and purpose of the structure. It may also have functional aspects, such as providing natural light, ventilation, and weather protection. Facades are an important element of architectural design, balancing aesthetics, functionality, and cultural context.
Report Coverage
This research report categorizes the market for facade market based on various segments and regions and forecasts revenue growth and analyzes trends in each submarket. The report analyses the key growth drivers, opportunities, and challenges influencing the facade market. Recent market developments and competitive strategies such as expansion, product launch, and development, partnership, merger, and acquisition have been included to draw the competitive landscape in the market. The report strategically identifies and profiles the key market players and analyses their core competencies in each sub-segments of the facade market.
Global Facade Market Report Coverage
| Report Coverage | Details |
| --- | --- |
| Base Year: | 2022 |
| Market Size in 2022: | USD 256.28 Billion |
| Forecast Period: | 2022 - 2032 |
| Forecast Period 2022 - 2032 CAGR: | 6.3% |
| 2032 Value Projection: | USD 472.11 Billion |
| Historical Data for: | 2018 - 2021 |
| No. of Pages: | 210 |
| Tables, Charts & Figures: | 122 |
| Segments covered: | By Product, By End-Use, By Region |
| Companies Covered: | Saint-Gobain, Permasteelisa Group, Schüco International, Kawneer Company, HansenGroup, Reynaers Aluminium, YKK AP Inc., Aluprof S.A., Sapa Building System, Enclos Corp., Gartner GmbH, Josef Gartner GmbH, Walters & Wolf, Josef Rädlinger Fassaden GmbH, Glasscon GmbH |
Get more details on this report -
Request Free Sample PDF
Driving Factors
The drives in the facade market refer to the factors that influence the growth and dynamics of the industry. These include the demand for sustainable and energy-efficient building materials, technologies, and designs to meet increasing environmental and regulatory requirements. The drive for innovation and digitalization in facade design and fabrication processes to enhance efficiency and productivity. The need for aesthetically appealing and unique facades in modern architecture, driven by changing architectural trends and customer preferences. The market demand for smart technologies that integrate with building management and automation systems. The drive for urbanization and global construction trends, which impact the demand for facades in commercial, residential, and industrial buildings. These drives shape the growth and direction of the facade market, driving advancements and trends in the industry.
Restraining Factors
The facade market faces several restraints, including the high costs associated with sustainable materials and technologies, which may impact the affordability and feasibility of facades for some projects. Regulatory and compliance requirements related to energy codes, environmental standards, and building codes can pose challenges in terms of compliance and additional costs. Limited availability of certain materials or skilled labor, as well as specialized technical expertise for unique facade designs, can also be a restraint. Economic factors such as fluctuating construction activity levels or budget constraints may impact the demand for facades. Additionally, ongoing maintenance costs for facades can be a challenge in terms of costs and resources. These restraints collectively influence the dynamics and growth of the facade market and need to be carefully addressed and managed by industry players.
Market Segmentation
In 2022, the ventilated facades segment accounted for around 45.6% market share
On the basis of the product, the global facade market is segmented into ventilated facades, non-ventilated facades, and others. The ventilated facades segment is dominating the market with the largest market share in 2022, due to their excellent thermal and moisture management properties. They consist of an air gap between the outer cladding and the building envelope, allowing for natural ventilation and reducing the risk of moisture damage. Ventilated facades offer enhanced energy efficiency, durability, and aesthetics, making them a preferred choice for many commercial, residential, and industrial buildings. With an increasing focus on sustainability, energy efficiency, and building performance, the ventilated facades segment is driving growth and innovation in the overall facade market.
In 2022, the commercial segment dominated the market with more than 53.5% revenue share
Based on the end-use, the global facade market is segmented into commercial, residential, and industrial. Out of this, the commercial segment is dominating the market with the largest market share in 2022, due to rising of commercial buildings, including offices, retail spaces, and hospitality establishments, which require visually appealing facades that also provide energy efficiency and weather protection. The commercial sector's demand for modern, innovative, and sustainable facade solutions has driven the growth of the market. Commercial buildings often have larger budgets for facade projects, enabling the use of premium materials, unique designs, and advanced technologies. Additionally, urbanization and the growth of commercial real estate have further fueled the demand for facades in the commercial segment, making it a significant driver of the overall facade market.
Regional Segment Analysis of the Facade Market
North America (U.S., Canada, Mexico)
Europe (Germany, France, U.K., Italy, Spain, Rest of Europe)
Asia-Pacific (China, Japan, India, Rest of APAC)
South America (Brazil and the Rest of South America)
The Middle East and Africa (UAE, South Africa, Rest of MEA)
Asia-Pacific is leader in the market with more than 36.1% revenue share in 2022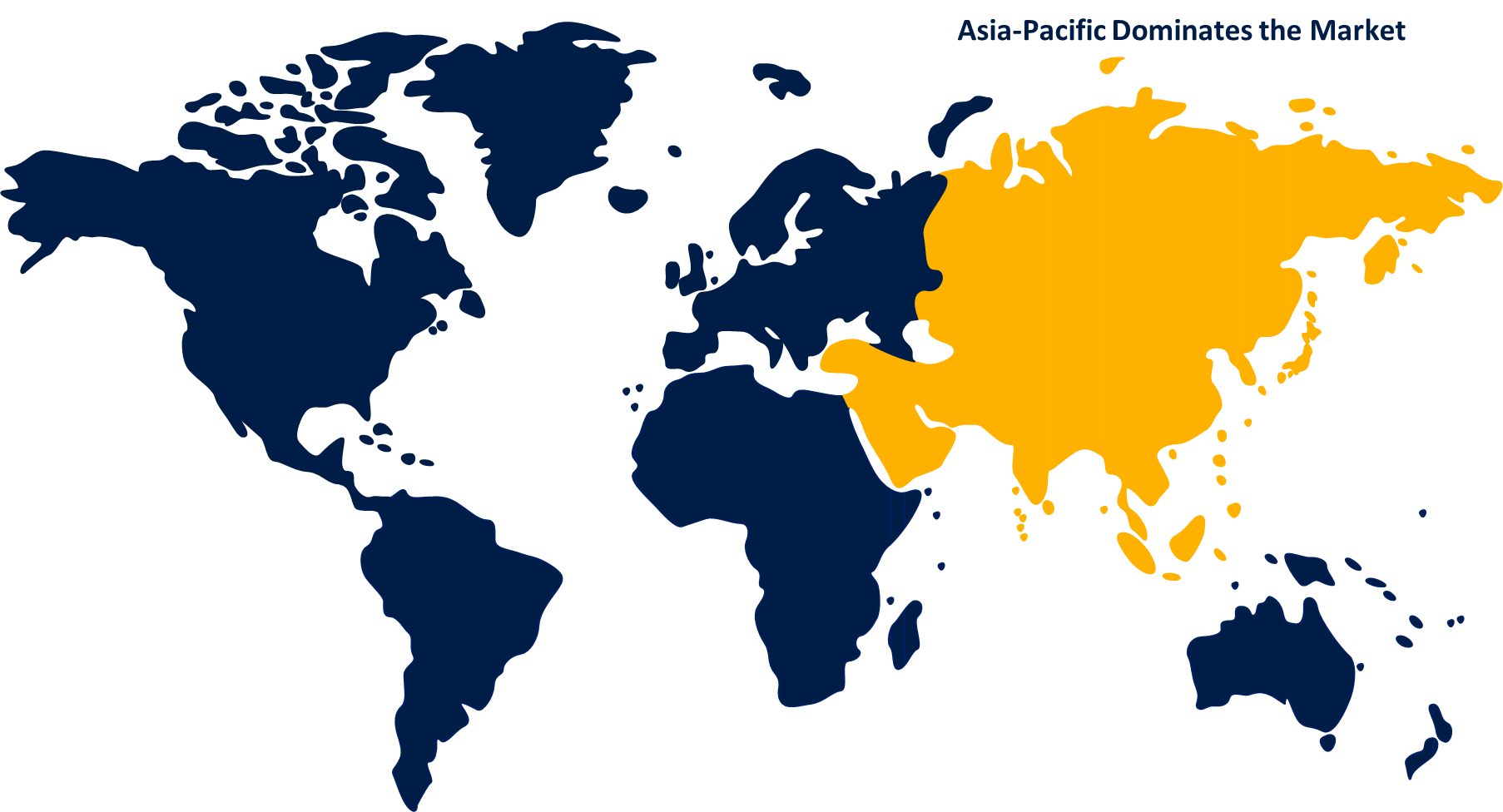 Get more details on this report -
Request Free Sample PDF
Asia-Pacific has emerged as a dominant region in the global facade market. Rapid urbanization, increasing construction activities, and economic growth in countries such as China, India, and Japan have fueled the demand for facades in the region. Asia-Pacific is known for its large-scale infrastructure projects, commercial and residential developments, and iconic landmarks, driving the need for innovative and aesthetically appealing facades. The region's booming construction industry, along with rising awareness of energy efficiency and sustainability, has led to significant demand for modern facades. With its robust market size and growth prospects, Asia-Pacific has become a key driver of the overall facade market.
Competitive Analysis:
The report offers the appropriate analysis of the key organizations/companies involved within the global facade market along with a comparative evaluation primarily based on their product offering, business overviews, geographic presence, enterprise strategies, segment market share, and SWOT analysis. The report also provides an elaborative analysis focusing on the current news and developments of the companies, which includes product development, innovations, joint ventures, partnerships, mergers & acquisitions, strategic alliances, and others. This allows for the evaluation of the overall competition within the market.
List of Companies:
Saint-Gobain
Permasteelisa Group
Schüco International
Kawneer Company
HansenGroup
Reynaers Aluminium
YKK AP Inc.
Aluprof S.A.
Sapa Building System
Enclos Corp.
Gartner GmbH
Josef Gartner GmbH
Walters & Wolf
Josef Rädlinger Fassaden GmbH
Glasscon GmbH
Key Target Audience
Market Players
Investors
End-Users
Government Authorities
Consulting and Research Firm
Venture Capitalists
Value-Added Resellers (VARs)
Recent Developments
In September 2022, Saint-Gobain has expanded its facade portfolio by partnering with Megasol, a leading European provider of building-integrated photovoltaics (BIPV). As part of the agreement, Saint-Gobain has acquired a minority stake in Megasol's business unit responsible for developing and manufacturing BIPV solutions in Switzerland. This strategic expansion has not only widened Saint-Gobain's product offerings but also expanded its customer base. With this collaboration, Saint-Gobain aims to enhance its position in the facade market by incorporating sustainable and innovative BIPV solutions into its portfolio, meeting the growing demand for energy-efficient and environmentally friendly building solutions.
Market Segment
This study forecasts revenue at global, regional, and country levels from 2019 to 2032. Spherical Insights has segmented the global facade market based on the below-mentioned segments:
Facade Market, By Product
Ventilated Facades
Non-Ventilated Facades
Others
Facade Market, By End-Use
Commercial
Residential
Industrial
Facade Market, Regional Analysis
North America
Europe

Germany
Uk
France
Italy
Spain
Russia
Rest of Europe

Asia Pacific

China
Japan
India
South Korea
Australia
Rest of Asia Pacific

South America

Brazil
Argentina
Rest of South America

Middle East & Africa

UAE
Saudi Arabia
Qatar
South Africa
Rest of Middle East & Africa
Need help to buy this report?