Global Biodegradable Films Market Size to Worth USD 0.11 Billion by 2032 | CAGR of 8.3%
Category: Advanced Materials
---
---
Global Biodegradable Films Market Size to Worth USD 0.11 Billion by 2032
According to a research report published by Spherical Insights & Consulting, the Global Biodegradable Films Market Size to grow from USD 0.7 Billion in 2022 to USD 0.11 Billion by 2032, at a Compound Annual Growth Rate (CAGR) of 8.3% during the forecast period.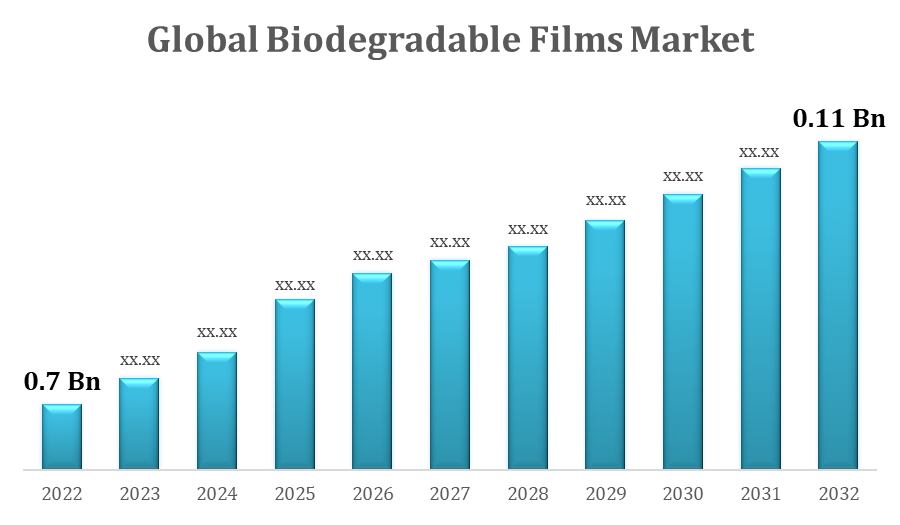 Get more details on this report -
Request Free Sample PDF
Browse key industry insights spread across 200 pages with 110 market data tables and figures & charts from the report on the "Global Biodegradable Films Market Size By Raw Material (Thermoplastic Starch, Starch Blended With Polylactic Acid), By Crop (Fruits And Vegetables, Grains And Oilseeds), By Region, And Segment Forecasts, By Geographic Scope And Forecast to 2032". Get Detailed Report Description Here : https://www.sphericalinsights.com/reports/biodegradable-films-market
Biodegradable films are widely utilized for packaging in a variety of industries, such as consumer goods, agriculture, and food and beverage. These movies give customers and companies a sustainable way to package items like snacks, fresh produce, and other consumer goods. Agriculture uses biodegradable films for mulching and crop protection, among other uses. These films improve soil health, offer sustainable solutions to the agriculture sector, and reduce the need to discard plastic film. Growing environmental awareness is causing consumer tastes to shift in favor of products with sustainable and biodegradable packaging. Companies that utilize biodegradable film respect consumer values, which improves brand reputation and meets demand.
Biodegradable Films Market Value Chain Analysis
At the beginning of the value chain are suppliers of raw materials, such as plastic films, laminates, adhesives, and other packaging materials. The quality, affordability, and sustainability of the raw ingredients have an impact on the overall characteristics of biodegradable films. Film extruders and converters turn raw materials into flexible films that can be utilized to create biodegradable films. The skill of extrusion and conversion affects the properties of the film, including its thickness, strength, and barrier properties. Printing and lamination companies add additional utility, visual appeal, and branding to the film. Manufacturers specialize in using printed and laminated films to create biodegradable films while taking size, design, and closing techniques into consideration. Suppliers of packaging machines provide the equipment needed to create and fill biodegradable films. Consumers make purchasing decisions at the end of the value chain based on factors such as product quality, ease of use, and environmental effect.
Biodegradable Films Market Opportunity Analysis
The demand for environmentally friendly packaging options and the growing awareness of environmental issues worldwide. Create and promote biodegradable films as environmentally responsible substitutes, stressing their benefits to the environment and catering to consumer inclinations. escalating need for biodegradable films in ready-to-eat meals, snacks, and fresh produce packaging applications. Biodegradable films have a variety of uses in consumer goods, healthcare, and agriculture, among other fields. The growth of e-commerce and the requirement for eco-friendly packaging for online retailers. Provide biodegradable films that are appropriate for packaging used in e-commerce, taking into account aspects like sturdiness, resistance to tampering, and aesthetic appeal while in transit. Interest from consumers in learning about the advantages of biodegradable films and how they may lessen their influence on the environment.
Consumers are growing more conscious about their impact on the environment and that of traditional plastics. Because of this awareness, people's choices have changed in favor of biodegradable films. As consumer worries about plastic trash and its detrimental effects on ecosystems, marine life, and human health increase, consumers are searching for alternatives to traditional packaging. Consumers are making decisions about products based on their environmental attributes, especially the packaging's materials. Biodegradable films are appropriate for people who care about the environment. Consumers that care about the environment are more favorable toward brands that employ biodegradable film. This strong brand image may lead to increased market share and customer loyalty.
It could be challenging for biodegradable films to reach the same level of performance and durability as traditional plastic films. Reaching performance benchmarks is crucial, especially for applications requiring robust packaging features. The cost of producing biodegradable films can be higher than that of conventional plastic films. There aren't many biodegradable materials that can be used in film production that are also generally accessible and sufficiently diverse. It may be challenging to process and produce biodegradable materials due to their unique characteristics. It is plausible that certain settings, such industrial composting sites, are required for the efficient biodegradation of films. Standardized terminology and certifications for biodegradable materials are lacking.
Insights by Raw Material
The Starch blended with polylactic acid segment accounted for the largest market share over the forecast period 2023 to 2032. Starch and PLA are mixed to create a bio-based material that is derived from renewable resources like maize or sugarcane. The biobased and renewable properties of this mix align with the increasing need for sustainable and eco-friendly packaging alternatives. The combined benefits of increased strength, flexibility, and barrier properties make the starch-PLA blend a viable choice for a variety of packaging applications. This blend can be employed in a variety of packaging segments due to its responsiveness to different industry needs. The production of biodegradable films requires fewer fossil fuels when plant-based starch is used. In keeping with sustainability goals, the blend lessens the environmental impact of conventional plastic production.
Insights by Crop
Fruits and vegetables segment is witnessing the fastest market growth over the forecast period 2023 to 2032. Fruits and vegetables are kept fresher longer by biodegradable films, which act as a barrier against moisture, oxygen, and other contaminants. Because biodegradable film has a longer shelf life and a decreased chance of deteriorating, it is a preferred option for packaging fresh products. Biodegradable films can be customized to have particular gas permeability and breathability characteristics. Biodegradable films can have their moisture content controlled, preventing an excess that might promote the growth of mold and rot. Efficient moisture management is crucial to preserving the texture, flavor, and appearance of fruits and vegetables during storage and transportation. Advances in film technology have enabled the production of biodegradable films with enhanced performance characteristics.
Insights by Region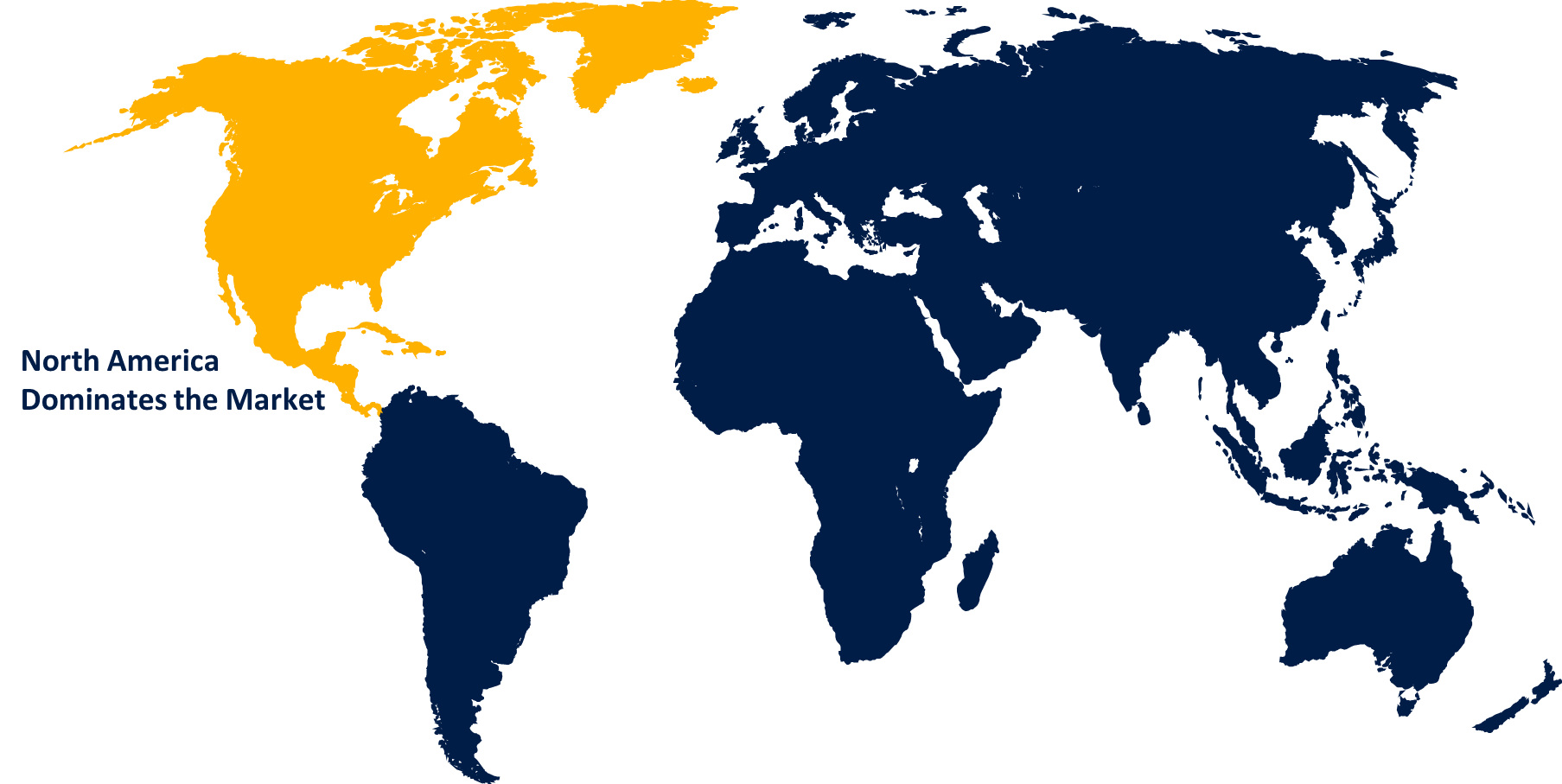 Get more details on this report -
Request Free Sample PDF
North America is anticipated to dominate the Biodegradable Films Market from 2023 to 2032. Sustainability is driving the packaging industry as consumers in North America are becoming more and more interested in eco-friendly options. The food and beverage industry in North America is a major source of demand for biodegradable films. Biodegradable films are frequently used to package snacks, drinks, sauces, and other food products due to their shelf appeal and versatility. North American manufacturers are investing in creative closure mechanisms for Biodegradable Films, like resealable zippers, tear notches, and spouts.
Asia Pacific is witnessing the fastest market growth between 2023 to 2032. Due to the region's substantial economic growth and urbanization, consumer spending power has increased across the Asia-Pacific area. The food and beverage industry in the Asia-Pacific area is a major driver of the need for biodegradable films. Biodegradable films are widely used to package a variety of commodities, including snacks, sauces, drinks, and ready-to-eat meals, in order to cater to a wide range of consumer preferences. The increasing need for flexible packaging solutions in the Asia-Pacific area aligns with the adaptability and versatility of biodegradable films. Biodegradable Films provide manufacturers with a small and lightweight packaging solution that maximizes shelf space while reducing shipping expenses.
Major players in the market
BASF SE
Biobag International AS
Organix AG
Armando Alvarez Group
Novamont SpA
Agriplast tech India Pvt. Ltd.
Pooja Plastic Industries
Barbier Group
Dubois Agrinovation
Market Segmentation
This study forecasts revenue at global, regional, and country levels from 2023 to 2032.
Biodegradable Films Market, Raw Material Analysis
Thermoplastic Starch
Starch Blended With Polylactic Acid
Biodegradable Films Market, Crop Analysis
Fruits And Vegetables
Grains And Oilseeds
Biodegradable Films Market, Regional Analysis
About the Spherical Insights & Consulting
Spherical Insights & Consulting is a market research and consulting firm which provides actionable market research study, quantitative forecasting and trends analysis provides forward-looking insight especially designed for decision makers and aids ROI.
Which is catering to different industry such as financial sectors, industrial sectors, government organizations, universities, non-profits and corporations. The company's mission is to work with businesses to achieve business objectives and maintain strategic improvements.
CONTACT US:
For More Information on Your Target Market, Please Contact Us Below:
Phone: +1 303 800 4326 (the U.S.)
Phone: +91 90289 24100 (APAC)
Email: inquiry@sphericalinsights.com, sales@sphericalinsights.com
Contact Us: https://www.sphericalinsights.com/contact-us
Need help to buy this report?