Global Biodegradable Films Market Size By Raw Material (Thermoplastic Starch, Starch Blended With Polylactic Acid), By Crop (Fruits And Vegetables, Grains And Oilseeds), By Region, And Segment Forecasts, By Geographic Scope And Forecast 2022 - 2032
Industry: Advanced Materials
---
REPORT FORMAT

---
Global Biodegradable Films Market Insights Forecasts to 2032
The Biodegradable Films Market Size was valued at USD 0.7 Billion in 2022.
The Market Size is growing at a CAGR of 8.3% from 2022 to 2032
The Global Biodegradable Films Market Size is expected to reach USD 0.11 Billion by 2032
Asia Pacific is expected to grow the fastest during the forecast period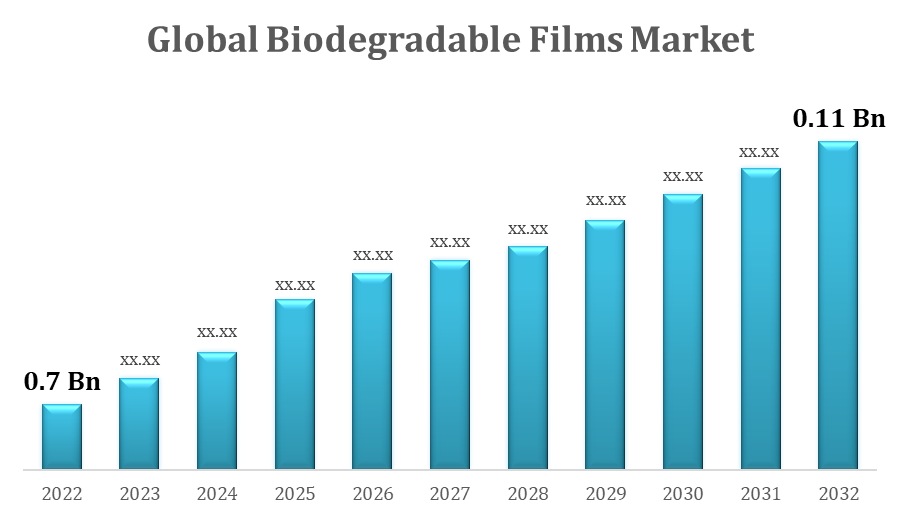 Get more details on this report -
Request Free Sample PDF
The Global Biodegradable Films Market Size is expected to reach USD 0.11 Billion by 2032, at a CAGR of 8.3% during the forecast period 2022 to 2032.
In a wide range of industries, including food and beverage, agriculture, and consumer goods, biodegradable films are used extensively for packaging. These films provide businesses and consumers a sustainable option when it comes to packing commodities like fresh produce, snacks, and other consumer goods. For purposes such as crop protection and mulching, biodegradable films are employed in agriculture. These films provide sustainable solutions for the agriculture industry, enhance soil health, and lessen the need to dispose of plastic film. Consumer tastes are shifting in favor of items with sustainable and biodegradable packaging as a result of growing environmental awareness. Businesses that use biodegradable film adhere to customer ideals, which enhances brand perception and satisfies consumer demand.
Biodegradable Films Market Value Chain Analysis
Suppliers of raw materials including plastic films, laminates, adhesives, and other packaging materials are at the start of the value chain. The general properties of Biodegradable Films are influenced by the cost, sustainability, and quality of the raw materials. Raw materials are transformed into flexible films that can be used to produce Biodegradable Films by film extruders and converters. The attributes of the film, such as its thickness, strength, and barrier qualities, are influenced by the proficiency in extrusion and conversion. Printing and lamination companies enhance the film with extra functionality, branding, and aesthetic appeal. Producers specialize in creating Biodegradable Films from printed and laminated films, taking into account variables such as size, design, and closure methods. Packaging machinery suppliers supply the tools required for making and filling Biodegradable Films. At the end of the value chain, consumers make decisions about what to buy based on things like product quality, convenience, and environmental impact. The processing and recycling of Biodegradable Films is done by waste management and recycling facilities during the end-of-life stage.
Biodegradable Films Market Opportunity Analysis
The need for sustainable packaging solutions and the growing awareness of environmental issues worldwide. Create and promote biodegradable films as environmentally friendly substitutes, stressing their benefits to the environment and catering to customer inclinations. increasing need for biodegradable films in ready-to-eat meals, snacks, and fresh produce packaging applications. Biodegradable films have a variety of uses in consumer goods, healthcare, and agriculture, among other fields. the growth of online retail and the requirement for eco-friendly packaging options. Create biodegradable films that are appropriate for packaging used in e-commerce while taking into account aspects like sturdiness, resistance to tampering, and aesthetic appeal while being shipped. Interest among consumers in learning about the advantages of biodegradable films and how they can lessen their influence on the environment.
Global Biodegradable Films Market Report Coverage
| Report Coverage | Details |
| --- | --- |
| Base Year: | 2022 |
| Market Size in 2022: | USD 0.7 Billion |
| Forecast Period: | 2022-2032 |
| Forecast Period 2022-2032 CAGR: | 8.3% |
| 2032 Value Projection: | USD 0.11 Billion |
| Historical Data for: | 2019-2021 |
| No. of Pages: | 200 |
| Tables, Charts & Figures: | 110 |
| Segments covered: | By Raw Material, By Raw Material, By Region, By Geographic Scope |
| Companies Covered: | BASF SE, Biobag International AS, Organix AG, Armando Alvarez Group, Novamont SpA, Agriplast tech India Pvt. Ltd., Pooja Plastic Industries, Barbier Group, Dubois Agrinovation and Other Key Vendors. |
| Growth Drivers: | The growing market for eco-friendly items has been driven by consumer desire |
| Pitfalls & Challenges: | COVID-19 Empact,Challenges, Future, Growth, & Analysis |
Get more details on this report -
Request Free Sample PDF
Market Dynamics
Biodegradable Films Market Dynamics
The growing market for eco-friendly items has been driven by consumer desire
Customers are becoming more aware of their environmental effect and how traditional plastics affect the environment. People's preferences have shifted in favor of biodegradable films as a result of this awareness. Consumers are looking for alternate packaging options as their concerns about plastic waste and its negative consequences on ecosystems, marine life, and human health grow. Customers are choosing products based on their environmental qualities, particularly the materials used in the packaging. Biodegradable films are in line with environmentally conscious tastes. Customers who are concerned about the environment have better perceptions of brands that use biodegradable film. Gaining more market share and consumer loyalty might result from this strong brand image. Products and packaging made of renewable resources are preferred by consumers. This inclination is echoed by biodegradable films derived from plant sources or biodegradable polymers.
Restraints & Challenges
The same degree of performance and durability as conventional plastic films may be difficult for biodegradable films to achieve. Achieving performance standards is essential, particularly for applications that need for durable packaging characteristics. Compared to traditional plastic films, biodegradable films can be more expensive to make. There are few biodegradable materials that are both widely available and diverse enough to be used in film production. Because of their special qualities, biodegradable materials could be difficult to process and manufacture. It's possible that certain environments, such commercial composting facilities, are necessary for the effective biodegradation of films. The definitions and certifications of biodegradable materials are not standardized. Customers might not be completely informed on the distinctions between different kinds of biodegradable products and how they should be disposed of.
Regional Forecasts
North America Market Statistics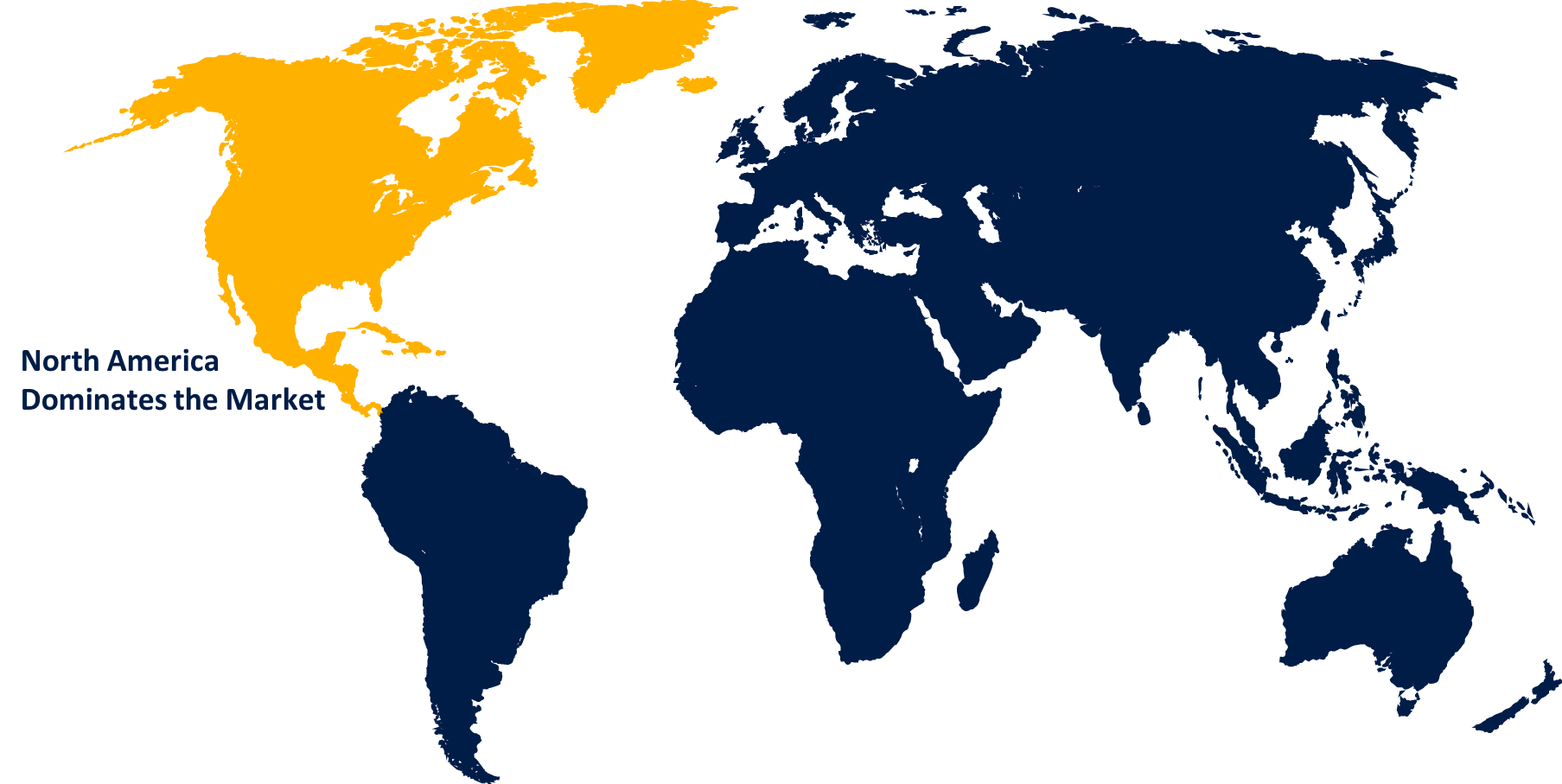 Get more details on this report -
Request Free Sample PDF
North America is anticipated to dominate the Biodegradable Films Market from 2023 to 2032. The packaging sector is driven by sustainability, as eco-friendly choices gain popularity among North American customers. A significant portion of North America's demand for Biodegradable Films comes from the food and beverage sector. Because of its shelf appeal and versatility, Biodegradable Films are often used to package snacks, drinks, sauces, and other food products. Innovative closing mechanisms for Biodegradable Films, such as spouts, tear notches, and resealable zippers, are being invested in by North American manufacturers.
Asia Pacific Market Statistics
Asia Pacific is witnessing the fastest market growth between 2023 to 2032. The Asia-Pacific region has seen a boost in consumer spending power due to its notable economic growth and urbanization. In the Asia-Pacific region, the demand for Biodegradable Films is largely driven by the food and beverage sector. To accommodate a wide range of consumer preferences, Biodegradable Films are frequently used to package a variety of goods, such as snacks, sauces, drinks, and ready-to-eat meals. The Asia-Pacific region's rising desire for flexible packaging solutions is in line with the flexibility and versatility of Biodegradable Films. Manufacturers have access to a lightweight and compact packaging solution with Biodegradable Films, which lowers transportation costs and maximizes shelf space.
Segmentation Analysis
Insights by Raw Material
The Starch blended with polylactic acid segment accounted for the largest market share over the forecast period 2023 to 2032. A bio-based substance made from renewable resources like corn or sugarcane is starch combined with PLA. This blend's biobased and renewable qualities complement the growing need for environmentally friendly and sustainable packaging options. The starch-PLA blend is a good fit for a range of packaging applications because of its enhanced strength, flexibility, and barrier qualities. This blend's adaptability to various industry needs allows it to be used in a wide range of packaging segments. Utilizing plant-based starch lessens the need for fossil fuels in the manufacturing of biodegradable films. The blend reduces the environmental impact of typical plastic production, in line with sustainability aims.
Insights by Crop
Fruits and vegetables segment is witnessing the fastest market growth over the forecast period 2023 to 2032. Biodegradable films act as a barrier against moisture, oxygen, and other impurities, thereby preserving the freshness of fruits and vegetables. Biodegradable film is a popular choice for fresh product packaging because of its longer shelf life and lower possibility of deterioration. Specific levels of breathability and gas permeability can be tailored into biodegradable films. It is possible to control the amount of moisture in biodegradable films, avoiding overabundance that could encourage the growth of mold and rot. For fruits and vegetables to maintain their texture, flavor, and appearance during storage and transit, effective moisture management is essential. Improvements in film technology have made it possible to create biodegradable films with better performance attributes.
Recent Market Developments
On May 2020, the pharmaceutical business Drreddy's Laboratories introduced desmopressin acetate injectable USP, 4 mcg/mL, to the American market.
Competitive Landscape
Major players in the market
BASF SE
Biobag International AS
Organix AG
Armando Alvarez Group
Novamont SpA
Agriplast tech India Pvt. Ltd.
Pooja Plastic Industries
Barbier Group
Dubois Agrinovation
Market Segmentation
This study forecasts revenue at global, regional, and country levels from 2023 to 2032.
Biodegradable Films Market, Raw Material Analysis
Thermoplastic Starch
Starch Blended With Polylactic Acid
Biodegradable Films Market, Crop Analysis
Fruits And Vegetables
Grains And Oilseeds
Biodegradable Films Market, Regional Analysis
Need help to buy this report?