Global Wall Covering Market Size, Share, and COVID-19 Impact Analysis, By Product (Wall panel, Wallpaper, Tile), By Application (Residential, Commercial), By Region (North America, Europe, Asia-Pacific, Latin America, Middle East, and Africa), Analysis and Forecast 2021 – 2030
Industry: Construction & Manufacturing
---
REPORT FORMAT

---
The Global Wall Covering Market Size is estimated to grow by USD 49.16 billion by 2030 at a CAGR of 5.3% from the valuation of USD 30.89 billion in 2021.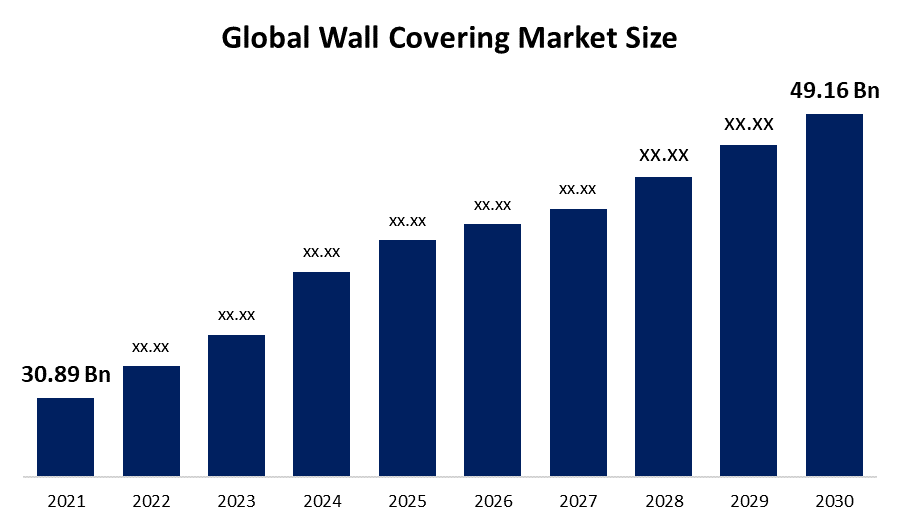 Get more details on this report -
Request Free Sample PDF
Market Overview
The wall coverings are substances or elements that protect the wall surfaces from scuffs and scratches, concealing the bare walls and giving them the appearance of fully finished walls. The primary application for these wall coverings is in the interior design industry, where interior designers employ them to decorate living rooms, bedrooms, and even public places like offices and retail establishments. The colour, texture, and design of these wall coverings, among other factors, can alter how a room or commercial space appears overall. Because new and improved products have been introduced to the market in recent years, the growth of the wall coverings industry as a whole has begun to pick up the necessary speed.
Drivers for Global Wall Covering Market –
The main factor propelling the wall covering industry is the rise in residential complex construction.
Residential complexes have become more prevalent as a result of the growing population because everyone needs a place to live in order to exist in this planet. Due to the increasing consumer demand and the limited available living space, there are numerous development sites active worldwide. This sparked a worldwide boom in residential construction, which in turn increased demand for all the other furnishings and supplies needed to give a home the best-in-class appearance.
Since people's requirements and demands are continually changing over time, the interior decoration industry is one of the few business sectors that enjoys a sizable market share. There is a need to beautify the home due to the development in residential complexes, so interior designers are hired. These interior designers or architects analyze the complete structure before deciding what kind of decoration will result in a beautifully planned and textured interior while designing an apartment or a home.
And because it facilitates and improves their job, wall coverings are one of the important elements employed by architects and designers in this. These wall coverings are used to adorn walls and guard against surface damage. Even some people favour using these wall coverings to hide any dimensional issues or damage in the house. Because of this, the wall covering market is becoming increasingly dominant in the building and construction sector.
The global market for wall coverings is being driven ahead by the availability of designed products and DIY trends.
The Do-it-Yourself (DIY) or self-decorating techniques are a growing trend in the global building and interior design industries that enable home owners to decorate their properties on their own. Individuals can decorate their homes on their own without any outside assistance by using these DIY designing approaches and components, which are similar to a plug-and-play paradigm. As portable wall coverings or stickers are readily available on the market, one could argue that these DIY components are another motivating factor for the wall coverings. In addition to the DIY components, the wall coverings have fresh styles that appeal to end users, who then buy and install these sorts of wall coverings in their homes.
Global Wall Covering Market Report Coverage
| Report Coverage | Details |
| --- | --- |
| Base Year: | 2021 |
| Market Size in 2021: | USD 30.89 Billion |
| Forecast Period: | 2021 - 2030 |
| Forecast Period 2021 - 2030 CAGR: | 5.3% |
| 2030 Value Projection: | USD 49.16 Billion |
| Historical Data for: | 2017 - 2020 |
| No. of Pages: | 210 |
| Tables, Charts & Figures: | 122 |
| Segments covered: | By Product, By Application, By Region |
| Companies Covered: | Brewster Home Fashion LLC, Saint Gobain Group, AHLSTROM-MUNKSJÖ OYJ, Asian paints Ltd., Benjamin Moore & Co., etc. |
| Pitfalls & Challenges: | COVID-19 Empact, Challenge, Future, Growth, & Analysis |
Get more details on this report -
Request Free Sample PDF
Restraints for Global Wall Covering Market –
The main inhibitor to the global wall covering market is the intense rivalry from the paints segment.
The use of paint as an interior and exterior wall covering for homes accounts for a larger market share than wall coverings. As opposed to just adhering some wall coverings or wallpaper to their unevenly plastered walls or a partially damaged wall, most people prefer to paint their walls. When building a house or even a business space, engineers and architects will by default paint.
To give the freshly plastered walls the necessary strength and rigidity, a coating is required. Paint is the primary choice and is then followed in the global construction business for this reason. Only consider wall coverings once the entire house is built and prepared for habitation. Because of the related costs, wall coverings are occasionally not discussed even when interior construction is underway. This is the main reason why the growth of the global wall covering market is being held back by paint.
Opportunities in the Global Wall Covering Market –
The millennial generation's growing interest in interior design opens up a wealth of market potential for wall coverings.
Due to the millennial generation's love of new and technologically advanced items, the global market for new goods and parts is always changing. As a result of these evolutions, wall coverings have become quite popular among millennials, who have a strong affinity for interior design and cutting-edge home styles. Because of this, the wall coverings occasionally undergo continuous evolution. In the past, the wall coverings would be packaged like paint. Later, it changed into a format resembling a sticker, and now, wall coverings are offered in a reusable stick-and-remove style. The global wall covering market has a wide range of prospects due to the ongoing evolution of wall coverings market.
Market Segmentation -
The application and product types are used to segment the global wall covering market. The wall covering industry is further divided into wall panels, wallpaper, and tiles when categorized by product. The wallpaper category, which had a market value of USD 10 billion in 2021 and was projected to reach USD 15.5 billion by 2030 with a CAGR of 5%, currently holds the largest market share.
One of the most popular types of wall coverings is wallpaper, which may be found in a variety of materials including vinyl, non-woven wallpaper, paper-based wallpaper, fabric wallpaper, etc. This is why these wallpapers have the largest market share since people choose wallpapers that are simple to use and can be quickly installed on the walls without the use of any external gums or chemicals.
The second category in the said area is the wall panels, which account for a market share of USD 8.8 billion in 2021 and are predicted to reach USD 12.7 billion by 2030 with a CAGR of 4.2%. The wall panels are an entire wall unit applied to the wall to improve its appearance. The wall panels are made out of wood or other materials and mounted on the wall.
Tiles make up the third segment of the aforementioned division; they are used to cover a full wall or a section of a wall by being implanted over it with the aid of white cement or another substance that makes the bond between the tiles and the wall strong and firm. With a CAGR of 6.8%, the tiles category will grow from a market share of USD 5.5 billion in 2021 to USD 9.9 billion by 2030.
The wall covering market may be further divided into residential and commercial applications when split by application. With a market share of USD 16.9 billion in 2021 and an anticipated CAGR of 6% to reach USD 28.5 billion by 2030, the residential category is by far the most dominating. The residential sector uses these wall coverings the most as the popularity of home decorating is driving up demand for interior design services, which in turn drives up the price of the wall coverings. The commercial category is the second one in the segmentation by application.
A sizeable market share belongs to the commercial wall covering market, which had a value of USD 13.9 billion in 2021 and was projected to reach USD 20.3 billion by 2030 with a CAGR of 4.3%. Although the commercial sector uses wall coverings to adorn corporate offices, public spaces, and other areas with high-end wall mountings or wall coverings, the residential category still commands and earns the majority of the market.
Regional Analysis –
The four main regions that make up the majority of the global wall covering market's market value are split. They are South America, North America, Europe, and the Asia-Pacific region. With a market size of USD 10.3 billion in 2021 and a CAGR of 4.2%, the Europe area is predicted to expand to USD 14.9 billion by 2030. Through an interior design project, Europe is the region that introduced the wall coverings market to the rest of the world.
Regardless of the product type, end use, or application, the European region produces the majority of these wall coverings. The Asia-Pacific region is the second most important of the top four regions, with a market share of USD 7.9 billion in 2021 and a projected increase to USD 13.5 billion by 2030 with a CAGR of 6.2%.
With expanding economies like India, China, Japan, South Korea, and others, the Asia-Pacific region is one of the world's most developing regions. Due to the region's high demand for interior decorating supplies, which also includes wall coverings, it holds the second-largest market share. North America, the third most important area, is expected to have a market worth USD 10.6 billion by 2030 and a CAGR of 4.8%. With a market size of USD 6.1 billion and a CAGR of 6.9% by 2030, Latin America will be the fourth region among these top four areas.
Competitive analysis –
The global wall covering market's key competitors are Brewster Home Fashion LLC, Saint Gobain Group, AHLSTROM-MUNKSJÖ OYJ, Asian paints Ltd., Benjamin Moore & Co., etc.
Recent Developments by Key Players -
• Brewster Home Fashion LLC combined their SAP S/4HANA and SAP ERP with the SAP digital payments add-on in February 2020 to speed up the process.
• FibaFuse Max is a reinforced paperless drywall tape that Saint Gobain introduced in May 2020.
• AHLSTROM-MUNKSJ OYJ expanded into a new portfolio and introduced wall star digital for use in digital printing applications in October 2020.
• Roseville is a public art project that Benjamin Moore & Co. and other artists worked on together in January 2020. It entails the placement of roughly 20 sculptures in various places.
Market Segmentation –
By product –
Wall panel
Wallpaper
Tile
By application -
By Region –
North America
Europe
Asia-Pacific
Latin America
Need help to buy this report?