Global Vertical Farming Market Size, Share, and COVID-19 Impact Analysis, By Type (Hydroponics, Aeroponics, and Aquaponics), By Component (Lighting System, Irrigation & Fertigation System, Climate Control, Sensors, Others), By Structure (Building-Based Vertical Farm & Shipping-Container Vertical Farm), By Region (North America, Europe, Asia-Pacific, Latin America, Middle East, and Africa), Analysis and Forecast 2021 – 2030
Industry: Agriculture
---
REPORT FORMAT

---
Global Vertical Farming Market Insights Forecasts to 2030
The Global Vertical Farming Market Size was valued at USD 3.76 Billion in 2021
The market is growing at a CAGR of 24.42% from 2022 to 2030
The Woldwide Vertical Farming Market size is expected to reach USD 26.37 Billion by 2030
Europe is expected to Grow the fastest during the forecast period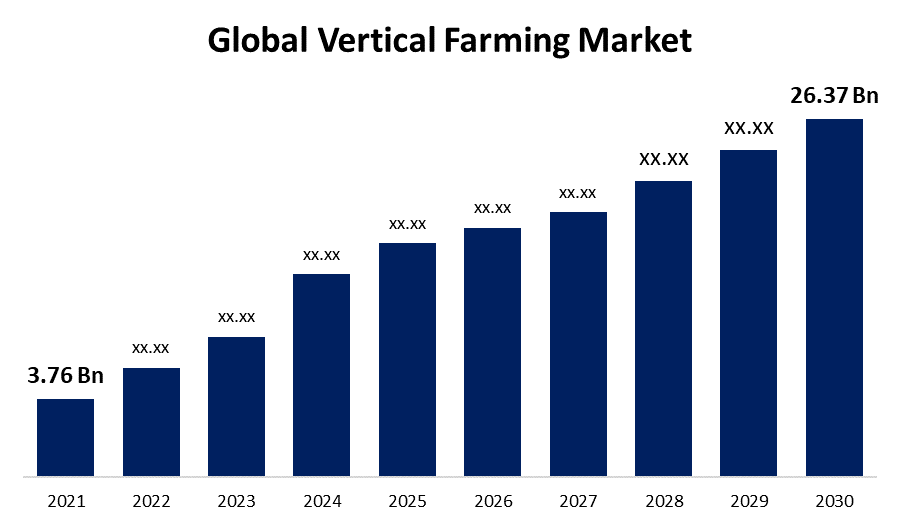 Get more details on this report -
Request Free Sample PDF
The Global Vertical Farming Market is expected to reach USD 26.37 Billion by 2030, at a CAGR of 24.42% during the forecast period 2022 to 2030. The vertical farming market forecast can be attributed to several factors, including a growing preference for climate control technology, which requires less water and energy for irrigation. This farming method reduces the difficulty of obtaining arable land. All of the aforementioned factors are likely to boost the market growth.
Market Overview
Vertical farming is a method of growing crops on a vertically inclined surface in an urban setting. Stacks of crops are grown in an upward direction rather than a single layer of crops over a large land area. This could aid in the resolution of many future issues such as malnutrition, polluted food, and other issues that may arise as a result of food scarcity. Vertical farming creates an artificial environment inside a facility using technologies that allow plants to grow with high nutrition in less time than traditional farming. Climate control, air purification, lighting, and pump and irrigation systems all have an impact on plant growth, productivity, and quality. Low water usage, increased efficiency, food security, weather resistance, and environmental conservation are expected to drive the market growth globally. The enormous growth of the world's urban population raises the demand for food and vegetables. As a result of the increased demand for advanced agricultural technology, the market is seeing massive investment. Vertical farming is being used to increase crop yield while reducing land area because it does not use soil as a medium. Plants are grown in a variety of ways, including hydroponics, aeroponics, and aquaponics. Hydroponic system is an extensively used growth mechanism in which plant roots are supplied with nutrient-dissolved solutions via water channels outfitted with pumps and irrigation systems based on the grower's needs.
Report Coverage
This research report categorizes the market for the global vertical farming market based on various segments and regions and forecasts revenue growth and analyzes trends in each submarket. The report analyses the key growth drivers, opportunities, and challenges influencing the vertical farming market. Recent market developments and competitive strategies such as expansion, product launch, and development, partnership, merger, and acquisition have been included to draw the competitive landscape in the market. The report strategically identifies and profiles the key market players and analyses their core competencies in each sub-segment of the vertical farming market.
Global Vertical Farming Market Report Coverage
| Report Coverage | Details |
| --- | --- |
| Base Year: | 2021 |
| Market Size in 2021: | USD 3.76 Billion |
| Forecast Period: | 2021-2030 |
| Forecast Period 2021-2030 CAGR: | 24.42% |
| 2030 Value Projection: | USD 26.37 Billion |
| Historical Data for: | 2017-2020 |
| No. of Pages: | 200 |
| Tables, Charts & Figures: | 130 |
| Segments covered: | By Type, By Component, By Structure, By Region and COVID-19 Impact Analysis |
| Companies Covered: | Everlight Electronics Co. Ltd., Signify Holding, Sky Greens, BrightFarms., Plenty Unlimited Inc., Freight Farms, Inc., AeroFarms, OSRAM Licht AG, Urban Crop Solutions, Heliospectra AB, Spread, Valoya |
| Pitfalls & Challenges: | COVID-19 has the potential to impact the global market |
Get more details on this report -
Request Free Sample PDF
Driving Factors
The growing challenges of land availability for food production in response to rising demand are expected to drive the global vertical farming market growth. Increased urbanization, global population, limited water supplies, and ongoing climate change have all adversely affected the scarcity of arable land. Because of the global decline in agricultural land resources, the food and agriculture industries are constantly concerned about rising food demand. Industries are facing enormous challenges in feeding the world's rapidly growing population. Vertical farms provide solutions to the problems caused by water scarcity and limited arable land. Vertical farming technology improves the possibility of water retention by regulating environmental conditions. Evaporation wastes less water in the atmosphere, and farmers are relieved of the need to constantly source freshwater supplies. Vertical farming has the advantage of not being weather dependent; this means that it can produce crops all year without worrying about the impact of adverse weather conditions on yield quality and profiling. Farming in a protected, well-monitored, and managed environment ensures better produce and gives growers repeatable, programmable results. As a result, all of these factors compel the farmers to pursue major traditional agricultural alternatives. Vertical farms have emerged as a resourceful option for producing large quantities of high-quality crops.
Restraining Factors
The first challenge for any farmer or company starting indoor vertical farms in vertical farming is the high start-up cost. Setting up a vertical farming infrastructure requires significant capital expenditures as well as high operating costs. Vertical farming is more expensive than traditional farming. Controlling the environment within the buildings, such as temperature, lighting, pollination, and plant arrangement, are critical components of a successful vertical farming. Farmers must make a significant initial investment in the devices and equipment used in vertical farming. The devices, sensors, and lighting systems are expensive and must be purchased in addition to the farming equipment. The installation of all vertical farming systems includes the integration of farm management devices as well as the installation of monitoring and sensing devices. Furthermore, importing these systems and components from other countries would raise the setup costs even more. This is one of the most significant factors impeding the growth of the vertical farming market.
Market Segmentation
The Global Vertical Farming Market share is segmented into type, component, and structure.
The hydroponics segment is anticipated to hold the largest share during the study period.
Based on the type, the global vertical farming market is segmented into hydroponics, aeroponics, and aquaponics. Among these, the hydroponics segment is anticipated to hold a significant market during the predicted period. Because of the increased demand for healthy and safe food, hydroponics is expected to grow rapidly. Hydroponics is the technique of growing plants without soil by using a water-based nutrient solution and an aggregate substrate or growing media such as vermiculite, coconut coir, or perlite. Hydroponics is growing as a result of new innovations to improve the flavour and sustainability of fruits and vegetables. The reduced water usage and increased yield capacity drive the demand for this farming technique.
The lighting system is anticipated to expand significantly during the forecast period.
Based on the component, the global vertical farming market is differentiated into lighting system, irrigation & fertigation system, climate control, sensors, and others. Among these, lighting systems are expected to expand significantly during the study years. The use of LED lighting systems to reduce operational costs and power consumption is becoming more popular. LED lighting systems produce less heat than traditional light sources, making them ideal for farms.
Consumer demand for out-of-season food drives demand for climate control components. Climate control components aid in the monitoring of the climate as well as the control of lights and humidity. The advanced climate control systems, which can be managed via mobile or computer, are expected to drive growth during the projected period.
The building-based vertical farms are anticipated to dominate the market over the forecast period.
On the basis of structure, the global vertical farming market is differentiated into building-based vertical farm and shipping-container vertical farm. Among these, building-based vertical farms are anticipated to dominate the market during the predicted period. The rising demand for building-based farm structures is increasing as new buildings and construction projects in cities are used to deploy farms. Furthermore, abandoned buildings in cities are commonly used to develop vertical farms. Countries with unsupported crop environments are early acceptance of building-based vertical farms leading to large-scale adoption of these types of farms. This new farming method has improved the farming system in countries such as the UAE and GCC Countries, which have struggled to grow crops due to a large hostile desert landscape.
Regional Segment Analysis of the Global Vertical Farming Market
North America (U.S., Canada, Mexico)
Europe (Germany, France, U.K., Italy, Spain, Rest of Europe)
Asia-Pacific (China, Japan, India, Rest of APAC)
South America (Brazil and the Rest of South America)
The Middle East and Africa (UAE, South Africa, Rest of MEA)
The North America region holds the largest share of the Global Vertical Farming Market.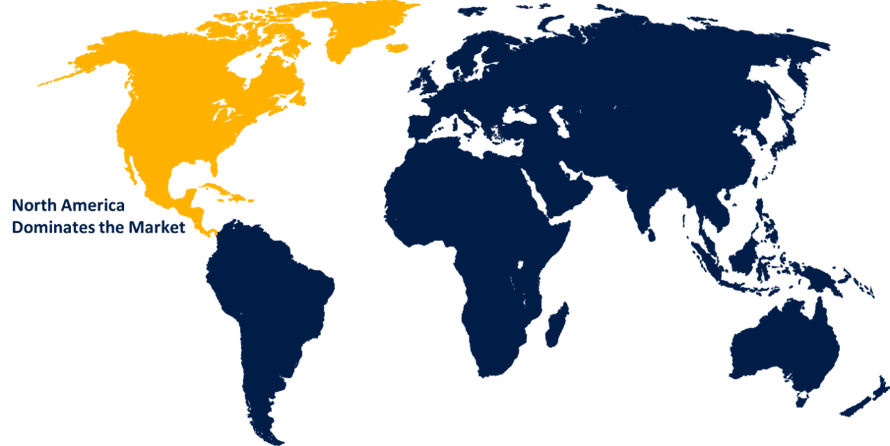 Get more details on this report -
Request Free Sample PDF
The United States is expected to be the leading country-level market in North America because market leaders or key players in vertical farming are well-established in the region. The growing number of vertical farms and corporate partnerships are assisting in the growth of the vertical farming market in the United States. Furthermore, due to the ongoing demand for agricultural products, the country is a potential farming market. Because of the presence of many vertical farms across the United States, as well as the adoption of robotics and automation technologies across the farms, North America has the largest vertical farming market share. The growing demand for organic, fresh, and high-quality food is propelling the market's growth in the United States and Canada.
The growing food demand, urbanization, unfavourable weather conditions for conventional farming, the desire to reduce fresh produce imports, and the need for new productive farming activities are anticipated to drive the growth of the vertical farming market in Europe. Vertical farming could also help to improve urban food security by allowing year-round production and reducing food miles in Europe. The European vertical farming market has been divided into five regions: the EU5, Scandinavia, the Netherlands, and the rest of Europe.
Competitive Analysis:
The report offers the appropriate analysis of the key organizations/companies involved within the global vertical farming market along with a comparative evaluation primarily based on their product offering, business overviews, geographic presence, enterprise strategies, segment market share, and SWOT analysis. The report also provides an elaborative analysis focusing on the current news and developments of the companies, which includes product development, innovations, joint ventures, partnerships, mergers & acquisitions, strategic alliances, and others. This allows for the evaluation of the overall competition within the market.
List of Key Companies
Everlight Electronics Co. Ltd.
Signify Holding
Sky Greens
BrightFarms.
Plenty Unlimited Inc.
Freight Farms, Inc.
AeroFarms
OSRAM Licht AG
Urban Crop Solutions
Heliospectra AB
Spread
Valoya
Key Target Audience
Market Players
Investors
End-users
Government Authorities
Consulting And Research Firm
Venture capitalists
Value-Added Resellers (VARs)
Recent Developments
On March 2023, ADQ, an Abu Dhabi-based investment and holding company, announced the start of the operational phase of its cutting-edge AgTech Park ecosystem with the launch of a vertical farming project in collaboration with ZERO, an Italian high-impact technology company. The goal is to improve indoor farming locally while also exploring and pushing the boundaries of desert-climate farming in the UAE.
On August 2021, AeroFarms collaborated with Nokia Bell Labs to collaborate on resources and expand their capabilities in networking, autonomous systems, and integrated machine vision and machine learning technologies to identify and track plant interactions at the most advanced levels.
On August 2021, AeroFarms announced plans to expand into the Midwest as part of collaboration with the World Wildlife Fund (WWF) and the St. Louis Controlled Environment Agriculture Coalition (STLCEA) to demonstrate innovative strategies for reducing the environmental footprint of indoor agriculture. The greater St. Louis MO-IL MSA has been identified as a key market and innovation hub for indoor vertical farming and AgTech development.
Market Segment
This study forecasts revenue at global, regional, and country levels from 2019 to 2030. Spherical Insights has segmented the global vertical farming market based on the below-mentioned segments:
Global Vertical Farming Market, By Type
Hydroponics
Aeroponics
Aquaponics
Global Vertical Farming Market, By Component
Lighting System
Irrigation & Fertigation System
Climate Control
Sensors
Others
Global Vertical Farming Market, By Structure
Building-Based Vertical Farm
Shipping-Container Vertical Farm
Global Vertical Farming Market, By Region
North America
Europe

Germany
Uk
France
Italy
Spain
Russia
Rest of Europe

Asia Pacific

China
Japan
India
South Korea
Australia
Rest of Asia Pacific

South America

Brazil
Argentina
Rest of South America

Middle East & Africa

UAE
Saudi Arabia
Qatar
South Africa
Rest of Middle East & Africa
Need help to buy this report?