Global UV LED Market Size, Share, and COVID-19 Impact Analysis, UV LED Market Size, By Technology (UV-A, UV-B, UV-C), By Application (Optical Sensors and Instrumentation, Counterfeit Detection, Sterilization, UV Curing, Medical Light Therapy, and Other Applications), by Region (North America, Europe, Asia-Pacific, Latin America, Middle East, and Africa), Analysis and Forecast 2021 – 2030
Industry: Electronics, ICT & Media
---
REPORT FORMAT

---
Global UV LED Market Insights Forecasts to 2030
Global UV LED Market Size was valued at USD 411 Million in 2021.
The Market share is growing at a CAGR of 19.17% from 2022 to 2030
Worldwide UV LED Market Size is expected to reach USD 2.19 Billion by 2030
North America is expected to grow the fastest during the forecast period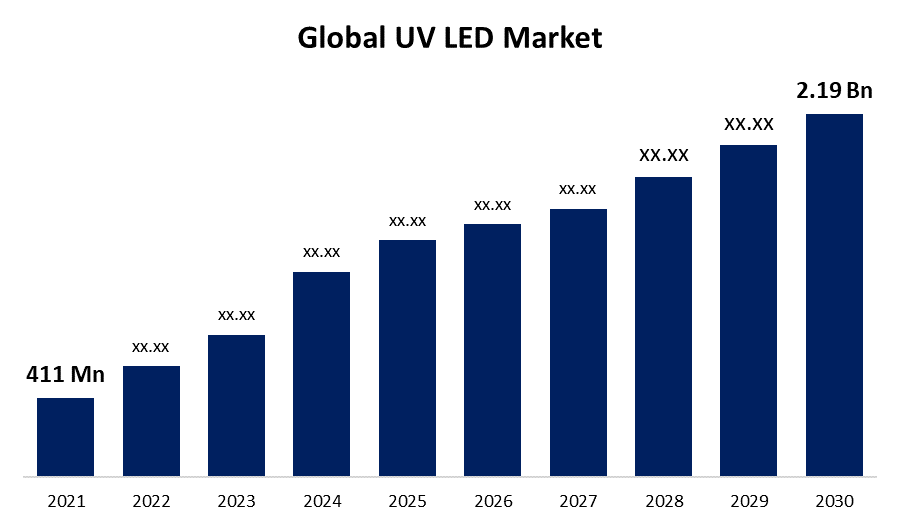 Get more details on this report -
Request Free Sample PDF
The Global UV LED Market Size is expected to reach USD 2.19 billion by 2030, at a CAGR of 19.17% during the forecast period 2022 to 2030. The market is being driven by UV LED's environmentally friendly design. Due to their lower energy usage than mercury vapor lamps, UV LEDs are quickly becoming feasible alternatives. The UV LEDs produce remarkably little heat overall. UV LED lighting allows system designers to have the most design freedom because it has longer lifetimes, greater reliability, and smaller sizes. UV-C radiation has wavelengths between 180 and 280 nm, which is the range required to be used for decontamination, disinfection, and sterilization.
Market Overview
When there is an electric current flowing through the terminals of an Ultraviolet Light Emitting Diode (UV LED), light can be produced. These lights have an operating temperature of less than 100 degrees. The aim of this LED in electronic equipment is to expose PCB to air. Numerous industries use UV LEDs, including forensics, purification, indoor gardening, disinfection, sterilization, and phototherapy in medicine. Ultraviolet (UV) LED technology is capable of producing ultraviolet light from electrical energy. Numerous technologies, including UV-A, UV-B, and UV-C, are used in the creation of UV LED products.
Typically, it functions at or below 100 degrees Fahrenheit. The use of UV LED was formerly restricted to particular niche applications, including curing, counterfeit detection, forensics, and others. However, as technology has developed and advanced, it has become more widely used in applications like sterilization, indoor gardening, purification, disinfection, and medical phototherapy. UV LEDs are devices that use ultraviolet light with a wavelength of between 240 and 400 nm to promote high levels of productivity, increased safety, and lower operating costs in a variety of applications. In conventional arc lamps, the process of producing an electric arc inside a mercury gas to excite atoms results in the subsequent decay of the excited atoms, which produces photons as a by-product. When a voltage is supplied, UV LEDs produce a narrow band of light at the junction where positive holes in doped semiconductors mix with negative electrons. UV LED products are produced using a variety of technologies, including UV-A, UV-B, and UV-C.
The application of UV LED was formerly limited to particular services like curing, counterfeiting, and forensics. However, technological improvements and developments are now widely used in a variety of applications, including medical phototherapy, indoor gardening, sterilizing, and cleaning. UV LED market share growth is being fuelled by the rising integration of UV technology into various smart home technology products, such as smart water cleaners, refrigerators, air conditioners, and advanced kitchen appliances. UV LEDs have a number of superior qualities over UV lamps and bulbs, such as compact size, high output efficiency, low power consumption, and cost-effectiveness. UV LED components are used by businesses that produce electronic devices to create cutting-edge, functional products.
Global UV LED Market Report Coverage
| Report Coverage | Details |
| --- | --- |
| Base Year: | 2021 |
| Market Size in 2021: | USD 411 Million |
| Forecast Period: | 2022-2030 |
| Forecast Period 2022-2030 CAGR: | 19.17 % |
| 2030 Value Projection: | USD 2.19 billion |
| Historical Data for: | 2019-2020 |
| No. of Pages: | 195 |
| Tables, Charts & Figures: | 120 |
| Segments covered: | By Technology, By Application, By Region |
| Companies Covered: | Lumileds Holding BV (Apollo Global Management) Koninklijke Philips NV Nordson Corporation Honle UV America Inc. Seoul Viosys Co. Ltd Nichia Corporation Semileds Corporation EPIGAP Optronic GmbH CRYSTAL IS INC. (Asahi Kasei Corporation) Heraeus Holding GmbH FUJIFILM Business Innovation Corp |
| Growth Drivers: | UV LEDs environmentally friendly design. Lower energy usage. |
| Pitfalls & Challenges: | Credit portfolios have been negatively impacted by the COVID-19 outbreak. |
Get more details on this report -
Request Free Sample PDF
Report Coverage
This research report categorizes the market for UV LED Market based on various segments and regions and forecasts revenue growth and analyses trends in each submarket. The report analyses the key growth drivers, opportunities, and challenges influencing the UV LED market. Recent market developments and competitive strategies such as expansion, product launch and development, partnership, merger, and acquisition have been included to draw the competitive landscape in the market. The report strategically identifies and profiles the key market players and analyses their core competencies in each sub-segments of the UV LED market.
Segmentation Analysis
In 2021, the UV-C segment is dominating the market with a CAGR of 46.5%
Based on technology, the UV LED market is segmented into UV – A, UV – B, and UV – C. During the projected period, it is anticipated that the UV-C category would dominate the market and expand at a CAGR of 46.5%. Ultraviolet C (UVC) rays are the two forms of ultraviolet (UV) rays with the shortest wavelengths and maximum energy levels. Due to their numerous uses, UV-industrial C applications like disinfection and sterilization have a very bright future. The Earth's atmosphere blocks off UV-C radiation from the sun. When it is properly designed, installed, and safety precautions are taken, UV-C illumination is a very safe and effective technique for disinfection. Much more contemporary UV-C emitting LEDs are made of aluminum nitride alloys. The fact that they don't contain hazardous mercury, are more durable, start up more quickly, and emit light at different wavelengths may help them perform their germicidal function better than mercury lamps. Utilizing germicidal UV technology, air, surfaces, and personal protective equipment like N95 masks are now sanitized. In contrast to germicidal lights, UV-C LEDs can be turned on and off tens of thousands of times with no or little inspection.
In 2021, the sterilization segment holds the largest market share at 46.55%.
Based on application, the UV LED market is segmented into Optical Sensors and Instrumentation, Counterfeit Detection, Sterilization, UV Curing, Medical Light Therapy, and Other Applications. During the projection period, it is expected that the sterilization segment will expand at a CAGR of 46.55% and account for the biggest market share. LEDs and bulbs are the two options available to customers for selecting the best UV light technology for sterilization and disinfection. Mercury lamps were the only technology accessible in the past. However, advancements in UV LED technology over the past several years have made it possible to use compact, battery-operated disinfection and sterilizing devices. A significant potential opportunity for the residential and commercial use of UV LEDs is presented by the rising concern for water purity in developed and emerging countries. Numerous UV LED producers have been drawn to the untapped market for water purification applications due to population increase and the dearth of fresh water. Additionally, the UV sterilization market represents a huge opportunity for industry players, who are making significant investments and entering it. As opposed to the chlorine method, UV-based water disinfection uses 120 mW of irradiation power and a wavelength of 270 nm to reduce waste by 90-99.9% in roughly two minutes, according to a few studies.
Regional Segment Analysis of the Global UV LED Market
Asia Pacific emerged as the largest market for the global UV LED market.
Throughout the projected period, the Asia Pacific will dominate the market with the most market share and expand at a CAGR of 46.21%. The regional market is expanding as a result of the expanding use of UV LED technology in the UV curing procedure. The advantages of UV curing over conventional drying include better outcomes, lower rejection rates, and enhanced product solubility and scratch resistance. Since UV LED is more energy-efficient, loses very little heat, contains no mercury, and can be produced with a substantially smaller footprint and better optical design than traditional UV lamps, it aids in curing applications in the coating industries.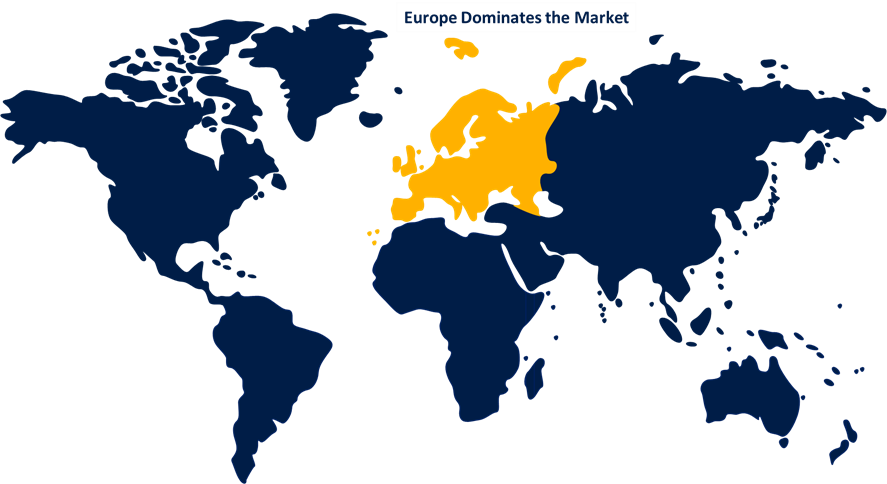 Get more details on this report -
Request Free Sample PDF
Europe will be witnessing the fastest market growth. Germany is one of the nations in the region where the UV LED market has experienced multidirectional growth. A clear indication of this is the region's businesses' aggressive mergers, acquisitions, and partnerships. Due to collaborations between various market participants and companies situated in Europe, the system has seen strategic advances for UVA, UVB, and UVC. One aspect that is anticipated to propel the UV LED market in the European area throughout the forecast period is the fact that UV inks cure quickly when exposed to UV light, enabling printers to stack containers and ship right away.
Competitive Analysis:
The report offers the appropriate analysis of the key organizations/companies involved within the global UV LED market along with a comparative evaluation primarily based on their product offering, business overviews, geographic presence, enterprise strategies, segment market share, and SWOT analysis. The report also provides an elaborative analysis focusing on the current news and developments of the companies, which includes product development, innovations, joint ventures, partnerships, mergers & acquisitions, strategic alliances, and others. This allows for the evaluation of the overall competition within the market.
List of Key Market Players:
Lumileds Holding BV (Apollo Global Management)
Koninklijke Philips NV
Nordson Corporation
Honle UV America Inc.
Seoul Viosys Co. Ltd
Nichia Corporation
Semileds Corporation
EPIGAP Optronic GmbH
CRYSTAL IS INC. (Asahi Kasei Corporation)
Heraeus Holding GmbH
FUJIFILM Business Innovation Corp
Key Target Audience
Market Players
Investors
End-users
Government Authorities
Consulting And Research Firm
Venture capitalists
Third-party knowledge providers
Value-Added Resellers (VARs)
Recent Developments
January 2021: Together, Sensor Electronic Technology and Seoul Viosys, two of the world's top UV LED manufacturers and divisions of Seoul Semiconductor, launched their new Violeds technology, which has a 99.437% kill rate for SARS-CoV-2 in less than one second.
March 2020: After debuting at the RadTech 2020 conference and expo in Orlando, Nichia sought to expand its dominance to the UV industry. In order to totally replace conventional mercury lamps and the environmental problems they cause, Nichia anticipates that its UV product line will play a vital role.
Market Segment
UV LED Market, by Technology
UV LED Market, by Application
Optical Sensors and Instrumentation
Counterfeit Detection
Sterilization
UV Curing
Medical Light Therapy
Other Applications
Current Sensors Market, Regional Analysis
North America
Europe

Germany
Uk
France
Italy
Spain
Russia
Rest of Europe

Asia Pacific

China
Japan
India
South Korea
Australia
Rest of Asia Pacific

South America

Brazil
Argentina
Rest of South America

Middle East & Africa

UAE
Saudi Arabia
Qatar
South Africa
Rest of Middle East & Africa
Need help to buy this report?