Global Tokenization Market Size, Share, and COVID-19 Impact Analysis, By Component (Solutions, Services, Others), By Application (Payment Security, User Authentication, Compliance Management, Others), By Enterprise Type (Large Enterprises, Small and Medium Enterprises (SMEs)), By End-Users (BFSI, Retail & Consumer Goods, IT & Telecommunications, Healthcare, Energy & Utilities, Others) and By Region (North America, Europe, Asia-Pacific, Latin America, Middle East, Africa), Analysis and Forecast 2022 – 2032
Industry: Banking & Financial
---
REPORT FORMAT

---
Global Tokenization Market Insights Forecasts to 2032
The Global Tokenization Market Size was valued at USD 2.45 Billion in 2022.
The Market Size is Growing at a CAGR of 19.52% from 2022 to 2032
The Worldwide Tokenization Market Size is expected to reach USD 10.2 Billion by 2032
Asia Pacific is expected to Grow the fastest during the forecast period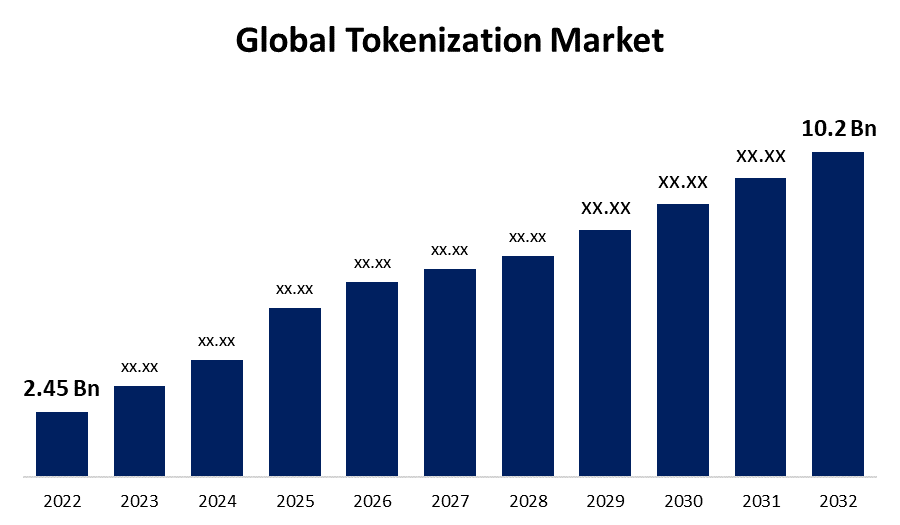 Get more details on this report -
Request Free Sample PDF
The Global Tokenization Market Size is expected to reach USD 10.2 Billion by 2032, at a CAGR of 19.52% during the forecast period 2022 to 2032.
Sensitive data are changed into uniquely identifiable symbols through the process of tokenization, which keeps all of the crucial information without jeopardizing the security of the original data. Using this technique, sensitive data can be tokenized, including financial transactions, medical records, criminal histories, information from driver's licenses, loan applications, stock purchases, and registration to vote. Due to a growing desire to lessen data fraud, the tokenization business is expanding. The use of digitized processes and the digital handling of all sensitive data are also anticipated to boost growth and increase market share. Another important reason why tokenization technologies are being used more and more is the expansion of data in cloud services. Cloud services are becoming more readily and affordably accessible, which is assisting not just large corporations but also SMEs in switching to a cloud-based approach. Another factor driving up the need for tokenization solutions is the growing use of blockchain technology across practically all industries. The real estate sector's accessibility is being improved by the increased adoption of tokenization methods. By enabling the conversion of assets into any token value, tokenization solutions help reduce the high investment expenses. Investors can do this to purchase even a little property share.
Global Tokenization Market Report Coverage
| Report Coverage | Details |
| --- | --- |
| Base Year: | 2022 |
| Market Size in 2022: | USD 2.45 Billion |
| Forecast Period: | 2022-2032 |
| Forecast Period 2022-2032 CAGR: | 19.52% |
| 2032 Value Projection: | USD 10.2 Billion |
| Historical Data for: | 2018-2021 |
| No. of Pages: | 200 |
| Tables, Charts & Figures: | 110 |
| Segments covered: | By Component, By Application, By Enterprise Type, By End-Users, By Region and COVID-19 Impact Analysis. |
| Companies Covered: | Visa, Fiserv, Inc., Entrust Corporation, American Express, Mastercard, Open Text Corporation, TrustCommerce, Thales, TokenEx, Inc, FIS, Others, and other key vendors. |
| Pitfalls & Challenges: | COVID-19 Empact, Challenge, Future, Growth, & Analysis |
Get more details on this report -
Request Free Sample PDF
Driving Factors
The market is fueled by the quick spread of electronic payment systems. The rising usage of digital payments comes with several difficulties, particularly in terms of security. Due to the high number of digital payments, end users in industries including retail, healthcare, and banking & insurance employ tokenization to substitute private data in a distinctive code known as a token. Given the rising frequency of security breaches and dangers related to digital payments, businesses, and consumers are looking for solutions to decrease risk exposure while enhancing compliance. Companies that accept credit and debit cards are the focus of criminal activity since the data in payments includes a plethora of intelligence. By utilizing tokenization, businesses can lessen the detrimental financial impacts of data theft. Furthermore, the use of payment cards is declining, which affects sales and the customer experience. This is due to fraud and erroneous information. As a result, businesses are using tokenization as a solution because it gets around these problems. There just isn't any useful personal data to steal, not even in the event of a breach. Credit card tokenization helps online businesses increase the security of their data from the time of data capture through storage because credit card details are no longer physically stored in POS terminals and internal systems.
Restraining Factors
The absence of clear regulations is one of the main barriers to the broad use of this technology. The present draft standards for security token values are still in the early stages of development and are anticipated to change significantly over time. Together with the blockchain's global reach, these issues make it difficult for tokenization to gain widespread adoption. Many firms run into technological problems when moving sensitive data to the cloud environment. As a result, problems with system integration and regulation may limit growth during the projection period.
Market Segmentation
By Component Insights
The solution segment dominates the market with the largest revenue share over the forecast period.
Based on components, the global tokenization market is segmented into solutions and services. Among these, the solution segment is dominating the market with the largest revenue over the forecast period. Due to an increase in financial crime, there is an increasing need to ensure compliance with payment security rules, maintain a consistent customer experience, and boost fraud protection levels. Additionally, growing consumer interest in digital payment is expected to create attractive growth prospects for the industry. During the forecast period, a greater CAGR is anticipated for the services. This market's expansion can be linked to the growing demand for visibility amongst businesses so that issues can be identified and fixed before having an impact on operational diagnosis. These services may be improved upon and customized, and they are secure. The rising demand for services in this industry has benefited several service providers and value-added resellers and pushed them to expand their collaborations.
By Application Insights
The payment security segment is witnessing significant CAGR growth over the forecast period.
Based on application, the global tokenization market is segmented into payment security, user authentication, and compliance management. Among these, the payment security segment is witnessing significant CAGR growth over the forecast period. To protect the sensitive data of consumers, banks and payment application developers have introduced this solution as a result of the increase in digital payments. Since there have been more QR-code transactions since the outbreak, tokenization enables customers to make speedy payments without being concerned that their private card information would be compromised. By providing a solid security foundation, this data security solution improves the effectiveness of payment applications. This technology supports user authentication while safeguarding confidential information during the entire procedure. User data is regarded as sensitive data since it is a very important resource that must be protected and cannot be shared without the user's consent.
By Enterprise Type Insights
The small & medium enterprises (SMEs) segment is expected to hold the largest share of the global tokenization market during the forecast period.
Based on the enterprise type, the global tokenization market is classified into large enterprises, and small & medium enterprises (SMEs). Among these, the small & medium enterprises (SMEs) segment is expected to hold the largest share of the tokenization market during the forecast period. The small and medium-sized enterprises (SMEs) segment is anticipated to experience the highest growth rate over the projection period under Organization Size. To comply with responsibilities and reduce fraud risk, SMEs are primarily using tokenization solutions and services. By employing the automated technique to attack thousands of applications at once, cybercriminals take advantage of SMEs' lax security policies. Tokenization as a Service (TaaS) helps SMEs overcome their budgetary limitations by enabling them to quickly implement cloud-based tokenization solutions, which is what is causing the tokenization market for SMEs to expand.
By End-Users Insights
The BFSI segment accounted for the largest revenue share over the forecast period.
Based on end-uses, the global tokenization market is segmented into BFSI, retail & consumer goods, IT & telecommunications, healthcare, energy & utilities, and others. Among these, the BFSI segment dominates the market with the largest revenue share over the forecast period. The BFSI sector makes significant investments to safeguard its data and stop any malicious data breaches. The companies in this sector work with extremely private data in all of their service offerings. As the number of digital financial services and digital payments increases, so does the industry's reliance on the use of tokens and related technologies.
Regional Insights
Asia Pacific, on the contrary, is expected to grow the fastest during the forecast period.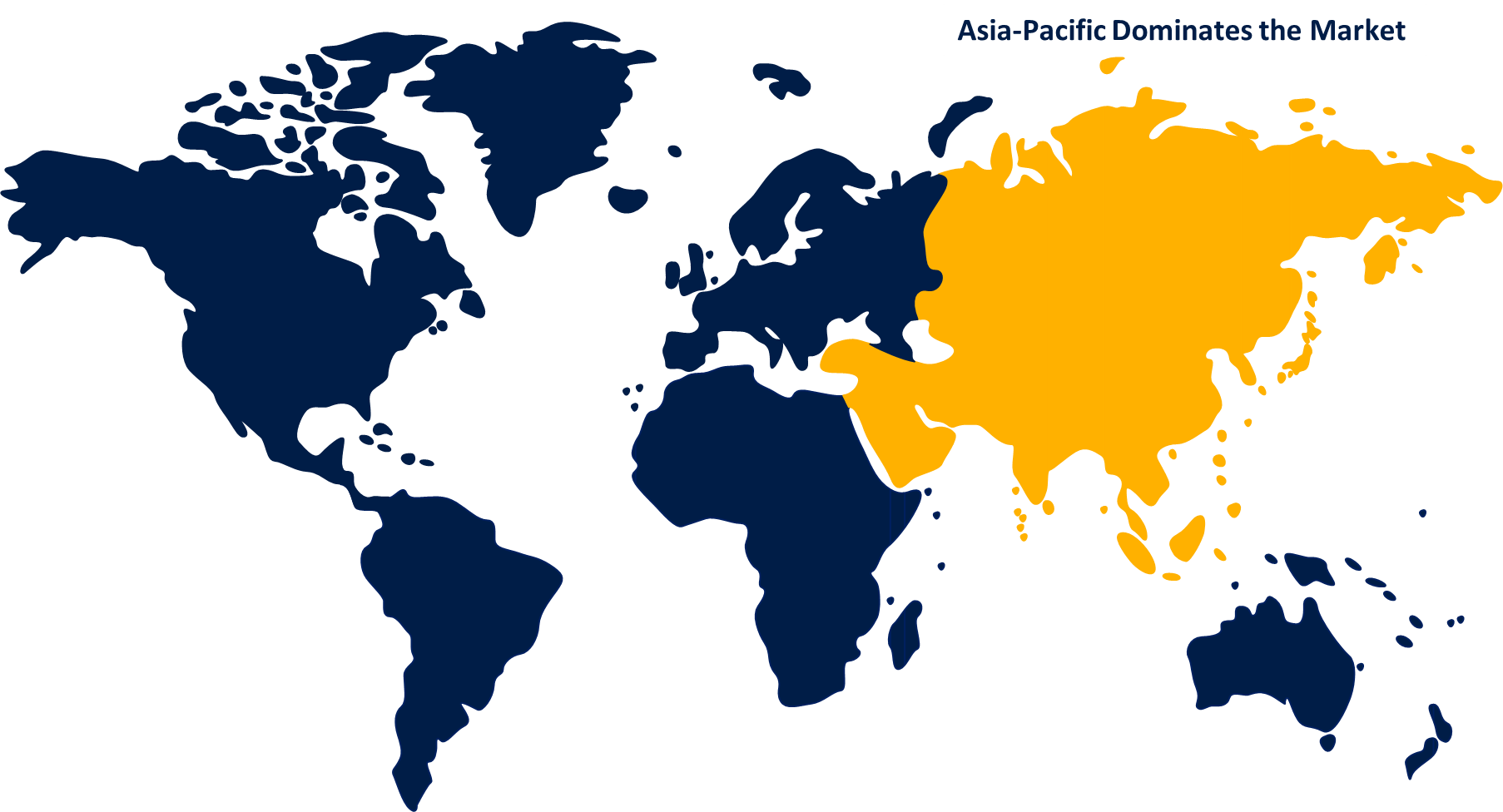 Get more details on this report -
Request Free Sample PDF
One of the world's regions with the quickest growth rates is Asia Pacific. Asia-Pacific market is expected to register a substantial CAGR growth rate during the forecast period. During the projection period, Asia Pacific is anticipated to develop much faster than other regions. The regional market is being propelled by the quick uptake of cutting-edge payment security technologies, widespread internet usage, and increasing smartphone penetration. Additionally, the region is seeing an increase in fraud due to the spread of real-time payment services including P2P money transfers and mobile payment platforms.
North America, The regional market is also influenced by North American market patterns, such as buy now pay later for cryptocurrencies. Additionally, U.S. based companies predominately offer payment networks for online transactions, and contribute to the market's expansion by doing so.
Europe dominates the market with the largest market share over the forecast period.
Due to the vast volumes of technology and digitizing data, Europe has the second-largest tokenization market in the world. Europe is aggressively investing in all businesses, including digital services that employ tokenization to protect sensitive data because of its geographic location in the middle of the world, which helps connect international markets. The innovation level of the European markets makes them tenfold more trustworthy for tokenization.
List of Key Market Players
Visa
Fiserv, Inc.
Entrust Corporation
American Express
Mastercard
Open Text Corporation
TrustCommerce
Thales
TokenEx, Inc
FIS
Others
Key Market Developments
On April 2023: Imperva, Inc., a provider of cyber security services guarding sensitive data, APIs, and essential applications, teamed up with Fortanix to join their strategic partner program. Multi-cloud data protection is the focus of this alliance. Imperva and Fortanix's combined Component enables users to control the complete data security process while guaranteeing data privacy and compliance.
On January 2023: Marqeta, A new online deployment package for Marqeta's global modern card acquiring platform with tokenization capabilities has been introduced. Customers of Marqeta can decrease friction at the point of sale by offering provisioning for web push services, which don't require users to download a mobile application and allow them to pay directly from their mobile wallet.
On January 2023: OpenText, Micro Focus is a provider of vital software technologies and services that help companies accelerate their digital transformation. OpenText recently announced that it has acquired the company. With this acquisition, OpenText will be better able to support its corporate goal of assisting business professionals in securing their operations, understanding their data, and managing the next generation of tools.
In April 2022: BridgePay Network Solutions, LLC, a payment solutions and gateway provider, entered into a partnership with Visa to provide network tokenization to its users for all card types and brands to all payment processors.
Market Segment
This study forecasts revenue at global, regional, and country levels from 2022 to 2030. Spherical Insights has segmented the Global Tokenization Market based on the below-mentioned segments:
Tokenization Market, Component Analysis
Tokenization Market, Application Analysis
Payment Security
User Authentication
Compliance Management
Others
Tokenization Market, Enterprise Type Analysis
Large Enterprises
Small & Medium Enterprises (SMEs)
Tokenization Market, End-Users Analysis
BFSI
Retail & Consumer Goods
IT & Telecommunications
Healthcare
Energy & Utilities
Others
Tokenization Market, Regional Analysis
North America
Europe

Germany
Uk
France
Italy
Spain
Russia
Rest of Europe

Asia Pacific

China
Japan
India
South Korea
Australia
Rest of Asia Pacific

South America

Brazil
Argentina
Rest of South America

Middle East & Africa

UAE
Saudi Arabia
Qatar
South Africa
Rest of the Middle East & Africa
Need help to buy this report?