Global Supply Chain Management Market By Component (Hardware, Software, Services), By User Type (SMEs, Large Enterprises), By Deployment Model (On-Premise, Cloud Based), by End Use Industry (Retail and Consumer Goods, Automotive, Healthcare & Pharmaceuticals, Food & Beverages, Transportation & Logistics, Manufacturing, Others), By Region (North America, Europe, Asia Pacific, Middle East & Africa, and South America) Analysis and Forecast 2021 – 2030
Industry: Information & Technology
---
REPORT FORMAT

---
The Global Supply Chain Management Market size was valued at USD 16.64 billion in 2021 and is expected to reach at a CAGR of 10.8% from 2021 to 2030. In order to efficiently manage all the data created in the business and improve business operations, supply chain management software and services are increasingly in demand and being used by numerous organisations and industries, which is anticipated to drive market expansion. Additionally, the market expansion is aided by the constantly expanding adoption of information technology and technological advancements, which enhance and support the entire supply chain.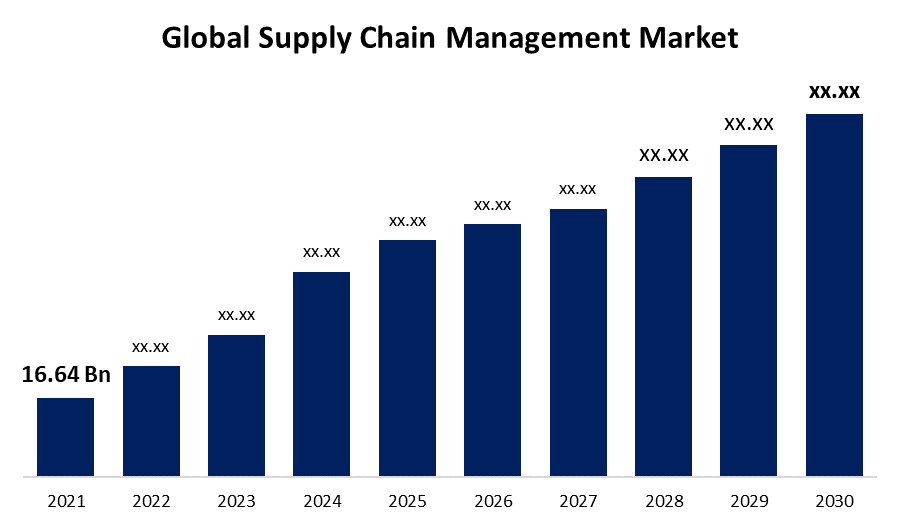 Get more details on this report -
Request Free Sample PDF
A supply chain is the collection of activities that includes developing new goods or services, acquiring raw materials, processing those materials into semi-finished or finished goods, transporting those goods, and distributing or delivering them to customers. Supply chain management refers to the group of applications used to coordinate and integrate all the aforementioned events in a seamless manner and to offer support after the sale. It is simply the coordinated management of the flow of commodities from the source to the user stage. The links and connections in this chain connect each of the partners, including information system providers, vendors, third-party businesses, carriers, and others.
The market is expanding as more businesses and organisations adopt supply chain management software to effectively manage the sourcing of raw materials, manufacturing, and assembling of any items or products. Additionally, it helps with managing order input, distribution channels, product delivery, demand and supply requirements, financial information, and inventory and warehouse tracking, all of which are contributing to the market's continued expansion. Additionally, it enables management to collaborate strategically with the firm's supply chain, which is once more fueling market progress. A lack of IT infrastructure in emerging nations and an increase in security and privacy concerns are impeding the growth of the worldwide industry.
Supply chain management solutions and services help businesses improve their decision-making abilities in terms of technology deployment, organisational architecture, strategic partnerships, and enterprise resource management. Furthermore, supply chain management systems encourage strategic decision-making and help businesses to optimise return on investment, boost their market position, and accelerate growth by utilising the data and insights collected. A increasing demand for enhanced supply chain visibility, a shift toward cloud-based supply chain management software, and improvements in industrial-grade digital technology are all driving the growth of the supply chain management market.
Driving Factors
The demand for improved supply chain transparency and a growth in the demand for supply management solutions from large and medium-sized businesses are both driving the global supply chain management industry. The expansion of e-commerce in nations like China, Japan, and India, increased industrialization, and rising demand from the food and beverage industry all contribute to the market expansion.
To capitalise on the market potential for supply chain management, international businesses are expanding into these nations. The development of the supply chain management market is further supported by technological developments and the rising usage of cutting-edge technologies like artificial intelligence and machine learning. Global demand for SCM has increased as a result of new product introductions and acquisitions by top industry players, as well as rising usage of cloud-based SCM solutions.
Platforms for e-commerce have grown in prominence, particularly during the pandemic. Online platforms provide users with a wide range of options on a single site, providing convenience and saving time and effort. E-commerce has grown in popularity over the past few years as a result of aggressive internet marketing, appealing company offerings, and discounts. Market participants have been driven to implement SCM solutions for effective management, planning, and fast delivery of items to clients by the expansion of the e-commerce industry.
Global Supply Chain Management Market Report Coverage
| Report Coverage | Details |
| --- | --- |
| Base Year: | 2021 |
| Market Size in 2021: | USD 16.64 billion |
| Historical Data for: | 2017 - 2020 |
| No. of Pages: | 199 |
| Tables, Charts & Figures: | 141 |
| Segments covered: | By Component, By User Type, By Deployment Model, by End Use Industry, By Region |
| Companies Covered: | IBM, BluJay, Infor, SAP, Logility |
| Pitfalls & Challenges: | COVID-19 Empact, Challenge, Future, Growth, & Analysis |
Get more details on this report -
Request Free Sample PDF
Covid 19 Impact
The COVID-19 pandemic has affected every industry, and because of societal distance standards, businesses are converting to digitalization to safeguard their security. COVID-19 shows that many businesses are not completely aware of the vulnerability of their supply chain relationships to global shocks due to a decades-long focus on supply chain optimization to minimise costs, reduce inventories, and increase asset utilisation.
The good news is that new supply chain technologies are starting to emerge that will significantly increase visibility throughout the entire supply chain and assist businesses' ability to withstand such shocks. In order to provide end-to-end visibility, collaboration, agility, and optimization, the old linear supply chain model is evolving into digital supply networks (DSNs), where functional silos are broken down and enterprises link to their entire supply network.
In the short term, the current COVID-19 pandemic is anticipated to have an influence on the development of the various end-user industries (apart from the pharmaceutical business). However, the effect is only short-lived, and during the projected period, it is expected that the supply chain management market (SCM) would expand significantly.
Segmentation
The global supply chain management market is segmented into Component, User Type, Deployment Model, End Use, and Region.
Global Supply Chain Management Market, By Component
For vendor management, quality management, logistics, and distribution, software such as purchase management software and inventory management software is employed. SCM software is being used by businesses more and more to reduce risks and failures. SCM software provides advantages including improved visibility, boosted productivity, analytics, cost savings, higher agility, and increased compliance, among others. It helps automate time-consuming procedures like order processing, invoicing, and shipping tracking, which saves money and time on administrative expenses. Additionally, excess materials and expenditures related to logistics, warehousing, and production are identified utilising SCM software.
Global Supply Chain Management Market, By User Type
Due to the abundance of data and resources, as well as the increased requirement to establish a strong network and brand identity, the large organisations category held the largest market share in 2021. Small and medium-sized organisations are putting more money into SCM, though, in order to run their operations more effectively and securely, to provide a better customer experience, and to increase productivity. Due to its flexibility and affordability, cloud-based SCM systems are becoming more and more popular among small and medium-sized businesses.
Global Supply Chain Management Market, By Deployment Model
Due to its better versatility and flexibility, the cloud-based category is anticipated to grow significantly during the projected period. Applications built in the cloud are highly adaptable to changing conditions. To meet particular business objectives, these applications can be quickly and easily linked with cutting-edge technologies, negating the need for a large-scale migration. The growth of this market is accelerated by falling data storage costs and rising cloud computing adoption. Due to the improved processing power, storage capacity, cost-effective pricing structures, and decrease in operational overhead of cloud-based products and services, businesses are moving toward them at an increasing rate.
Global Supply Chain Management Market, By End Use Industry
During the projection period, there is an expected rise in demand from the retail and consumer goods segment. The COVID-19 pandemic has increased the demand on businesses to provide high-quality goods on schedule. This market's expansion has been aided by an enormous rise in mobile device usage, increased use of e-commerce platforms, and stringent health laws governing products and beverages.
Global Supply Chain Management Market, By Region
Due to a larger requirement for higher development in e-commerce and an increase in demand for transparency in operations throughout the supply chain, businesses are increasingly turning to SCM solutions. The region's developed technological infrastructure and high rate of adoption of cutting-edge technologies are what are driving the market's expansion.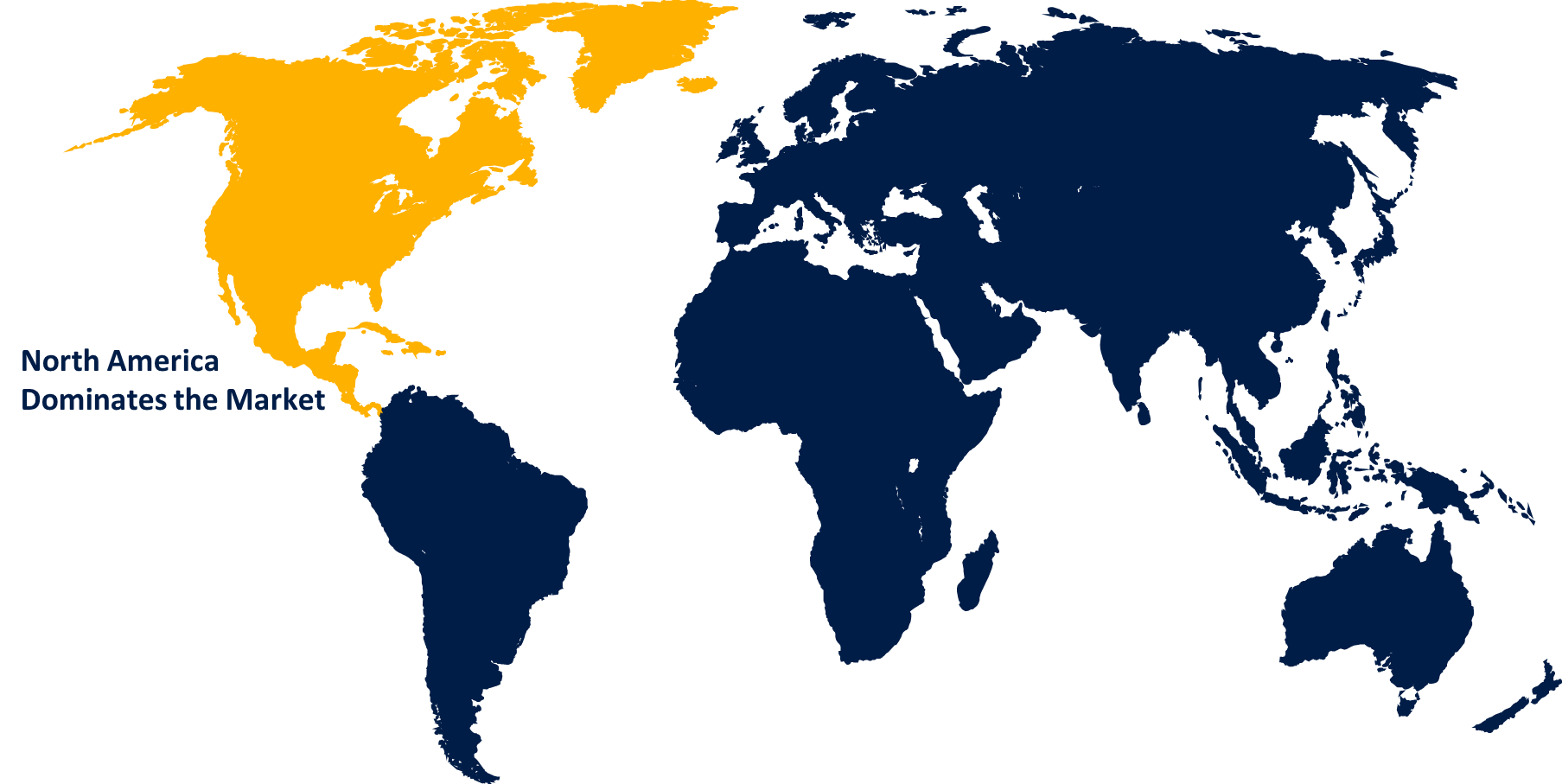 Get more details on this report -
Request Free Sample PDF
Due to several mergers and acquisitions between top providers, North America holds a significant portion of the global market. The region's supply chain management market is growing as a result of the industry leaders' presence being strengthened and expanded.
Recent Developments in Global Supply Chain Management Market
March 2022: For better planning capabilities across the product lifecycle, Logility, Inc. updated its software. Through supply chain network maps, the new upgrade provides visualisation of the users' interconnected global ties with one another. New Product Lifecycle Management (PLM) dashboards are also included in the programme, allowing for a better study of product performance and time to market.
List of Key Market Players
IBM
BluJay
Infor
SAP
Logility
Segmentation
By Component
Hardware
Software
Services
By User Type
By Deployment Model
By End User Industry
Retail and Consumer Goods
Automotive
Healthcare & Pharmaceuticals
Food & Beverages
Transportation & Logistics
Manufacturing
Others
By Region:
North America
North America, by Country
North America, by Component
North America, by Deployment Model
North America, by User Type
North America, by End Use Industry
Europe
Europe, by Country

Germany
Russia
U.K.
France
Italy
Spain
The Netherlands
Rest of Europe

Europe, by Component
Europe, by Deployment Model
Europe, by User Type
Europe, by End Use Industry
Asia Pacific
Asia Pacific, by Country

China
India
Japan
South Korea
Australia
Indonesia
Rest of Asia Pacific

Asia Pacific, by Component
Asia Pacific, by Deployment Model
Asia Pacific, by User Type
Asia Pacific, by End Use Industry
Middle East & Africa
Middle East & Africa, by Country

UAE
Saudi Arabia
Qatar
South Africa
Rest of Middle East & Africa

Middle East & Africa, by Component
Middle East & Africa, by Deployment Model
Middle East & Africa, by User Type
Middle East & Africa, by End Use Industry
South America
South America, by Country

Brazil
Argentina
Colombia
Rest of South America

South America, by Component
South America, by Deployment Model
South America, by User Type
South America, by End Use Industry
Need help to buy this report?