Global Sports Technology Market Size, Share, and COVID-19 Impact Analysis, By Sports (Cricket, Soccer, Esports, Golf, Baseball, Basketball, Ice Hockey, Rugby, Tennis, and Others), By Technology (Devices, Sports Analytics, Esports, Smart Stadiums, Others), and By Region (North America, Europe, Asia-Pacific, Latin America, Middle East, and Africa), Analysis and Forecast 2022 – 2032
Industry: Semiconductors & Electronics
---
REPORT FORMAT

---
Global Sports Technology Market Insights Forecasts to 2032
The Global Sports Technology Market Size was valued at USD 20.13 billion in 2022.
The market is growing at a CAGR of 14.27% from 2022 to 2032
The Worldwide Sports Technology Market is expected to reach USD 76.39 billion by 2032
Asia Pacific is expected to grow the fastest during the forecast period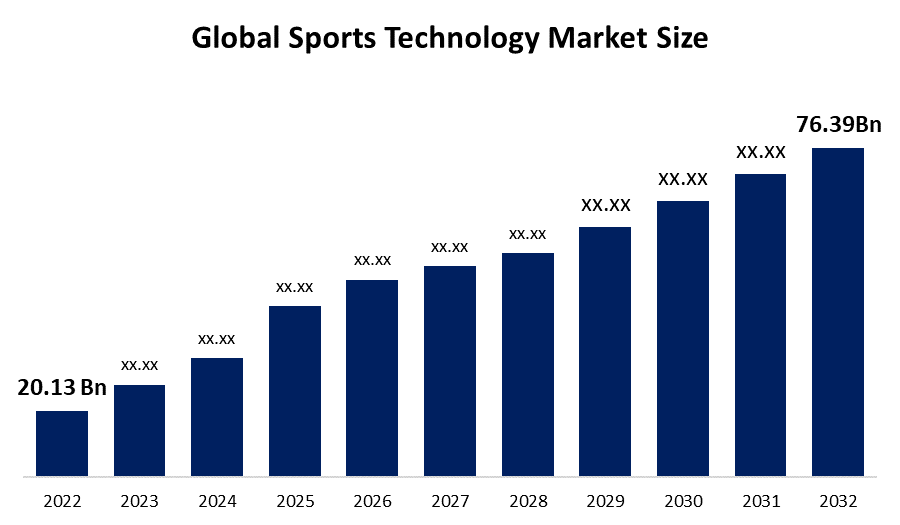 Get more details on this report -
Request Free Sample PDF
The Global Sports Technology Market Size is expected to reach USD 76.39 billion by 2032, at a CAGR of 14.27% during the forecast period 2022 to 2032.
The discipline of sports has evolved over time, and the usage of technological equipment is just one of the sectors that have had a significant effect on numerous sports in the 21st century. Sports technology can be utilized for practical purposes including recording scores, minimizing injuries, improving fan involvement, analyzing the validity of plays and goals, and numerous other purposes. There are numerous ways that technology and sporting activities in the sports sector are transforming the game, including wearable technology, sensors, instant replay, sensor tools, timing systems, and others. Among these, the wearable technology has changed the way sports are rated. In football, cricket, and other sports, there are numerous types of wearable technology. Fitbit smartwatches are common with professional competitors and beginner fitness enthusiasts, and they can track calorie consumption, steps, distance, pulse, and heart rate for a variety of activities.
Sports science technology has advanced to an extent where high-end fitness equipment can track steps, assess heart rates, and even send ECG findings through Bluetooth-enabled. Manufacturers are constantly pushing the development of the product to meet the rising trend and consumer demand. The commercial market for sports has witnessed an increase in gross profits as technology and data play a significant part in increasing player development and athletic performances. Sports professional intuitions are on the constant search for innovative opportunities to discover how a player or a team might use modern technology and sports performance statistics to obtain a cutting-edge competitive advantage.
With the advancement of technology, many decisions in sports contests can now be made or reviewed off-field, with additional officials using instant replays to make judgments. In various sports, participants can now appeal official decisions. As a result, many technological developments have occurred, and new sports technology has taken over today's modern world. The foreseeable future of sporting activities is growing increasingly digital, from the wearable sports technology sector to enhanced spectator experiences at games and competitions.
Global Sports Technology Market Report Coverage
| Report Coverage | Details |
| --- | --- |
| Base Year: | 2022 |
| Market Size in 2022: | USD 20.13 billion |
| Forecast Period: | 2022 - 2032 |
| Forecast Period 2022 - 2032 CAGR: | 14.27% |
| 2032 Value Projection: | USD 76.39 billion |
| Historical Data for: | 2018 - 2021 |
| No. of Pages: | 212 |
| Tables, Charts & Figures: | 124 |
| Segments covered: | By Sports, By Technology, By Region |
| Companies Covered: | Fujitsu, SAS Institute, SAP, IBM, Ericsson, Cisco Systems, Inc., Oracle, Samsung Electronics, Fitbit, Apple Inc., Garmin Ltd., NEC Corp., Sharp Corp., Activision Blizzard, Tencent Holdings Ltd., HCL Technologies Ltd., ChyronHego Corporation, Panasonic Corp., Modern Times Group, Xiaomi Corp., Sony Group Corp., Catapult, and among others. |
Get more details on this report -
Request Free Sample PDF
Driving Factors
The increased emphasis on aesthetically pleasing and engaging stadium fans, growing demands to improve player and team efficiency, and rising acceptance of esports technology are all factors contributing to the expansion of the sports technology sector. In addition, sporting event organizers have invested in digital technologies to offer an unparalleled game-viewing atmosphere in stadiums and on electronic gadgets. The venue proprietors are installing and outfitting numerous technologies to improve viewer interaction at stadiums, including high-density Wi-Fi, GPS-based services, digital vending machines, 360-degree ultra-high definition (UHD) cameras, and digital signs.
The growing demand for technology-based services in sporting events is likely to be driven by a significant emphasis on audience participation and entertainment-related events, as well as the technological advancement of venues and stadiums. The industry has seen dramatic changes as a result of increased spending by various organizations in implementing cutting-edge technologies for analyzing player performance and interacting with fans. Additionally, the rising use of artificial intelligence (AI), data analytics, the Internet of Things (IoT), wearables, drones, and social networking site engagement across a variety of sports is expected to boost the sports technology market growth.
Restraining Factors
However, due to the high cost of early investments and service provider agreements, higher utilization and broad use of sports technology are only economically possible for the most prominent teams with larger financial resources. A significant number of unorganized or smaller teams and organizations struggle to cover the initial expenditures needed, blocking a significant portion of the market from implementation. Furthermore, the complexity of upgrading and replacing older technologies is impeding the future development of the sports technology industry. Additionally, due to protocol difficulties, such systems lack the ability to integrate with next-generation smart devices.
Market Segmentation
By Sports Insights
The soccer segment is witnessing significant CAGR growth over the forecast period.
On the basis of sports, the global sports technology market is segmented into cricket, soccer, e-sports, golf, baseball, basketball, ice hockey, rugby, tennis, and others. Among these, the soccer segment is witnessing significant CAGR growth over the forecast period. The soccer game has gained popularity in countries like the U.S., Russia, Mexico, and European Countries. For instance, Fifa has reported that Argentina's playoff victory against France in the final of the Qatar 2022 World Cup achieved a global audience of 1.5 billion viewers. Furthermore, the overall viewership for beIN's 24-country coverage across the MENA increased 135 percent during the tournament compared to the network's broadcast of the FIFA World Cup Russia 2018. Moreover, football stadiums are increasingly adopting smart stadium technologies such as AR/VR, digital signage, crowd management, and Wi-Fi 6, among others, for fan interaction, network management, crowd management, and several others.
After soccer, cricket is expected to witness the fastest growth rate during the forecast period. India, Australia, Pakistan, and Bangladesh are just a few of the South Asian nations where cricket is incredibly well-liked. Every year, major cricket events such as the Indian Premier League, World Cup, England & Wales Cricket Board, Test & One Day Cricket Match Series, and many others are held around the world. These events draw a large number of spectators and create significant capital, and these are some of the factors that are expected to boost the segment's market growth.
By Technology Insights
The Esports segment is dominating the market with the largest revenue share over the forecast period.
On the basis of technology, the global sports technology market is segmented into devices, sports analytics, Esports, smart stadiums, and others. Among these, the Esports segment is dominating the market with the largest revenue share of 13.6% over the forecast period. Due to a huge change in viewership from live events to virtual tournaments like PUBG Mobile World League 2020 as a result of the lockdown, the segment's audience increased by almost half a billion during the year. Esports have demonstrated the potential to attract a wider audience on virtual platforms, generating significant growth opportunities for the sports technology market during the forecast period. Twitch, a streaming platform that primarily focuses on live broadcasting of esports events and video games, recently reported that fans will spend 47 million hours of content each day watching streamers in 2022, a 42% increase over 2021. Twitch was ranked 37th in the world for overall internet activity in 2021.
Regional Insights
Europe dominates the market with the largest market share over the forecast period.
Get more details on this report -
Request Free Sample PDF
Europe is dominating the market with more than 35.7% market share over the forecast period, due to the increased adoption of advanced technology across different sports in countries, such as the U.K., Germany, and France. The presence of several sporting events such as the Premier League, English Football League, and La Liga is the key element propelling the demand for sports technology market development in the region. Football, tennis, and rugby are popular sports in the European region. Furthermore, the European Union's government has reinforced public-safety standards for spectators, which are projected to drive major stadiums to implement modern technologies to organize games with serenity, a further boost to the sports technology market development.
Asia Pacific, on the contrary, is expected to grow the fastest during the forecast period. Asia Pacific is expected to have a huge demand for the sports technology market with numerous chances for innovative technology development and deployment. New stadiums are being built and the ones that already exist are being renovated in China, Japan, India, Pakistan, Australia, and Singapore, which is further increasing demand for the latest and innovative sports technologies. To compete with worldwide leagues and develop new revenue streams, the region's emerging sports leagues are fueling demand for smart stadium infrastructure. The recognition of professional leagues and tournaments in the region is rising quickly, making Asia Pacific nations new players in professional sports.
List of Key Market Players
Fujitsu
SAS Institute
SAP
IBM
Ericsson
Cisco Systems, Inc.
Oracle
Samsung Electronics
Fitbit
Apple Inc.
Garmin Ltd.
NEC Corp.
Sharp Corp.
Activision Blizzard
Tencent Holdings Ltd.
HCL Technologies Ltd.
ChyronHego Corporation
Panasonic Corp.
Modern Times Group
Xiaomi Corp.
Sony Group Corp.
Catapult
Key Market Developments
On November 2022, Sony Corporation said that it is reorganizing its sports business organization in the aftermath of a recent acquisition, and welcomed Beyond Sports into the Sony Corporation sports business. Beyond Sports will be part of Sony's sports division, together with Hawk-Eye and Pulselive. Beyond Sports' accession to the organization is a critical pillar in Sony's commitment to offer the greatest end-to-end sports data and technology services to its clients.
On September 2022, Apple Watch Series 8 was released with best-in-class health features, including a revolutionary temperature sensor that enables additional features for women's health, Crash Detection for serious car crashes, and an all-day 18-hour battery life.
On June 2022, Garmin® International, Inc., a subsidiary of Garmin Ltd., released the Edge® 1040 Solar, the ultimate GPS bike computer with solar charging and multi-band GNSS technology. The Edge 1040 Solar features a Power GlassTM solar charging lens that harnesses the power of the sun to provide cyclists with even more ride time between charges - up to 100 hours in battery saver mode - while multi-band GNSS technology provides more accurate GPS positioning in challenging ride environments such as dense urban areas or under deep tree cover.
Market Segment
This study forecasts revenue at global, regional, and country levels from 2020 to 2032. Spherical Insights has segmented the Global Sports Technology Market based on the below-mentioned segments:
Sports Technology Market, Sports Analysis
Cricket
Soccer
Esports
Golf
Baseball
Basketball
Ice Hockey
Rugby
Tennis
Others
Sports Technology Market, Technology Analysis
Devices
Sports Analytics
Esports
Smart Stadiums
Others
Sports Technology Market, Regional Analysis
North America
Europe

Germany
Uk
France
Italy
Spain
Russia
Rest of Europe

Asia Pacific

China
Japan
India
South Korea
Australia
Rest of Asia Pacific

South America

Brazil
Argentina
Rest of South America

Middle East & Africa

UAE
Saudi Arabia
Qatar
South Africa
Rest of Middle East & Africa
Need help to buy this report?