Global Specialty Chemicals Market Size, Share, and COVID-19 Impact Analysis, By Product (Food & Feed Additives, Agrochemicals, Flavor & Fragrances, Dyes & Pigments, Water Treatment Chemicals, Personal Care Active Ingredients, Surfactants, Construction Chemicals, Bio-based Chemicals, Textile Chemicals,Institutional & Industrial Cleaners, Oilfield Chemicals, Polymer Additive, Electronics Chemicals, Paper & Pulp Chemicals, Pharmaceutical Ingredients, Specialty Polymers, Others) and By Region (North America, Europe, Asia-Pacific, Latin America, Middle East, and Africa), Analysis and Forecast 2021 – 2030
Industry: Specialty & Fine Chemicals
---
REPORT FORMAT

---
Global Specialty Chemicals Market Insights Forecasts to 2030
The Global Specialty Chemicals Market Size was valued at USD 723.43 Billion in 2021
The Worldwide Market Share is growing at a CAGR of 5.52% from 2022 to 2030
The Worldwide Specialty Chemicals Market Size is expected to reach USD 1016.5 Billion by 2030
North America is expected to grow the fastest during the forecast period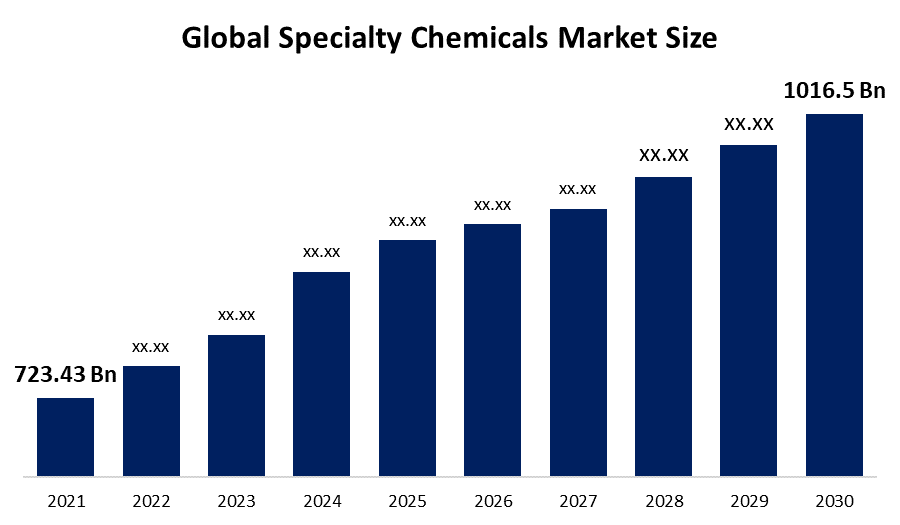 Get more details on this report -
Request Free Sample PDF
The Global Specialty Chemicals Market Size is expected to reach USD 1016.5 billion by 2030, at a CAGR of 5.52% during the forecast period 2022 to 2030.
Market Overview
Specialty chemicals, often known as performance chemicals or specialties, are used to improve industrial processes and as constituents in final goods.Specialty chemicals include adhesives, agrichemicals, cleaning supplies, colors, cosmetic additives, construction chemicals, elastomers, flavors, food additives, perfumes, industrial gases, lubricants, paints, polymers, surfactants, and textile auxiliaries, to highlight a few.Many other industries rely on these commodities, including textiles, food, cosmetics, agriculture, automobile, and aerospace.
Typically, specialty chemicals are produced in batch chemical facilities utilizing batch processing processes. This method produces a fixed quantity of product from a given input of raw materials during the predicted period. However, the majority of specialized chemicals are organic chemicals that are utilized in a diverse variety of common products used mostly by consumers and industry. Specialty chemicals are low-volume, high-value, ultra-high purity compounds that are employed by a wide range of end customers. The majority of the times, the companies who produce these things for commercial usage offer their customers personalized, unique technical solutions.
According to Bloomberg, a source of worldwide business and financial information, has recognized the common stock of over 400 specialty chemical firms from around the world.There are a lot more privately held specialty chemical companies that are not traded on global stock exchanges. BASF, Lubrizol Corporation, AkzoNobel, Huntsman, Clariant, Rockwood, DuPont, Lanxess, Clariant AG, and Solvay are the 10 leading specialized chemical producers in the world.Evonik, Cognis, Kemira, Lanxess, Cabot, W. R. Grace, Ferro Corporation, and Lion Specialty Chemicals Co., Ltd. are among the prominent specialty chemical suppliers.
There are about 1300 specialty chemical manufacturers in the United Kingdom alone, with annual revenue of USD 11.8 billion.Specialty Chemicals account for a substantial portion of the chemical industry's exports, which number more than USD 31.7 billion and represent the UK's last remaining net exporting industrial sector.Since specialty chemical manufacturers are less reliant on large-scale infrastructure than commodity chemical manufacturers, they can be found almost anywhere in the UK.
Report Coverage
This research report categorizes the market for the Global Specialty Chemicals Market based on various segments and regions and forecasts revenue growth and analyzes trends in each submarket. The report analyses the key growth drivers, opportunities, and challenges influencing the Global Specialty Chemicals Market. Recent market developments and competitive strategies such as expansion, product launch, and development, partnership, merger, and acquisition have been included to draw the competitive landscape in the market. The report strategically identifies and profiles the key market players and analyses their core competencies in each sub-segments of the Global Specialty Chemicals Market.
Global Specialty Chemicals Market Report Coverage
| Report Coverage | Details |
| --- | --- |
| Base Year: | 2021 |
| Market Size in 2021: | USD 723.43 Billion |
| Forecast Period: | 2021-2030 |
| Forecast Period 2021-2030 CAGR: | 5.52% |
| 2030 Value Projection: | USD 1016.5 Billion |
| Historical Data for: | 2017-2020 |
| No. of Pages: | 200 |
| Tables, Charts & Figures: | 130 |
| Segments covered: | By Product, By Region, and COVID-19 Impact Analysis |
| Companies Covered: | 3M, Akzo Nobel N.V., Huntsman International LL, DuPont, Clariant AG, Solvay, Lanxess, Sika AG, Evonik Industries AG, Croda International Plc, Ashland LLC., Corteva, The Lubrizol Corp., BASF SE, Albemarle Corp., Koninklijke DSM N.V., Sumitomo Chemical Co., Ltd., PPG Industries Inc., Nouryon, Merck & Co., Inc., Lion Specialty Chemicals Co., Ltd. |
| Pitfalls & Challenges: | COVID-19 Empact, Challenge, Future, Growth, & Analysis |
Get more details on this report -
Request Free Sample PDF
Driving Factors
The rapid rise of construction and building sector operations, particularly in Asia-Pacific and the Middle East and Africa, is one of the primary drivers driving the market growth. In accordance with the Global Construction Review Report, China, India, and the United States would be the primary drivers of the global construction industry, which is predicted to exceed USD 9 trillion in value by 2030. Food demand is likewise increasing as the world's population grows. As a result of expanding regulatory health and environmental issues, as well as concerns about how efficiently plants absorb nutrients, micronutrient fertilizers, bio-based fertilizers, and specialized fertilizers are becoming increasingly popular.
The desire for green or bio-based specialty chemicals, growing adoption from the healthcare industry, and rising demand from the personal hygiene industry are all major drivers boosting the specialty chemicals market growth.Leading manufacturers are seeing a significant surge in demand for hygiene goods such as sanitizers, liquid soaps, disinfectant sprays, and microbial protection wipes as the consequences of the COVID-19 pandemic spread over the world.
Furthermore, due to the strong demand for adhesives, lubricants, paints, and coatings for reducing weight and money-saving final products, the automotive industry is expected to remain an unscrupulously rising industry, propelling market expansion. Adhesives have replaced traditional bonding or adhesion technologies as key technical components in automotive applications. Adhesives are also used in the electronics sector for a variety of purposes, including conformal coatings, terminal electrode protection, and surface-mounted component bonding, notably.
Restraining Factors
However, changes in the price of raw materials and severe government regulations are expected to hinder the expansion of the global specialty chemicals market.Additionally, chemicals play a vital role in the automobile industry as they are required for a vehicle's efficient operation as well as for its comfort and feel. However, competition from lower-cost conventional equivalents of specialized chemicals is a serious obstacle to this sector.
Increasing oil costs are expected to have a substantial influence on the specialty chemicals market. Nonetheless, the European geopolitical crisis increased oil prices, which influenced the cost of making chemicals.Supply disruptions hampered the import and export of raw materials across continents, particularly in the European region, which in turn impacted the specialty chemical market across the globe.
Market Segmentation
In 2021, the agrochemicals&food & feed additives segment is dominating the market with the largest market share of 35% over the forecast period
Based on end-user, the Global Specialty Chemicals Market is segmented into food & feed additives, agrochemicals, flavor & fragrances, dyes & pigments, water treatment chemicals, personal care active ingredients, surfactants, construction chemicals, bio-based chemicals, textile chemicals, institutional & industrial cleaners, oilfield chemicals, polymer additive, electronics chemicals, paper & pulp chemicals, pharmaceutical ingredients, specialty polymers, and many others. Among these, the agrochemicals & food & feed additives segment dominates the market with the largest market share of 55% over the forecast period. The segment's growth is being driven primarily by growing global food demand and decreased per capita agricultural land, which will drive the specialty chemicals market throughout the forecast period.Food and cash crop demand are expected to rise internationally as per capita income rises and the population grows.According to the Food and Agricultural Organization of the United Nations (FAO), global food demand may increase by 70% by 2050, with rising consumer incomes in Asia-Pacific, Eastern Europe, and South America accounting for the majority of the predicted increase.
The pharmaceutical ingredientssegment is expected to rise over the forecast period.Pharmaceutical ingredients contain active chemicals that are similar to those found in pharmaceutical products.They are manufactured from basic chemical compounds in large reactors in different manufacturing plants.This is due to the multiple uses of pharmaceuticals in the production of medications for Hughes syndrome, skin conditions, and cardiovascular ailments.Institutional& industrial cleanersare expected to develop among the most important segments because of the repeating nature of regulatory standards, equipment, and activities for cleaning and hygiene.
Regional Segment Analysis of the Global Specialty Chemicals Market
North America (U.S., Canada, Mexico)
Europe (Germany, France, U.K., Italy, Spain, Rest of Europe)
Asia-Pacific (China, Japan, India, Rest of APAC)
South America (Brazil and the Rest of South America)
The Middle East and Africa (UAE, South Africa, Rest of MEA)
Asia Pacific is dominating the market with the largest market share of 58%.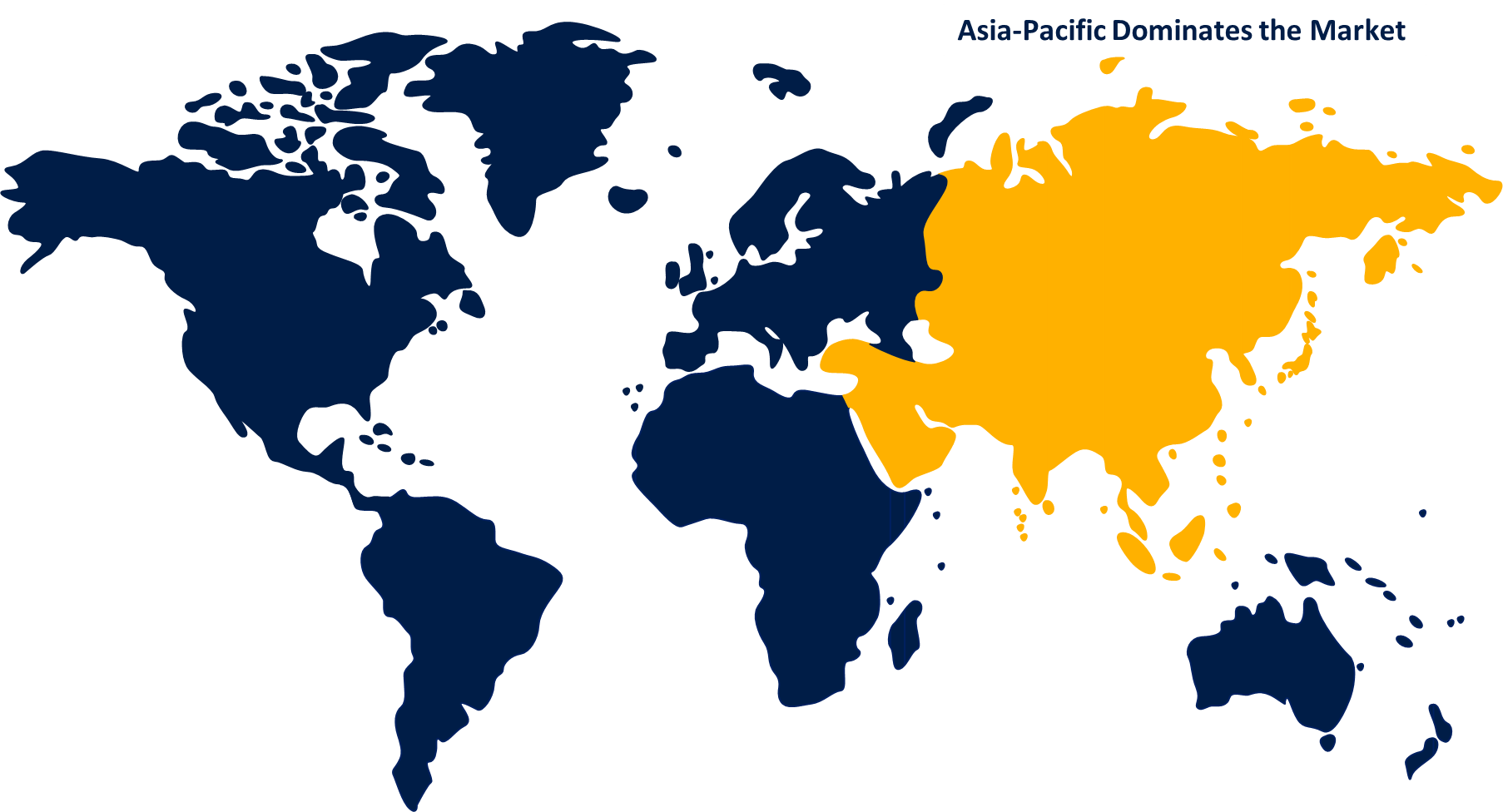 Get more details on this report -
Request Free Sample PDF
Asia Pacific is dominating the market with the largest market share of 58% owing to the highest revenue share due to the existence of significant emerging economiessuch as China, Japan,India, and South Koreain this region. The demand for food is rising as a result of the region's expanding population, particularly in developing nations.The agrochemical and pharmaceutical applications industries are projected to expand, which would boost the growth of the specialty polymer market throughout the forecast period.Furthermore, because of the simple availability of raw materials and inexpensive labor, China has become a centre for the production of chemicals.Following China as the most dynamic country, India demonstrates substantial growth in the specialty chemicals market throughout the projection period.
North America is expected to grow the fastest during the forecast period owing to its large consumption of biocides, cosmetic chemicals, corrosion inhibitors, institutional cleansers, lubricating oil additives, and synthetic lubricants.Because of the lucrative investment prospects available to foreign firms, North America is seen as a desirable destination for specialized chemical manufacturing.
Competitive Analysis:
The report offers the appropriate analysis of the key organizations/companies involved within the Global Specialty Chemicals Market along with a comparative evaluation primarily based on their product offering, business overviews, geographic presence, enterprise strategies, segment market share, and SWOT analysis. The report also provides an elaborative analysis focusing on the current news and developments of the companies, which includes product development, innovations, joint ventures, partnerships, mergers & acquisitions, strategic alliances, and others. This allows for the evaluation of the overall competition within the market.
List of Key Market Players
3M
Akzo Nobel N.V.
Huntsman International LL
DuPont
Clariant AG
Solvay
Lanxess
Sika AG
Evonik Industries AG
Croda International Plc
Ashland LLC.
Corteva
The Lubrizol Corp.
BASF SE
Albemarle Corp.
Koninklijke DSM N.V.
Sumitomo Chemical Co., Ltd.
PPG Industries Inc.
Nouryon
Merck & Co., Inc.
Lion Specialty Chemicals Co., Ltd.
Key Target Audience
Market Players
Investors
End-users
Government Authorities
Consulting and Research Firm
Venture capitalists
Value-Added Resellers (VARs)
Recent Development
In October 2022, Clariant, a major supplier of specialty oilfield production chemicals and services to the oil and gas sector, announced the opening of its cutting-edge facility for advanced oil and gas solutions in EMEA. The effort assists operators in lowering carbon emissions and improving operational safety while minimizing disruptions to continuing operations.
In June 2022, Sumitomo Chemical Co., Ltd. and the National Institute of Technology Asahikawa College have announced an agreement on a catalyst and a process for low-impact commercial production of turquoise hydrogen, as well as a collaboration on applications for the solid carbons generated as byproducts of the process. Furthermore, the outcomes of this combined research with Asahikawa College will be applied to the joint development with Microwave Chemical Co., Ltd., which has been revealed in February 2022. Sumitomo Chemical intends to speed up the widespread adoption of a more efficient hydrogen generation technology.
Market Segment
This study forecasts revenue at global, regional, and country levels from 2021 to 2030. Spherical Insights has segmented the Global Specialty Chemicals Market based on the below-mentioned segments:
Global Specialty Chemicals Market, By Product Type
Food & Feed Additives
Agrochemicals
Flavor & Fragrances
Dyes & Pigments
Water Treatment Chemicals
Personal Care Active Ingredients
Surfactants
Construction Chemicals
Bio-based Chemicals
Textile Chemicals
Institutional & Industrial Cleaners
Oilfield Chemicals
Polymer Additive
Electronics Chemicals
Paper & Pulp Chemicals
Pharmaceutical Ingredients
Specialty Polymers
Others
Global Specialty Chemicals Market, By Component
Human Machine Interface
Communication Systems
Programmable Logic Controller
Remote Terminal Unit
Others
Global Specialty Chemicals Market, By End-User
Electrical Power
Oil & Gas
Water & Wastewater
Manufacturing
Transportation
Telecommunication
Chemicals
Food & Beverages
Pharmaceuticals
Others
Global Specialty Chemicals Market, Regional Analysis
North America
Europe

Germany
Uk
France
Italy
Spain
Russia
Rest of Europe

Asia Pacific

China
Japan
India
South Korea
Australia
Rest of Asia Pacific

South America

Brazil
Argentina
Rest of South America

Middle East & Africa

UAE
Saudi Arabia
Qatar
South Africa
Rest of the Middle East & Africa
Need help to buy this report?