Global Spa Market Size, By Service Type (Hotel/Resorts Spa, Destination Spa, Day/Salon Spa, Medical Spa, Mineral Spring Spa, Others), By End-User (Women, Men), By Geographic Scope and Forecast to 2022 – 2032.
Industry: Consumer Goods
---
REPORT FORMAT

---
Global Spa Market Insights Forecasts to 2032
The Spa Market was valued at USD 83.57 Billion in 2022.
The Market is growing at a CAGR of 15.3% from 2022 to 2032.
The Global Spa Market is expected to reach USD 347.9 Billion by 2032.
Asia Pacific is expected to grow the fastest during the forecast period.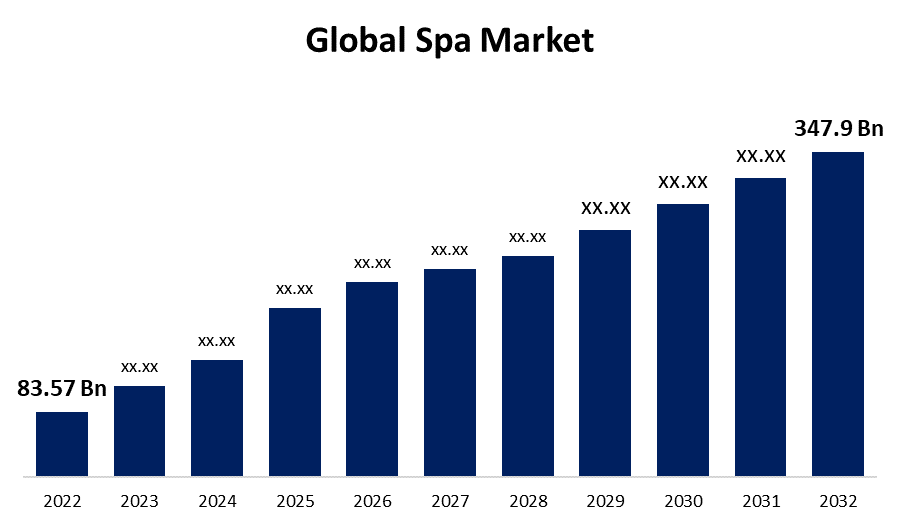 Get more details on this report -
Request Free Sample PDF
The Global Spa Market is expected to reach USD 347.9 Billion by 2032, at a CAGR of 15.3% during the forecast period 2022 to 2032.
A spa is a wellness center where mineral-laden spring water provides therapeutic baths. Spa towns or spa resorts often provide a variety of health treatments known as balneotherapy. Spa services are a catch-all phrase for various activities reviving the mind and body, such as facials, body massages, manicures, pedicures, and body treatments. As spas strive to create innovative, exciting, and effective treatments for their clientele, the sector has begun to look for new global trends from around the world. However, spa patrons are increasingly interested in hyper-local services, not merely a glimpse of diverse cultures. As spas sought greater influence, they also concentrated on providing more specialized treatments for various illnesses and demographics. These individualized services are efficiently created to provide end customers with physical fitness, ease of mind, relaxation, health, and wellness. The worldwide spa services industry has seen continuous creativity, such as the usage of hybrid spa technology, which uses a gas-generated hybrid system to keep the spa warm. When compared to other types of heating systems, this technology uses fewer emissions of carbon and other chemicals and is also more cost-effective. Moreover, widespread acceptance of Western culture and rapid urbanization in developing countries like India, China, and Indonesia have generated tremendous prospective for expansion for the spa industry.
Global Spa Market Report Coverage
| Report Coverage | Details |
| --- | --- |
| Base Year: | 2022 |
| Market Size in 2022: | USD 83.57 Bn |
| Forecast Period: | 2022 – 2032 |
| Forecast Period 2022 – 2032 CAGR: | 15.3% |
| 022 – 2032 Value Projection: | USD 347.9 Bn |
| Historical Data for: | 2020-2021 |
| No. of Pages: | 200 |
| Tables, Charts & Figures: | 150 |
| Segments covered: | By Service Type, By End-User, By Geographic Scope. |
| Companies Covered: | Planet Beach, Hot Springs Resort & Spa, Four Seasons Hotel Limited, Massage Envy, Lanserhof, Siam Wellness Group, Jade Mountain, Rancho La Puerta, Mandarin Oriental Hotel Group, Omni Hotels & Resorts, Emirates Palace Spa, Marriott International Inc., Kempinski Hotels S.A., Brenners Park-Hotel & Spa, and Others. |
| Pitfalls & Challenges: | COVID-19 Empact, Challenge, Future, Growth, & Analysis |
Get more details on this report -
Request Free Sample PDF
Market Outlook
Spa Market Price Analysis
A variety of factors influence the pricing structure of the spa market, ranging from the type and quality of services offered to the location and target population. Luxury and destination spas, which are frequently located in exotic or tranquil settings, demand premium fees to match their high-end amenities and clientele. Meanwhile, to appeal to a broader population, metropolitan day spas or wellness facilities may offer competitive rates. The cost of skilled personnel, the quality of goods used in treatments, and the spa's ambiance or infrastructure all have a role in pricing strategy. Prices are determined regionally by cultural notions of well-being, local competitiveness, and economic factors. Wellness tourism and rising demand for holistic treatments have also altered price dynamics in recent years, pushing the spa business toward more specialized and premium service offerings.
Spa Market Growth Analysis
The spa industry has been seeing rapid expansion, fuelled by changing consumer demands and a greater emphasis on wellbeing. Globally, rising disposable income, along with increased stress and a desire for relaxation, has pushed individuals into spa and wellness services. Wellness tourism, in which tourists expressly seek areas that offer rejuvenation through spa treatments, has fueled market development even further. Furthermore, the growth of hotel and resort spas, as well as the proliferation of urban day spas, has made spa services more accessible. The incorporation of modern treatments, holistic therapies, and personalized experiences caters to consumers' different needs, boosting market expansion.
Market Dynamics
Spa Market Dynamics
Rise of wellness tourism has spurred the spa market globally
Wellness tourism has witnessed a substantial increase, with travelers specifically seeking areas that offer refreshing experiences. As part of their vacation experience, tourists are increasingly preferring destinations that provide spa treatments, traditional healing techniques, and relaxation options. Recognizing this trend, resorts and hotels are increasingly incorporating spa and wellness centers to attract this sector of guests. This fusion of travel and wellness has not only broadened the consumer base for spas, but has also increased global demand for spa services.
Restraints & Challenges
Shift Towards At-Home Wellness Products and Services.
With the advent of smart at-home wellness goods, devices, and digital platforms delivering guided relaxation and treatment sessions, many consumers are discovering cost-effective alternatives to traditional spa visits. The global health crisis exacerbated this tendency, as lockdowns and health concerns prompted people to seek relaxation and wellness within the confines of their own homes. Subscription-based wellness apps, DIY spa kits, and tele-wellness consultations are becoming increasingly popular, providing convenient and often less expensive alternatives to traditional spa services. As consumers assess the cost, convenience, and safety of in-person visits against at-home options, this shift poses a serious challenge to the traditional spa sector.
Regional Forecasts
Europe Market Statistics
Get more details on this report -
Request Free Sample PDF
Europe is anticipated to dominate the spa market from 2023 to 2032. Germany, France, England, and Italy are among the prominent European countries that are highly popular for spa services and treatments. The expansion of spa tourism in the region is also a significant factor in the expansion of the spa market in the region. Additionally, the European spa market is likely to be driven by an expanding workforce and increasing consumer spending. Furthermore, the availability of various types of spas offering aesthetic experiences in the region factors considerably to the region's spa market growth. Moreover, rising travel and tourist spending in European countries such as France and Germany are propelling regional market expansion.
Asia Pacific Market Statistics
Asia Pacific is witnessing the fastest market growth between 2023 to 2032. Higher disposable income and the development of the tourist industry, particularly in economically developing nations such as India and China, are likely to boost the market during the forecast period. This region's developing nations, particularly Japan, India, and China, are experiencing rapid economic expansion. The region's thriving hospitality business, as well as the growing popularity of traditional treatments like Thai massage and Ayurveda, are expected to keep fueling the market. Furthermore, the region's spa industry is developing due to the easy accessibility of spa services and increased awareness of full-body massage and cosmetic treatments.
Segmentation Analysis
Insights by Service Type
The day/salon spa segment accounted for the largest market share over the forecast period 2023 to 2032. Day spas or salon spas are stand-alone facilities or part of a salon that offers a range of spa treatments for customers on a daily basis. These spas are known for their accessibility and typically offer individual treatments or spa packages for a few hours or a day. Day and salon spas are highly accessible to a wide range of consumers and offer various treatments and packages that cater to individuals seeking relaxation, beauty, and wellness services. Their convenience and the availability of a diverse array of services have made day/salon spas a popular choice for people looking for shorter spa experiences without the need for overnight stays. This segment's accessibility and diverse offerings contribute to its significant market share.
Insights by End-Users
The women segment accounted for the largest market share over the forecast period 2023 to 2032. Women are the major customers of personal care services; hence the female group dominates the market. In addition, growing women customers' concerns about skin aging, as well as expanding demand for wrinkle-prevention skincare services, are propelling segmental revenues internationally. This comprises women of various ages, from adolescents to the elderly, as well as individuals with various lifestyles and interests. Massages, facials, manicures and pedicures, body wraps, hair removal, and cosmetics are all popular spa treatments among women. Furthermore, the growing desire for acne, hyperpigmentation, and anti-aging treatments has raised the need for female spa services. However, the growing hygiene trend among men is projected to boost men's sector growth.
Competitive Landscape
Major players in the market
Planet Beach
Hot Springs Resort & Spa
Four Seasons Hotel Limited
Massage Envy
Lanserhof
Siam Wellness Group
Jade Mountain
Rancho La Puerta
Mandarin Oriental Hotel Group
Omni Hotels & Resorts
Emirates Palace Spa
Marriott International Inc.
Kempinski Hotels S.A.
Brenners Park-Hotel & Spa
Recent Market Developments
On February 2023, Mattison Avenue Salon Suites & Spa has acquired the former Hightower Salons in Irving, Texas, and will open a new site in the Las Colinas neighborhood. Mattison Avenue Las Colinas will have over 60 suites accessible for beauty and personal care experts looking to expand their business. This site is sure to be an outstanding setting for independent entrepreneurs to establish their firms, with an elegant and inviting decor, a collaborative work environment, and a thriving community.
On September 2022, Arch Amenities Group, a global provider of amenity, meeting, and wellness services, acquired Innovative Spa Management, a spa clinic management company based in the United States, as well as other companies such as Privai LLC and Spa Space, in order to implement a dynamic technological system for its operations management and expand its clientele base.
Market Segmentation
This study forecasts revenue at global, regional, and country levels from 2023 to 2032.
Spa Market, Service Type Analysis
Hotel/Resorts Spa
Destination Spa
Day/Salon Spa
Medical Spa
Mineral Spring Spa
Others
Spa Market, End-User Analysis
Spa Market, Regional Analysis
North America
Europe
Germany
Uk
France
Italy
Spain
Russia
Rest of Europe
Asia Pacific
China
Japan
India
South Korea
Australia
Rest of Asia Pacific
South America
Brazil
Argentina
Colombia
Middle East & Africa
UAE
Saudi Arabia
South Africa
Need help to buy this report?