Global Soda Maker Market Size, By Type (Countertop, Portable), By Function (Manual, Electric), By Material (Steel, Plastic, Glass, Others), By Application (Residential, Restaurants & Hotels, Bars & Pubs, Supermarkets, Convenience Stores, Others), By Geographic Scope and Forecast 2022-2032
Industry: Consumer Goods
---
REPORT FORMAT

---
Global Soda Maker Market Size Insights Forecasts to 2032
The Soda Maker Market Size was valued at USD 1,105.38 Million in 2022.
The Market is Growing at a CAGR of 5.9% from 2022 to 2032
The Global Soda Maker Market Size is expected to reach USD 1,972.6 Million by 2032
Asia Pacific is expected to grow the fastest during the forecast period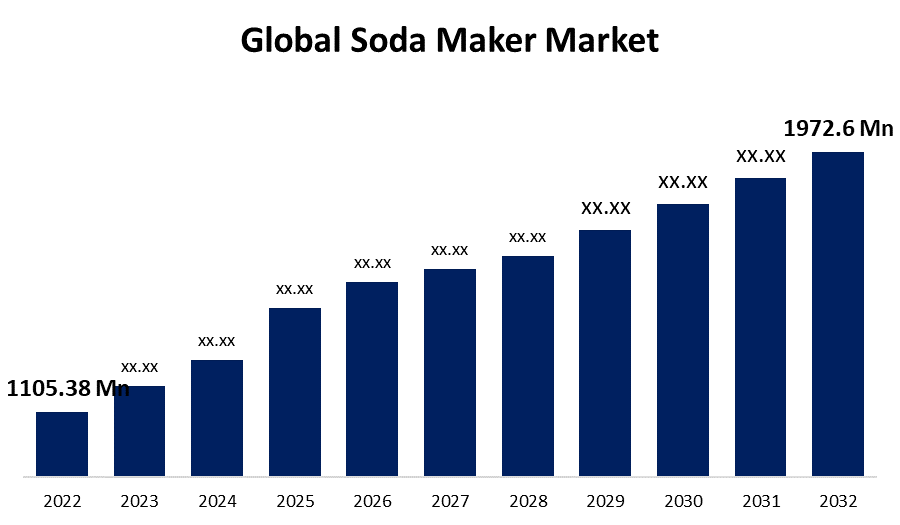 Get more details on this report -
Request Free Sample PDF
The Global Soda Maker Market Size is expected to reach USD 1,972.6 Million by 2032, at a CAGR of 5.9% during the forecast period 2022 to 2032.
Soda makers, often known as soda machines, are machines that produce carbonated beverages. They come in a variety of styles and sizes. These machines range from basic to advanced, with many features and possibilities for making sparkling water and other carbonated beverages. The machine is regularly provided with flavorings that can be added to the carbonated water to make soda, such as orange, lemon, or cola flavors. These machines have grown in popularity because they allow customers to regulate the level of carbonation, flavor, and sweetness in their beverages, allowing them to accommodate individual preferences and potentially offering a healthier alternative to typical sugary sodas. The soda maker market has evolved significantly, with numerous businesses producing a variety of models, ranging from manual to electric, with the goal of easing the process of carbonating drinks at leisure. In this category, brands such as SodaStream have been dominant, but new businesses have joined the market with competitive alternatives. Home carbonation systems are going to continue playing an important role in providing useful and flexible ways to enjoy a variety of carbonated drinks at home, owing to the soda maker market's constant advancement and broad product offerings, as well as the increasing demand for environmentally friendly and customizable substitutes to packaged carbonated beverages.
Market Outlook
Soda Maker Market Price Analysis
Price analysis in the soda maker market is a complex process driven by a variety of factors. Soda makers' prices are determined by their features, build quality and brand reputation. Premium models with innovative carbonation systems and stylish styling are more expensive. Furthermore, the availability and cost of CO2 canisters and soda flavorings have an impact on the entire cost of ownership. Pricing is also influenced by manufacturer price competitiveness and growing consumer interest in eco-friendly and sustainable solutions. As the market evolves, price analysis will become increasingly important in ensuring that soda makers are available to a diverse variety of consumers while fulfilling their diverse preferences and economic considerations.
Soda Maker Market Distribution Analysis
In the soda maker market, distribution analysis encompasses the specified trajectory from production facilities to consumers' homes. Soda manufacturers often distribute their products through a variety of channels, including physical retail storefronts, online platforms, and company-owned outlets. Retailers frequently stock a variety of models to accommodate a wide range of consumer preferences. The distribution network also includes collaborations with e-commerce companies, which improves consumer accessibility. With a growing interest in eco-friendly and health-conscious options, the distribution study takes reusable CO2 canisters and soda flavorings into account. In this ever-changing distribution chain, efficiency, transparency, and responsiveness to consumer expectations play critical roles in ensuring that soda makers reach families with ease and comply with contemporary environmental and health-conscious principles.
Global Soda Maker Market Report Coverage
| Report Coverage | Details |
| --- | --- |
| Base Year: | 2022 |
| Market Size in 2022: | USD 1,105.38 Million |
| Forecast Period: | 2022-2032 |
| Forecast Period 2022-2032 CAGR: | 5.9% |
| 2032 Value Projection: | USD 1,972.6 Million |
| Historical Data for: | 2019-2021 |
| No. of Pages: | 200 |
| Tables, Charts & Figures: | 115 |
| Segments covered: | By Type, By Function, By Material, By Application, By Geographic |
| Companies Covered: | SodaStream Inc., AARKE AB, i-Drink Products Inc, Whirlpool Corporation, Koninklijke Philips N.V, Hamilton Beach Brands Holding Company, Sparkle Beverage System, Blue Flag, Mysoda, iSi GmbH, Drinkpod, Mr. Butler, CO-Z, and Others. |
| Growth Drivers: | Rising health-conscious consumer trend |
| Pitfalls & Challenges: | Covid-19 Empact,Challenges,Growth, Analysis, |
Get more details on this report -
Request Free Sample PDF
Market Dynamics
Soda Maker Market Dynamics
Rising health-conscious consumer trend
The worldwide soda maker market is being driven by a growing trend toward healthier beverage options. Traditional soft drink sugar content and artificial additives are causing consumers to become increasingly concerned. Individuals may produce their carbonated beverages using plain water and natural flavorings, making soda makers an enticing alternative. This corresponds to the desire for less sugar and calorie consumption. Health-conscious driving has increased the use of soda makers, particularly among individuals and families who want to control the components in their beverages. Manufacturers have responded by providing a choice of natural and low-calorie flavor alternatives, which has helped to fuel the market's expansion.
Restraints & Challenges
The lack of availability of carbonation supplies
The availability and pricing of CO2 canisters, a critical component in the production of soda, might vary depending on geographic location and supply chain considerations. In some areas, consumers may have difficulty locating or exchanging empty CO2 canisters. This variability can make soda producers less convenient and popular. The availability of CO2 canisters has a direct impact on the user experience and the market's potential for growth. To overcome this constraint and provide a smooth experience for consumers, manufacturers and distributors must collaborate to develop trustworthy and convenient supply chains.
Regional Forecasts
North America Market Statistics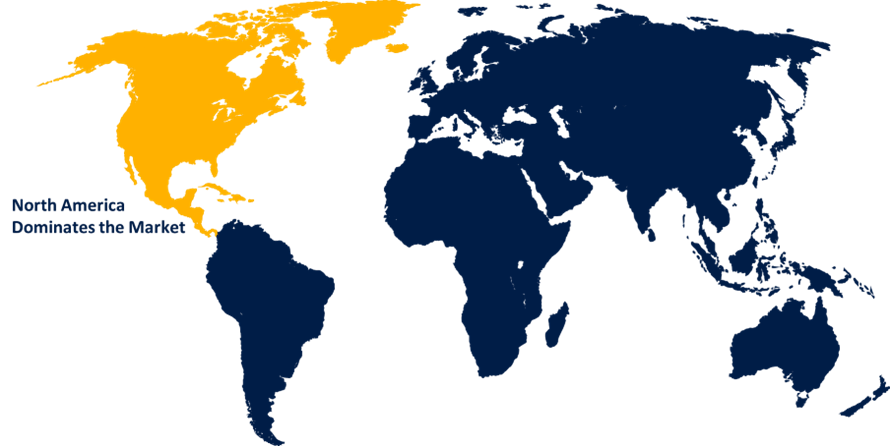 Get more details on this report -
Request Free Sample PDF
North America is anticipated to dominate the soda maker market from 2023 to 2032. This is due to increased consumer knowledge about health and wellness in the United States and Canada, which is one of the key drivers boosting demand for soda makers producers. An increasing number of demographics are looking for healthier beverage substitutes and cutting back on unhealthy drinks like soda. Several factors are driving this trend, including increased awareness of the health dangers connected with excessive sugar consumption, worries about chemical-based sweeteners, and an increasing concern for improving one's general health. Furthermore, as the general understanding of environmental sustainability grows, major manufacturers are developing soda production machinery made of renewable materials. Moreover, the majority of these machines are battery-powered, making them energy-efficient. These factors are expected to drive the growth of the soda production machine market.
Asia Pacific Market Statistics
Asia Pacific is witnessing the fastest market growth between 2023 to 2032. The developing food and beverage sector, transforming dietary habits, increased Millenials, and rising soft drink demand are all contributing to regional market expansion. In addition, increased health consciousness and demand for handcrafted and customized refreshments are driving the growth of the soda maker market. Additionally, these machines are available at a variety of prices to accommodate a wide range of customers. Furthermore, the machines can be used to create seltzer water from taps, water filters, or any bottled water that does not contain toxic or sugar additional components. Moreover, these machines are typically battery-powered or only a simple plug-in and are designed to fill any sort of bottle or glass with a single button press. As a result, these factors are expected to contribute to the region's soda maker market expansion over the forecast period.
Segmentation Analysis
Insights by Type
The countertop segment accounted for the largest market share over the forecast period 2023 to 2032. This is due to the simplicity that it caters to the demands of homes and individuals who consume carbonated beverages on a regular and significant scale. Countertop soda makers are intended to be stand-alone equipment that requires a specific location on the kitchen counter. Countertop soda makers often come with a variety of flavor options, allowing users to create personalized carbonated beverages based on their personal tastes. They are simple to use, with simple controls and a uniform carbonation process. Thus, countertop soda makers are a kitchen mainstay, chosen for their volume and adaptability in producing numerous carbonated beverages.
Insights by Function
The manual segment accounted for the largest market share over the forecast period 2023 to 2032. These soda makers are intended primarily for residential use due to their compactness, such as countertop units that allow users to carbonate water and prepare carbonated beverages in small batches. Individuals who regard the hands-on process of making their own carbonated drinks and prefer a more compact and portable choice for home use frequently prefer manual soda makers. They are relatively simple to operate and provide the ability to modify the level of carbonation to a personal preference. Furthermore, these machines lack electricity and are more convenient to operate because they can be simply installed in any location that does not have access to a power supply. As a result, over the forecast period, all of these factors are likely to dominate the manual soda maker market.
Insights by Material
The plastic segment accounted for the largest market share over the forecast period 2023 to 2032. This is owing to its low cost and versatility, which makes it appealing to a wide spectrum of consumers. Plastic soda makers are frequently less expensive than steel or glass soda makers, making them more accessible to a wider spectrum of consumers. Plastic soda makers are often lightweight and portable, making them appropriate for a variety of situations, including outdoor settings. While plastic isn't as durable as steel or glass, new plastic soda machines are built to be strong and long-lasting.
Insights by Application
The residential segment accounted for the largest market share over the forecast period 2023 to 2032. This is mainly because soda makers are widely used in households. Soda makers for home usage are popular due to their ease of use and ability to generate personalized carbonated beverages at home. They are frequently chosen for family use since they let members enjoy fresh soda, sparkling water, and flavored drinks. Many people select soda makers to limit their consumption of sugary drinks from the store and to have more control over the ingredients. As a result of the convenience and customization they provide, they have become a popular choice among consumers.
Major players in the market
SodaStream Inc.
AARKE AB
i-Drink Products Inc
Whirlpool Corporation
Koninklijke Philips N.V
Hamilton Beach Brands Holding Company
Sparkle Beverage System
Blue Flag
Mysoda
iSi GmbH
Drinkpod
Mr. Butler
CO-Z
Recent Market Developments
On October 2023, Vortice, a beverage tech company, announced that it has secured €350K in a fresh round of funding from UNIIQ. The startup is developing an "innovative" soda maker for sparkling and sustainable drinking habits. Vortice's soda maker offers a green alternative, promoting eco-friendly and convenient sparkling drinks while actively reducing the carbon footprint associated with traditional plastic bottles.
On August 2023, Glacier Fresh, a leading provider of innovative water filtration solutions, introduced two revolutionary soda makers: the Sparkin Cold Soda Maker and the Sodaology Soda Maker. The launch of the Sparkin Cold Soda Maker and Sodaology Soda Maker expands Glacier Fresh's product line. It has gained significant traction with its independent e-commerce platform. With its innovative soda makers, Glacier Fresh aims to become the top hydration brand not only in the USA but also in Japan, Europe, Taiwan, and other regions where its products are distributed.
On April 2023, Smart Soda Holding Inc. has announced a partnership with Compass Group Noth America to provide Smart Soda's JuLi point-of-service hydration system. This partnership will bring the JuLi to micro markets at workplace nationwide. The JuLi uses recyclable bibs to deliver multiple flavors and varieties, ultimately reducing the need for cans and bottles.
Market Segmentation
This study forecasts revenue at global, regional, and country levels from 2023 to 2032.
Soda Maker Market, Type Analysis
Maker Market, Function Analysis
Soda Maker Market, Material Analysis
Steel
Plastic
Glass
Others
Soda Maker Market, Application Analysis
Residential
Restaurants & Hotels
Bars & Pubs
Supermarkets
Convenience Stores
Others
Soda Maker Market, Regional Analysis
Germany
UK
France
Italy
Spain
Russia
Rest of Europe
China
Japan
India
South Korea
Australia
Rest of Asia Pacific
Brazil
Argentina
Colombia
UAE
Saudi Arabia
South Africa
Need help to buy this report?