Global Smart Mirror Market Size, Share, and COVID-19 Impact Analysis, By Product (Hardware, Software, Services), By Application (Automotive, Healthcare, Residential, Others), By Region (North America, Europe, Asia-Pacific, Latin America, Middle East, and Africa), Analysis and Forecast 2021 – 2030
Industry: Semiconductors & Electronics
---
REPORT FORMAT

---
Global Smart Mirror Market Insights Forecasts to 2030
The Global Smart Mirror Market Size was valued at USD 6.50 billion in 2021.
The Worldwide Market Share is growing at a CAGR of 11.20% from 2022 to 2030
The Global Smart Mirror Market Size is expected to reach USD 15.10 billion by 2030
Asia Pacific is expected to grow the fastest during the forecast period
Get more details on this report -
Request Free Sample PDF
The global Smart Mirror market is expected to reach USD 15.10 billion by 2030, at a CAGR of 11.20% during the forecast period 2022 to 2030. Due to the rising need for smart mirrors in the global automobile industry, the market for global smart mirrors has experienced rapid expansion. The user-friendly smart mirrors facilitate efficient and simple communication.
Market Overview
A two-way mirror with an integrated smart display hidden behind the glass is referred to as a "smart mirror." The built-in smart display gives the user access to crucial information like the time, date, day, weather conditions (including humidity, temperature, wind, and others), the calendar, and adding events, among other things. Additionally, these mirrors offer real-time news updates and other information.
Standard smart mirrors give information on a smart display, but more sophisticated models also include touchscreens, cameras, microphones, speakers, and various sensors. Smart mirrors provide voice assistance with the aid of microphones to enable effective communication between the user and the information sources. The usage of a smart mirror offers consumers a number of advantages since it incorporates numerous components, including the Raspberry Pi 3, or an older Raspberry Pi with a Wi-Fi adapter, a display with HDMI-in, a Micro SD card (32GB), and HDMI cable, as well as the HC-SRO4 ultrasonic distance sensors. Smart Mirror offers a user-friendly interface, making communication simple and effective. It is a technologically advanced device that facilitates quick and simple image replacement.
Report Coverage
This research report categorizes the market for Smart Mirror market based on various segments and regions and forecasts revenue growth and analyzes trends in each submarket. The report analyses the key growth drivers, opportunities, and challenges influencing the Smart Mirror market. Recent market developments and competitive strategies such as expansion, product launch and development, partnership, merger, and acquisition have been included to draw the competitive landscape in the market. The report strategically identifies and profiles the key market players and analyses their core competencies in each sub-segments of the Smart Mirror market.
Driving Factors
During the anticipated period, the demand for smart mirrors is expected to increase across the automotive sector due to the numerous advantages they provide for vehicles with smart features. Intelligent solutions are provided by smart mirrors in rearview mirrors of automobiles. It integrates many intelligent elements, including a camera with excellent resolution. By examining the conditions of the back traffic, a digital or high-resolution camera assists in providing traffic updates. Images from the camera are displayed on an LCD monitor that is integrated inside the device. The LCD monitor and mirror are perfectly synchronised, allowing the drivers to get real-time information to prevent accidents while on the road.
The industry for electric vehicles is expanding due to a number of issues, including environmental concerns, the depletion of fossil fuels, their rising price, safety concerns, ease of use, and others. Compared to plug-in electric vehicles, battery electric vehicles (BEVs) are more in demand. Thus, during the anticipated term, the demand for smart mirrors will be fueled by the expanding electric vehicle industry. Additionally, vanity is increasingly crucial for those in the fashion business as well as corporate ones, which is why the fashion and cosmetics industries are flourishing globally.
Global Smart Mirror Market Report Coverage
| Report Coverage | Details |
| --- | --- |
| Base Year: | 2021 |
| Market Size in 2021: | USD 6.50 Billion |
| Forecast Period: | 2021-2030 |
| Forecast Period 2021-2030 CAGR: | 11.20% |
| 2030 Value Projection: | USD 15.10 Billion |
| Historical Data for: | 2017-2020 |
| No. of Pages: | 200 |
| Tables, Charts & Figures: | 116 |
| Segments covered: | By Product, By Application, By Region, COVID-19 Impact Analysis |
| Companies Covered: | Japan Display, Gentex Corporation, Magna International, Samsung Electronics, Murakami Kaimeido, Perseus Mirrors, Ficosa, Dension, Electric Mirror, SEURA, ALKE, Murakami Kaimeido |
| Pitfalls & Challenges: | Due to the increasing number of COVID-19 cases |
Get more details on this report -
Request Free Sample PDF
Restraining Factors
Brilliant mirrors provide the ability to track each client's personal information. These mirrors can track everything that is brought into the changing room and keep an eye on consumer interactions in the retail setting. In the Smart Mirror Market, the fact that customers frequently bring items to fitting rooms for preliminary adjustments before making them to retail locations may not indicate that the style is well-known among customers but that the fit isn't right for them. The next capability of astute mirrors isn't just limited to the clothing activities around changing areas; these mirrors also access other customer data, such as their entire purchase history, lighting preferences, and connections with previous business partners, among many other information, focuses.
Market Segmentation
In 2021, the Software segment is anticipated to hold the highest CAGR over the forecast period.
On the basis of product, the global smart mirror market is segmented into Hardware, Software, Services. Among these, the software segment is anticipated to hold the highest CAGR over the forecast period. A technology-driven smart mirror provides a number of advantages since it uses software to conduct intelligent functions. The user can utilise it as a personal assistant by having it provide the necessary crucial and current information. Additionally, it uses voice control and face recognition technology, which can provide the fashion and cosmetics industries with an effective user interface.
In 2021, the Automotive segment to hold the highest market share over the forecast period.
Based on application, the global smart mirror market is segmented into Automotive, Healthcare, Residential, and Others. Among these, the automotive segment to hold the highest market share over the forecast period. Due to the potential uses of such mirrors in many types of cars, there is an increasing demand for smart mirrors in the global automotive sector. Drivers may see traffic from both sides with the assistance of a high-resolution digital camera and an LCD Monitor built inside the vehicle. As a result, roadside catastrophes are simple to manage and steer clear of.
Regional Segment Analysis of the Smart Mirror Market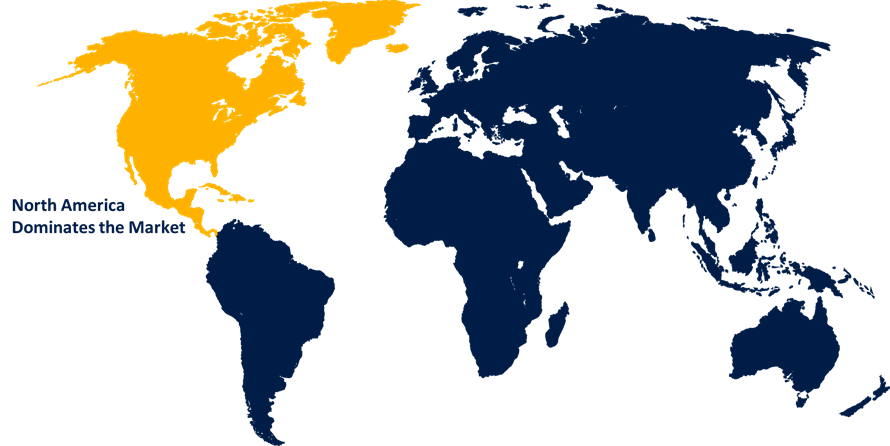 Get more details on this report -
Request Free Sample PDF
North America (U.S., Canada, Mexico)
Europe (Germany, France, U.K., Italy, Spain, Rest of Europe)
Asia-Pacific (China, Japan, India, Rest of APAC)
South America (Brazil and the Rest of South America)
The Middle East and Africa (UAE, South Africa, Rest of MEA)
North America dominates the market with the highest market share over the forecast period.
In the Global Smart Mirror Market, North America is the dominant region. Early technical adoption in this area makes it easier to enter new markets. Along with the industrial economy, the industry recovers. Another element accelerating the market is the potential for huge technology-based enterprises to have a significant presence. In practically every industry, including communication, transportation, healthcare, life sciences, infrastructure, manufacturing, and technology, North America is the most developed region in the world.
Recent Developments
In May 2021, the Bluetooth-enabled automatic-dimming mirror from Gentex Corporation with HomeLink integrated buttons that can control a variety of radio frequency (RF) and cloud-based smart home products started shipping to Volkswagen (VWoA).
In October 2020, the market entry of Magna's CLEARVIEW technology, which will give drivers a wider field of view, was announced by Magna International. CLEARVIEW is made possible by Magna's extensive experience in intelligent vision systems that include mirrors, cameras, electronics, and software.
Competitive Analysis:
The report offers the appropriate analysis of the key organizations/companies involved within the global Smart Mirror market along with a comparative evaluation primarily based on their product offering, business overviews, geographic presence, enterprise strategies, segment market share, and SWOT analysis. The report also provides an elaborative analysis focusing on the current news and developments of the companies, which includes product development, innovations, joint ventures, partnerships, mergers & acquisitions, strategic alliances, and others. This allows for the evaluation of the overall competition within the market.
List of Key Companies
Japan Display
Gentex Corporation
Magna International
Samsung Electronics
Murakami Kaimeido
Perseus Mirrors
Ficosa
Dension
Electric Mirror
SEURA
ALKE
Murakami Kaimeido
Key Target Audience
Market Players
Investors
End-users
Government Authorities
Consulting And Research Firm
Venture capitalists
Value-Added Resellers (VARs)
Market Segment
This study forecasts revenue at global, regional, and country levels from 2019 to 2030. Spherical Insights has segmented the global Smart Mirror market based on the below-mentioned segments:
Smart Mirror Market, By Product
Hardware
Software
Services
Smart Mirror Market, By Application
Automotive
Healthcare
Residential
Others
Smart Mirror Market, Regional Analysis
North America
Europe

Germany
Uk
France
Italy
Spain
Russia
Rest of Europe

Asia Pacific

China
Japan
India
South Korea
Australia
Rest of Asia Pacific

South America

Brazil
Argentina
Rest of South America

Middle East & Africa

UAE
Saudi Arabia
Qatar
South Africa
Rest of Middle East & Africa
Need help to buy this report?