Global Smart Label Market Size, Share, and COVID-19 Impact Analysis, By Technology (EAS, RFID, Sensing Label), By End-Use (Retail, Healthcare, Logistics), By Region (North America, Europe, Asia-Pacific, Latin America, Middle East, and Africa), Analysis and Forecast 2021 – 2030
Industry: Information & Technology
---
REPORT FORMAT

---
The Global Smart Label Market Size is said to grow to USD 35 Billion in 2030 with a CAGR of 16.2% from the early market figure of USD 9.04 Billion in 2021.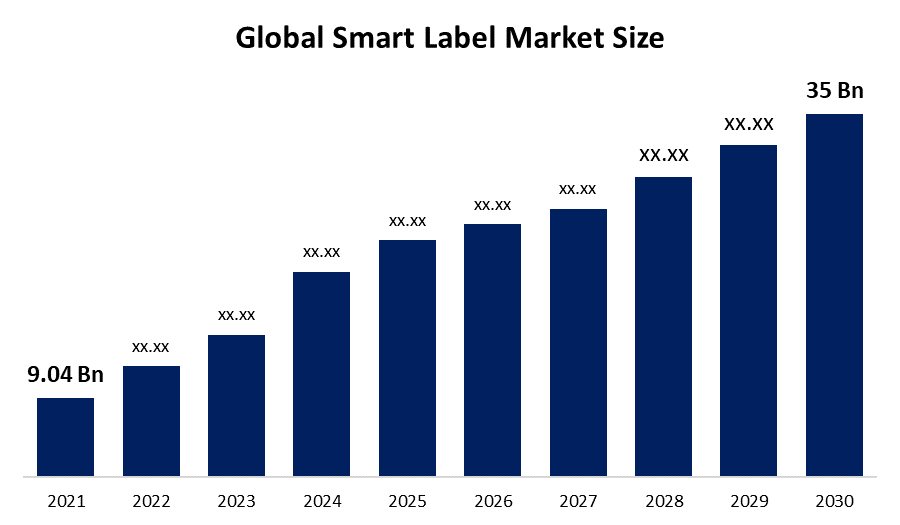 Get more details on this report -
Request Free Sample PDF
Market Overview
These days, smart labels are increasingly widely used across a range of sectors, including those in retail, healthcare, logistics, and industry. The usage of smart labels is a terrific way to increase productivity and profitability while ensuring that a product is authentic and can be tracked through the supply chain from the warehouse to the distribution centre. The real-time tracking system provided by the smart labels ensures authenticity and genuineness and provides precise information on a single item or a group of distinctive objects. These smart labels have embedded smart chips that allow for real-time product and location tracking.
Drivers for Global Smart Label Market –
The market for smart labels is expanding due to rising demand for security and tracking solutions.
All industry must address the issues of duplication and burglary prevention. The importance of security systems against theft and fraud is paramount today as efforts throughout the world set up more quick selling chains everywhere. The use of these smart labels also aids in taking on endeavours to combine them with other cutting-edge technologies in order to extract additional minuscule benefits from the speculations. In addition to serving as anti-theft tools or tags, these can also be used to track a person's position. Some manufacturers even utilise these sophisticated labels with built-in sensors to gather vital information about how a product is used or transported.
Market leaders have developed material flow systems that assist businesses in accurately moving and delivering products on schedule. Organizations are still adopting RFID for employee ID cards today because it allows them to accurately and instantly track their employees' attendance and in and out records. This has a significant impact on the market for smart labels as well because both the business sector and the industrial sector are experiencing a rapid rise in demand for smart labels.
Restraints for Global Smart Label Market –
The major obstacles to the growth of the smart label business may be a lack of safety concerns and an inability to endure extreme weather.
Despite the fact that smart labels with embedded chips are very useful for business and industrial applications, they do have several drawbacks, including a lack of universal applicability, safety issues, and an inability to survive extreme weather. These restrictions might seem commonplace, but they can prevent the smart label business from expanding. The smart labels must face the sun when used for shipping, and when exposed to sunshine, the solvents used to print on the smart labels dissolve, dissolving the printing on the labels.
Since many labels are damaged during these processes, the labels should be able to withstand the harsh circumstances encountered during shipment, storage, or at the point of use. Label printing is essential for many businesses since it contains crucial information about the product and shipping details. Important procedures and goods must be labelled both before and after the manufacturing process. For this reason, printed smart labels should have a secure barcode system that cannot be penetrated and can be used to track, if any, illegal access. In addition, the inability of these smart labels to meet all requirements may be one of the obstacles preventing the market for smart labels from expanding.
Opportunities in the Global Smart Label Market -
As the demand for improving smart labels becomes more urgent, the global smart label industry will offer a wealth of chances for AI and IoT professionals in the near future. Given the constraints mentioned above, it is obvious that smart labels must be created and combined with cutting-edge technology to address security issues and the capacity to survive extreme weather. In order to interact with IoT devices through barcode scanning using new and improved technologies, businesses are looking for providers who can create smart labels with materials and strict chemicals that can survive any type of weather. These labels must also be wear-resistant.
Global Smart Label Market Report Coverage
| Report Coverage | Details |
| --- | --- |
| Base Year: | 2021 |
| Market Size in 2021: | USD 9.04 Billion |
| Forecast Period: | 2021 - 2030 |
| Forecast Period 2021 - 2030 CAGR: | 16.2% |
| 2030 Value Projection: | USD 35 Billion |
| Historical Data for: | 2017 - 2020 |
| No. of Pages: | 210 |
| Tables, Charts & Figures: | 120 |
| Segments covered: | By Technology, By End-Use, By Region |
| Companies Covered: | Avery Dennison Corporation, CCL Industries Inc., Presco Polymers Opco Inc., Honeywell International Inc., Sato holding corporations, etc. |
| Pitfalls & Challenges: | COVID-19 Empact, Challenge, Future, Growth, & Analysis |
Get more details on this report -
Request Free Sample PDF
Market Segmentation -
The technology and end-use segments of the worldwide smart label market are separated. RFID, Electronic Article Surveillance (EAS), and Sensing Labels are the three categories into which the "by-technology segmentation" is divided. Of which, the RFID category, which was valued at USD 5.6 billion in 2021 and is anticipated to reach USD 21.7 billion by 2030 with a CAGR of 16.2%, has a leading market share. The reader and the label are the two main parts of an RFID system in most cases.
An advanced graphical user interface and an RFID system make up the smart label. Apart from them, the transponder and the interrogator—the label attached to the antenna and the RFID reader, respectively—are the two primary parts of an RFID system. Along with smart labelling systems, RFIDs are rapidly expanding in the automotive, pharmaceutical, and healthcare sectors. They can cut labour costs incurred by businesses for warehouses by up to 80%, and processes that call for a large workforce to complete a task can be carried out by a comparatively small workforce with the aid of RFID technology.
These RFIDs are most frequently used for tracing assets, monitoring security and payment status, tracking commodities in the supply chain, monitoring parts travelling to the manufacturing and production line in an industry, etc. However, the healthcare sector uses RFIDs most frequently for a variety of purposes, including patient bracelets that provide rapid and accurate tracking of their health. Many of these factors contribute to the strong demand for and growing technological dominance of RFID technology within the global smart label market.
EAS labels, also known as electronic article surveillance labels, are widely used for other produced goods that are intended for retail sale in the food and beverage, clothes and footwear, and health and beauty products industries. A full-scale effort is being made to develop smart labels based on EAS technology that can perform a variety of tracking and surface electronic tasks. It is for this reason that the EAS sector, which will account for USD 1.1 billion in 2021 and USD 3.2 billion by 2030 with a CAGR of 12.3%, is of significant relevance in the market segmentation.
Sensing labels, the third most important technology sector in the smart label market, are expected to account for a market share of USD 2.4 billion by 2030 and a CAGR of 13%. With the use of technologies like optical, ultrasonic, and capacitive sensors, various types of sensing labels are employed to track the necessary elements. These sensors are being used by businesses to monitor the status of the product and stop any damage or spoilage.
The global smart label market can be further divided into three categories based on end-user: retail, healthcare, and logistics. With a market estimated at USD 2.8 billion in 2021 and projected to increase to USD 9.1 billion by 2030 with a CAGR of 14.1%, the retail sector outperformed the other segments. RFIDs, QR codes, EAS tags, and labels are all used by the retail sector to track their products in real time. Inventory management utilises a variety of RFID devices, including handheld scanners, point-of-sale scanners, and EAS gate antennae. It is mostly utilized for effective inventory and shipping process tracking.
The healthcare and pharmaceutical business, which has a market share of USD 1.7 billion in 2021 and is anticipated to reach USD 7.4 billion by 2030 with a CAGR of 17.4%, is the following end-user group. Such smart labels are used in the healthcare industry to monitor patients' activity, medications, and other operational medical equipment. These smart labels are essential to the pharmaceutical industry's inventory management and tracking of every medicine according to its medical categorization, which makes it more efficient. The third end-user segment category, logistics, is expected to have a market value of USD 7.8 billion by 2030 and a CAGR of 16.8%.
Regional Analysis –
The global smart label market, when segmented with respect to regions, is primarily segmented into four major regions, namely- North America, Europe, Asia-Pacific, and Middle-East & Africa.
With a market share of USD 3 billion in 2021 and a projected CAGR of 14.1% to reach USD 10 billion by 2030, North America is the most dominating region. Due to the presence of the US, the key engine driving the global economy, North America is regarded as one of the most technologically advanced regions in the world. The smart label technology was developed and initially used in the most technologically advanced region because it was there that it was originally developed. This technology later spread throughout the world and generated significant revenue, which helped the economy as a whole.
The market value for Europe, the second-dominant area in the aforementioned industry, is predicted to reach USD 9.4 billion by 2030 with a CAGR of 15.4%. RFIDs and EAS labels, which are widely utilised in industries, are in great demand in Europe. The majority of manufacturing sectors operate in Europe, which serves as a global industrial hub, which accounts for the segment's significant market share here.
The market share for the Asia-Pacific region is predicted to reach USD 8.7 billion by 2030 with a CAGR of 17.1%, while the market share for the Middle-East and Africa is predicted to grow at USD 2.6 billion with a CAGR of 14.5% until 2030. These two regions hold the third and fourth positions in terms of revenue generation for the aforementioned market.
Competitors Analysis –
The global smart label market's major players are Avery Dennison Corporation, CCL Industries Inc., Presco Polymers Opco Inc., Honeywell International Inc., Sato holding corporations, etc.
Recent Developments by Key Players –
To meet the demands of the ARC category, Avery Dennison Corporation released the AD-332-8 RAIN RFID inlay in December 2020 for the demanding retail situations.
To improve inventory management, CCL Industries Inc. introduced the UNO EP RF/RFID label in August 2020.
To provide safety marking and damage prevention, Presco Polymers Opco Inc. purchased William Frick & Company in February 2021.
To broaden its offering of RFID technology enablement solutions, Honeywell Corporation Inc. purchased the Invengo textile services business sector in March 2021.
Global Smart Label market segmentation –
By technology –
By end-use –
Retail
Healthcare
Logistics
By region –
North America
Europe
Asia-Pacific
Middle-East & Africa
Need help to buy this report?