Global Skincare Market Size, Share, and COVID-19 Impact Analysis, By Product (Creams, Lotions, Powders, Sprays and Others), By Gender (Male and Female), By Distribution Channel (Cosmetic stores, Supermarkets/Hypermarket, Convenience Stores, Pharmacy & drugstore, Online, and Others), By Region (North America, Europe, Asia-Pacific, Latin America, Middle East, and Africa), Analysis and Forecast 2023 – 2032
Industry: Consumer Goods
---
REPORT FORMAT

---
Global Skincare Market Insights Forecasts to 2032
The Skincare Market was valued at USD 135.47 Billion in 2022.
The Market is Growing at a CAGR of 5.6% from 2023 to 2032
The Global Skincare Market is expected to reach USD 233.61 Billion by 2032
Asia-Pacific is expected to Grow the fastest during the forecast period.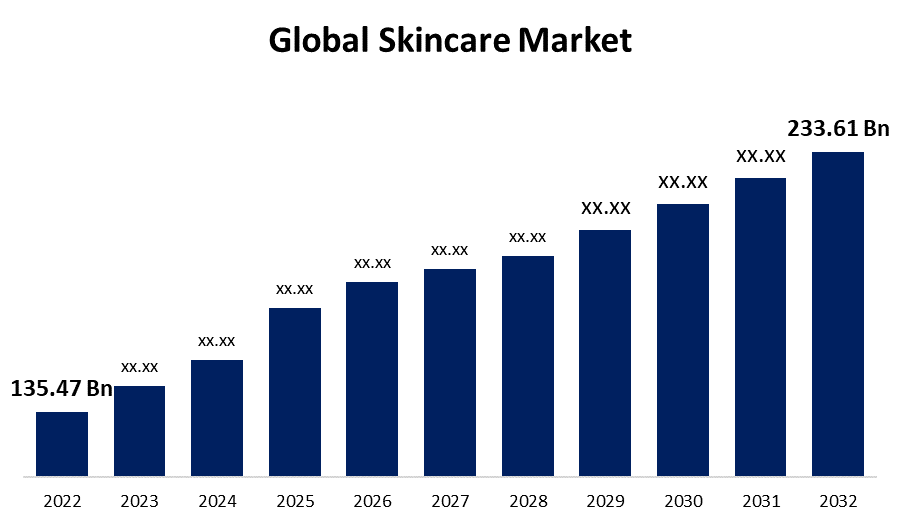 Get more details on this report -
Request Free Sample PDF
The Global Skincare Market is expected to reach USD 233.61 Billion by 2032, at a CAGR of 5.6% during the forecast period 2023 to 2032.
Market Overview
Skincare is a multifaceted approach to maintaining the health, appearance, and functionality of the skin. It involves a variety of practices, including cleansing, moisturizing, exfoliating, protecting from UV rays, and addressing specific skin concerns such as acne, aging, or sensitivity. Skincare products, such as cleansers, toners, serums, moisturizers, and masks, can be used to nourish and protect the skin, while techniques like facial massage, facial steaming, and facial masks can enhance the effectiveness of skincare routine. It is crucial to choose skincare products and practices that are suitable for one's skin type and concerns, and to establish a consistent skincare routine to achieve optimal results. Proper skincare can improve the overall health and appearance of the skin, promote a youthful complexion, and protect against environmental damage, making it an essential part of a healthy lifestyle.
Report Coverage
This research report categorizes the market for skincare market based on various segments and regions and forecasts revenue growth and analyzes trends in each submarket. The report analyses the key growth drivers, opportunities, and challenges influencing the skincare market. Recent market developments and competitive strategies such as expansion, product launch, and development, partnership, merger, and acquisition have been included to draw the competitive landscape in the market. The report strategically identifies and profiles the key market players and analyses their core competencies in each sub-segments of the skincare market.
Driving Factors
The skincare market is driven by various factors, including changing consumer preferences and lifestyles, increasing awareness about skincare and beauty, advancements in skincare technology, and growing demand for natural and organic skincare products. Rising concerns about skin health, pollution, and sun damage have led to a higher demand for skincare products that address these issues. Additionally, the growing aging population and the desire to maintain youthful-looking skin have fueled demand for anti-aging skincare products. Social media and influencer marketing have also played a significant role in creating awareness and promoting skincare products. Moreover, the trend towards self-care and wellness has boosted the demand for skincare products as a means of self-expression and self-care. Furthermore, the increasing availability of skincare products through e-commerce channels has made skincare more accessible to consumers worldwide, driving market growth.
Restraining Factors
The skincare market faces several restraints, including regulatory challenges, counterfeit products, and the negative impact of certain skincare ingredients. Regulatory challenges such as stringent regulations and standards for skincare products, including labeling requirements and safety testing, can pose obstacles for market players. Counterfeit skincare products, which are often sold at lower prices, can erode consumer trust and affect the sales of genuine skincare products. Additionally, concerns about the environmental impact of skincare packaging and the use of certain skincare ingredients, such as parabens and sulfates, have led to consumer preferences for eco-friendly and natural skincare products, posing challenges for conventional skincare products.
Market Segmentation
In 2022, the creams segment accounted for around 34.5% market share
On the basis of the type, the global skincare market is segmented into creams, lotions, powders, sprays, and others. The creams segment is dominating the market with the largest market share in 2022, due to their versatility and ability to address various skin concerns, including moisturization, anti-aging, and sun protection. Creams are available in a wide range of formulations, including day creams, night creams, BB creams, and CC creams, catering to different consumer preferences and skin types. Additionally, creams are often considered essential in skincare routines, contributing to their widespread usage and market dominance in the overall skincare industry.
In 2022, the cosmetic stores dominated the market with more than 37.8% market share
Based on the distribution channel, the global skincare market is segmented into cosmetic stores, supermarkets/hypermarket, convenience stores, pharmacy & drugstore, online, and others. Out of this, the cosmetic stores segment is dominating the market with the largest market share in 2022, due to their ability to provide a wide range of products, expert advice, and convenient shopping experiences. With an extensive array of skincare brands, formulations, and price points, cosmetic stores cater to diverse consumer needs. Additionally, these stores often offer personalized skincare consultations, allowing customers to find tailored solutions for their unique concerns. The convenience of one-stop shopping and the ability to physically sample and test products in-store also give cosmetic stores an edge
Regional Segment Analysis of the Skincare Market
North America (U.S., Canada, Mexico)
Europe (Germany, France, U.K., Italy, Spain, Rest of Europe)
Asia-Pacific (China, Japan, India, Rest of APAC)
South America (Brazil and the Rest of South America)
The Middle East and Africa (UAE, South Africa, Rest of MEA)
Asia-Pacific led the market with more than 32.5% revenue share in 2022.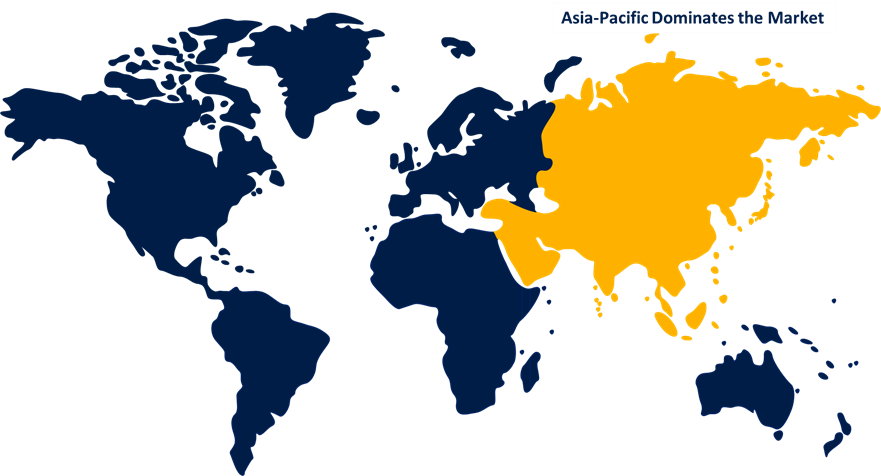 Get more details on this report -
Request Free Sample PDF
Based on region, the Asia-Pacific region has emerged as a dominant force in the global skincare market. Several factors contribute to this dominance, including the large and growing population in the region, which presents a substantial consumer base for skincare products. The rising disposable incomes and changing consumer preferences for personal grooming and skincare in countries like China, Japan, and South Korea have also fueled the demand for skincare products. Moreover, the influence of K-beauty and J-beauty trends, known for their innovative and effective skincare products, has gained popularity not only in the region but also globally.
Competitive Analysis:
The report offers the appropriate analysis of the key organizations/companies involved within the global skincare market along with a comparative evaluation primarily based on their product offering, business overviews, geographic presence, enterprise strategies, segment market share, and SWOT analysis. The report also provides an elaborative analysis focusing on the current news and developments of the companies, which includes product development, innovations, joint ventures, partnerships, mergers & acquisitions, strategic alliances, and others. This allows for the evaluation of the overall competition within the market.
List of Companies:
L'Oreal
Procter & Gamble
Estee Lauder Companies Inc.
Johnson & Johnson
Unilever
Shiseido Co. Ltd.
Amorepacific Corporation
The Body Shop
Kao Corporation
Colgate-Palmolive Company
Beiersdorf AG
Mary Kay Inc.
Avon Products, Inc.
Coty Inc.
Neutrogena (Johnson & Johnson)
Innisfree
Olay
Key Target Audience
Market Players
Investors
End-Users
Government Authorities
Consulting and Research Firm
Venture Capitalists
Value-Added Resellers (VARs)
Recent Developments
In April 2023, Alibaba and cosmetics conglomerate L'Oréal have entered into a three-year partnership with a focus on promoting a circular economy within China's beauty industry. The collaboration aims to set up environmentally-friendly and low-carbon standards, foster the development of innovative products, and implement measurable circular economy solutions for the beauty market.
Market Segment
This study forecasts revenue at global, regional, and country levels from 2019 to 2032. Spherical Insights has segmented the global skincare market based on the below-mentioned segments:
Skincare Market, By Product
Creams
Lotions
Powders
Sprays
Others
Skincare Market, By Gender
Skincare Market, By Distribution Channel
Cosmetic stores
Supermarkets/Hypermarket
Convenience Stores
Pharmacy & drugstore
Online
Others
Skincare Market, Regional Analysis
North America
Europe

Germany
Uk
France
Italy
Spain
Russia
Rest of Europe

Asia Pacific

China
Japan
India
South Korea
Australia
Rest of Asia Pacific

South America

Brazil
Argentina
Rest of South America

Middle East & Africa

UAE
Saudi Arabia
Qatar
South Africa
Rest of Middle East & Africa.
Need help to buy this report?