Global Silicon Photonics Market Size, Share, and COVID-19 Impact Analysis, By Component (Optical Modulators, Photodetectors, Photo Detectors, WDM Filters, Optical Waveguides, Laser, Others), By Product (Active Optical Cables, Optical Multiplexers, Optical Attenuators, Transceivers, Switches, Cables, Sensors, Others), By Application (Automotive, Aerospace, IT & Telecommunications, Defense and Security, Healthcare & Life Sciences, Consumer Electronics, Commercial, Data Centre & High-Performance Computing, Others), and By Region (North America, Europe, Asia-Pacific, Latin America, Middle East, and Africa), Analysis and Forecast 2022 – 2032
Industry: Semiconductors & Electronics
---
REPORT FORMAT

---
Global Silicon Photonics Market Insights Forecasts to 2032
The Global Silicon Photonics Market Size was valued at USD 1.6 Billion in 2022.
The Market is growing at a CAGR of 29.4% from 2022 to 2032
The Worldwide Silicon Photonics Market Size is expected to reach USD 21.3 Billion by 2032
Asia Pacific is expected to grow the fastest during the forecast period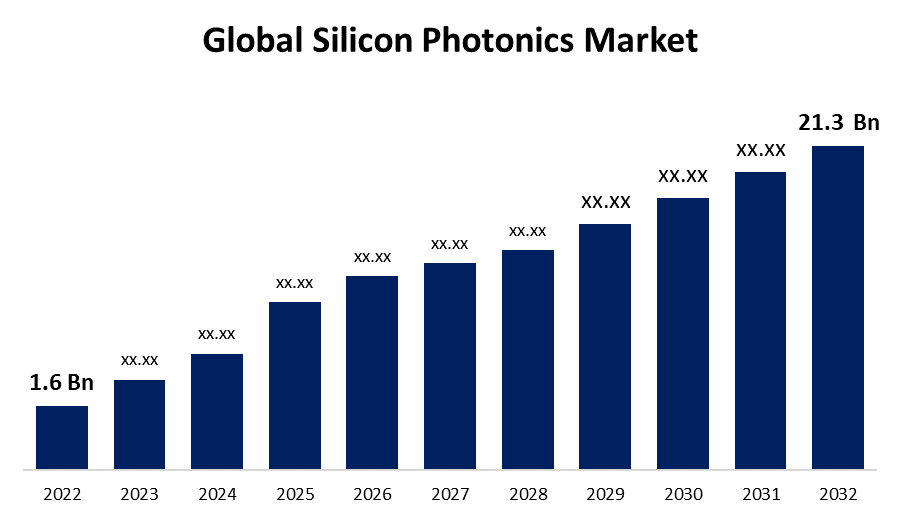 Get more details on this report -
Request Free Sample PDF
The Global Silicon Photonics Market Size is expected to reach USD 21.3 Billion by 2032, at a CAGR of 29.4% during the forecast period 2022 to 2032.
The growing popularity of cloud-based applications, which necessitate high-speed data transfer, along with the rising acceptance of 5G wireless technologies, as well as the increasing need for miniaturized electronic devices, are among the key factors driving the rapid expansion of the global silicon photonics market.
Silicon photonics (SiPh) is an element and substrate for the fabrication of photonic integrated circuits (PICs). It incorporates silicon-on-insulator (SOI) wafers as the semiconductor substrate material, and the typical CMOS production procedures can be used. SiPh is CMOS (electronic) fabrication compatible, allowing SiPh PICs to be made utilizing existing foundry equipment. Silicon Photonics integrates optical and electrical circuit elements. SiPh has become more prevalent in optical datacom, sensing, biomedical, automotive, astrophysics, aerospace, AR/VR, and artificial intelligence (AI) applications. Integrated LiDAR chips for autonomous vehicles are one example of an automotive application. Furthermore, silicon photonics is a new technology that is gaining popularity largely because of the increased demand for greater data transmission rates and bandwidth-intensive workloads. It has gained favor in data centers and telecoms, where it provides high-speed data transfer, minimal energy usage, as well as compatibility with current silicon-based electrical systems. The decreased energy usage provided by silicon photonics-based transceivers, as well as the growing demand for high-speed connectivity and data transfer capabilities in data centers, are driving the silicon photonics market forward.
Driving Factors
The demand for advanced data storage systems and high-speed data transfer rates is increasing in new data centers throughout the world. Given its capacity to meet the requirements for high-speed data transmission (>100 Gbps) and cost-effectiveness, CMOS-integrated silicon photonics technology is in considerable use in data centers. Silicon photonics technological advances integrate optical communications power with the cost-effectiveness and adaptability of CMOS technology, thereby providing an appealing alternative for data center providers. As a result, silicon photonics technology can be used with traditional, complementary metal-oxide semiconductor (CMOS) devices to cope with the requirement for next-generation data center performance. As a result, the growing demand for low-cost, high-speed interconnects capable of supporting data rates exceeding 100 Gbps is propelling the silicon photonics market forward.
The silicon photonics market is shifting away from traditional methodologies and toward incorporating novel and advanced technologies to ensure higher operational levels. As a result, the industry's product development and manufacturing processes are always evolving as companies seek innovative industrial solutions to attract customers and streamline their company's activities. The practical application of laser technology is becoming more common in data center and telecom industry operations. Vendors' preference for technology implementation, such as hybrid silicon lasers. Given these contributing factors, the laser market IC is rapidly expanding, which is boosting the silicon photonics industry. As a result, this development is projected to persist in the worldwide silicon photonics market during the duration of the forecast. Furthermore, substantial research and development have been conducted to accelerate the growth of silicon photonics by boosting efficiency, optimizing manufacturing techniques, and lowering costs. In an attempt to redefine the boundaries of technology, researchers are investigating new materials, fabrication techniques, and design methodologies.
Market Segmentation
By Component Insights
The WDM filters segment is dominating the market with the largest revenue share over the forecast period.
On the basis of component, the global silicon photonics market is segmented into the optical modulators, photodetectors, photo detectors, WDM filters, optical waveguides, laser, and others. Among these, the WDM filters segment is dominating the market with the largest revenue share of 38.6% over the forecast period. Wavelength-division multiplexing (WDM) filters are essential for integrating several wavelength channels on a single silicon chip. Silicon photonics takes advantage of silicon's compatibility with both electrical and photonic components, enabling the addition of WDM filters with other photonic and electronic features. Wavelength-division multiplexing (WDM) filters for silicon photonics are trending toward increasing integration density in order to support a large number of wavelength channels on a single chip. Some additional developments noted include the expansion of the wavelength range, the integration of extra features, and the investigation of low-cost manufacturing technologies.
By Product Insights
The optical multiplexers segment is witnessing fastest CAGR growth over the forecast period.
On the basis of product, the global silicon photonics market is segmented into active optical cables, optical multiplexers, optical attenuators, transceivers, switches, cables, sensors, and others. Among these, the optical multiplexers segment is witnessing fastest CAGR growth over the forecast period. Multiple wavelengths can be transmitted over a single optical fiber using optical multiplexers and demultiplexers, which are crucial components in wavelength-division multiplexing systems. Higher channel counts, compact designs, decreased insertion losses, and compatibility with diverse wavelength bands are all developments in this product category. Multiplexer/demultiplexer breakthroughs in technology intended to boost the reliability and productivity of optical communication systems are expected to boost the optical multiplexers segment demand, in the silicon photonics market.
By Application Insights
The IT & telecommunications segment accounted for the largest revenue share of more than 45.2% over the forecast period.
On the basis of Application, the global silicon photonics market is segmented into automotive, aerospace, IT & telecommunications, defense and security, healthcare & life sciences, consumer electronics, commercial, data centre & high-performance computing, and others. Among these, the IT & telecommunications segment is dominating the market with the largest revenue share of 45.2% over the forecast period. The rising demand for wireless broadband and rapid connectivity internet services has encouraged telecommunications companies to engage in the development of emerging network technologies, such as silicon photonics. This contributes to the provision of high-speed internet connections and a variety of broadband services over the current network infrastructure. Furthermore, the ever-increasing number of internet users has led to increased investments to develop average downlink and uplink speeds in order to deliver internet services to these consumers. Moreover, advances in WDM technology, optical amplifiers, and coherent communication networks are enabling faster data speeds, longer transmission lengths, and better network reliability.
Regional Insights
North America dominates the market with the largest market share over the forecast period.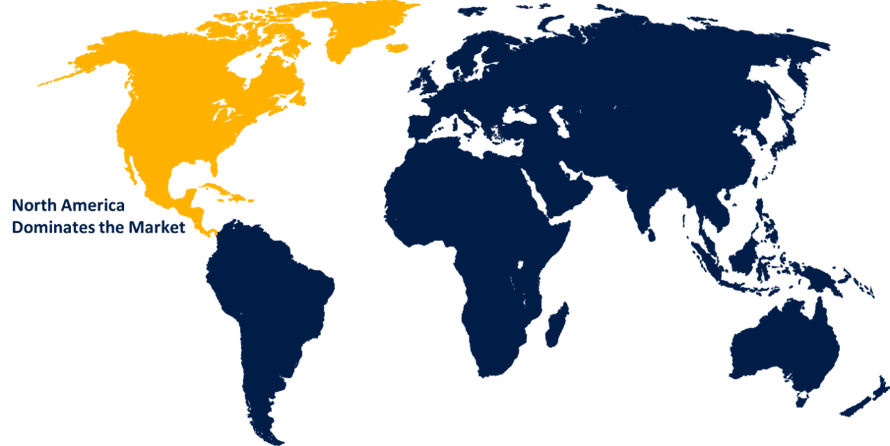 Get more details on this report -
Request Free Sample PDF
North America is dominating the market with more than 42.7% market share over the forecast period. This is due to the abundance of modern electronics and telecom sectors, as well as the region's significant growth and implementation of silicon photonics technology. In addition, the prompt implementation of novel cutting-edge technologies necessitates the upgrading of existing infrastructure, and an upsurge in demand for components in sensing and communication applications is likely to drive expansion in the region's global silicon photonics market over the projection period. Silicon photonics are highly deployed in data centers, telecommunications networks, and high-performance computer systems in North America.
Asia Pacific, on the contrary, is expected to grow the fastest during the forecast period. This can be ascribed to factors such as the availability of emerging and leading market companies, an increase in the usage of internet services in the telecoms and data center sectors, an improvement in the adoption of silicon photonics transceivers with smartphones, and the rise of unique newly emerging technologies. Countries such as China, Japan, and South Korea are substantially contributing to the advancement of silicon photonics technology and applications. The region also has an active role in the development and manufacture of silicon photonics components, which helps with cost reduction and capacity expansion.
List of Key Market Players
IBM Corporation
Marvell Technology, Inc.
Coherent Corporation
STMicroelectronics
Rockley Photonics Holdings Limited
Cisco Systems, Inc.
Intel Corporation
MACOM Technology Solutions
GlobalFoundries Inc.
Lumentum Operations
Mellanox Technologies Ltd.
Sicoya GmbH
RANOVUS
Broadcom Inc.
Hamamatsu Photonics KK
Fujitsu Limited
EFFECT Photonics
AIO Core Co., Ltd.
NKT Photonics
Key Market Developments
On September 2023, Taiwan Semiconductor Manufacturing Co. is counting heavily on silicon photonics, a growing sector that integrates silicon chips with optic technology, to drive development and boost the power of artificial intelligence applications like ChatGPT. Silicon photonics has become a hot investment area for the semiconductor industry, with a wide spectrum of tech businesses eyeing its potential applications in everything from data centers, supercomputers, and networking gear to autonomous cars and defensive radar systems.
On August 2023, At the Hot Chips 2023 chip conference, Intel presented the first direct mesh-to-mesh photonic fabric. The eight-core 528-thread chip utilized by Intel for the demonstration dominated the show owing to its unique architecture, which features 66 threads per core and allows for up to 1TB/s of data throughput. Surprisingly, the chip requires only 75W of power, with the optical interconnects consuming 60% of the power, but the architecture could someday allow systems with two million cores to be directly coupled with less than 400ns delay.
On March 2023, Teramount Ltd. and I-PEX announced a collaboration to improve silicon photonics optical detachable connectivity for data centers and other high-speed datacom and telecom applications. Based on Teramount's self-aligning optics technology and I-PEX's ultra-precision plug and holder systems, the collaboration between I-PEX and Teramount will provide a revolutionary solution of detachable fiber to chip communication.
Market Segment
This study forecasts revenue at global, regional, and country levels from 2020 to 2032. Spherical Insights has segmented the Global Silicon Photonics Market based on the below-mentioned segments:
Silicon Photonics Market, Component Analysis
Optical Modulators
Photodetectors
Photo Detectors
WDM Filters
Optical Waveguides
Laser
Others
Silicon Photonics Market, Product Analysis
Active Optical Cables
Optical Multiplexers
Optical Attenuators
Transceivers
Switches
Cables
Sensors
Others
Silicon Photonics Market, Application Analysis
Automotive
Aerospace
IT & Telecommunications
Defense and Security
Healthcare & Life Sciences
Consumer Electronics
Commercial
Data Centre & High-Performance Computing
Others
Silicon Photonics Market, Regional Analysis
North America
Europe

Germany
Uk
France
Italy
Spain
Russia
Rest of Europe

Asia Pacific

China
Japan
India
South Korea
Australia
Rest of Asia Pacific

South America

Brazil
Argentina
Rest of South America

Middle East & Africa

UAE
Saudi Arabia
Qatar
South Africa
Rest of Middle East & Africa
Need help to buy this report?