Global Seasonal Influenza Market Size, Share, and COVID-19 Impact Analysis, By Type (Influenza A, Influenza B, Influenza C, Influenza D), By Route of Administration (Parenteral, Oral, Others), By Distribution Channel (Hospitals, Government & Institutional Supply, Pharmacy, Online) and By Region (North America, Europe, Asia-Pacific, Latin America, Middle East and Africa), Analysis and Forecast 2021 – 2030
Industry: Healthcare
---
REPORT FORMAT

---
Global Seasonal Influenza Market Insights Forecasts to 2030
The Global Seasonal Influenza Market size was valued at USD 7.2 Billion in 2021.
The Market is Growing at a CAGR of 19.63% from 2022 to 2030.
The Global Seasonal Influenza Market is expected to reach USD 28.3 Billion by 2030.
Asia Pacific is expected to Grow the fastest during the forecast period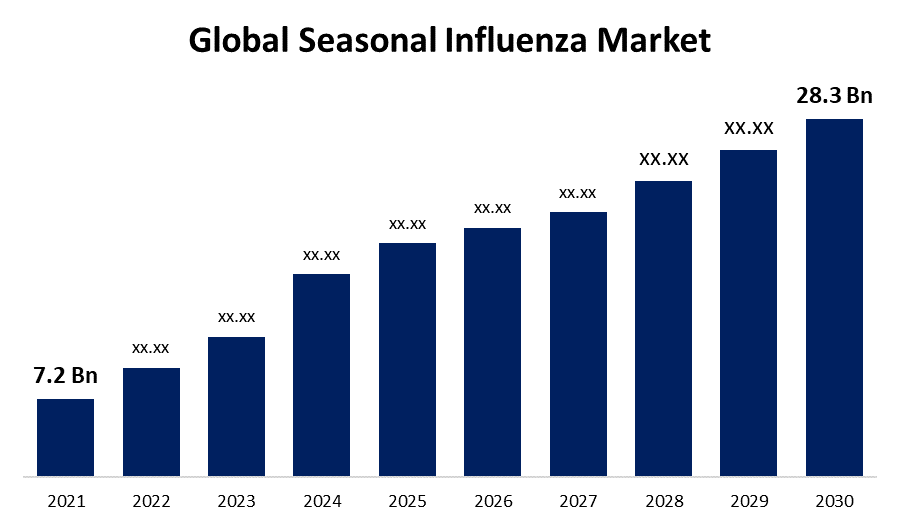 Get more details on this report -
Request Free Sample PDF
The Global Seasonal Influenza Market Size is expected to Grow from USD 7.2 Billion in 2021 to USD 28.3 Billion by 2030, at a CAGR of 19.63% during the forecast period 2021 to 2030.
Market Definition
Seasonal influenza is caused by the influenza virus. It is an acute respiratory viral infection disease that circulates all over the world. Typical symptoms include the seasonal influenza are fever, aches, cough, sore throat, headache, chills, muscle and joint pain, and Intestinal symptoms such as vomiting and diarrhoea. Flu viruses are most common during the rainy and winter season.
Market Summary
The seasonal influenza market report expected growth during the forecast period. Diagnostic tests and several availabilities in the treatment may boost seasonal influenza and cause fewer effects. Vaccination is the treatment option for market growth. Influenza is self-limited in healthy persons. Seasonal Influenza is segmented by type, route of administration, treatment, by distribution channel, in the type of influenza virus contains four types influenza A, B, C, and D viruses. In controlling influenza, the patient's infection is treated by antiviral medicine which plays a vital role. oseltamivir or inhaled zanamivir drugs are usually prescribed for five days for the treatment. For hospitalized patient oseltamivir treatment is given for five days treatment.
Global Seasonal Influenza Market Report Coverage
| Report Coverage | Details |
| --- | --- |
| Base Year: | 2021 |
| Market Size in 2021: | USD 7.2 Billion |
| Forecast Period: | 2021-2030 |
| Forecast Period 2021-2030 CAGR: | 19.63% |
| 2030 Value Projection: | USD 28.3 Billion |
| Historical Data for: | 2017-2020 |
| No. of Pages: | 200 |
| Tables, Charts & Figures: | 100 |
| Segments covered: | By Type, By Route of Administration, By Distribution Channel, By Region, COVID-19 Impact Analysis |
| Companies Covered: | GSK plc, Novartis AG, Mylan N.V., Sanofi (France), Boehringer Ingelheim International GmbH., Merck & Co., Inc., F. Hoffmann-La Roche Ltd., Bristol-Myers Squibb Company, SHIONOGI & Co., Ltd, SINOVAC |
| Pitfalls & Challenges: | COVID-19 Empact, Challenge, Future, Growth, & Analysis |
Get more details on this report -
Request Free Sample PDF
Market Drivers
"Increasing demand for oral drug solutions & improving healthcare infrastructure"
Oral drugs are likely to improve the market growth. The products are available in tablet and capsule form so it is very convenient for the oral route of administration. Progress of robust healthcare introduction and infrastructure of new vaccine products which drives the market growth. In 2021, major leading pharmaceutical companies like Pfizer and Moderna launched the new vaccine which improves protection against new strains.
In developing countries, the government and non-government are making efforts to create awareness about vaccination and the medication. Conducting a different awareness program for the illiterate people to educate them about vaccination. Government scheduling the vaccination program in rural areas. This is a factor which can lead to boost the market growth of seasonal influenza.
Market Restraints
"Side effects of influenza vaccine"
Vaccines have many side effects which may cause various effects on the body like skin rashes, fever, pain, soreness, chills, and many more effects that restrain the growth of the market. In rural areas, there is a lack of qualifications and knowledge. Vaccination is also not done in children so there are chances of viral flu from childhood.
Market Segmentation
Global Seasonal Influenza Market, By Type
In 2021, based on type insights of influenza A and influenza B viruses, the segment led the market and is witnessing significant CAGR growth over the forecast period. Seasonal flu or influenza is commonly caused by both of these viruses. Among these types of influenza, A virus is the major cause of the recent pandemics. Influenza A virus is subdivided further into hemagglutinin (H) and neuraminidase (N). A(H1N1) and A(H3N2) are among the Current subtypes of influenza A viruses that frequently transmit in people.
Global Seasonal Influenza Market, By Route of Administration
In 2021, Based on the route of administration the parenteral segment dominated the market in terms of volume and is expected to continue its dominance during the forecast period. There are four commonly used routes of parenteral administration which include, intramuscular, intravenous, subcutaneous, and intrathecal. Among these, the intravenous is mostly used as the parenteral route of administration. Intravenous administration is used because of the prevention of first-pass metabolism in the liver. CSL Sequires is the largest and leading manufacturer company in the influenza vaccine globally.
Global Seasonal Influenza Market, By Distribution Channel
In 2021, based on distribution channels the hospital and pharmacies segment generated the largest market share of 62% over the forecasted period. A large number of hospitals and pharmacies offer flu vaccination with the fact that large vaccination is conducted in small institutions. On the other way, the government segment is expected to hold a significant share as a government organization through its vaccination program which helps immunize globally.
Regional Segment Analysis of the Seasonal Influenza
North America (U.S., Canada, Mexico)
Europe (Germany, France, the U.K., Italy, Spain, Rest of Europe)
Asia-Pacific (China, Japan, India, Rest of APAC)
South America (Brazil and the Rest of South America)
The Middle East and Africa (UAE, South Africa, Rest of MEA)
North America accounted for the largest market share at 45%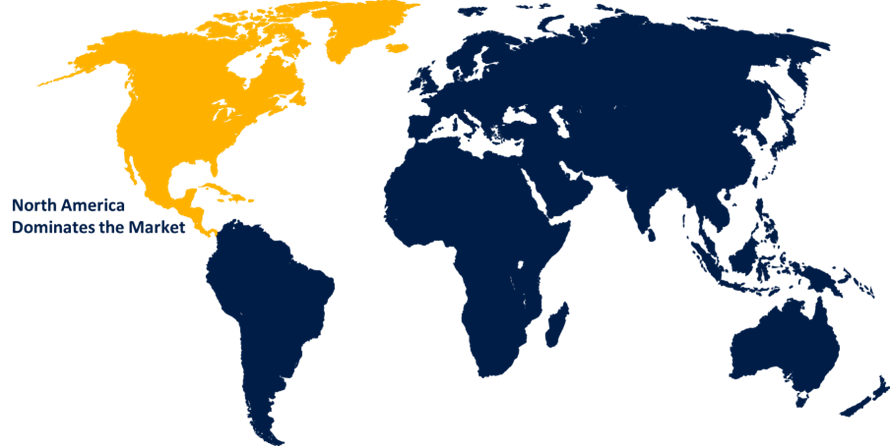 Get more details on this report -
Request Free Sample PDF
North America emerged as the largest market for the global seasonal influenza market with a 45% market share, owing to rising awareness of health concerns caused by various seasonal flu. North America emerged as a positive growth towards the global seasonal influenza market throughout the forecast period due to the presence of manufacturing products. During the forecast period, Asia Pacific is expected higher CAGR. Considering, the rising population across the regions in countries, such as an India and China, the demand for effective vaccines leading to higher sales is expected growth of the market.
Competitive Analysis
The competitive market industry provides global seasonal influenza competitors. The competitor data include company profiles, company data, company financial statistics, revenue generation, R & D, strengths and weaknesses, production capacities, and product launches. This data provides overall competition data within the market.
Key Players
GSK plc
Novartis AG
Mylan N.V.
Sanofi (France)
Boehringer Ingelheim International GmbH.
Merck & Co., Inc.
F. Hoffmann-La Roche Ltd.
Bristol-Myers Squibb Company
SHIONOGI & Co., Ltd
SINOVAC
Recent Developments
In September 2022, the Centre for Health Protection (CHP) of the Department of Health (DH) announced the Seasonal Influenza Vaccination School Outreach and the Residential Care Home Vaccination. Until now around 720 kindergartens, kindergarten-cum-child care centres, and child care centres, as well as around 460 primary schools, have signed up for the vaccination program.
In September 2022, The Scientific Committee on Vaccine Preventable Diseases (SCVPD) under the CHP has advised that the egg-based quadrivalent influenza vaccines or recombinant-based quadrivalent influenza vaccines be starred in the northern hemisphere influenza season. Segmentation Analysis
Market Segment
This study forecasts global, regional, and country revenue from 2021 to 2030. Spherical Insights has segmented the Global Seasonal Influenza Market based on the below-mentioned segments:
Global Seasonal Influenza Market, By Type
Influenza A Virus
Influenza B Virus
Influenza C Virus
Influenza D Virus
Global Seasonal Influenza Market, By Route of Administration
Global Seasonal Influenza Market, By Distribution Channel
Hospital
Government and institutional supply
Pharmacy
Online
Global Seasonal Influenza Market, Regional Analysis
Germany
Uk
France
Italy
Spain
Russia
Rest of Europe
China
Japan
India
South Korea
Australia
Rest of Asia Pacific
Brazil
Argentina
Rest of South America
UAE
Saudi Arabia
Qatar
South Africa
Rest of Middle East & Africa
Need help to buy this report?