Global Railway Cybersecurity Market Size, Share, and COVID-19 Impact Analysis, By Type (Infrastructure, Onboard) By Application (Passenger Train, Freight Train) By Security Type (Application Security, Network Security, Data Protection, End Point Security, System Administration) By Region (North America, Europe, Asia Pacific, Middle East & Africa, and South America) – Market Size & Forecasting To 2030
Industry: Information & Technology
---
REPORT FORMAT

---
Global Railway Cybersecurity Market Insights Forecasts to 2030
The global railway cybersecurity market size was valued at $6.9 Billion in 2021 and is expected to reach $14.5 Billion in 2030 at a CAGR of 7.5% from 2021 to 2030. Railway cybersecurity is a group of services whose main purpose is to defend against cyberattacks the systems, networks, and programmes associated to railroads. Simply said, the goal of most cyber-attacks is to compromise or gain access to information about railroads for illegal purposes. Railway cybersecurity also tries to defend infrastructure and business data from damaging assaults. Railway infrastructure and related solutions are combined with cutting-edge digital technologies to achieve operational efficiency as a result of the rapid growth of technology. Railway cybersecurity offers products and services that enable automated systems to identify cyberattacks and specify defences.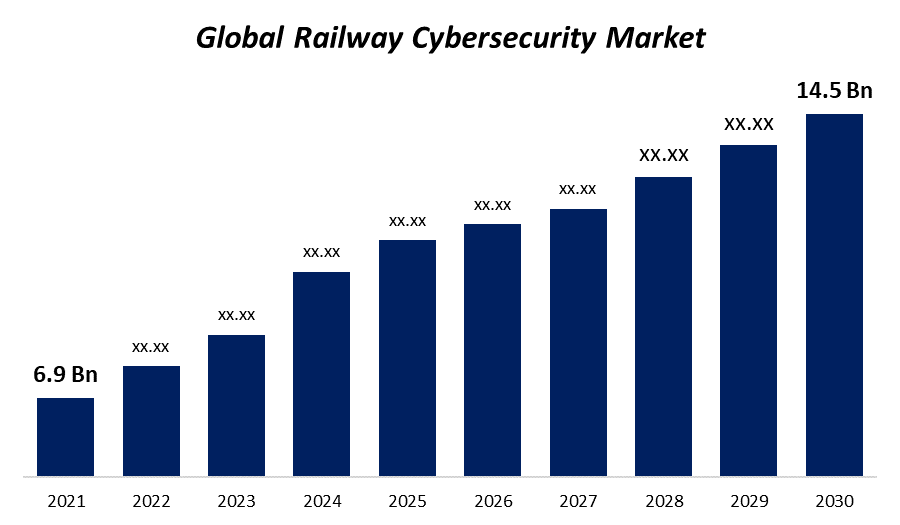 Get more details on this report -
Request Free Sample PDF
The rising frequency of cyberattacks is expected to increase demand for cybersecurity services, which is expected to drive market growth. Therefore, it is crucial to implement these solutions in order to safeguard against dangerous attacks. Railway cybersecurity is used to protect digital resources, safeguard infrastructure, and safeguard information from hackers.
In addition, the government's regulation of the deployment of security solutions along with the growing integration of IoT, AI, and automated technologies in railways are some factors that are driving the growth of the railway cybersecurity market. Considering how poorly the economy has been performing, the widespread COVID-19 outbreak has caused a significant decline in the global market. Lockdowns imposed in various areas limited people's transportation options, and social distance rules also had an impact on the market. Labor dependency, supply chain execution, working capital management, regulatory & policy changes, and liquidity & solvency management are the main risk considerations for sector participants.
Driving Factors
Smart cities have emerged as a result of the global urbanisation trend. Governments all around the world are implementing a variety of smart city programmes to improve the infrastructure for transportation and speed up the operation of public transportation services. For instance, China intends to build 500 smart cities during the following few years, according to the World Economic Forum, by the year 2020. To realise its vision of a "Smart Nation," the Singaporean government is integrating digital technology into the transportation sector. One of the fundamental cornerstones of a nation's economic development is said to be its transportation system. Thus, it is anticipated that these smart city initiatives will accelerate the development of the worldwide railway cybersecurity market.
Smart train infrastructure requires collaborative efforts from a range of stakeholders, including service providers, telecom carriers, infrastructure providers, governmental sectors, manufacturers, and user organisations, as well as policies that are beneficial to investors. Government agencies are working with Public-Private Partnership (PPP) models, which allow private sector businesses like Siemens AG, Bharat Forge Ltd., and GMR Group to take part in government initiatives for smart trains through the financing and deployment of transportation projects. These elements have contributed to the market's expansion in a good way.
Restraining Factors
The high installation cost is one of the major railway-related obstacles impeding the expansion of this sector, though. Rail solutions that need big networks are adopting IoT. So, the slow adoption of cutting-edge technologies and solutions hinders the development of railway cybersecurity. Infrastructure development is delayed.
Global Railway Cybersecurity Market Report Coverage
| Report Coverage | Details |
| --- | --- |
| Base Year: | 2021 |
| Market Size in 2021: | $6.9 Billion |
| Forecast Period: | 2021-2030 |
| Forecast Period 2021-2030 CAGR: | 7.5% |
| 2030 Value Projection: | $14.5 Billion |
| Historical Data for: | 2017-2020 |
| No. of Pages: | 198 |
| Tables, Charts & Figures: | 131 |
| Segments covered: | COVID-19 Impact Analysis, By Type By Application By Security Type By Region |
| Companies Covered: | Thales Group, Bombardier, Siemens AG, Alstom, Huawei, IBM, Cisco, Nokia Networks, General Electric, Hitachi, United Technologies |
| Pitfalls & Challenges: | Due to the increasing number of COVID-19 cases |
Get more details on this report -
Request Free Sample PDF
Covid 19 Impact
With the onset of COVID 19 pandemic, major railway component so0lution providers have made announcement that they will discontinue production and service owing to the decline in demand and supply chain bottlenecks. The requirement for mass transit and rolling stock will be diminishing, thus impacting the delay in deploying cyber security projects on the rail. Additionally, the research and development budget allocation is anticipated to be badly impacted and is going to hinder the development of innovative railway development. The Covid 19 pandemic is significantly reduced the production and sales of rolling stock of 2020.
Segmentation
The global railway cybersecurity market is segmented into type, application, security type, and region.
Global Railway Cybersecurity Market, By Type
Based on type, the global railway cybersecurity market is segmented into infrastructure and onboard. During the forecast period, the onboard railway cybersecurity market is anticipated to expand at a faster CAGR. Due to the necessity of digital technology, travellers are looking for ways to pass the time on long flights, such as viewing videos on their smartphones or reading the news on their tablets. Modern trains are outfitted with cutting-edge technology to boost security and provide quick, seamless connectivity. The fast expansion of onboard operational systems for railroads has accelerated the expansion of this business.
Global Railway Cybersecurity Market, By Application
On the basis of application, the global railway cybersecurity market is segmented into passenger train and freight train. Over the projection period, the railway cybersecurity segment for passenger trains is expected to increase at a faster CAGR. Since the rail passenger network has an open architecture, a large user base, and numerous access points, its security is more intricate than that of the freight segment. Globally, governments are putting cybersecurity programmes into place for their citizens. For instance, the US Government Accountability Office released a report in 2020 that assessed passenger rail cyberattacks in the US and Europe and recommended policies to reduce them, such as emphasising security awareness and incorporating security into station architecture. The expansion of this market has been accelerated by these actions.
Global Railway Cybersecurity Market, By Security Type
Based on the security type, the global railway cybersecurity market is segmented into Application Security, Network Security, Data Protection, End Point Security, and System Administration. The network security segment holds the largest market segment which accounts for 33%. The railway network security regulates all traffic by using the real time data as well as high speed communication links among trains, rail networks, and other rail facilities. This system has multiple functions has various that includes maintenance assistance, traffic planning, operation management, and maintenance assistance.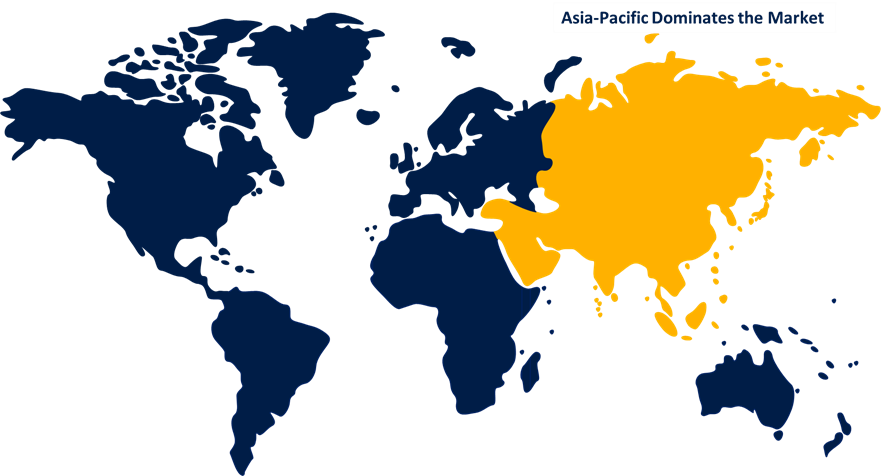 Get more details on this report -
Request Free Sample PDF
Global Railway Cybersecurity Market, By Region
On the basis of region, the global railway cybersecurity market is segmented into North America, Europe, Asia Pacific, the Middle East and Africa and South America. Railway cybersecurity is anticipated to expand at a faster CAGR in the Asia Pacific region over the course of the forecast year. The development of rail networks and the construction of mainline and urban rail infrastructure in this region are heavily influenced by the increasing population and fast urbanisation. For example, China has invested more than USD 154 billion to expand the rail network in the YRD region. The presence of significant market players in this area, including Hitachi Ltd., Huawei, Toshiba, and Tech Mahindra Ltd., has helped the railway cybersecurity market expand. It is anticipated that India will become the leading market for railroad cybersecurity. This can be ascribed to the high-speed rail and urban transit initiatives. For the Pune metro rail projects, which are projected to provide urban mobility for a sizable population, the Indian government and the European Investment Bank signed a financing agreement in 2021.
Recent Developments in Global Railway Cybersecurity Market
December 2020: Alstom is likely to invest USD 7 million in Cylus which is an Israel based cyber security company in exchange for minority ownership in the company.
November 2021: Siemens Mobility and RazorSecure have collaborated for delivering better rail cybersecurity monitoring solutions to rolling stock operators across the world.
March 2021: Cervello and Expandium created a strategic cooperation for integrating cybersecurity as well as predictive maintenance for rail signaling and telecommunications systems.
List of Key Market Players
Bombardier
Alstom
Huawei
IBM
Cisco
Nokia Networks
General Electric
Hitachi
United Technologies
Segmentation
By Type
By Application
Passenger Trains
Freight Trains
By Security Type
Application Security
Network Security
Data Protection
End Point Security
System Administration
By Region:
North America
North America, by Country
North America, by Type
North America, by Application
North America, by Security Type
Europe
Europe, by Country

Germany
Russia
U.K.
France
Italy
Spain
The Netherlands
Rest of Europe

Europe, by Type
Europe, by Application
Europe, by Security Type
Asia Pacific
Asia Pacific, by Country

China
India
Japan
South Korea
Australia
Indonesia
Rest of Asia Pacific

Asia Pacific, by Type
Asia Pacific, by Application
Asia Pacific, by Security Type
Middle East & Africa
Middle East & Africa, by Country

UAE
Saudi Arabia
Qatar
South Africa
Rest of Middle East & Africa

Middle East & Africa, by Type
Middle East & Africa, by Application
Middle East & Africa, by Security Type
South America
South America, by Country

Brazil
Argentina
Colombia
Rest of South America

South America, by Type
South America, by Application
South America, by Security Type
Need help to buy this report?