Global Quantum Computing Market Size, Share, and COVID-19 Impact Analysis, By Component (Software and Services), By Deployment Model (On-premises and Cloud), By Application (Optimization, Simulation, Machine Learning, Sampling, and Others), By End-user (BFSI, Aerospace & Defense, Automotive, Government, Energy, Chemical, and Others), By Region (North America, Europe, Asia-Pacific, Latin America, Middle East, and Africa), Analysis and Forecast 2022 – 2032
Industry: Electronics, ICT & Media
---
REPORT FORMAT

---
Global Quantum Computing Market Insights Forecasts to 2032
The Quantum computing Market Size was valued at USD 13.67 Billion in 2022.
The Market Size is Growing at a CAGR of 26.5% from 2022 to 2032
The Worldwide Quantum computing Market Size is expected to reach USD 143.44 Billion by 2032
Asia-Pacific is expected To Grow the fastest during the forecast period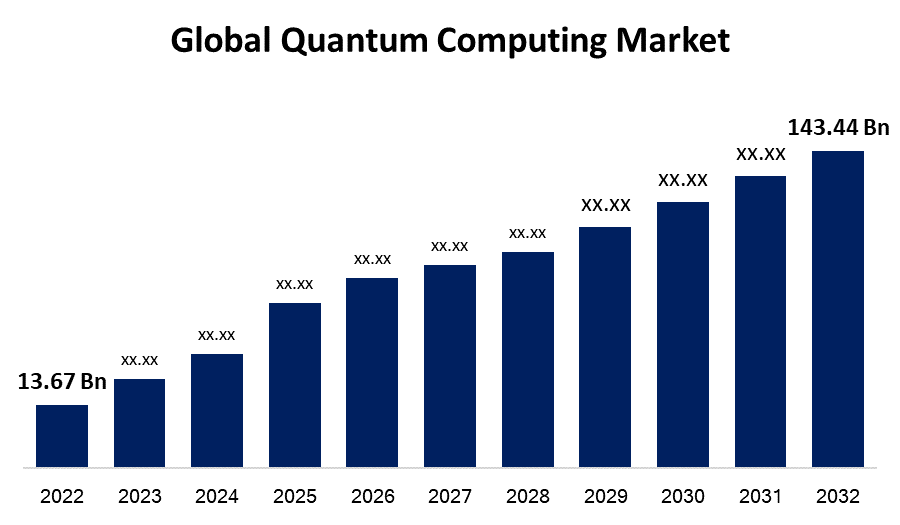 Get more details on this report -
Request Free Sample PDF
The Global Quantum computing Market is expected to reach USD 143.44 Billion by 2032, at a CAGR of 26.5% during the forecast period 2022 to 2032.
Market Overview
Quantum computing is an emerging field that utilizes the principles of quantum mechanics to perform complex computations. Unlike classical computers that use bits to represent information as either 0 or 1, quantum computers use quantum bits or qubits, which can exist in multiple states simultaneously, thanks to superposition and entanglement. This allows quantum computers to solve certain problems exponentially faster than classical computers. Quantum computing has the potential to revolutionize various fields, including cryptography, optimization, drug discovery, and machine learning. However, building practical and scalable quantum computers is still a significant challenge due to issues such as quantum decoherence and error correction. Nonetheless, rapid advancements and ongoing research in quantum computing are paving the way for exciting future possibilities.
Report Coverage
This research report categorizes the market for quantum computing market based on various segments and regions and forecasts revenue growth and analyzes trends in each submarket. The report analyses the key growth drivers, opportunities, and challenges influencing the quantum computing market. Recent market developments and competitive strategies such as expansion, product launch, and development, partnership, merger, and acquisition have been included to draw the competitive landscape in the market. The report strategically identifies and profiles the key market players and analyses their core competencies in each sub-segments of the quantum computing market.
Global Quantum Computing Market Report Coverage
| Report Coverage | Details |
| --- | --- |
| Base Year: | 2022 |
| Market Size in 2022: | USD 13.67 Billion |
| Forecast Period: | 2022-2032 |
| Forecast Period 2022-2032 CAGR: | 26.5% |
| 2032 Value Projection: | USD 143.44 Billion |
| Historical Data for: | 2018-2021 |
| No. of Pages: | 200 |
| Tables, Charts & Figures: | 100 |
| Segments covered: | By Component, By Deployment Model, By Application, By End-user, By Region. |
| Companies Covered: | Accenture, Cambridge Quantum Computing, AWS, Fujitsu, Google, Huawei, 1QBIT, IBM, Microsoft, Rigetti Computing, Riverlane, D-Wave Systems, Zapata Computing, Honeywell, QC Ware |
| Pitfalls & Challenges: | COVID-19 Empact, Challenge, Future, Growth, & Analysis |
Get more details on this report -
Request Free Sample PDF
Driving Factors
The quantum computing market is driven by several factors that are fueling its growth and development. The increasing demand for advanced computing power to tackle complex problems in areas like cryptography, optimization, and simulation is a key driver. Additionally, the growing recognition of quantum computing's potential to revolutionize industries such as finance, healthcare, and logistics is attracting significant investments and research efforts. Moreover, the expanding ecosystem of quantum technologies, including improved qubit design, error correction techniques, and quantum algorithms, is driving progress and creating new opportunities. Furthermore, strategic collaborations between academia, industry, and government bodies are fostering innovation and knowledge exchange in the field. Overall, the race for quantum supremacy among major tech companies and nations is generating fierce competition, further propelling the growth and commercialization of the quantum computing market.
Restraining Factors
The quantum computing market also faces several restraints that impede its widespread adoption. The technology is still in its nascent stage, and practical quantum computers with sufficient qubit count and error correction capabilities are yet to be realized. This poses significant technical challenges and limits the scalability and reliability of quantum computing systems. The quantum computers require highly specialized and controlled environments, including extremely low temperatures, which adds to the complexity and cost of implementation. Additionally, quantum algorithms and applications are still being developed, and the lack of standardized frameworks and programming languages hinders accessibility and ease of use. Moreover, concerns regarding data privacy and security in a quantum computing era raise regulatory and ethical considerations that need to be addressed.
Market Segmentation
In 2022, the optimization segment accounted for around 37.6% market share
On the basis of the application, the global quantum computing market is segmented into optimization, simulation, machine learning, sampling, and others. The optimization segment has emerged as the leading contributor to the quantum computing market, holding the largest market share. This can be attributed to several factors. Optimization problems are pervasive across various industries, including logistics, supply chain management, financial modeling, and energy optimization. Quantum computing's ability to solve complex optimization problems more efficiently than classical approaches has garnered significant attention. Industries are seeking ways to enhance their operational efficiency, reduce costs, and improve decision-making processes, driving the demand for optimization solutions. Additionally, quantum algorithms specifically designed for optimization problems, such as the quantum approximate optimization algorithm (QAOA) and quantum integer programming (QIP), have been developed. The effectiveness of these algorithms in addressing real-world optimization challenges has further fueled the growth of the optimization segment. As a result, businesses are increasingly embracing quantum computing solutions to achieve optimized outcomes and gain a competitive edge in their respective industries.
The on-premises segment is expected to grow at a CAGR of around 27.5% during the forecast period
Based on the type of deployment model, the global quantum computing market is segmented into on-premises and cloud. The on-premises segment in the quantum computing market is projected to witness significant growth in the forecast period. This trend can be attributed to several key factors. The certain industries, particularly those dealing with sensitive data or intellectual property, have stringent security and compliance requirements. By adopting on-premises quantum computing solutions, organizations can maintain greater control over their data and ensure enhanced security measures, mitigating concerns about data breaches or unauthorized access. On-premises solutions offer organizations more flexibility and customization options. They can tailor the quantum computing infrastructure to meet their specific needs, integrate it seamlessly with existing systems, and optimize performance based on their workloads. This level of control enables businesses to leverage the full potential of quantum computing technology while aligning it with their existing IT infrastructure and workflows. Furthermore, on-premises quantum computing solutions offer improved latency and faster data processing, as they eliminate the need for data transmission to external cloud-based systems. This advantage is particularly significant for applications requiring real-time or near-real-time computations. Overall, the growing maturity of quantum computing technology and advancements in hardware capabilities make on-premises solutions more feasible and accessible to organizations. As the technology continues to evolve and become more reliable, businesses are increasingly inclined to invest in on-premises quantum computing solutions to drive innovation and gain a competitive edge in their respective industries.
Regional Segment Analysis of the Quantum Computing Market
North America (U.S., Canada, Mexico)
Europe (Germany, France, U.K., Italy, Spain, Rest of Europe)
Asia-Pacific (China, Japan, India, Rest of APAC)
South America (Brazil and the Rest of South America)
The Middle East and Africa (UAE, South Africa, Rest of MEA)
North America dominated the market with more than 42.9% revenue share in 2022.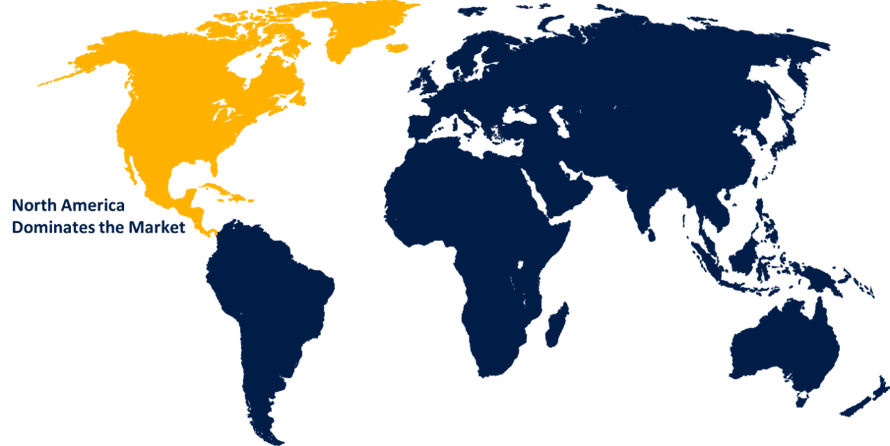 Get more details on this report -
Request Free Sample PDF
Based on region, North America has emerged as the leading market for quantum computing, holding the largest market share. This can be attributed to several factors. The region has a robust ecosystem comprising of major technology companies, research institutions, and government initiatives dedicated to advancing quantum technologies. The presence of leading quantum computing companies and startups, coupled with substantial investments in research and development, has fueled innovation in the region. North America boasts a strong base of skilled professionals in quantum computing, including scientists, engineers, and researchers. The availability of talent and expertise has contributed to the rapid progress and commercialization of quantum computing applications. Additionally, supportive government policies, funding programs, and collaborations between academia and industry have further bolstered the growth of the quantum computing market in North America.
Competitive Analysis:
The report offers the appropriate analysis of the key organizations/companies involved within the global quantum computing market along with a comparative evaluation primarily based on their product offering, business overviews, geographic presence, enterprise strategies, segment market share, and SWOT analysis. The report also provides an elaborative analysis focusing on the current news and developments of the companies, which includes product development, innovations, joint ventures, partnerships, mergers & acquisitions, strategic alliances, and others. This allows for the evaluation of the overall competition within the market.
List of Companies:
Accenture
Cambridge Quantum Computing
AWS
Fujitsu
Google
Huawei
1QBIT
IBM
Microsoft
Rigetti Computing
Riverlane
D-Wave Systems
Zapata Computing
Honeywell
QC Ware
Key Target Audience
Market Players
Investors
End-Users
Government Authorities
Consulting and Research Firm
Venture Capitalists
Value-Added Resellers (VARs)
Recent Developments
In April 2023, Quantum Computing Inc., a company specializing in full-stack photonic-based quantum computing and solutions, recently unveiled an expansion of its commercially available products. They introduced their patented Quantum Random Number Generator (QRNG) technology, enabling the creation of distinctive number sequences.
Market Segment
This study forecasts revenue at global, regional, and country levels from 2019 to 2032. Spherical Insights has segmented the global quantum computing market based on the below-mentioned segments:
Quantum Computing Market, By Component
Quantum Computing Market, By Deployment Model
Quantum Computing Market, By Application
Optimization
Simulation
Machine Learning
Sampling
Others
Quantum Computing Market, By End-User
BFSI
Aerospace & Defense
Automotive
Government
Energy
Chemical
Others
Quantum Computing Market, Regional Analysis
North America
Europe

Germany
UK
France
Italy
Spain
Russia
Rest of Europe

Asia Pacific

China
Japan
India
South Korea
Australia
Rest of Asia Pacific

South America

Brazil
Argentina
Rest of South America

Middle East & Africa

UAE
Saudi Arabia
Qatar
South Africa
Rest of Middle East & Africa
Need help to buy this report?