Global Public Transportation Market Size, Share, and COVID-19 Impact Analysis, By Distribution Channel (Online and Offline), By Mode Type (Road, Rail, and Others), By Region (North America, Europe, Asia-Pacific, Latin America, Middle East, and Africa), Analysis and Forecast 2022 – 2032
Industry: Automotive & Transportation
---
REPORT FORMAT

---
Global Public Transportation Market Insights Forecasts to 2032
The Global Public Transportation Market Size was valued at USD 219.32 Billion in 2022.
The Market Size is Growing at a CAGR of 6.4% from 2022 to 2032
The Worldwide Public Transportation Market Size is expected to reach USD 407.84 Billion by 2032
North America is expected To Grow significant during the forecast period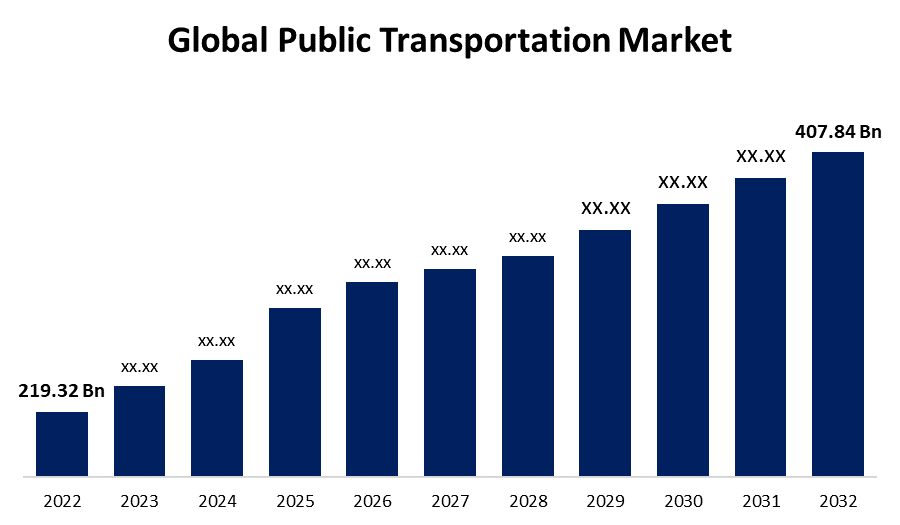 Get more details on this report -
Request Free Sample PDF
The Global public transportation Market Size is expected to reach USD 407.84 Billion by 2032, at a CAGR of 6.4% during the forecast period 2022 to 2032.
Market Overview
Public transportation refers to a system of transportation that is available for use by the general public, typically consisting of buses, trains, trams, subways, and ferries. It plays a vital role in urban areas by providing a cost-effective and environmentally friendly alternative to private vehicle usage. Public transportation networks are designed to efficiently move large numbers of people, reducing traffic congestion and improving air quality. These systems offer numerous benefits. They enhance accessibility, allowing individuals to travel conveniently within a city or region, particularly for those without personal vehicles. Public transportation also promotes social inclusion by offering mobility options for people with disabilities, low-income individuals, and the elderly. Furthermore, public transportation reduces energy consumption and greenhouse gas emissions, contributing to sustainability efforts. It helps alleviate parking challenges in densely populated areas and supports economic development by facilitating commuting to work, education, and recreational activities. By providing affordable, reliable, and accessible transportation options, public transportation serves as a cornerstone for building livable, connected, and sustainable communities.
Report Coverage
This research report categorizes the market for global public transportation market based on various segments and regions and forecasts revenue growth and analyzes trends in each submarket. The report analyses the key growth drivers, opportunities, and challenges influencing the global public transportation market. recent market developments and competitive strategies such as expansion, product launch, and development, partnership, merger, and acquisition have been included to draw the competitive landscape in the market. The report strategically identifies and profiles the key market players and analyses their core competencies in each sub-segments of the global public transportation market.
Global Public Transportation Market Report Coverage
| Report Coverage | Details |
| --- | --- |
| Base Year: | 2022 |
| Market Size in 2022: | USD 219.32 Billion |
| Forecast Period: | 2022-2032 |
| Forecast Period 2022-2032 CAGR: | 6.4% |
| 2032 Value Projection: | USD 407.84 Billion |
| Historical Data for: | 2018-2021 |
| No. of Pages: | 200 |
| Tables, Charts & Figures: | 37 |
| Segments covered: | By Distribution Channel, By Mode Type, By Region. |
| Companies Covered: | BC Transit Corporation, Berliner Verkehrsbetriebe, Deutsche Bahn, East Japan Railway Company, Keolis, Mass Transit Railway, Metropolitan Transportation Authority, Southern California Regional Rail Authority, The Brussels Transport Company, Transport for London, Transport International Holding Limited, Trenitalia c2c Limited, TOBU Railway Co. Ltd., Toronto Transit Commission, and Transdev |
| Pitfalls & Challenges: | COVID-19 Empact, Challenge, Future, Growth, & Analysis |
Get more details on this report -
Request Free Sample PDF
Driving Factors
The drivers of the public transportation market are multifaceted and influenced by various factors because the population growth and urbanization contribute to increased demand for public transportation as more people reside in cities and require efficient mobility options. Environmental concerns and efforts to reduce carbon emissions drive the adoption of public transportation systems, as they provide a more sustainable alternative to private vehicles. Government initiatives and policies play a significant role by investing in and promoting public transportation infrastructure and services. Rising fuel prices and the associated cost of private vehicle ownership make public transportation a cost-effective option for many individuals. Additionally, changing societal attitudes towards car ownership, including a preference for shared mobility and convenience, further propel the growth of the public transportation market. Technological advancements, such as the integration of digital platforms, smart ticketing systems, and real-time information, enhance the attractiveness and efficiency of public transportation, attracting more users and expanding the market.
Restraining Factors
The public transportation market also faces certain restraints that impact its growth. One key restraint is the challenge of funding and financing, as developing and maintaining public transportation infrastructure requires substantial investment. Limited budgets and competing priorities can hinder the expansion and improvement of transportation networks. Additionally, inadequate last-mile connectivity and limited coverage in certain areas can discourage potential users. Concerns about safety and security, particularly during peak hours or in certain neighborhoods, may also deter individuals from using public transportation. Furthermore, the dependence on external factors such as weather conditions and unforeseen events can disrupt service reliability, impacting user satisfaction. Addressing these restraints requires a combination of financial support, infrastructure development, and measures to enhance safety and accessibility.
Market Segmentation
In 2022, the offline segment accounted for around 75.4% market share
On the basis of the distribution channel, the global public transportation market is segmented into online and offline. The offline segment is expected to dominate the public transportation market for several reasons because while technological advancements have brought about digital innovations in the transportation sector, a significant portion of the population still relies on traditional offline modes of public transportation. This includes buses, trains, trams, and ferries that operate on fixed routes and schedules. These modes of transportation have been established for decades and continue to serve as the primary means of commuting for a large number of people. The offline public transportation systems have a wide coverage area, serving both urban and rural regions. They provide accessibility to a diverse range of passengers, including those without access to internet connectivity or smartphones, as well as tourists and visitors who may not have access to local digital transportation apps. Furthermore, offline public transportation networks have undergone significant infrastructure development and investment over the years. This has led to the establishment of well-connected routes, dedicated stations, and extensive networks, making them reliable and convenient for daily commuting needs. Offline public transportation also offers a sense of familiarity and trust for passengers. Many individuals are accustomed to the traditional modes of transportation available in their cities and have developed a level of comfort and confidence in using them. While online and digital platforms are gaining popularity, especially in terms of real-time information and ticketing, the offline segment remains dominant due to its well-established infrastructure, wide-coverage, accessibility, and the inherent trust associated with traditional public transportation systems.
In 2022, the road segment dominated with more than 50.3% market share
Based on the mode type, the global public transportation market is segmented into road, rail, and others. The road segment is projected to occupy the largest share in the public transportation market for several reasons, road transportation, including buses and taxis, has long been a fundamental mode of public transportation in many regions. It has an extensive network and serves a wide range of passengers, including daily commuters, tourists, and individuals without private vehicles. The road transportation offers flexibility and convenience, allowing for point-to-point travel and the ability to reach destinations that may not be served by other modes of transportation. Buses and taxis can access various neighborhoods and rural areas, providing connectivity even in areas where rail or subway networks may be limited. Furthermore, road transportation systems have undergone significant improvements in recent years. The introduction of modern bus fleets with comfortable seating, air conditioning, and amenities has enhanced the appeal of road-based public transportation. Additionally, advancements in technology have led to the integration of GPS tracking, real-time information, and online ticketing systems, making road transportation more efficient and user-friendly. Moreover, the road segment caters to the diverse needs of different cities and regions. It can adapt to changing population densities and transport demands by adjusting bus routes or introducing dedicated lanes for buses and taxis. Lastly, the road segment offers a cost-effective option for public transportation, both for passengers and transportation operators. Compared to building and maintaining extensive rail networks, road-based transportation systems can be implemented with relatively lower costs, making them financially viable in various settings.
Regional Segment Analysis of the Public Transportation Market
North America (U.S., Canada, Mexico)
Europe (Germany, France, U.K., Italy, Spain, Rest of Europe)
Asia-Pacific (China, Japan, India, Rest of APAC)
South America (Brazil and the Rest of South America)
The Middle East and Africa (UAE, South Africa, Rest of MEA)
Asia-Pacific dominated the market with more than 46.2% revenue share in 2022.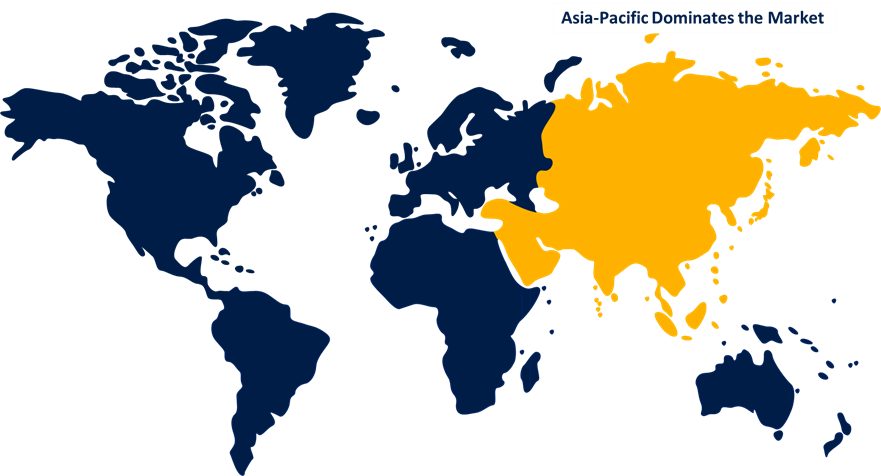 Get more details on this report -
Request Free Sample PDF
Based on region, the Asia Pacific region is projected to dominate the public transportation market due to several factors, such as rapid urbanization and population growth in countries like China, India, and Southeast Asian nations have led to increased demand for efficient transportation systems to support the movement of people within cities. The rising middle class in these countries has also resulted in a greater need for affordable and accessible transportation options. Additionally, government initiatives aimed at improving public transportation infrastructure and reducing traffic congestion further drive market growth. Investments in high-speed rail networks, metro systems, and bus rapid transit systems are significantly contributing to the dominance of the Asia Pacific region in the market. Furthermore, advancements in technology and the adoption of smart transportation solutions are enhancing the efficiency, safety, and convenience of public transportation, making it an attractive choice for commuters in the region.
Recent Developments
In February 2022, TfL announced a partnership with the MTR Elizabeth Line and its construction company, Walker Construction Limited, to expand the Burnham station's area and enhance accessibility. In addition to new ticket vending machines, customer information displays, automatic ticket gates, and ticket office buildings with accessible ticket windows and automatic ticket gates, enhancements also include the addition of new ticket vending machines.
In June 2022, The Consolidated Rail Infrastructure and Safety Improvements grant program, worth USD 368 million, was launched by the Federal Railroad Administration with the goal of funding 46 projects in 32 states and the District of Columbia. By making these improvements, the area hopes to enhance supply chains and modernize its train infrastructure. Additionally, they should ease traffic and offer reasonably priced regional transit options.
Competitive Analysis:
The report offers the appropriate analysis of the key organizations/companies involved within the global public transportation market along with a comparative evaluation primarily based on their product offering, business overviews, geographic presence, enterprise strategies, segment market share, and SWOT analysis. The report also provides an elaborative analysis focusing on the current news and developments of the companies, which includes product development, innovations, joint ventures, partnerships, mergers & acquisitions, strategic alliances, and others. This allows for the evaluation of the overall competition within the market.
List of Companies:
BC Transit Corporation
Berliner Verkehrsbetriebe
Deutsche Bahn
East Japan Railway Company
Keolis
Mass Transit Railway
Metropolitan Transportation Authority
Southern California Regional Rail Authority
The Brussels Transport Company
Transport for London
Transport International Holding Limited
Trenitalia c2c Limited
TOBU Railway Co. Ltd.
Toronto Transit Commission
Transdev
Key Target Audience
Market Players
Investors
End-Users
Government Authorities
Consulting and Research Firm
Venture Capitalists
Value-Added Resellers (VARs)
Market Segment
This study forecasts revenue at global, regional, and country levels from 2019 to 2032. Spherical Insights has segmented the Global Public Transportation Market based on the below-mentioned segments:
Public Transportation Market, By Distribution Channel
Public Transportation Market, By Mode Type
Public Transportation Market, Regional Analysis
North America
Europe

Germany
UK
France
Italy
Spain
Russia
Rest of Europe

Asia Pacific

China
Japan
India
South Korea
Australia
Rest of Asia Pacific

South America

Brazil
Argentina
Rest of South America

Middle East & Africa

UAE
Saudi Arabia
Qatar
South Africa
Rest of Middle East & Africa
Need help to buy this report?