Global Protein Labeling Market Size, By Product Type (Reagents, Kits, Services), By Labeling Method (In-vitro Labeling Methods, In-vivo Labeling Methods), By Application (Cell-based Assays, Fluorescence Microscopy, Immunological Techniques, Protein Microarray, Mass Spectrometry, Others), By End-user (Hospitals & Clinics, Diagnostic Laboratories, Pharmaceutical & Biotechnology Companies, Others), By Geographic Scope and Forecast, 2023 – 2032
Industry: Healthcare
---
REPORT FORMAT

---
Global Protein Labeling Market Insights Forecasts to 2032
The Protein Labeling Market Size was valued at USD 2.38 Billion in 2022.
The Market Size is Growing at a CAGR of 8.9% from 2022 to 2032
The Global Protein Labeling Market is expected to reach USD 5.62 Billion by 2032
Asia Pacific is expected to Grow the fastest during the forecast period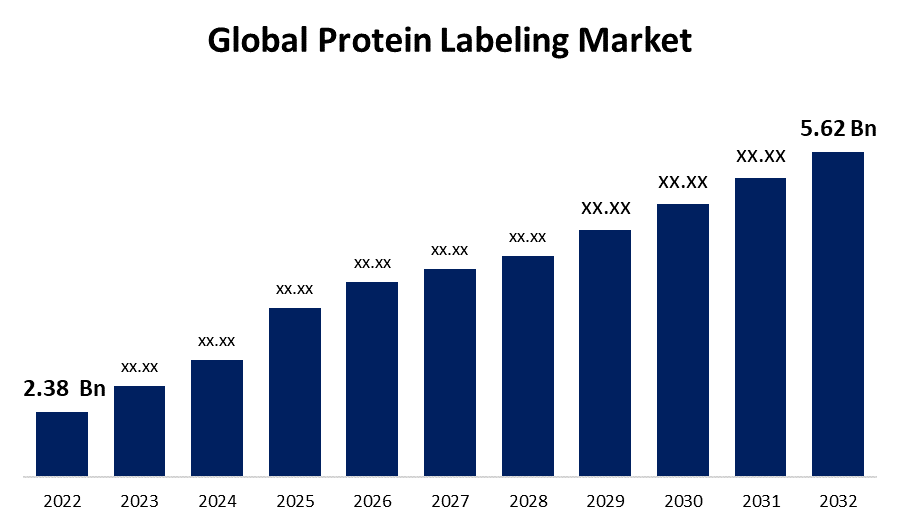 Get more details on this report -
Request Free Sample PDF
The Global Protein Labeling Market is expected to reach USD 5.62 Billion by 2032, at a CAGR of 8.9% during the forecast period 2022 to 2032.
Protein labeling is the chemical bonding of various entities to the intended nucleotide sequence, such as biotin, reporter enzymes, fluorophores, and radioactive isotopes. It is accomplished through the use of fluorescent fusions, ligases, and self-labeling tags. In order to acquire comprehensive data on the internal structure and conformational dynamics of distinct proteins, sophisticated imaging methods are currently utilized. With the goal of making, it easier to identify or purify the labeled protein and its molecular partners, protein labeling is becoming more and more common in biological research across the globe. Despite considering that there are several labeling techniques and molecular labels available on the market, the use of protein labeling has proven to simplify and expand the exploration of proteins in both in vivo and in vitro research. The rising expenditure on proteomic research, increased acceptance of biotechnology, and the existence of a number of industry participants are driving advancement in the worldwide protein labeling market. Moreover, developments in probes and dyes for protein labeling are expected to propel the global protein labeling market over the forecast period. Furthermore, in conjunction with the increased use of advanced molecular techniques to improve functional mechanisms in drug development, diagnosis, and therapy applications, will likely contribute to market expansion.
Market Outlook
Protein Labeling Market Price Analysis
The protein labeling market is centered on the techniques and products that attach chemical compounds to proteins, such as fluorophores or enzymes, so they can be identified and tracked. Given the delicate balance between the cost of breakthrough technologies and demand from research sectors, price analysis in this market is critical. The type of labeling technology (enzymatic, dye-based, or covalent, among others), the specificity and sensitivity of the label, and developments in detection limits are all factors that influence price. Furthermore, regional pricing variances occur as a result of differences in R&D expenditure, regulatory frameworks, and the existence of significant market players. Demand is being driven by a boom in proteomics research, as well as a growing emphasis on medicines discovery and development, which is influencing pricing dynamics. However, the high costs of many advanced labeling techniques may limit market expansion to some extent.
Protein Labeling Market Demand Analysis
Protein labeling methods enable the detection and tracking of proteins in a variety of investigations, making the protein labeling market critical in biomedical research. According to demand analysis, the pharmaceutical, biotechnology, and academic sectors are showing growing attraction. Proteomics research advances, a greater emphasis on therapeutic discovery, and the increasing use of protein tagging in molecular diagnostics are driving this surge. The demand for novel, high-sensitivity labeling approaches is increasing, especially as research difficulties increase. Geographically, regions with strong R&D infrastructures, such as North America and Europe, have high demand.
Global Protein Labeling Market Report Coverage
| Report Coverage | Details |
| --- | --- |
| Base Year: | 2022 |
| Market Size in 2022: | USD 2.38 Billion |
| Forecast Period: | 2022-2032 |
| Forecast Period 2022-2032 CAGR: | 8.9% |
| 2032 Value Projection: | USD 5.62 Billion |
| Historical Data for: | 2018-2021 |
| No. of Pages: | 200 |
| Tables, Charts & Figures: | 100 |
| Segments covered: | By Product Type, By Labeling Method, By Application, By End-user, By Geographic |
| Companies Covered: | Thermo Fisher Scientific, Inc., Merck KGaA, PerkinElmer, Inc., General Electric Company, F. Hoffmann-La Roche AG, New England Biolabs, Kaneka Corporation, Promega Corporation, LI-COR, Inc., SeraCare Life Sciences, Inc., GE Healthcare, Jena Bioscience GmbH, Promega Corporation, and Other. |
| Growth Drivers: | The adoption of independent artificial intelligence is skyrocketing. |
| Pitfalls & Challenges: | COVID-19 Empact, Challenges, Future, Growth, & Analysis |
Get more details on this report -
Request Free Sample PDF
Market Dynamics
Protein Labeling Market Dynamics
Advancements in proteomics research
Proteomics research is constantly evolving and expanding, necessitating better protein tagging techniques. The necessity for precise, high-sensitivity labeling methods develops as researchers probe deeper into protein interactions, structures, and activities. This constant quest to comprehend the proteome in both healthy and pathological states drives the demand for novel and effective protein labeling products.
Rise in therapeutic discovery and development
The pharmaceutical and biotechnology industries are boosting their investments in therapeutic discovery and drug development. Protein labeling is important in these processes because it aids in target discovery, validation, and pathway analysis. As firms seek to accelerate their drug discovery pipelines, their dependence on enhanced protein labeling methods grows, driving market growth.
Restraints & Challenges
High costs of advanced labeling techniques
While more modern protein labeling technologies provide increased sensitivity and precision, they are frequently much more expensive. The creation and production of specific labeling reagents, as well as the complicated processes involved, can result in higher end-user pricing. These expenditures might be exorbitant for research organizations, particularly those in underdeveloped countries with limited funding. This high cost associated with cutting-edge labeling procedures may dissuade potential customers, limiting industry expansion.
Regional Forecasts
North America Market Statistics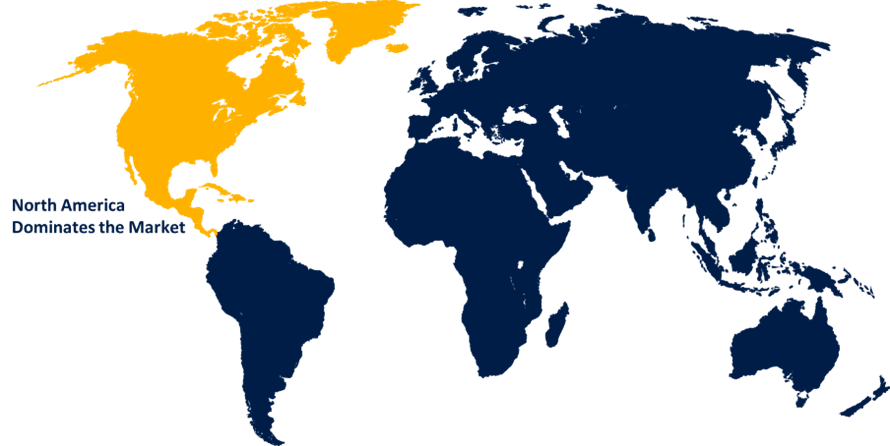 Get more details on this report -
Request Free Sample PDF
North America is anticipated to dominate the protein labeling market from 2023 to 2032. The rising number and variety of research activities in this region that use immunological techniques, fluorescence microscopy, western blotting, ELISA, and cell-based assays have expanded dramatically, contributing to the more expansive market ratio. The widespread use of protein labeling techniques in disease diagnosis-related investigations also contributes to the region's business revenue production. Additionally, the existence of prominent market competitors, particularly in the United States, such as Thermo Fisher Scientific, Inc., PerkinElmer, Inc., General Electric Company, Promega Corporation, LI-COR, Inc., SeraCare Life Sciences, Inc., and many others, facilitates to the region's market development. Furthermore, the rising need for improved illness detection and treatment, favorable government regulations, and expanded R&D infrastructure all contribute to the growth of the protein labeling market in North America. Furthermore, initiatives such as increased usage of tailored medications and genome sequencing are expected to contribute to market further development.

Asia Pacific Market Statistics
Asia Pacific is witnessing the fastest market growth between 2023 to 2032, because of increased demand for drug development and a growing emphasis on the biotechnology industry. This is because of ongoing research programs that drive proteomics research in this area. In addition, the increased usage of proteomics has resulted in accelerated market development. Additionally, increased healthcare expenditure as well as investments in high-omics research in countries such as India and China are expected to drive significant market expansion. Furthermore, advances such as cancer proteomics, immunodynamics, and structural genomics are accelerating market expansion in this region.
Segmentation Analysis
Insights by Product Type
The reagents segment accounted for the largest market share over the forecast period 2023 to 2032. The reagents segment's dominance is due to an increase in the number of labeling agents and genetically modified labels discovered. In addition, the commercially accessible availability of efficient reagents, such as the No-Stain Protein Labeling Reagents, that allow for precise and dependable protein identification and standardization, has a beneficial impact on the development of segments. Furthermore, the reagent segment is subdivided into proteins, enzymes, probes/tags, monoclonal antibodies, and other reagents. In terms of profitability, the protein category dominated the market for protein labeling. This may be due to the application of monomeric fluorescent proteins, which address aggregation concerns caused by electrostatic or hydrophobic interactions between the host and fluorescent protein.
Insights by Labeling Method
The in-vitro labeling methods segment accounted for the largest market share over the forecast period 2023 to 2032. The in-vitro protein labeling method labels proteins outside of living organisms, allowing for fine control over circumstances and reactions. In-vitro labeling also assures uniform and consistent outcomes, lowering experimental variability. Additionally, this technique reduces the possibility of interfering with biological processes, maintains protein functionality, and improves research efficiency, consequently increasing segment expansion. Furthermore, the in-vitro labeling methods segment is subdivided into enzymatic labeling, dye-based labeling, co-translational labeling, site-specific labeling, nanoparticle labeling, and others. Because of the extremely specific effect of the enzymes, enzymatic labeling dominates the category's proportion. An enzyme's covalent site-specific binding facilitates in the insertion of bio-orthogonal functions into proteins, allowing for site-specific protein labeling and engineering.
Insights by Application
The immunological techniques segment accounted for the largest market share over the forecast period 2023 to 2032. The widespread implementation of immunological techniques leads to the segment's higher revenue percentage. Labels are used in the majority of immunological methods, including western blotting, immunofluorescence, flow cytometry, and immunoassays. These methods are mostly employed in clinical trials for cancer, as well as autoimmune disease research and treatment development. It also allows for the detection and quantification of proteins in complicated biological samples, which improves disease diagnostics and biomarker development. Additionally, these approaches are commonly used to identify diabetes, SLE, rheumatoid arthritis, lung disorders, neurological disease, and gastrointestinal ailments. Moreover, it provides precision, allowing researchers to analyze protein expression, interactions, and localization with extreme precision.
Insights by End-user
The pharmaceutical & biotechnology companies segment accounted for the largest market share over the forecast period 2023 to 2032. This is due to the comprehensive characterization of interactions, functions, and mechanisms of action provided by protein labeling, which allows pharmaceutical and biotechnology firms to speed up their research and development operations. The pharmaceutical and biotechnology industries' growing emphasis on personalized medicines and precision medicine is considerably driving the widespread implementation of protein labeling. As a result of using protein labeling capabilities, companies may streamline R&D activities, improve decision-making, and eventually expedite the launch of new therapeutics into the market, boosting segment growth throughout the forecast period.
Competitive Landscape
Major players in the market
Thermo Fisher Scientific, Inc.
Merck KGaA
PerkinElmer, Inc.
General Electric Company
F. Hoffmann-La Roche AG
New England Biolabs
Kaneka Corporation
Promega Corporation
LI-COR, Inc.
SeraCare Life Sciences, Inc.
GE Healthcare
Jena Bioscience GmbH
Promega Corporation
Recent Market Developments
On January 2023, SCIEX, a global pioneer in life science analytical technology, has introduced the Fast Glycan Labeling and Analysis kit for quantitative glycan analysis, as well as an update to the Biologics Explorer program to improve essential protein therapeutic analysis procedures. SCIEX's ability to help the characterization of complex and next-generation biopharmaceuticals in various stages of the drug development pipeline continues to grow with these additional capabilities.
Market Segmentation
This study forecasts revenue at global, regional, and country levels from 2023 to 2032.
Protein Labeling Market, Product Type Analysis
Protein Labeling Market, Labeling Method Analysis
In-vitro Labeling Methods
In-vivo Labeling Methods
Protein Labeling Market, Application Analysis
Cell-based Assays
Fluorescence Microscopy
Immunological Techniques
Protein Microarray
Mass Spectrometry
Others
Protein Labeling Market, End-user Analysis
Hospitals & Clinics
Diagnostic Laboratories
Pharmaceutical & Biotechnology Companies
Others
Protein Labeling Market, Regional Analysis
Germany
Uk
France
Italy
Spain
Russia
Rest of Europe
China
Japan
India
South Korea
Australia
Rest of Asia Pacific
Brazil
Argentina
Colombia
UAE
Saudi Arabia
South Africa
Need help to buy this report?