Global Printed Circuit Board Market By Type (Single Sided, Double Sided, Multi Layered, High Density Interconnect (HDI), Others), By Substrate (Rigid, Flexible, Rigid-flex), By Application (Consumer Electronics, Automotive, Healthcare IT & Telecom, Industrial, Others), By Region (North America, Europe, Asia Pacific, Middle East & Africa, and South America) Analysis and Forecast 2021 – 2030
Industry: Semiconductors & Electronics
---
REPORT FORMAT

---
The global printed circuit board market size was valued at USD 75 billion in 2021 and is expected to reach at a CAGR of 5% from 2021 to 2030. The rising emphasis on improving road safety and the expanding use of technology in the automobile industry are both considered as key drivers of market demand.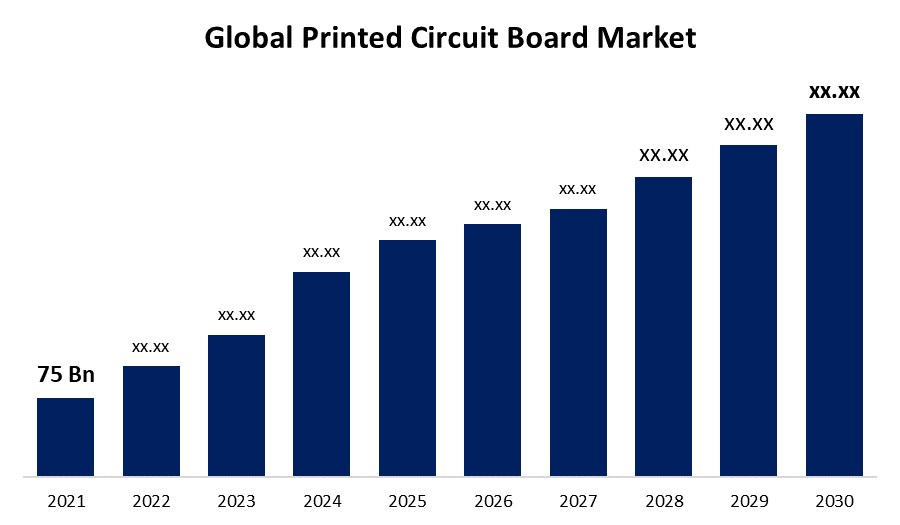 Get more details on this report -
Request Free Sample PDF
To improve the entire driving experience, automakers around the world have focused on integrating cutting-edge electronic components in a variety of comfort and safety systems, such as lane-keeping and control systems, ADAS, and intelligent glass control systems. By elevating seat comfort, information, and seat comfort through the integration of such cutting-edge equipment, the PCB market outlook is stimulated. In addition, the industry will grow as a result of the rapidly expanding electrification trends and the use of smart safety systems.
Driving Factors
The market for PCBs has expanded as a result of the use of PCBs in linked automobiles. These cars have both wired and wireless technologies built right in, which enables them to easily connect to cellphones and other digital devices. With such technology, users can follow their automobiles using cellphones, check the status of their electric car batteries, and operate climate control systems remotely.
One of the recent big PCB advancements has proven to be largely dependent on 3D printing. Future electrical system design is predicted to undergo a revolution thanks to 3D-printed electronics, or 3D PEs. These technologies print a substrate item layer by layer, then add a liquid ink with electrical functions on top of it to build 3D circuits. The finished system can then incorporate surface-mount technology. When compared to conventional 2D PCBs, 3D PE has the potential to offer significant technological and manufacturing advantages to circuit manufacturing companies as well as their customers.
Covid 19 Impact
On the global industry, the COVID-19 pandemic had a conflicting effect. Supply chain bottlenecks grew as a result of the imposed limits on cross-border trade and migration. Additionally, the business dynamics were significantly impacted by the cancellation of multiple shipments from nations like China due to the diminishing demand for flexible PCBs. On the other hand, new opportunities for industrial growth were opened up by the widespread use of HDI technology and IoT devices as well as the growing emphasis on creating PCB modules, which fuel the stay-at-home Economy. The market's growth will be supported in the years to come by the need for medical electronics such ventilators, fog generators, monitors, and respiratory support systems, which increased tremendously during the crisis.
Global Printed Circuit Board Market Report Coverage
| Report Coverage | Details |
| --- | --- |
| Base Year: | 2021 |
| Market Size in 2021: | USD 75 billion |
| Forecast Period: | 2021 - 2030 |
| Forecast Period 2021 - 2030 CAGR: | 5% |
| 2030 Value Projection: | xx.xx |
| Historical Data for: | 2017 - 2020 |
| No. of Pages: | 197 |
| Tables, Charts & Figures: | 124 |
| Segments covered: | By Type, By Substrate, By Application, By Region |
| Companies Covered: | TTM Technologies, Nano Dimension Ltd., DSBJ, Tripod Technology, Fujikura Ltd. |
| Pitfalls & Challenges: | COVID-19 Empact, Challenge, Future, Growth, & Analysis |
Get more details on this report -
Request Free Sample PDF
Segmentation
The global printed circuit board market is segmented into Type, Substrate, Application, and Region.
Global Printed Circuit Board Market, By Type
Through 2030, it is predicted that the market for multi-layered printed circuit boards would grow by more than 6%, accounting for a significant share of the overall market. In contrast to double-layer PCBs, multi-layer PCBs feature at least three layers of conductive material buried in the middle. These are thicker and more durable than their competitors since they have a core and copper layers. By 2030, there may be room for company growth due to the rising use of these circuit boards in many small pieces of electronic and medical equipment, including computers, GPS, handheld devices, X-ray machines, heart monitors, etc.
Global Printed Circuit Board Market, By Substrate
More than 85% of the market in 2021 belonged to the rigid PCB segment, which is expected to maintain a decent target worth through 2030. Extreme heat and stress can be tolerated by rigid printed circuit boards. These are highly integrated around the OEMs and find large uses in products like aviation cockpit instruments, MRI systems, EMG machines, consumer electronics, and many more because of their outstanding durability against corrosive lubricants, UV radiation, and harsh chemicals. The sector may experience significant growth as a result of the rising demand for these circuit boards from the electronics industry, which is driven by improvements in their quality, cost-effectiveness, durability, and density.
Global Printed Circuit Board Market, By Application
As printed circuit boards become more prevalent in consumer electronics, the market is projected to experience tremendous growth. The industry had a sizable valuation in 2021, and it is predicted that between 2022 and 2030, it will expand at a rate of about 4%. The demand for smart gadgets and wearables has been greatly driven up by the rapidly rising living standards and the optimistic outlook for the global economy. By the end of 2030, PCB sales may be boosted by the consumer electronics industry's increased design complexity as a result of the development of smart technologies.
Global Printed Circuit Board Market, By Region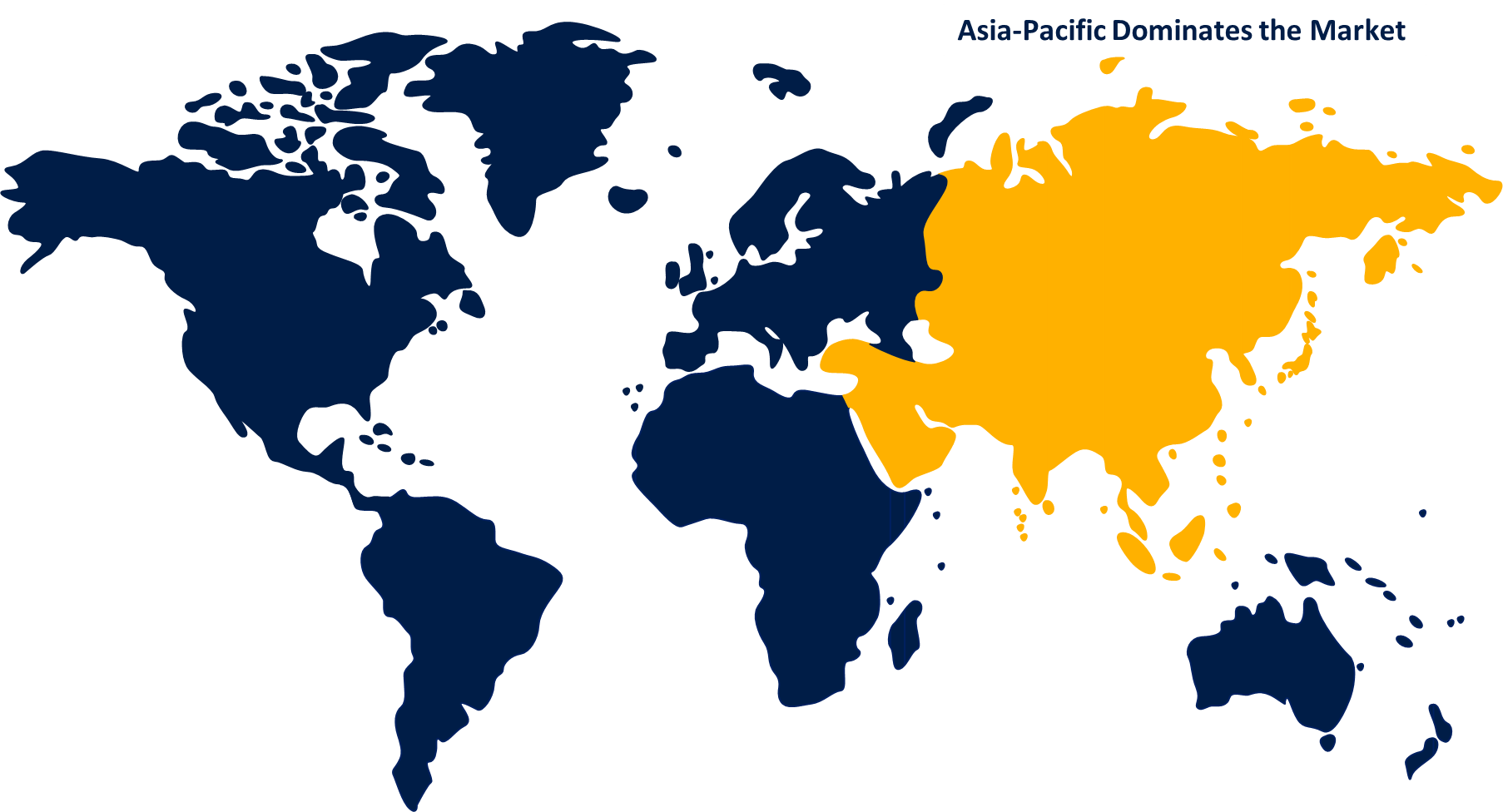 Get more details on this report -
Request Free Sample PDF
The revenue share of the Asia Pacific PCB market surpassed 65% in 2021, and growth is anticipated between 2022 and 2030. The expansion of the manufacturing sector in the main Asian economies, such as China, Japan, and India, supports the development of the regional industries. The demand for consumer electronics including tablets, televisions, mobile phones, refrigerators, video game consoles, and other devices has surged due to the region's dramatic population growth and rapid urbanisation. The expansion of business in the area will be aided by these trends as well as the introduction of beneficial government programmes aimed at the growth of industrial businesses.
Recent Developments in Global Printed Circuit Board Market
January 2022: Nano Dimension Ltd., a supplier of additively manufactured electronics (AME), printed electronics (PE), and micro additive manufacturing, and TTM Technologies have announced their alliance (Micro-AM). The partnership aims to support the company's establishment of a new AME-based NanoLab in the United States. Additionally, it aims to intensify its AME and Industry 4.0 revolution initiatives.
List of Key Market Players
TTM Technologies
Nano Dimension Ltd.
DSBJ
Tripod Technology
Fujikura Ltd.
Segmentation
By Type
Single Sided
Double Sided
Multi Layered
High Density Interconnect (HDI)
Others
By Substrate
Rigid
Flexible
Rigid-flex
By Application
Consumer Electronics
Automotive
Healthcare
IT & Telecom
Industrial
Others
By Region:
North America
North America, by Country
North America, by Type
North America, by Substrate
North America, by Application
Europe
Europe, by Country

Germany
Russia
U.K.
France
Italy
Spain
The Netherlands
Rest of Europe

Europe, by Type
Europe, by Substrate
Europe, by Application
Asia Pacific
Asia Pacific, by Country

China
India
Japan
South Korea
Australia
Indonesia
Rest of Asia Pacific

Asia Pacific, by Type
Asia Pacific, by Substrate
Asia Pacific, by Application
Middle East & Africa
Middle East & Africa, by Country

UAE
Saudi Arabia
Qatar
South Africa
Rest of Middle East & Africa

Middle East & Africa, by Type
Middle East & Africa, by Substrate
Middle East & Africa, by Application
South America
South America, by Country

Brazil
Argentina
Colombia
Rest of South America

South America, by Type
South America, by Substrate
South America, by Application
Need help to buy this report?