Global Precast Concrete Market Size, Share, and COVID-19 Impact Analysis, By Type (Elemental Constructions, Permanent Modular Buildings, Relocatable Buildings, Others), By Application (Structural Building Components, Architectural Building Components, Transportation Products, Waste & Water Handling Products, Others), By End-Use Applications (Residential, Commercial, Infrastructure, Industrial), and By Region (North America, Europe, Asia-Pacific, Latin America, Middle East, and Africa), Analysis and Forecast 2022 – 2032
Industry: Construction & Manufacturing
---
REPORT FORMAT

---
Global Precast Concrete Market Insights Forecasts to 2032
The Global Precast Concrete Market Size was valued at USD 121.25 Billion in 2022.
The Market Size is Growing at a CAGR of 6.0% from 2022 to 2032
The Worldwide Precast Concrete Market Size is expected to reach USD 218.79 Billion by 2032
Europe is expected to grow the fastest during the forecast period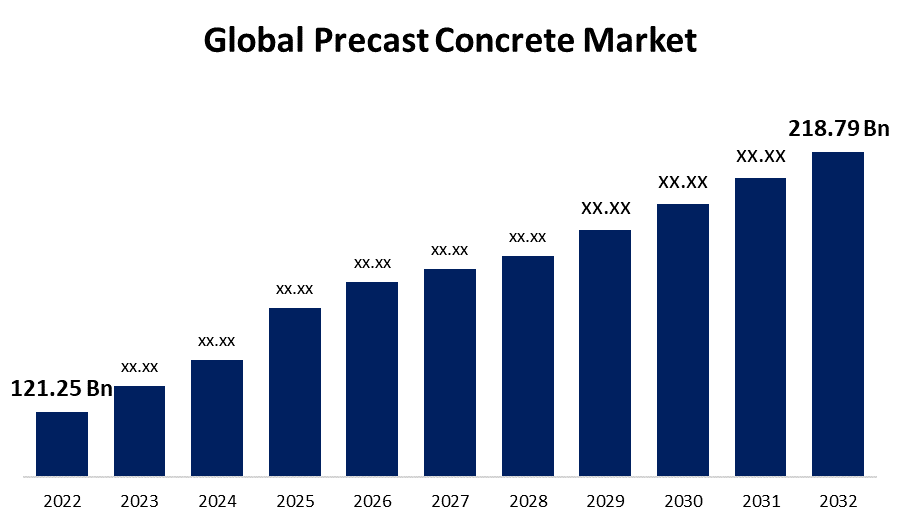 Get more details on this report -
Request Free Sample PDF
The Global Precast Concrete Market Size is expected to reach USD 218.79 Billion by 2032, at a CAGR of 6.0% during the forecast period 2022 to 2032.
Precast concrete is a type of building material that is prepared, cast, and cured off-site, typically in a controlled industrial environment with interchangeable molds. Precast concrete parts can be connected to make a full structure. It is commonly employed for building components that consist of wall panels, beams, columns, floors, stairwells, pipes, and tunnels. Precast concrete elements are manufactured in enclosed factories under regulated circumstances. Acceptance standards can be precisely managed, waste can be reduced, and denser, stronger, and higher-quality concrete can potentially be made. Precast concrete has numerous advantages, including reduced construction time, cost-effectiveness, excellent in quality control, rapid and precise member erection, and the preservation of the environment. Precast concrete is used in both residential and commercial applications, such as highway, bridge, and high-rise construction, as well as tilt-up building structures. Precast concrete has been utilized extensively in low- and mid-rise residential buildings, motels, lodging establishments, and nursing care facilities. The concrete improves durability against fire and noise suppression for individual units while also lowering fire insurance prices.
The major key players in the Global Precast Concrete Market include Cemex S.A.B. de C.V., LafargeHolcim Ltd., CRH Plc, Boral Limited, Balfour Beatty Plc, Larsen & Toubro Ltd., Tindall Corporation, Spancrete, and Bouygues Construction. These major corporations have spent significantly on the development of sustainable construction goods. Collaboration with vendors for raw materials and construction businesses are techniques employed by market participants in order to enhance their global footprint and maintain their competitive edge. To expand and cope with an increasingly fiercely competitive and developing market environment, competitors who operate in the precast concrete sector need to provide cost-effective products.
For instance, on March 2023, Holcim announced the acquisition of HM Factory, a manufacturer of precast concrete products, for an undisclosed value. The annual revenue of HM Factory, which manufactures items for walls, staircases, and balconies, is $19 million. This acquisition contributes to Holcim's "Strategy 2025 - Accelerating Green Growth," which aims to increase its Solutions & Products business to 30% of Group net sales by 2025 by joining the most appealing building segments, ranging from roofing and insulation to repair and refurbishment. HM Factory, in collaboration with Holcim, wants to capitalize on innovative construction trends such as 3D printing technology to advance smart design.
Global Precast Concrete Market Report Coverage
| Report Coverage | Details |
| --- | --- |
| Base Year: | 2022 |
| Market Size in 2022 : | USD 121.25 Billion |
| Forecast Period: | 2022-2032 |
| Forecast Period 2022-2032 CAGR: | 6.0% |
| 2032 Value Projection: | USD 218.79 Billion |
| Historical Data for: | 2018-2021 |
| No. of Pages: | 200 |
| Tables, Charts & Figures: | 125 |
| Segments covered: | By Type, By Application, By End-Use Applications, By Region |
| Companies Covered: | Cemex S.A.B. de C.V., LafargeHolcim Ltd., CRH Plc, Boral Limited, Forterra Pipe and Precast LLC, GÜlermak A.S., Bouygues Construction, Balfour Beatty Plc, Larsen & Toubro Ltd., Tindall Corporation, Spancrete, Bouygues Construction, Gulf Precast Concrete Co. LLC |
| Pitfalls & Challenges: | COVID-19 Empact,Challenges, Future, Growth, & Analysis |
Get more details on this report -
Request Free Sample PDF
Driving Factors
The building and construction sector is trending toward precast concrete because of its capacity to decrease cost, time, and labor while improving building quality through process uniformity, which ensures excellent quality control and improved aesthetics. Furthermore, features such as increased worker safety, simple handling of materials, and less dependence on scaffolding are driving building professionals and contractors to use the precast concrete process. Additionally, rising financial freedom for both developing and developed countries are predicted to fuel the residential construction sector. Besides, increased measures by national governments to build their individual economies are likely to enhance the construction industry, increasing product demand over the forecast period.
Additional key factors propelling the industry's growth include rapid urbanization and industrialization in emerging markets, a growing emphasis on establishing high-quality infrastructure globally, and a priority on green building initiatives. Precast concrete constructions have the advantage of being long-lasting more robust, and can be efficiently built in a shorter duration than other available options. These types of concrete offer a considerably high span-to-depth percentage, which aids the building's integrity in load carrying and, as a result, reduces the need for extra columns. As a result, these items are frequently employed in mega-projects such as concert venues and stadiums to ensure that the audience's vision and experience are not obstructed by any column. Furthermore, increased investments in industrial development from companies in the sector are likely to drive precast concrete use and generate market prospects.
Restraining Factors
However, unpredictability in the market prices of gasoline and petroleum product, which are employed in producing and transporting these materials, and the primary components that are utilized for manufacturing precast concrete products are cement, aggregates, and sand, among others, is the primary driver of fluctuations in prices in the prices of these base materials. Furthermore, precast modular construction largely relies on transportation infrastructure to convey raw materials from the vendor and units from production to the construction zone. Transportation costs include fuel costs, labor costs, warehousing costs, and handling costs. The production can proceed successfully as long as transportation is available at a fair cost. However, shipping costs are quite changeable. If prices rise, the cost of the entire manufacturing process rises as well, because it further affects the cost of transporting units but also the raw material cost for the producer, resulting in inflated modular construction prices for consumers. As a result of the unpredictability of distribution rates, the precast concrete market faces an unpredictable marketplace.
Market Segmentation
By Type Insights
The elemental constructions segment is dominating the market with the largest revenue share over the forecast period.
On the basis of type, the global precast concrete market is segmented into the elemental constructions, permanent modular buildings, relocatable buildings, and others. Among these, the elemental constructions segment is dominating the market with the largest revenue share of 38.6% over the forecast period. Precast elements manufactured in a production facility ensure great completion, durability, structural standards, appropriate consistency, and quality management. Using precast portions to build a whole structure speeds up construction, decreases time on site and faults, lowers labor expenses, and minimizes supporting and scaffolding expenses. As a result of all of these factors, elemental construction is the most favored development form among architects and professionals.
By Application Insights
The structural building components segment is witnessing significant CAGR growth over the forecast period.
On the basis of application, the global precast concrete market is segmented into structural building components, architectural building components, transportation products, waste & water handling products, and others. Among these, the structural building components segment is witnessing significant CAGR growth over the forecast period, owing to their high demand from the construction industry. The expanding number of hotels, malls, and hospitals, together with the rise of global industrialization, will most likely drive product segment expansion throughout the projection period. The increasing usage of structural construction materials in low-cost housing is expected to be a significant driver for this market. Over the projection period, the rising need for moderately priced housing due to a steadily increasing middle-income population is predicted to fuel product demand.
By End-Use Applications Insights
The infrastructure segment accounted for the largest revenue share of more than 57.2% over the forecast period.
On the basis of end-use applications, the global precast concrete market is segmented into residential, commercial, infrastructure, and industrial. Among these, discrete industries are dominating the market with the largest revenue share of 57.2% over the forecast period. This expansion can be attributable to major expenditures in infrastructure construction, which provides lucrative growth possibilities for the precast concrete market. The increased focus on infrastructure and housing demands, especially among developing countries, has resulted in significant private and government-led funding for these sectors. The precast concrete buildings are produced and baked offsite before being supplied as needed. As a result, they do not require on-site storage space. Furthermore, it necessitates a small number of personnel, and the installation necessitates the use of small cranes. Precast concrete has become one of the most commonly used building materials for office structures. Also, infrastructure development plans in developing nations are expected to boost product demand. The building of dams, bridges, flyovers, and other essential public structures is expected to increase product demand.
Regional Insights
Asia Pacific dominates the market with the largest market share over the forecast period.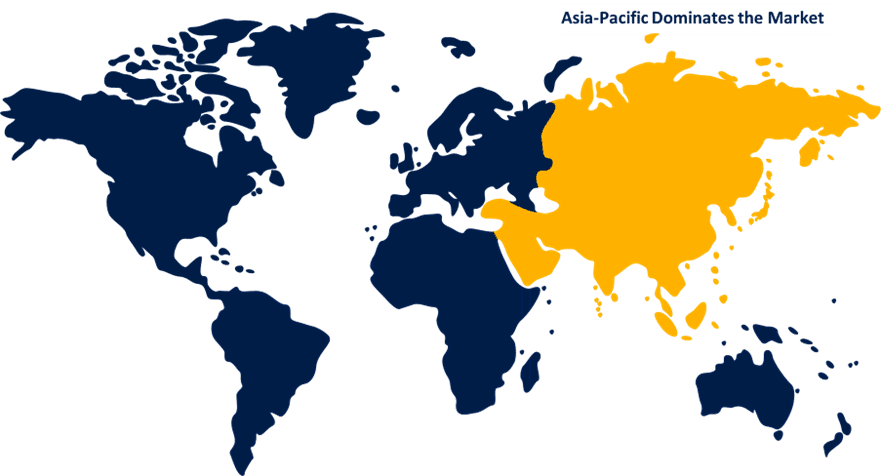 Get more details on this report -
Request Free Sample PDF
Asia Pacific is dominating the market with more than 48.7% market share over the forecast period. The region's newly industrialized nations are projected to report increasing demand for precast concrete as the architecture and engineering sector expands as a result of fast economic growth and legislative efforts toward infrastructure building. These countries' expanding populations constitute a significant base of consumers. Massive expansion in residential and non-residential buildings, as well as affordable, quick and easy, and inexpensive to maintain solutions, are contributing to the continued expansion of the Asia Pacific precast concrete market.
Europe, on the contrary, is expected to grow the fastest during the forecast period. This is partly due to an increase in the use of these types of concrete products for non-residential and infrastructure buildings. The use of products made from precast concrete has lowered building time and labor costs, consequently strengthening the construction market in the region. In addition, economic growth in Europe is attributed to rising investment from private companies in developing countries. Germany is the top construction market because of significant construction investment as a result of variables such as attractive subsidies from the government, digital transformation, financial stability, resource effectiveness, and the adoption of a circular economy.
The North America market is predicted to develop at a considerable CAGR during the period of forecasting, because of sophisticated and sustainable construction techniques that are driving demand for cutting-edge products. Additionally, demand for the product is predicted to increase rapidly due to building contractors' and clients' preferences for environmentally friendly, economical, and flexible construction solutions. The Latin American market is expected to expand due to the increased demand for residential buildings. Another aspect driving regional market expansion is infrastructure development in Latin America.
List of Key Market Players
Cemex S.A.B. de C.V.
LafargeHolcim Ltd.
CRH Plc
Boral Limited
Forterra Pipe and Precast LLC
GÜlermak A.S.
Bouygues Construction
Balfour Beatty Plc
Larsen & Toubro Ltd.
Tindall Corporation
Spancrete
Bouygues Construction
Gulf Precast Concrete Co. LLC
Key Market Developments
On June 2023, Smith-Midland Corporation, a developer of innovative, high-quality proprietary and patented precast concrete products and systems, will commence manufacturing of architectural precast concrete building panels for the BMW Hall 52 Expansion project in Greer, South Carolina, at their South Carolina plant. Smith-Midland will develop and install unique precast panels as part of a $2.1 million contract that will add ten new expansions to the current building that will be used to manufacture electric BMW automobiles.
On December 2022, Holcim Costa Rica has purchased Productos de Concreto's heavy precast unit for $3.35 million USD. According to the daily La Nación, the business has boosted its share in the prefabricated building company Tecnologa de Construcción to 100% from 49%.
Market Segment
This study forecasts revenue at global, regional, and country levels from 2020 to 2032. Spherical Insights has segmented the Global Precast Concrete Market based on the below-mentioned segments:
Precast Concrete Market, Type Analysis
Elemental Constructions
Permanent Modular Building
Relocatable Buildings
Others
Precast Concrete Market, Application Analysis
Structural Building Components
Architectural Building Components
Transportation Products
Waste & Water Handling Products
Others
Precast Concrete Market, End-Use Applications Analysis
Residential
Commercial
Infrastructure
Industrial
Precast Concrete Market, Regional Analysis
North America
Europe

Germany
Uk
France
Italy
Spain
Russia
Rest of Europe

Asia Pacific

China
Japan
India
South Korea
Australia
Rest of Asia Pacific

South America

Brazil
Argentina
Rest of South America

Middle East & Africa

UAE
Saudi Arabia
Qatar
South Africa
Rest of Middle East & Africa
Need help to buy this report?