Global PMMA Microsphere Market Size, Share, and COVID-19 Impact, By Application (Signs and Displays, Cosmetics Additives, Polymers and Films, Paints and Ink Additives, Others), By End User (Lifesciences and medical, Paints and coatings, Personal care and cosmetics, Plastics, Others), By Region (North America, Europe, Asia-Pacific, Latin America, Middle East, and Africa), Analysis and Forecast 2022 – 2032
Industry: Chemicals & Materials
---
REPORT FORMAT

---
Global PMMA Microsphere Market Insights Forecasts to 2032
The PMMA Microsphere Market Size was valued at USD 3.7 Billion in 2022.
The Market Size is Growing at a CAGR of 7.2% from 2022 to 2032
The Worldwide PMMA Microsphere Market Size is expected to reach USD 6.9 Billion by 2032
North America is expected to grow the fastest during the forecast period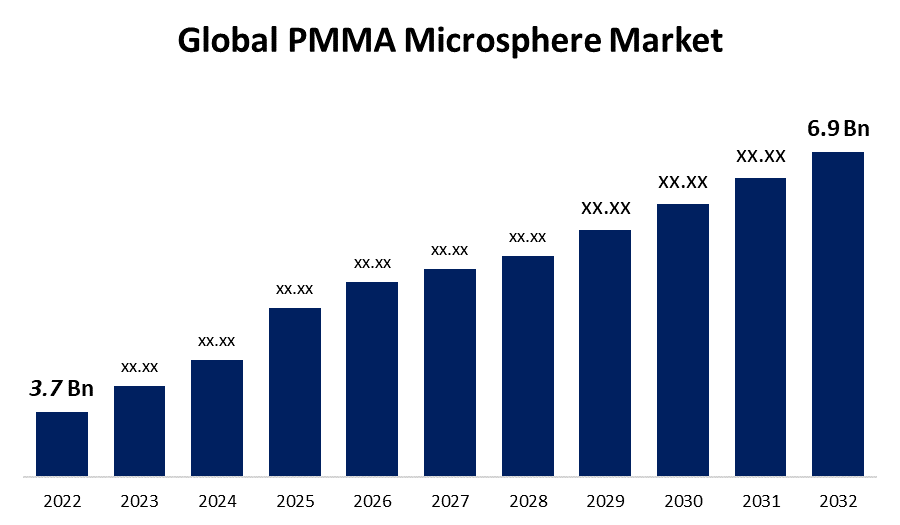 Get more details on this report -
Request Free Sample PDF
The Global PMMA Microsphere Market Size is expected to reach USD 6.9 Billion by 2032, at a CAGR of 7.2% during the forecast period 2022 to 2032.
Microparticles manufactured from a synthetic polymer called polymethyl methacrylate are called PMMA microspheres, or polymethyl methacrylate microspheres. Transparent thermoplastic polymer known as PMMA is widely employed in many industries, including the biomedical and pharmaceutical sectors. The normal shape of PMMA microspheres is spherical, and their diameters range from a few micrometres to a few hundred micrometres. They are frequently created using procedures called emulsion polymerization or suspension polymerization, which entail dispersing PMMA monomers in a liquid medium and then polymerizing those monomers to create solid microspheres. PMMA microspheres are used in the biomedical industry for tissue engineering, drug delivery systems, and fillers in aesthetic operations. When utilised as controlled release systems, they can be filled with medications or bioactive substances and released over time by the microspheres. PMMA microspheres can also be utilised as scaffolds in tissue engineering to promote tissue regeneration and cell proliferation.
Impact of COVID 19 On Global PMMA Microspheres Market
The PMMA microspheres market got severely affected during the COVID 19 pandemic. Over the period of pandemic, many countries have imposed worldwide lockdown in order to control the spread of the virus. The rapid spread of virus have reduced the demand and supply of the product which has severely hampered the growth of the market. In fact, the manufacturing units, industries, infrastructural projects, and other operations have stopped their operations during the entire period of pandemic. Not only this but also the fluctuation in the price of raw materials that are used to make PMMA microspheres and COVID 19 pandemic have hampered the market growth of the global PMMA microspheres market. The companies which are in a good position are expecting the market to get back to normal in future. Pharmaceutical clinical trials, especially those utilising PMMA microspheres-based drug delivery systems, may have been postponed or stopped during the pandemic. Furthermore, regulatory procedures and approvals for new goods or applications would have been hampered, which would have delayed the commercialization of PMMA microsphere-based technology.
Global PMMA Microsphere Market Report Coverage
| Report Coverage | Details |
| --- | --- |
| Base Year: | 2022 |
| Market Size in 2022 : | USD 3.7 Billion |
| Forecast Period: | 2022-2032 |
| Forecast Period 2022-2032 CAGR: | 7.2% |
| 2032 Value Projection: | USD 6.9 Billion |
| Historical Data for: | 2018-2021 |
| No. of Pages: | 200 |
| Tables, Charts & Figures: | 120 |
| Segments covered: | By Application, By End User, By Region |
| Companies Covered: | Comindex SA, Cospheric LLC, EPRUI Biotech Co. Ltd., HEYO ENTERPRISES Co. Ltd., Imperial Microspheres, Matsumoto Yushi Seiyaku Co. Ltd., Microbeads AS, Microchem, Phosphorex Inc., Sekisui Plastics Co. Ltd |
| Pitfalls & Challenges: | COVID-19 Empact,Challenges, Future, Growth, & Analysis |
Get more details on this report -
Request Free Sample PDF
Key Market Drivers
PMMA microspheres are fillers used in creams, lotions, and cosmetics, among other cosmetic and personal care items. Due to the texture, visual impacts, and improved product performance that these microspheres offer, the demand for cosmetics has skyrocketed. PMMA microspheres are a lightweight substitute for other materials in industries like building, automotive, and aerospace. Fuel economy, lower emissions, and enhanced energy efficiency have spurred the demand for lightweight materials, which has resulted in a rise in the use of PMMA microspheres in these sectors. The production efficiency and quality of PMMA microspheres have improved owing to developments in manufacturing techniques and technology. This has facilitated their acceptance across numerous industries by making them more affordable and accessible.
Furthermore, the demand for pharmaceuticals, medical equipment, and related technologies, such as PMMA microspheres, has benefited from the overall expansion in healthcare spending around the world. The growth of the market has been fueled by the development of the healthcare infrastructure and the emphasis on cutting-edge treatment choices. Technological advances, governmental regulations, and economic situations can all have an impact on the PMMA microsphere market's growth. For a thorough knowledge of the future development potential in the PMMA microsphere company operations, it is crucial to take these elements into consideration because market trends and dynamics may differ regionally.
Key Market Challenges
It can be difficult to increase the production of PMMA microspheres while preserving consistency and quality. To ensure efficient and affordable production on a greater scale, the manufacturing process needs to be optimised. Regulations and approvals may be required for the use of PMMA microspheres in some industries, depending on the application and locality. Product development and market entrance may become more difficult and time-consuming as a result of adhering to regulatory requirements and navigating the approval procedures. It frequently takes ongoing research and development efforts, process improvement, and cooperation between industry stakeholders in the PMMA microsphere sector to address these difficulties. By overcoming these obstacles, PMMA microspheres' market potential and applicability can be further increased.
Market Segmentation
Application Insights
Cosmetics Additives segment accounted the largest market share over the forecast period
On the basis of application, the global PMMA Microspheres Market is segmented into Signs and Displays, Cosmetics Additives, Polymers and Films, Paints and Ink Additives, and Others. Among these, cosmetics additives segment accounted the largest market share over the forecast period. When utilised as carriers for active substances in cosmetics, PMMA microspheres allow for a regulated release over time. The stability and efficiency of the microspheres can be increased by encapsulating the active components. With the help of this controlled release mechanism, skin-beneficial compounds can be delivered over a lengthy period of time and gradually.
End User Insights
Life sciences and medical sector is dominating the market with the largest market share over the forecast period
Based on the end user, the global PMMA Microsphere Market is segmented into lifesciences and medical, paints and coatings, personal care and cosmetics, plastics, and others. Among these, lifesciences and medical segment is dominating the market with the largest market share over the forecast period. In the disciplines of the ;ife sciences and medical, PMMA microspheres have a number of significant uses. PMMA microspheres can serve as medication delivery vehicles under controlled conditions. They can encapsulate medicines or bioactive substances and slowly release them over time, allowing for targeted delivery to particular parts of the body and continuous release. PMMA microspheres can be loaded with a variety of therapeutic substances and made to have predetermined release rates.
Regional Insights
Asia Pacific is dominating the market over the forecast period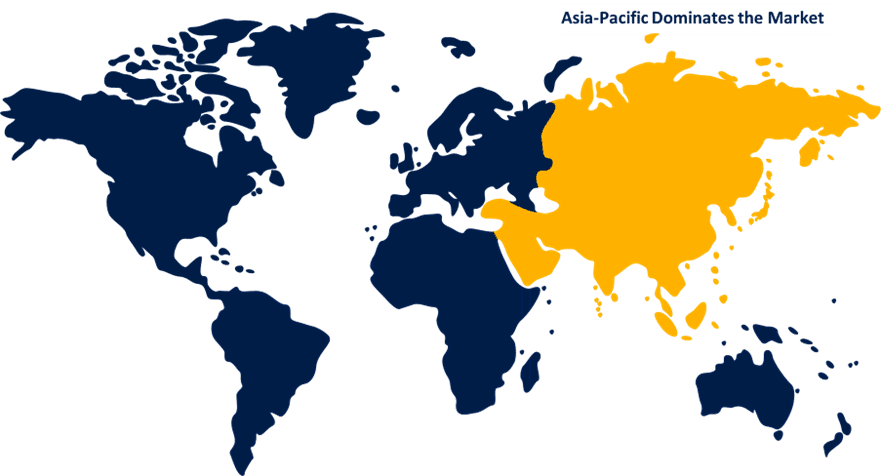 Get more details on this report -
Request Free Sample PDF
Among all other regions, Asia Pacific region is dominating the market with the largest market share over the forecast period. Involvement in biomedical research and development, including tissue engineering, drug delivery systems, and regenerative medicine, has been significant in the Asia-Pacific region. PMMA microspheres are used in various fields because of their scaffolding qualities, controlled release capabilities, and compatibility with biological systems.
North America, on the other hand is anticipated to witness the fastest market growth over the forecast period. There is a thriving biomedical research and development ecosystem in North America, which includes the United States and Canada. In research and development projects including drug delivery, tissue engineering, regenerative medicine, and biomedical imaging, PMMA microspheres are frequently used. They offer specialists in various fields a wide range of tools for research and the creation of novel solutions.
Recent Market Developments
In January 2020, an antibacterial and antiviral coating material has been created by Nippon Shokubai Co., Ltd. in collaboration with a research team for use on the surfaces of various materials.
List of Key Companies
Comindex SA
Cospheric LLC
EPRUI Biotech Co. Ltd.
HEYO ENTERPRISES Co. Ltd.
Imperial Microspheres
Matsumoto Yushi Seiyaku Co. Ltd.
Microbeads AS
Microchem
Phosphorex Inc.
Sekisui Plastics Co. Ltd.
Market Segment
This study forecasts revenue at global, regional, and country levels from 2019 to 2032. Spherical Insights has segmented the global PMMA Microsphere Market based on the below-mentioned segments:
PMMA Microsphere Market, Application Analysis
Signs and Displays
Cosmetics Additives
Polymers and Films
Paints and Ink Additives
Others
PMMA Microsphere Market, End User Analysis
Lifesciences and medical
paints and coatings
Personal care and cosmetics
Plastics
Others
PMMA Microsphere Market, Regional Analysis
North America
Europe

Germany
Uk
France
Italy
Spain
Russia
Rest of Europe

Asia Pacific

China
Japan
India
South Korea
Australia
Rest of Asia Pacific

South America

Brazil
Argentina
Rest of South America

Middle East & Africa

UAE
Saudi Arabia
Qatar
South Africa
Rest of Middle East & Africa
Need help to buy this report?