Global Photovoltaic Market Size, Share, and COVID-19 Impact Analysis, By Component Type (Modules, Inverters, and Balance of System), By Material (Silicon and Compounds), By Cell Type (Full-Cell PV Modules and Half-Cell PV Modules), By Installation Type (Ground-mounted, Building-Integrated Photovoltaics, and Floating PV), By Application (Residential, Commercial & Industrial, and Utilities), By Region (North America, Europe, Asia-Pacific, Latin America, Middle East, and Africa), Analysis and Forecast 2023 – 2032
Industry: Energy & Power
---
REPORT FORMAT

---
Global Photovoltaic Market Insights Forecasts to 2032
The Global Photovoltaic Market Size was valued at USD 93.15 Billion in 2022.
The Market is growing at a CAGR of 10.1% from 2023 to 2032
The Worldwide Photovoltaic Market Size is expected to reach USD 243.81 Billion by 2032
Asia-Pacific expected to have significant growth during the forecast period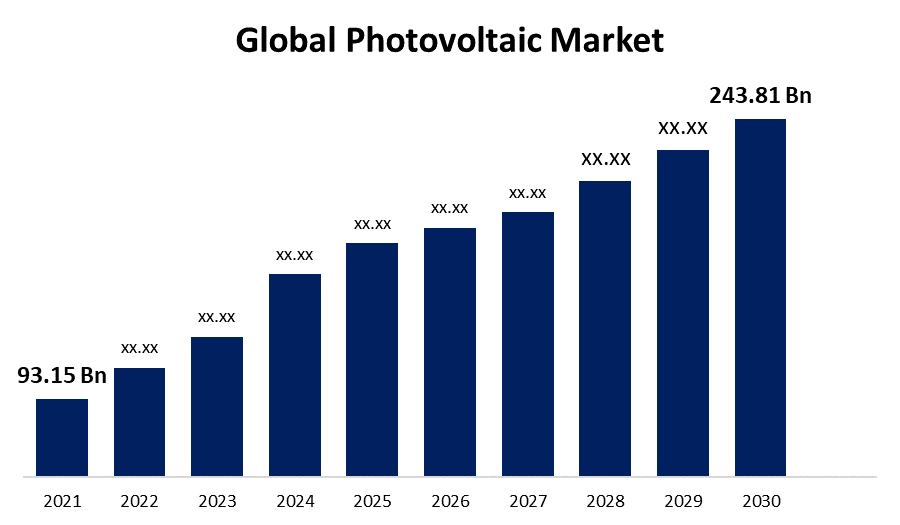 Get more details on this report -
Request Free Sample PDF
The Global Photovoltaic Market Size is expected to reach USD 243.81 Billion by 2032, at a CAGR of 10.1% during the forecast period 2023 to 2032.
Market Overview
Photovoltaic (PV) technology is a sustainable and rapidly growing renewable energy source that converts sunlight directly into electricity. PV systems consist of solar panels made up of photovoltaic cells, typically composed of semiconductor materials such as silicon. When exposed to sunlight, these cells generate an electric current through the photovoltaic effect. PV systems can be deployed in various scales, from small rooftop installations to large solar farms. They offer numerous advantages, including zero greenhouse gas emissions, low maintenance requirements, and long lifespans. Additionally, PV technology has become more efficient and affordable over the years, making it a viable option for widespread adoption. As the world seeks cleaner energy alternatives, photovoltaic systems play a vital role in reducing dependence on fossil fuels and mitigating climate change.
Report Coverage
This research report categorizes the market for photovoltaic market based on various segments and regions and forecasts revenue growth and analyzes trends in each submarket. The report analyses the key growth drivers, opportunities, and challenges influencing the photovoltaic market. Recent market developments and competitive strategies such as expansion, product launch, and development, partnership, merger, and acquisition have been included to draw the competitive landscape in the market. The report strategically identifies and profiles the key market players and analyses their core competencies in each sub-segments of the photovoltaic market.
Global Photovoltaic Market Report Coverage
| Report Coverage | Details |
| --- | --- |
| Base Year: | 2022 |
| Market Size in 2022: | USD 93.15 Billion |
| Forecast Period: | 2022-2032 |
| Forecast Period 2022-2032 CAGR: | 10.1% |
| 2032 Value Projection: | USD 243.81 Billion |
| Historical Data for: | 2018-2021 |
| No. of Pages: | 200 |
| Tables, Charts & Figures: | 130 |
| Segments covered: | By Component Type, By Material, By Cell Type, By Installation Type, By Application, By Region, and COVID-19 Impact Analysis |
| Companies Covered: | JinkoSolar, JA Solar, Trina Solar, LONGi, Canadian Solar, First Solar, Hanwha Q CELLS, Wuxi Suntech Power, Sharp, Mitsubishi Electric, ABB, Huawei, SMA Solar Technology, Sungrow Power Supply, Array Technologies, Chint Solar, GCL System Integration Technology, NEXTracker, Risen Energy, Tongwei Solar, Eaton Corp., LG Electronics, Power Electronics. |
| Pitfalls & Challenges: | COVID-19 Empact, Challenge, Future, Growth, & Analysis |
Get more details on this report -
Request Free Sample PDF
Driving Factors
The photovoltaic (PV) market is driven by several factors that have contributed to its rapid growth due to the increasing global concern over climate change and the need to reduce greenhouse gas emissions has led to a greater emphasis on renewable energy sources, with PV being a key player. Additionally, government policies and incentives, such as feed-in tariffs and tax credits, have played a crucial role in promoting the adoption of PV systems. Technological advancements in PV technology, such as improved efficiency and declining costs, have also contributed to market growth. Furthermore, the growing demand for energy coupled with the need for decentralized and off-grid power solutions in remote areas has increased the deployment of PV systems. Overall, the rising awareness among consumers about the environmental and economic benefits of PV has led to a greater demand for solar power installations.
Restraining Factors
Despite its significant growth, the photovoltaic (PV) market faces certain restraints. The high initial installation costs of PV systems can be a barrier for some consumers, limiting their adoption. Additionally, the intermittent nature of solar power generation poses challenges, as PV systems are reliant on sunlight availability. Grid integration and storage solutions are necessary to overcome this limitation. Furthermore, the availability of suitable land and space constraints can impede the expansion of large-scale PV projects. Moreover, the dependency on government policies and incentives for market support can create uncertainty and fluctuations in the PV market. Finally, concerns about the disposal and recycling of PV panels at the end of their lifecycle present environmental challenges that need to be addressed.
Market Segmentation
In 2022, the balance of system segment accounted for around 54.7% market share
On the basis of the component type, the global photovoltaic market is segmented into modules, inverters, and balance of system. The Balance of System (BOS) segment has consistently held the largest market share in the renewable energy sector. BOS refers to all the components and equipment required for the installation and operation of a photovoltaic (PV) system, excluding the actual solar panels. This includes inverters, mounting structures, wiring, connectors, monitoring systems, and other necessary equipment. The dominance of the BOS market can be attributed to several factors such as declining costs of solar panels have resulted in a greater proportion of the overall PV system costs being allocated to the BOS components. Additionally, advancements in BOS technologies have led to improved system performance and reliability. Moreover, the increasing focus on system optimization, grid integration, and energy management has elevated the importance of BOS components in maximizing the efficiency and output of PV installations. Overall, the BOS segment plays a critical role in the successful implementation and operation of PV systems, driving its substantial market share.
The full-cell PV modules segment held the largest market share of around 63.5% in 2022
Based on the cell type, the global photovoltaic market is segmented into full-cell PV modules and half-cell PV modules. Full-cell photovoltaic (PV) modules have secured the largest market share in the solar industry. Full-cell modules are characterized by complete coverage of the cell area with busbars, resulting in reduced power losses and enhanced overall module performance. This design allows for higher power output and improved efficiency compared to other module types. The dominance of full-cell modules can be attributed to several factors because their higher efficiency translates to increased energy generation, making them a preferred choice for utility-scale solar projects. Additionally, technological advancements in cell interconnection and module manufacturing have further improved the performance and reliability of full-cell modules. Moreover, their compatibility with advanced module technologies, such as bifacial and PERC (Passivated Emitter Rear Cell), has contributed to their market share growth. As the solar industry continues to prioritize maximizing power output and efficiency, full-cell PV modules remain at the forefront of the market.
Regional Segment Analysis of the Photovoltaic Market
North America (U.S., Canada, Mexico)
Europe (Germany, France, U.K., Italy, Spain, Rest of Europe)
Asia-Pacific (China, Japan, India, Rest of APAC)
South America (Brazil and the Rest of South America)
The Middle East and Africa (UAE, South Africa, Rest of MEA)
Asia-Pacific holds the largest market with more than 41.5% revenue share in 2022.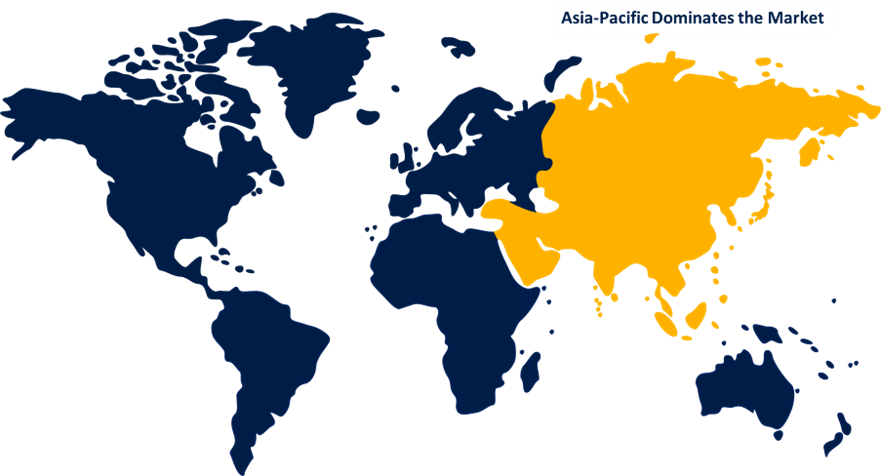 Get more details on this report -
Request Free Sample PDF
Asia-Pacific has emerged as the dominant region in the photovoltaic (PV) market. The region's dominance can be attributed to several factors such as countries like China, Japan, and India have made significant investments in solar energy infrastructure, leading to a substantial increase in PV installations. These nations have implemented supportive government policies, including feed-in tariffs, subsidies, and renewable energy targets, to promote the adoption of PV systems. Additionally, the region's large population and rapid urbanization have created a substantial energy demand, driving the need for renewable energy sources like PV. Furthermore, Asia-Pacific benefits from a favorable climate with ample sunlight, making it ideal for solar power generation. The presence of a robust PV manufacturing industry in the region also contributes to its market dominance. Overall, these factors have propelled Asia-Pacific to the forefront of the global PV market.
Competitive Analysis:
The report offers the appropriate analysis of the key organizations/companies involved within the global photovoltaic market along with a comparative evaluation primarily based on their product offering, business overviews, geographic presence, enterprise strategies, segment market share, and SWOT analysis. The report also provides an elaborative analysis focusing on the current news and developments of the companies, which includes product development, innovations, joint ventures, partnerships, mergers & acquisitions, strategic alliances, and others. This allows for the evaluation of the overall competition within the market.
List of Companies:
JinkoSolar
JA Solar
Trina Solar
LONGi
Canadian Solar
First Solar
Hanwha Q CELLS
Wuxi Suntech Power
Sharp
Mitsubishi Electric
ABB
Huawei
SMA Solar Technology
Sungrow Power Supply
Array Technologies
Chint Solar
GCL System Integration Technology
NEXTracker
Risen Energy
Tongwei Solar
Eaton Corp.
LG Electronics
Power Electronics
Key Target Audience
Market Players
Investors
End-Users
Government Authorities
Consulting and Research Firm
Venture Capitalists
Value-Added Resellers (VARs)
Recent Developments
In February 2022, China's LONGi recently unveiled the Hi-MO 5m 54c module, featuring 54 cells. This latest addition to the Hi-MO 5m series is specifically tailored for residential and commercial & industrial (C&I) rooftop applications. Boasting a maximum power output of 415W, the Hi-MO 5m module achieves an impressive efficiency of 21.25%.
Market Segment
This study forecasts revenue at global, regional, and country levels from 2019 to 2032. Spherical Insights has segmented the global photovoltaic market based on the below-mentioned segments:
Photovoltaic Market, By Component Type
Modules
Inverters
Balance of System
Photovoltaic Market, By Material
Photovoltaic Market, By Cell Type
Full-Cell PV Modules
Half-Cell PV Modules
Photovoltaic Market, By Installation Type
Ground-mounted
Building-Integrated Photovoltaics
Floating PV
Photovoltaic Market, By Application
Residential
Commercial & Industrial
Utilities
Photovoltaic Market, Regional Analysis
North America
Europe

Germany
UK
France
Italy
Spain
Russia
Rest of Europe

Asia Pacific

China
Japan
India
South Korea
Australia
Rest of Asia Pacific

South America

Brazil
Argentina
Rest of South America

Middle East & Africa

UAE
Saudi Arabia
Qatar
South Africa
Rest of Middle East & Africa
Need help to buy this report?