Global Pharmacy Automation Market Size, Share, and COVID-19 Impact Analysis, By Product (Medication Dispensing Systems, Packaging & Labeling Systems, Storage & Retrieval Systems, Automated Medication Compounding Systems, and Tabletop Tablet Counters), By End-Use (Retail Pharmacy, Inpatient Pharmacies, Outpatient Pharmacies, and Mail-Order Pharmacies), By Region (North America, Europe, Asia-Pacific, Latin America, Middle East, and Africa), Analysis and Forecast 2022 – 2032
Industry: Healthcare
---
REPORT FORMAT

---
Global Pharmacy Automation Market Insights Forecasts to 2032
The Global Pharmacy Automation Market Size was valued at USD 5.35 Billion in 2022.
The Market Size is growing at a CAGR of 8.7% from 2022 to 2032
The Worldwide Pharmacy Automation Market Size is expected to reach USD 12.32 Billion by 2032
Asia Pacific is expected to grow fastest during the forecast period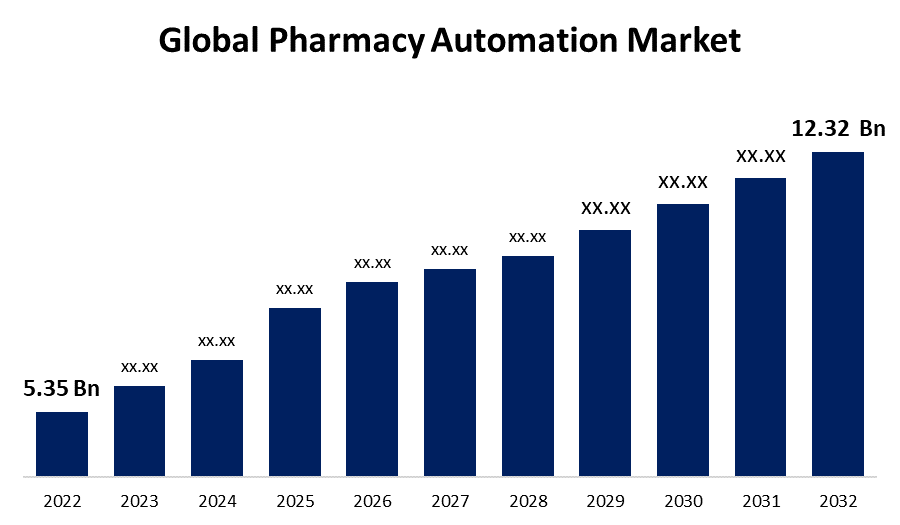 Get more details on this report -
Request Free Sample PDF
The Global Pharmacy Automation Market Size is expected to reach USD 12.32 Billion by 2032, at a CAGR of 8.7% during the forecast period 2022 to 2032.
Market Overview
Pharmacy automation refers to the integration of advanced technologies and systems into the pharmaceutical industry to optimize various processes, enhance efficiency, accuracy, and patient safety. This comprehensive approach involves the automation of tasks ranging from prescription processing and medication dispensing to inventory management and patient counseling. Pharmacy automation systems encompass a diverse array of technologies, including robotic prescription dispensing systems, automated medication packaging units, computerized physician order entry (CPOE) systems, and medication storage and retrieval systems. These innovations not only mitigate the risk of human errors in medication dispensing but also streamline workflows, allowing pharmacists to dedicate more time to clinical and patient-centered activities. Moreover, pharmacy automation plays a pivotal role in reducing medication errors, improving medication adherence through synchronized refills, and enhancing medication tracking and traceability. This technology-driven approach is particularly significant in large healthcare institutions, retail pharmacies, and long-term care facilities, where high prescription volumes and intricate medication regimens demand precision and efficiency. Despite its undeniable advantages, the implementation of pharmacy automation requires careful consideration of factors such as cost, staff training, and seamless integration with existing healthcare IT systems.
Report Coverage
This research report categorizes the market for pharmacy automation market based on various segments and regions and forecasts revenue growth and analyzes trends in each submarket. The report analyses the key growth drivers, opportunities, and challenges influencing the pharmacy automation market. Recent market developments and competitive strategies such as expansion, product launch, and development, partnership, merger, and acquisition have been included to draw the competitive landscape in the market. The report strategically identifies and profiles the key market players and analyses their core competencies in each sub-segments of the pharmacy automation market.
Global Pharmacy Automation Market Report Coverage
| Report Coverage | Details |
| --- | --- |
| Base Year: | 2022 |
| Market Size in 2022: | USD 5.35 Billion |
| Forecast Period: | 2022-2032 |
| Forecast Period 2022-2032 CAGR: | 8.7% |
| 2032 Value Projection: | USD 12.32 Billion |
| Historical Data for: | 2019-2021 |
| No. of Pages: | 200 |
| Tables, Charts & Figures: | 120 |
| Segments covered: |  COVID-19 Impact Analysis, By Product, By End-Use, By Region |
| Companies Covered: | Amerisource Bergen Corporation, Accu-Chart Plus Healthcare Systems, Inc., Omnicell, Inc., McKesson Corporation, Pearson Medical Technologies, Scriptpro LLC, Fulcrum Pharmacy Management, Inc., Health Robotics S.R.L., Medacist Solutions Group, LLC, Aesynt, Inc., Becton, Dickinson and Company, Capsa Healthcare, Cerner Oracle, Baxter International Inc., Swisslog Healthcare, and Other key venders |
| Pitfalls & Challenges: | COVID-19 Empact,Challenges, Future, Growth, & Analysis |
Get more details on this report -
Request Free Sample PDF
Driving Factors
The pharmacy automation market is driven by a confluence of factors that collectively contribute to its rapid growth and adoption across the healthcare industry. The escalating global demand for efficient healthcare services has spurred the need for streamlined medication management processes. Pharmacy automation systems offer enhanced accuracy and speed in tasks such as prescription filling, reducing errors and freeing up valuable time for pharmacists to engage in patient care and counseling. Moreover, the prevalence of medication-related errors and their potential consequences has underscored the importance of automation in minimizing mistakes in dosage and dispensing. The aging population and the subsequent increase in chronic diseases have led to a surge in prescription volume, straining traditional pharmacy workflows. Pharmacy automation addresses this challenge by efficiently managing high prescription loads, ensuring timely dispensing, and optimizing medication adherence through automated reminders.
The stringent regulations and standards in the pharmaceutical sector necessitate a meticulous approach to medication handling. Pharmacy automation not only aids in complying with these regulations but also offers a robust audit trail, simplifying record-keeping and accountability. The push for cost containment and operational efficiency in healthcare institutions has fueled the adoption of automation solutions. Pharmacy automation minimizes labor costs, optimizes inventory management, and reduces wastage by precise medication dispensing, leading to significant long-term savings. The rapid advancements in technology, including robotics, artificial intelligence, and machine learning, have led to the development of sophisticated pharmacy automation systems that can handle complex tasks with a high degree of accuracy. This has sparked interest and investment in automation from both pharmaceutical manufacturers and healthcare providers. The COVID-19 pandemic has accentuated the need for contactless and remote healthcare services. Pharmacy automation facilitates contactless prescription processing, minimizing in-person interactions and contributing to infection control measures.
Restraining Factors
The pharmacy automation market faces certain restraints that impact its growth trajectory. Initial implementation costs can be substantial, including equipment installation, training, and integration with existing systems. Concerns about job displacement and the need for ongoing technical support also hinder full-scale adoption. Moreover, the complexity of some automation solutions might lead to resistance from healthcare professionals. Regulatory hurdles and potential medication errors due to technical glitches or system failures further contribute to the market's challenges. These constraints collectively influence the pace and extent of pharmacy automation adoption across the healthcare industry.
Market Segmentation
In 2022, the medication dispensing systems segment accounted for around 25.3% market share
On the basis of the product, the global pharmacy automation market is segmented into medication dispensing systems, packaging & labeling systems, storage & retrieval systems, automated medication compounding systems, and tabletop tablet counters. The medication dispensing systems segment secured the largest market share within pharmacy automation due to its pivotal role in improving medication management processes. These systems, encompassing robotic dispensers, automated medication storage, and retrieval systems, significantly enhance accuracy, reduce human errors, and expedite prescription fulfillment. With mounting prescription volumes and a focus on patient safety, healthcare facilities increasingly adopt these systems to streamline workflow efficiency. Additionally, their integration with electronic health records and pharmacy information systems further bolsters their appeal. The medication dispensing systems' ability to minimize dispensing errors, optimize inventory management, and enhance patient outcomes has solidified their position as a cornerstone of pharmacy automation, contributing to their dominant market share.
The retail pharmacy segment held the largest market with more than 47.8% revenue share in 2022
Based on the end-use, the global pharmacy automation market is segmented into retail pharmacy, inpatient pharmacies, outpatient pharmacies, and mail-order pharmacies. The retail pharmacy segment commands the largest share in the pharmacy automation market owing to its widespread presence and pivotal role in patient care. With a high volume of prescriptions and a focus on customer convenience, retail pharmacies adopt automation to streamline prescription processing and dispensing. Automated systems enhance operational efficiency, reduce waiting times, and minimize errors, thereby improving patient satisfaction. The segment's growth is further fueled by the need to manage chronic diseases, rising healthcare expenditure, and increasing demand for contactless services. These factors, combined with automation's ability to optimize inventory management and ensure accurate dosage, solidify the retail pharmacy segment's dominance in the pharmacy automation market.
Regional Segment Analysis of the Pharmacy Automation Market
North America (U.S., Canada, Mexico)
Europe (Germany, France, U.K., Italy, Spain, Rest of Europe)
Asia-Pacific (China, Japan, India, Rest of APAC)
South America (Brazil and the Rest of South America)
The Middle East and Africa (UAE, South Africa, Rest of MEA)
North America dominated the market with more than 53.2% revenue share in 2022.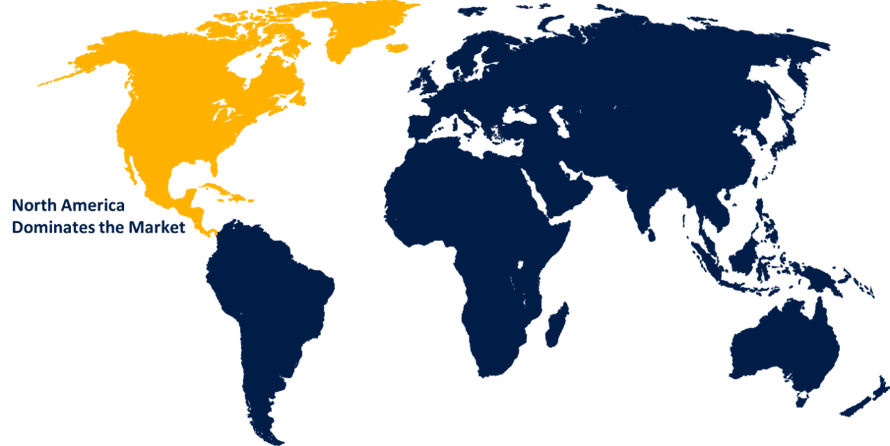 Get more details on this report -
Request Free Sample PDF
North America holds the largest share in the pharmacy automation market due to advanced healthcare infrastructure, high adoption of technological innovations, and increasing emphasis on patient safety drive the demand for pharmacy automation solutions. Additionally, the prevalence of chronic diseases and the subsequent need for efficient medication management further boost the adoption of automation systems. Robust regulatory frameworks and well-established healthcare systems contribute to the favorable environment for integrating automation in pharmacy operations. These factors collectively position North America as a frontrunner in adopting and implementing pharmacy automation technologies, leading to its dominant market share.
Asia Pacific region is expected to experience the fastest growth in the pharmacy automation market during the forecast period. This growth can be attributed to several factors, including the expanding healthcare infrastructure, rising healthcare awareness, and increasing investment in technological advancements. The region's large and aging population, coupled with a growing prevalence of chronic diseases, is driving the demand for efficient medication management. Moreover, as economies in the Asia Pacific continue to develop, healthcare providers are seeking innovative solutions to enhance patient care and safety, creating a conducive environment for the rapid adoption of pharmacy automation technologies and driving its swift growth in the region.
Competitive Analysis:
The report offers the appropriate analysis of the key organizations/companies involved within the global pharmacy automation market along with a comparative evaluation primarily based on their product offering, business overviews, geographic presence, enterprise strategies, segment market share, and SWOT analysis. The report also provides an elaborative analysis focusing on the current news and developments of the companies, which includes product development, innovations, joint ventures, partnerships, mergers & acquisitions, strategic alliances, and others. This allows for the evaluation of the overall competition within the market.
List of Companies:
Amerisource Bergen Corporation
Accu-Chart Plus Healthcare Systems, Inc.
Omnicell, Inc.
McKesson Corporation
Pearson Medical Technologies
Scriptpro LLC
Fulcrum Pharmacy Management, Inc.
Health Robotics S.R.L.
Medacist Solutions Group, LLC
Aesynt, Inc.
Becton, Dickinson and Company
Capsa Healthcare
Cerner Oracle
Baxter International Inc.
Swisslog Healthcare
Key Target Audience
Market Players
Investors
End-Users
Government Authorities
Consulting and Research Firm
Venture Capitalists
Value-Added Resellers (VARs)
Recent Developments
In June 2022, Becton, Dickinson & Company, and Frazier Healthcare Partners have reached a formal deal in which BD will pay USD 1.525 billion for Parata Systems, an innovative developer of pharmacy automation systems. An expanding network of pharmacies relies on Parata's range of revolutionary pharmacy automation solutions to decrease costs, increase patient safety, and enhance the patient experience.
In March 2022, Swisslog Healthcare, in collaboration with TriaTech Medical Systems, provided MedSMART, a line of automated dispensing cabinets, to several European healthcare facilities.
Market Segment
This study forecasts revenue at global, regional, and country levels from 2019 to 2032. Spherical Insights has segmented the global pharmacy automation market based on the below-mentioned segments:
Pharmacy Automation Market, By Product
Medication Dispensing Systems
Packaging & Labeling Systems
Storage & Retrieval Systems
Automated Medication Compounding Systems
Tabletop Tablet Counters
Pharmacy Automation Market, By End-Use
Retail Pharmacy
Inpatient Pharmacies
Outpatient Pharmacies
Mail-Order Pharmacies
Pharmacy Automation Market, Regional Analysis
North America
Europe

Germany
UK
France
Italy
Spain
Russia
Rest of Europe

Asia Pacific

China
Japan
India
South Korea
Australia
Rest of Asia Pacific

South America

Brazil
Argentina
Rest of South America

Middle East & Africa

UAE
Saudi Arabia
Qatar
South Africa
Rest of Middle East & Africa
Need help to buy this report?