Global Pen Needles Market Size By Product (Standard & Safety Pen Needles), By Needle Length (4mm, 5mm, 6mm, 8mm, 10mm, 12mm), By Therapy (Insulin, Glucagon-like-Peptide-1), By Geographic Scope And Forecast, 2023 - 2032
Industry: Healthcare
---
REPORT FORMAT

---
Global Pen Needles Market Insights Forecasts to 2032
The Pen Needles Market Size was valued at USD 2.2 Billion in 2022.
The Market is Growing at a CAGR of 9.7% from 2022 to 2032
The Worldwide Pen Needles Market Size is expected to reach USD 5.6 Billion by 2032
Asia Pacific is expected to grow the fastest during the forecast period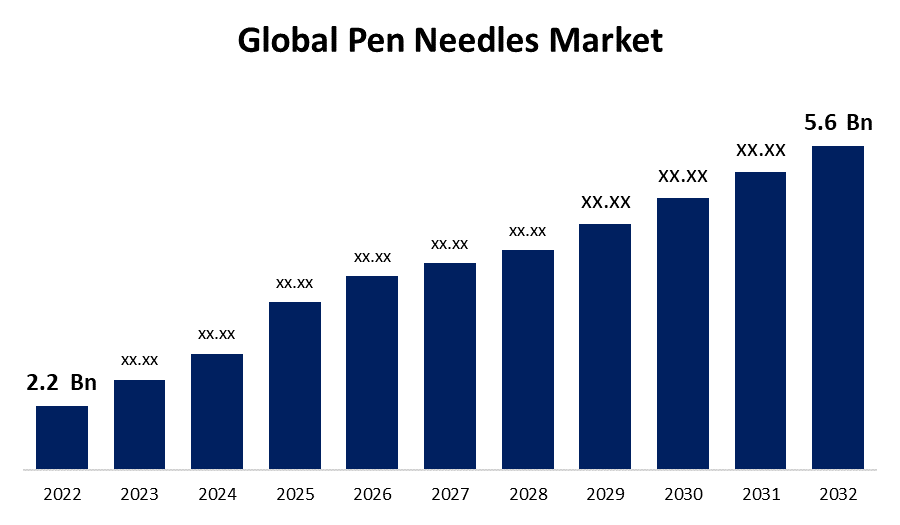 Get more details on this report -
Request Free Sample PDF
The Global Pen Needles Market Size is expected to reach USD 5.6 Billion by 2032, at a CAGR of 9.7% during the forecast period 2022 to 2032.
A pen needle is a small, disposable medical device that is attached to an injector pen and is used to administer medications. These needles are made of plastic or plastic-coated metal and come in a variety of lengths and gauge sizes to make them easier to handle. The needle is made of stainless steel, which is strong and durable enough to pierce the skin comfortably. The needle tip is frequently slanted to aid in skin penetration, and a lubricant is used to reduce injection pain. In comparison to the traditionally used syringes and vials, pen needles are highly cost-effective, convenient to use, portable and do not require refrigeration. The rise in diabetes prevalence, surge in demand for self-administration of injectable drugs, availability of a wide range of pen needles to meet individual patient needs, and increased emphasis on home healthcare and self-care are all driving market growth. Furthermore, the advantages of pen needles over traditional syringes, as well as the increased awareness and adoption of injector pens, increase demand for pen needles and contribute to the growth of the pen needles market size.
Market Outlook
Pen Needles Market Price Analysis
Market dynamics and fluctuations in raw material costs influence prices. Additionally, regulatory changes and healthcare reimbursement policies impact pricing strategies, as manufacturers strive to balance affordability and quality. Continuous price analysis is essential to adapt to evolving market demands, ensuring accessibility and sustainability for patients relying on these vital medical devices.
Pen Needles Market Distribution Analysis
Pharmacies, online retail, and healthcare facilities all play important roles in distribution. Due to convenience, online sales are gaining traction, while traditional pharmacies remain prominent. Partnerships between pen needle manufacturers and pharmaceutical companies are also broadening the reach. Continuous advancements in pen needle technology, as well as a focus on patient-friendly designs, aided in the competitive distribution dynamics of this market.
Global Pen Needles Market Report Coverage
| Report Coverage | Details |
| --- | --- |
| Base Year: | 2022 |
| Market Size in 2022: | USD 2.2 Billion |
| Forecast Period: | 2022-2032 |
| Forecast Period 2022-2032 CAGR: | 9.7% |
| 2032 Value Projection: | USD 5.6 Billion |
| Historical Data for: | 2019-2021 |
| No. of Pages: | 200 |
| Tables, Charts & Figures: | 120 |
| Segments covered: | By Product, By Needle Length, By Therapy, By Geographic Scope |
| Companies Covered: | Novo Nordisk A/S, Becton, Dickinson and Company, Terumo Corp., Owen Mumford Ltd., Ypsomed, B. Braun Melsungen AG, HTL-STREFA, UltiMed, Inc., Allison Medical, Inc., Artsana S.p.A., Others, and Key vendors |
| Growth Drivers: | Self-administration is becoming more popular |
| Pitfalls & Challenges: | COVID-19 Empact,Challenges, Future, Growth, & Analysis |
Get more details on this report -
Request Free Sample PDF
Market Dynamics
Pen Needles Market Dynamics
Self-administration is becoming more popular
Pen injectors have several advantages over traditional drug administration methods that use vials and syringes, including ease of use, especially at home, which eliminates the need for frequent trips to clinics or healthcare facilities. Pen injectors are also less likely to cause errors when administering the correct dose. Pen injectors, when used with shorter pen needles, can reduce pain at the injection site and improve quality of life when compared to other drug delivery methods. These advantages are expected to drive market growth during the forecast period. Technological advancements in various product types are also expected to drive the growth of the pen needles industry. Companies are concentrating on new product development in terms of needle length. For example, in 2021, BD (Becton, Dickinson and Company) introduced the BD Nano Ultra-Fine pen needle, which has a needle length of 4 mm for improved patient comfort and consistent insulin delivery.
Restraints & Challenges
Preference for alternative drug delivery methods
Pen needles can cause needlestick injuries and infections, as well as hyperglycemia and pain. These are sometimes associated with hyperglycemia due to the inability to control the dosage. As a result, insulin pumps are preferred over pens for insulin administration in some areas. This is one of the major challenges confronting the pen needles market.
Regional Forecasts
North America Market Statistics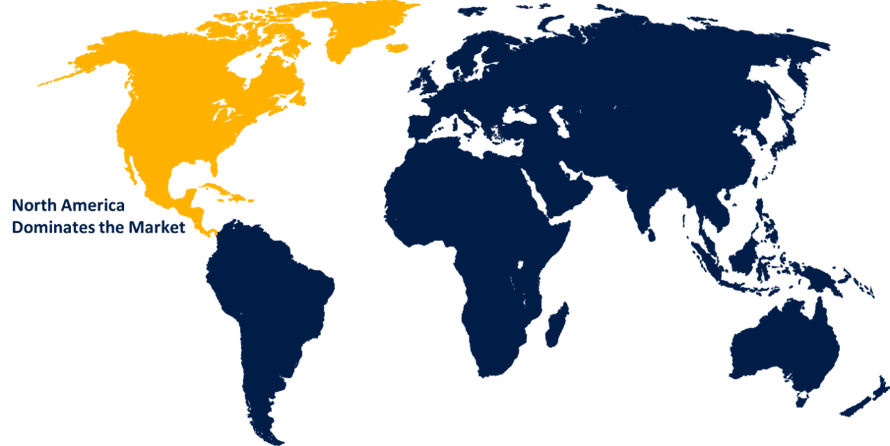 Get more details on this report -
Request Free Sample PDF
North America is anticipated to dominate the Pen Needles Market from 2023 to 2032. The market for pen needles is dominated by North America. With the rising incidence and prevalence of chronic diseases, the North American region is gaining traction. Furthermore, due to the region's strong foothold, rising approval of pen injectors for multiple applications across many countries, and government initiatives to raise awareness about advancements in insulin drug delivery, the pen needles market in North America is expected to grow significantly.
Asia Pacific Market Statistics
Asia Pacific is witnessing the fastest market growth between 2023 to 2032. The APAC pen needles market is being driven by rising demand for pen needles over syringes and vials, as well as an increase in geriatric populations. China is another promising market in the Asia Pacific region. The rising number of diabetic patients in this region is primarily driving market growth in China. Diabetes prevalence, rising obesity rates, and other lifestyle disorders are all on the rise, and demand for pen needles is expected to grow at a healthy CAGR of more than 11.6% in APAC over the forecast period.
Segmentation Analysis
Insights by Product
The Safety Pen Needles segment accounted for the fastest growth rate over the forecast period 2023 to 2032. Because of technological advancements in this field, safety pen needles are expected to grow at a rapid pace over the forecast period. These devices help to reduce needlestick injuries among patients. According to the National Library of Medicine, faulty needles cause the majority of needlestick injuries (NSIs). Sharps injury prevention function (SIPF) built into safety pen needles (SPN) aids in the prevention of such injuries before, during, and after use.
Insights by Needle Length
The 8mm segment accounted for the significant market share over the forecast period 2023 to 2032. These needles are most commonly prescribed to all patients, including those who are overweight and have the target disease. It provides benefits such as security, user convenience, and ease of disposal. These needles are used in private homes. Other factors, such as accessibility and cost, are expected to drive category growth. Because of their larger size, the needles are less likely to cause a needlestick injury and are simple and safe to dispose. Furthermore, they are recommended because they can be distinguished from other pointy garbage.
Recent Market Developments
In February 2023, Montmed, Inc. (Canada) has received a second US Patent for its Sitesmart Pen Needles.
Competitive Landscape
Major players in the market
Novo Nordisk A/S
Becton
Dickinson and Company
Terumo Corp.
Owen Mumford Ltd.
Ypsomed
B. Braun Melsungen AG
HTL-STREFA
UltiMed, Inc.
Allison Medical, Inc.
Artsana S.p.A.
Others
Market Segmentation
This study forecasts revenue at global, regional, and country levels from 2023 to 2032.
Pen Needles Market, Product Analysis
Standard Pen Needles
Safety Pen Needles
Pen Needles Market, Needle Length Analysis
4mm
5mm
6mm
8mm
10mm
12mm
Pen Needles Market, Therapy Analysis
Insulin
Glucagon-like-Peptide-1
Pen Needles Market, Regional Analysis
Need help to buy this report?