Global Paper Packaging And Paperboard Packaging Market Size By Grade (Label paper, Folding boxboard (FBB)), By Product Type (Corrugated box, Boxboard), By Application (Food and beverages, Electronics), By Region, And Segment Forecasts, By Geographic Scope And Forecast to 2022-2032
Industry: Consumer Goods
---
REPORT FORMAT

---
Global Paper Packaging And Paperboard Packaging Market Size Insights Forecasts to 2022-2032
The Paper Packaging And Paperboard Packaging Market Size was valued at USD 210.9 Billion in 2022
The Market Size is Growing at a CAGR of 3.6% from 2022 to 2032
The Global Paper Packaging And Paperboard Packaging Market Size is expected to reach USD 251.2 Billion by 2032
Asia Pacific is expected to Grow the fastest during the forecast period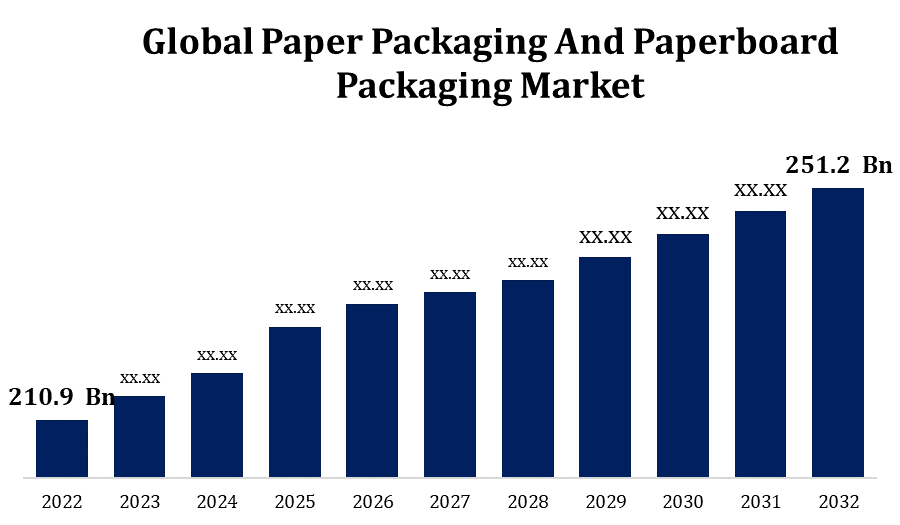 Get more details on this report -
Request Free Sample PDF
The Global Paper Packaging And Paperboard Packaging Market Size is expected to reach USD 251.2 Billion by 2032, at a CAGR of 3.6% during the forecast period 2022 to 2032.
Paper is a common material used in the paper packaging and paperboard packaging industry to package a variety of goods. This can apply to the packaging of medicines, food and drink items, personal hygiene items, and more. Paper packaging is available in a number of shapes and sizes, such as wraps, cartons, bags, and boxes. It serves as consumer protection, branding, and information in both primary and secondary packaging. The market for paper packaging has been greatly impacted by the growth of e-commerce. It is utilized for products that support an effective and environmentally friendly e-commerce packaging procedure, such as shipping boxes and protective packaging. Paperboard packaging is used by a number of industries, such as consumer goods, medicines, cosmetics, and food and beverage industries. Because of its stiffness and strength, it can be used to shield objects on store shelves and during transit.
Paper Packaging And Paperboard Packaging Market Value Chain Analysis
First on the value chain is the procurement of raw materials, mostly paper. Depending on the kind of paper packaging being made, this may need obtaining wood pulp, recycled paper, or both. Paper mills process the raw materials to create several kinds of paper. This covers procedures such as papermaking, pulping, and refining. Depending on the exact packaging needs, several types of paper—such as kraft paper for bags or corrugated cardboard for boxes—will be manufactured. After production, the paper packaging moves on to the logistics and distribution phase. To make sure that the goods go to packaging suppliers, converters, and ultimately end users, packaging makers collaborate with distribution channels. The paperboard sheets go through conversion procedures when they are made.
Paper Packaging And Paperboard Packaging Market Opportunity Analysis
The steady expansion of e-commerce presents a chance to offer customised packaging options for online retailers. Creating durable and aesthetically beautiful packaging that safeguards goods throughout transportation and improves the unboxing experience is one way to do this. Sustainability objectives can be met by creating and using biodegradable coatings and inks for paper packaging. This offers a chance to satisfy customers who care about the environment and companies looking for more eco-friendly packaging options. The premium and luxury product classes present prospects for the paperboard packaging market. Products can be made to seem more valuable by using premium finishing options, creative structural designs, and high-quality printing. Enhancing user engagement and usefulness can be achieved by integrating functional features into paperboard packaging, such as interactive elements, integrated measuring instruments, or tear-off coupons.
Global Paper Packaging And Paperboard Packaging Market Report Coverage
| Report Coverage | Details |
| --- | --- |
| Base Year: | 2022 |
| Market Size in 2022: | USD 210.9 |
| Forecast Period: | 2022-2032 |
| Forecast Period 2022-2032 CAGR: | 3.6% |
| 2032 Value Projection: | USD 251.2 Billion |
| Historical Data for: | 2019-2021 |
| No. of Pages: | 200 |
| Tables, Charts & Figures: | 115 |
| Segments covered: | By Grade, By Product, By Application, By Region, By Geographic |
| Companies Covered: | Amcor Ltd, ITC Ltd., Cascades Inc., RockTenn Company, Clearwater Paper Corporation, Packaging Corporation of America, DS Smith Plc., Mondi Group, Metsa Group, and Others. |
| Growth Drivers: | Growing demand for eco-friendly packaging |
| Pitfalls & Challenges: | Covid-19 Empact,Challenges,Growth, Analysis, |
Get more details on this report -
Request Free Sample PDF
Market Dynamics
Paper Packaging And Paperboard Packaging Market Dynamics
Growing demand for eco-friendly packaging
Businesses are realising the value of corporate social responsibility more and more. Eco-friendly packaging reduces the packaging industry's overall environmental impact and demonstrates a dedication to sustainable practises, all of which are in line with corporate social responsibility (CSR) goals. Customers are more knowledgeable and thoughtful about the goods they buy. They want product packaging to be transparent, with details about the materials used and the impact on the environment included. Packaging that is environmentally friendly satisfies the need for ethical and transparent consumption. Companies are incorporating waste reduction objectives into their sustainability plans. Eco-friendly packaging helps to meet these waste reduction goals since it frequently uses fewer materials and resources
Restraints & Challenges
Alternative packaging materials like metals and plastics are a threat to the paper packaging market. The adaptability and low weight of these materials can make paper-based packaging options more difficult to use. In the market for paper and paperboard packaging, cost concerns are a recurring problem. Although paper is typically thought to be a cost-effective material, changes in the price of raw materials, electricity, and other production factors might affect how competitively priced paper packaging is overall. In comparison to certain plastics and laminated materials, paper and paperboard materials could have less barrier qualities. It can be difficult to get the best possible barrier protection for items without the use of extra coatings or treatments, particularly in the food and pharmaceutical industries.
Regional Forecasts
North America Market Statistics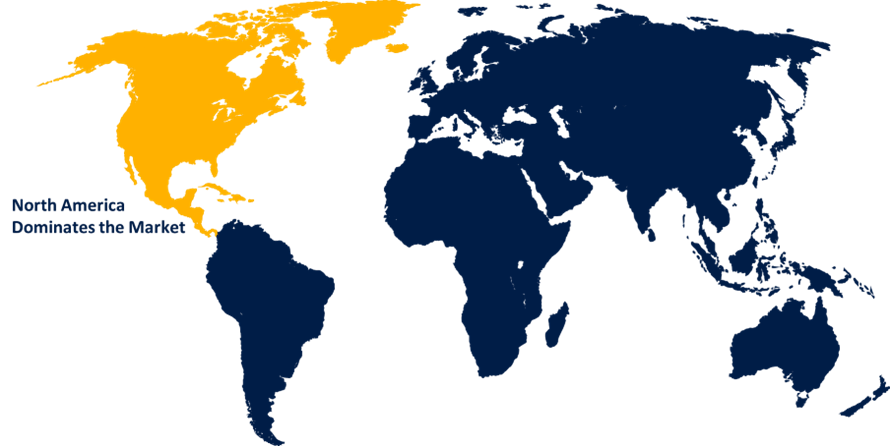 Get more details on this report -
Request Free Sample PDF
North America is anticipated to dominate the Paper Packaging And Paperboard Packaging Market from 2023 to 2032. There is a noticeable trend in North America where customers are giving eco-friendly and sustainable packaging solutions more weight. The demand for paper and paperboard packaging has increased as a result of this change in consumer behaviour because these materials are thought to be more environmentally friendly than some alternatives. The packaging sector in North America has been greatly impacted by the growth of e-commerce. Paper and paperboard materials are increasingly being used in online shipments due to the need for sturdy, attractive, and protected packing. In North America, private label brands are so common that there is a need for affordable, scalable packaging options. In North America, high-end and luxury brands are investigating paper and paperboard packaging alternatives to project an air of refinement and sustainability.
Asia Pacific Market Statistics
Asia Pacific is witnessing the fastest market growth between 2023 to 2032. The Asia-Pacific region, which includes South Korea, Japan, China, India, and other nations, has been seeing significant economic expansion. Increased demand for packaging solutions, such as paper and paperboard packaging, is a result of this development in consumption. Asia-Pacific's e-commerce market is expanding rapidly due to factors like rising internet penetration, rising consumer spending power, and a shift in consumer behaviour towards online buying. In many Asia-Pacific nations, urbanisation and shifting lifestyles are having an impact on consumer preferences and purchase patterns. This in turn affects the kinds of packaging materials that are favoured, with a rise in demand for environmentally friendly and sustainable solutions. In the Asia-Pacific area, the need for paper and paperboard packaging is largely driven by the food and beverage sector
Segmentation Analysis
Insights by Grade
The White line chipboard segment accounted for the largest market share over the forecast period 2023 to 2032. White line chipboard is a preferred option due to its superior printability. The white, smooth surface makes printing text, logos, and artwork vivid and of excellent quality possible. Because of this, it is the recommended option for packaging when brand presentation and aesthetic appeal are essential. The adaptability of white line chipboard enables a wide range of packaging designs. It is simple to cut, fold, and customise to make original and creative packaging designs. It is appropriate for a variety of packaging applications due to its versatility. The packaging for consumer goods products must frequently be aesthetically pleasing and well-branded. When a high-end appearance is required for products like electronics, personal hygiene products and gift boxes, white line chipboard is frequently utilised in their packaging.
Insights by Product Type
Flexible paper packaging segment is witnessing the fastest market growth over the forecast period 2023 to 2032. Flexible paper packaging is becoming more and more popular as a result of consumer demand for environmentally friendly packaging solutions. Flexible paper packaging provides a recyclable and biodegradable substitute for conventional plastic packaging at a time when businesses and consumers are prioritising environmentally friendly alternatives. Because it is lightweight, flexible paper packaging is an affordable option for a variety of product packaging needs. Because of its lightweight nature, which lowers environmental impact and shipping costs, it is a desirable choice for firms looking to maximise logistical efficiency. Flexible paper packaging has been widely adopted by the food industry. Flexible paper packaging satisfies the hygienic and safety standards for food goods, from stand-up pouches for snacks to paper-based wrappers for candy items.
Insights by Application
The Food and Beverages segment accounted for the largest market share over the forecast period 2023 to 2032. Food and beverage businesses have chosen paper and paperboard packaging due to rising consumer awareness and demand for environmentally friendly packaging solutions. In order to address environmental concerns and fit with consumer values, brands are choosing eco-friendly solutions. Packaging solutions that can survive the rigours of online retail are in higher demand as e-commerce in the food and beverage industry continues to rise. Paper and paperboard materials can be tailored to meet the needs of e-commerce packaging. The rise in middle-class population, especially in emerging economies, is a factor in the rise in packaged food and drink consumption.
Recent Market Developments
In September 2020, in order to provide 500g packets of tomatoes on the vine to the PENNY stores—owned by the major German retailer REWE Group—Mondi PLC collaborated with BIOhof Kirchweidach, an organic farm in Bavaria, to devise an environmentally friendly packaging solution.
Competitive Landscape
Major players in the market
Amcor Ltd, ITC Ltd.
Cascades Inc.
RockTenn Company
Clearwater Paper Corporation
Packaging Corporation of America
DS Smith Plc.
Mondi Group
Metsa Group
Market Segmentation
This study forecasts revenue at global, regional, and country levels from 2023 to 2032.
Paper Packaging And Paperboard Packaging Market, Grade Analysis
Label paper
Folding boxboard (FBB)
Paper Packaging And Paperboard Packaging Market, Product Type Analysis
Paper Packaging And Paperboard Packaging Market, Application Analysis
Food and beverages
Electronics
Paper Packaging And Paperboard Packaging Market, Regional Analysis
Need help to buy this report?