Global Optic Adhesive Market Size, By Type (Acrylic, Silicone, Epoxy, Cyanoacrylate), By Application (Optical Bonding & Assembly, Lens Bonding Cement, Fiber Optics, Others), By End-use (Electrical & Electronics, Automotive, Aerospace, Others) By Geographic Scope and Forecast, 2022 – 2032
Industry: Chemicals & Materials
---
REPORT FORMAT

---
Global Optic Adhesive Market Insights Forecasts to 2032
The Optic Adhesive Market Size was valued at USD 1.97 Billion in 2022.
The Market is Growing at a CAGR of 6.8% from 2022 to 2032
The Global Optic Adhesive Market Size is expected to reach USD 3.81 Billion by 2032
North America is expected to grow the fastest during the forecast period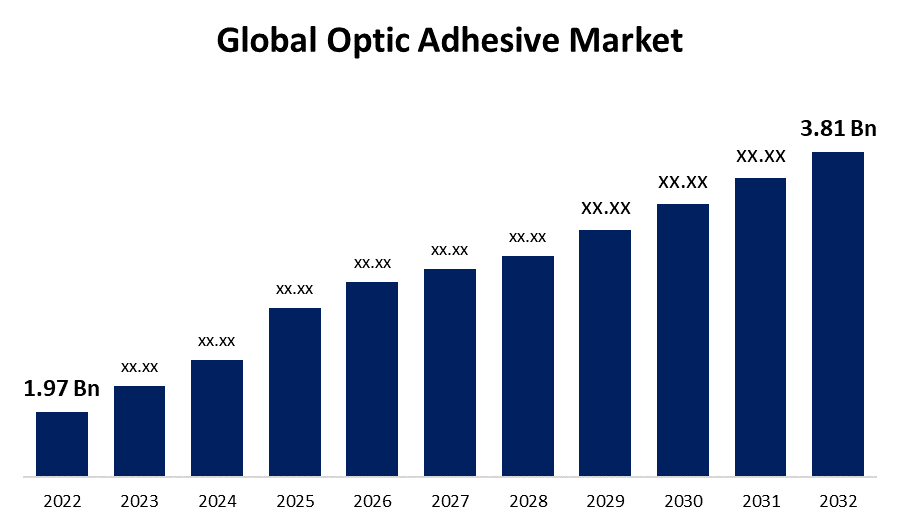 Get more details on this report -
Request Free Sample PDF
The Global Optic Adhesive Market Size is expected to reach USD 3.81 Billion by 2032, at a CAGR of 6.8% during the forecast period 2022 to 2032.
Optical adhesives are applied in a wide range of optical applications to connect or glue optical components together or to an optical system. Optical adhesives are commonly used in conjunction with curing lamps to facilitate or accelerate the bonding process. Optical adhesives enable the exact positioning of optical components inside a system by firmly attaching components in the intended locations or orientations. Optical adhesives eliminate the requirement for additional components by allowing existing components to be manually joined or positioned. An optical adhesive's efficacy is determined by its ability to meet significant requirements such as transparency, refractive index, uniformity, initial viscosity, curing qualities, mechanical strength, and long-term stability. In many cases, such adhesives play a critical function in attaching optical components, and they are designed to have as little impact on the propagation and properties of light flowing through them as possible. Optical adhesives are also employed in places where they are not directly exposed to light but may meet certain needs of optical systems. As electronic equipment becomes smaller and lighter the demand for adhesive materials with great bonding properties and low thickness needs grows, making optic adhesives appropriate for these applications. Furthermore, the swift advancement of cutting-edge display technologies like OLED and micro-LED is increasing demand for optic adhesives with excellent transparency of light and thermal durability. The miniaturization in electronics and optical devices has driven the demand for lighter and more precise optic adhesives in order to fit small and lean designs.
Global Optic Adhesive Market Report Coverage
| Report Coverage | Details |
| --- | --- |
| Base Year: | 2022 |
| Market Size in 2022: | USD 1.97 Billion |
| Forecast Period: | 2022-2032 |
| Forecast Period 2022-2032 CAGR: | 6.8% |
| 2032 Value Projection: | USD 3.81 Billion |
| Historical Data for: | 2019-2021 |
| No. of Pages: | 210 |
| Tables, Charts & Figures: | 110 |
| Segments covered: | By Type, By Application, By End-use and By Geographic |
| Companies Covered: | Henkel AG & Co. KGAA, Dymax Corporation, DELO Adhesives, Dow Inc., 3M, H.B. Fuller Company, DIC Corporation, Shin-Etsu Chemical Co., Ltd., Epotek, Inc., Denka Company Limited, Norland Products Inc., Kyoritsu Chemical & Co., Ltd., Panacol-Elosol GmbH, Master Bond Inc., CHEMITECH, INC., Hernon Manufacturing Inc., and other key players. |
| Growth Drivers: | The growing use of interactive gadgets and cameras or digital imaging equipment drives the market for optic adhesives. |
| Pitfalls & Challenges: | COVID-19 Empact,Challenges, Future, Growth, & Analysis |
Get more details on this report -
Request Free Sample PDF
Market Outlook
Optic Adhesive Market Price Analysis
Optic adhesives are crucial in the optical and photonics industries, as they aid in the bonding, sealing, encapsulation, and protection of numerous optical components. The optic adhesive market is gaining traction as a result of rising demand in industries such as telecommunications, healthcare, and defense. Historically, optic adhesive pricing was generally steady. However, with the growing need for specialized items that cater to specific applications, product offers have diversified, resulting in a wide price range. Currently, the price of optic adhesives varies greatly depending on numerous criteria, including composition and raw materials, performance attributes, brand and manufacturer, regional factors, volume of purchasing, and many others. In that regard, the sort of raw materials utilized has a considerable impact on the price. Adhesives made using uncommon or high-quality components are typically more expensive. In addition, any instability in the raw material market, particularly for rare components, has a direct impact on adhesive pricing. The pressing need for optic adhesives is expected to rise as a result of technical improvements and the growing importance of sectors like as renewable energy, telecommunications, and healthcare.
Optic Adhesive Market Distribution Analysis
The distribution of optic adhesives is a significant market component since it directly affects the availability of these specialized products to various businesses and customers. When it comes to high-end or specialized adhesives, many optic adhesive manufacturers prefer to deliver their products directly to consumers. This enables producers to maintain a strong brand presence, build direct consumer interactions, and ensure quality control throughout the distribution chain. The development of e-commerce has resulted in the emergence of online marketplaces providing optic adhesives. E-commerce platforms have evolved into an important distribution route, providing convenience and accessibility. Furthermore, demand for optic adhesives differs by region, depending on the maturity and expansion of corresponding sectors. Moreover, demand is stronger in regions with strong telecommunications infrastructure, growing medical imaging sectors, or burgeoning aerospace industries.
Market Dynamics
Optic Adhesive Market Dynamics
The growing use of interactive gadgets and cameras or digital imaging equipment drives the market for optic adhesives.
The market for these goods is being driven by an increasing need for cutting-edge technology-based smart gadgets, smartphones, tablets, laptops, display screens of medical equipment, TVs, and LCD screens. These adhesives are utilized in mobile phones to secure the digitizer panel to the device's front bezel. The optic adhesives also serve as an durable film, keeping all of the components intact in the event of a shock or damage. Optic adhesives aid in the construction of LCDs and televisions, as well as acting as an alternative to the vacuum layering method, lowering process costs while enhancing productivity and manufacturing speed. They also contribute to the improvement of the mechanical, optical, and electrical effectiveness of the panel component and hardware, along with its viewability, clarity, and resolution in both indoor and outdoor devices.
Restraints & Challenges
Challenges with procuring raw materials and exporting
Petrochemicals generated from crude oil are utilized as raw materials in the production of optic adhesives. Prices of naturally available raw minerals and crude oil are increasing all over the world, leaving chemical manufacturers with insufficient raw resources to make the required products. Furthermore, due to their susceptibility to moisture and temperature, transporting these products is an additional obstacle. In addition, the toxicity of adhesives in the form of fumes contact inhibits individuals from adopting them. The aforementioned factors are posing challenges to the growth of the optic adhesives market.
Regional Forecasts
Asia Pacific Market Statistics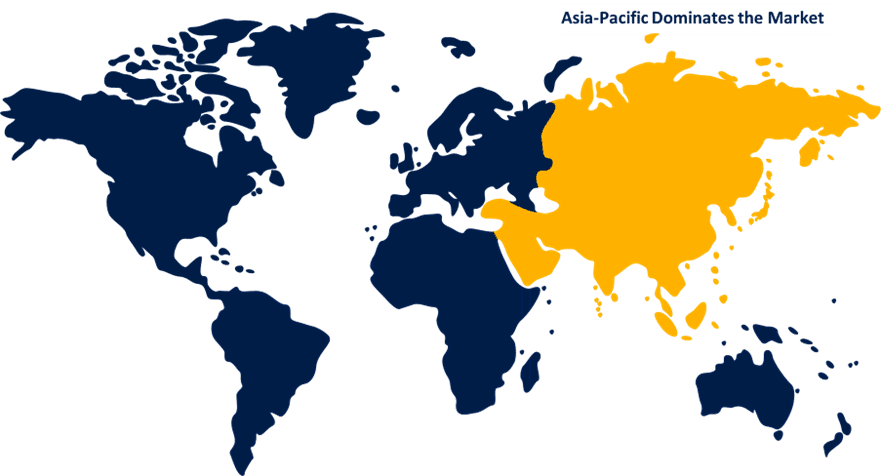 Get more details on this report -
Request Free Sample PDF
Asia Pacific is anticipated to dominate the optic adhesive market from 2022 to 2032. The region's dominance can be attributed to the region's vast electronics manufacturing base as well as the rapid advancement of technical breakthroughs in nations such as China, Japan, and South Korea. In addition, the sheer volume of electronics goods manufactured and consumed in Asia Pacific offers it a significant advantage over other regions. China, South Korea, Taiwan, and Japan are prominent electronics manufacturing hubs, producing smartphones, televisions, cameras, and other gadgets that heavily rely on optic adhesives. The region's large population, along with a burgeoning middle class, has resulted in greater use of electronics, driving up demand for optic adhesives.
North America Market Statistics
North America is witnessing the fastest market growth between 2022 to 2032, mainly driven by advanced applications in aerospace, automotive, and high-end electronics. The region's key markets are the United States and Canada. Several aerospace and defense firms in North America require high-quality optic adhesives for precise optical systems. The rapid development of autonomous vehicles and advanced driver-assistance systems (ADAS) is increasing the demand for optic adhesives in automotive applications. The trend of incorporating technology into practically every part of everyday life, from smart homes to wearables, is expected to boost the demand in the region's optic adhesive market.
Segmentation Analysis
Insights by Type
The acrylic optic adhesive segment accounted for the largest market share over the forecast period 2022 to 2032. Acrylic optic adhesive is a type of acrylic compound-based adhesive. It is well-known for its optical clarity, durability, and yellowing resistance. Acrylic adhesives are frequently utilized in applications that need transparency and long-term performance. They are employed in applications where light transmission without distortion or interference is required, such as the installation of optical equipment, lenses, and screens. Acrylic adhesives also provide good long-term performance and resistance to yellowing, making them ideal for optical use that requires permanence over time. Acrylic optic adhesives are useful in a wide range of industries, including electronics, telecommunications, automotive, and healthcare. They are used in optical component assembly, lens bonding, and encapsulating sensitive electronics. These adhesives are simple to use since they have high flow qualities, allowing for precise bonding and assembly.
Insights by Application
The optical bonding & assembly segment accounted for the largest market share over the forecast period 2022 to 2032. The proliferation of smartphones, tablets, and wearable gadgets necessitates the development of better screens. Optical bonding increases the display performance of these devices, particularly in low-light circumstances. Optical bonding improves device mechanical strength, making them more resistant to physical shocks and environmental conditions. This is especially useful in military and outdoor equipment. The use of optical adhesives in bonding reduces internal reflections and refractions, resulting in a clearer, brighter, and sharper display for the end user.
Insights by End-use
The electrical & electronics segment accounted for the largest market share over the forecast period 2022 to 2032. This segment is a major user of optical adhesives. As modern electronics progress toward better displays, more compactness, and enhanced durability, the importance of optical adhesives has grown. Optic adhesives are used in a variety of electronic applications, including the bonding of touch panels to the main display of smartphones, tablets, smartwatches, and televisions. They are also essential in the manufacture of LEDs, sensor bonding, and ensuring that electronics are resistant to external conditions. The need for improved optical performance is driven by the increasing rate of technological innovation. Higher-resolution displays and improved camera systems benefit from optical adhesives. There is an increasing trend toward sharper, brighter, and more robust displays with each generation of electronic gadgets. This fuels the ongoing demand for high-quality optics adhesives market.
Competitive Landscape
Major players in the market
Henkel AG & Co. KGAA
Dymax Corporation
DELO Adhesives
Dow Inc.
3M
H.B. Fuller Company
DIC Corporation
Shin-Etsu Chemical Co., Ltd.
Epotek, Inc.
Denka Company Limited
Norland Products Inc.
Kyoritsu Chemical & Co., Ltd.
Panacol-Elosol GmbH
Master Bond Inc.
CHEMITECH, INC.
Hernon Manufacturing Inc.
Recent Market Developments
On February 2023, DeepMaterial introduces the BGA underfill epoxy adhesive, an indigenous pioneer in the bonding and protection of high-end materials for semiconductors and electrical devices in China. The revolutionary product has an ultra-low viscosity and is suited for most underfill applications in a wide range of industries, including communication terminal companies, consumer electronics companies, semiconductor packaging and testing firms, and communication equipment makers.
Market Segmentation
This study forecasts revenue at global, regional, and country levels from 2022 to 2032.
Optic Adhesive Market, Type Analysis
Acrylic
Silicone
Epoxy
Cyanoacrylate
Optic Adhesive Market, Application Analysis
Optical Bonding & Assembly
Lens Bonding Cement
Fiber Optics
Others
Optic Adhesive Market, End-use Analysis
Electrical & Electronics
Automotive
Aerospace
Others
Optic Adhesive Market, Regional Analysis
Germany
Uk
France
Italy
Spain
Russia
Rest of Europe
China
Japan
India
South Korea
Australia
Rest of Asia Pacific
Brazil
Argentina
Colombia
UAE
Saudi Arabia
South Africa
Need help to buy this report?